*Cover image courtesy of Downtown Streets Team
---
Litter in America – Can You Guess How Much?
According to a comprehensive research project conducted by Keep America Beautiful, there are 51.2 billion pieces of litter on roadways nationwide.
You see someone tossing a candy wrapper in a public trash can, but they just miss the bin. The wrapper falls to the ground, and they fail to pick it up. You notice the wrapper shine in the sun as it's swept up by the wind until it clings to a chain-link fence with the rest of the chip bags and pieces of paper that never made it into the garbage.
According to Keep American Beautiful (KAB), this scenario is all too common. In a factsheet presenting key findings about litter in America, the organization notes that litter is primarily the result of individual behavior. In other words, the majority results from individual attitudes and occurs with notable intent. Therefore, changing behaviors around trash disposal is crucial.
How can we do this? Read on to see what some cities around the country are doing to clean up litter and learn some other litter prevention tips we came across in our research.
---
Litter Prevention Tactics in Cities Nationwide
Litter and littering decreased by about 61% between 1968 and 2009, according to KAB, and the years since have certainly seen a focus on trash-prevention initiatives. However, littering is still an important problem that needs to be addressed. Here's how some cities and organizations are tackling litter in their communities.
Banning Commonly Littered Items
Many cities and states around the country have adopted, or at least debated adopting, bans on trash items that take up to 1,000 years to decompose in landfills and often end up dirtying parks, streets and alleyways. By eliminating commonly littered items, we can work to curb the littering behavior.
Prohibiting Foam Products
As of January 1, 2019, New York City banned all foam products, like food and beverage containers and packing peanuts. Establishments found in violation of the single-use foam ban are subject to fines. New York State followed suit in 2020, adopting "the nation's strongest statewide ban" of single-use foam products, citing a concern for the environment, as well as human health and safety. The state's ban goes into effect in 2022.
Eliminating Plastic Bags
Another commonly littered and debated item is plastic bags. Some states have enacted a plastic bag ban in an effort to reduce litter and free up space in landfills. One benefit of preventing this form of litter is protecting wildlife. Sea life consumes up to 24,000 tons of microscopic plastic per year, which could be prevented by reducing plastic waste in cities near the ocean and waterways.
Restricting Single-Use Straws
Some places around the country have also debated the use of plastic straws. For example, San Francisco enacted a law on July 1, 2019 that limits the distribution of single-use plastic straws, including compostable straws. Even paper straws, which are considered the most acceptable option, can only be made available upon request. Beginning January 2020, paper straws and other compostable silverware and food packaging need to be certified by the Biodegradable Products Institute (BPI).
Barring Handbills
The City of Denver has tackled litter by making handbills illegal. A handbill is any notice, advertisement, flyer, leaflet, circular, handout, pamphlet, brochure or fact sheet, according to the city. The law prevents these items from being posted, painted or attached to a public property, except when a person is given permission. By eliminating the excessive posting of pieces of paper, leaflets, etc., the city is able to curb the potential for these items to litter the street.
Educating the Public About Trash Disposal
Papillion Sanitation in Omaha offers the following litter prevention tips to help its community curb excessive trash on its streets.
Keep your trash and recycle bins secure so light-weight materials like newspapers and cans can't get picked up by the wind.
When you throw away garbage in public places, make sure it actually makes it into a waste bin and can't blow out.
Don't overfill trash cans or front load dumpsters behind businesses.
Teach children how to properly throw away trash and about the harms of littering.
Sustainability Spotlight: A Unique Litter Solution in San Jose, CA
One San Jose-based organization is employing a distinct approach to litter cleanup that's so effective they've successfully removed over 11 million gallons of trash since 2014. Downtown Streets Team (DST) gives people experiencing homelessness in cities across Northern and Central California the opportunity to clean up their community in exchange for support services and basic needs stipends.
"This is important to communities where we operate, because if trash and debris get picked up, then they don't make it into nearby waterways or pollute the streets, sidewalks and alleyways," said Rebecca Baer, Senior Director of Community Engagement with DST. "Through their efforts, people who are experiencing or who are at risk of homelessness are able to reconnect with the community and regain the purpose they need to exit homelessness."
Downtown Streets Team's Mission: Keep communities clean while helping those experiencing homelessness.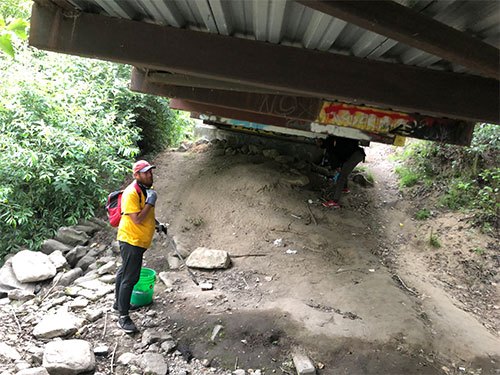 How Downtown Street Team's Litter Prevention Program Works
DST uses a peer-to-peer and word of mouth model to reach out to people in homeless encampments and encourage them to become team members. Team members volunteer for four four-hour shifts each week to clean up the community. In return, they are provided with the following support:
Case management, such as medical, dental and housing resources.
Employment services, like help with resumes and technological support.
Basic needs stipends in the form of gift cards. Team members can choose which gift cards they'd like to use, but most opt for grocery gift cards.
Team meetings, which give them a platform to share and celebrate recent successes, or get help when they face adversity.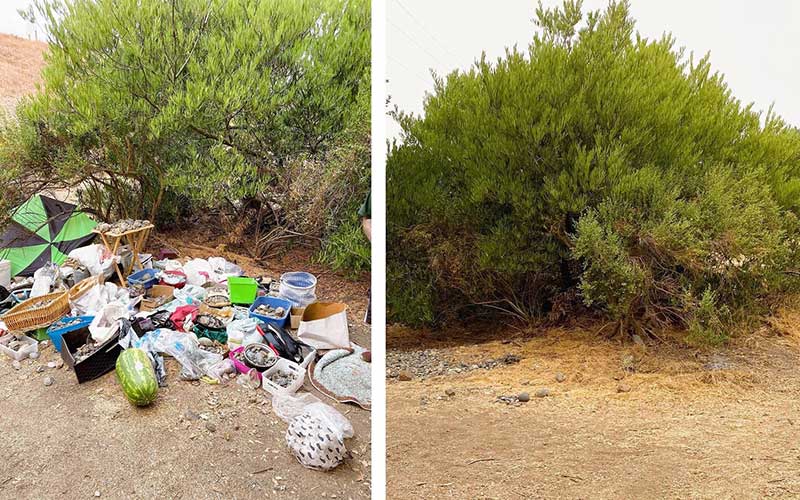 Important Statistics
DST has been around since 2005, but they began tracking trash data in 2014. Their facts and figures regarding team members date back to the organization's inception.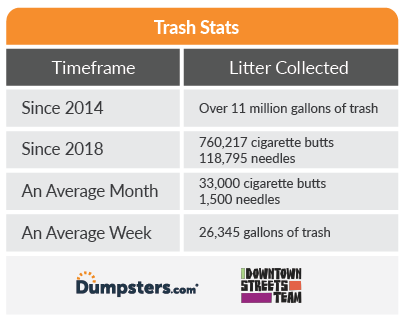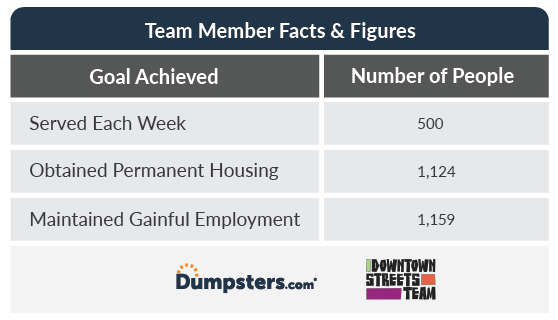 *DST defines gainful employment as maintaining a job with an average wage of $14.26/hour for at least 90 days.
Take Action: Litter Prevention Tips to Try in Your City
If you're inspired to try and limit the litter you see in your community, here are some ways we suggest combatting litter.
1. Organize a Cleanup Day
Encourage your coworkers, neighbors and other members of your community to participate in a cleanup day with you. You can organize a neighborhood event like this through your city or your local Keep America Beautiful chapter.
Not sure where to start? Check out our community cleanup guide.
2. Make Proper Disposal Convenient and Accessible
Take note of the trash cans, recycling bins and ash receptables at work, at your school and in public spaces like parks. If you feel the area is lacking options, reach out to the proper authorities, like property management, school officials or your local government. It's also a good idea to make sure to clearly label each can so people know the right place to toss general trash, recyclables like plastic bottles and aluminum cans, and compostable food waste.
Did You Know: There is a special need for more ash receptacles. Cigarette butts are the most frequently littered items, but this is usually due to a lack of trash options, not an individual's unwillingness to throw them away, according to KAB.
3. Use Signage to Motivate and Remind the Public to Use a Trash Can
Sometimes preventing litter comes down to ensuring garbage bins are clearly labeled and easy to find. Providing blatant reminders to throw trash away doesn't hurt, either. Talk to your local government officials about implementing signage in high-trafficked areas to clearly indicate where to toss trash and recyclables.
"Use messaging that highlights social disapproval for littering and a preference for clean, litter-free communities. Messages that show littering as common undermine littering prevention. And keep the focus on individual responsibility," says KAB's report on littering behavior.
Download the sign below to use in your workplace, classroom or other private locations to clearly mark where the trash can is and motivate the people around you to toss garbage in the bin, not on the floor.

Pro-Tip: Laminate the sign to ensure it will last awhile and show passersby the importance of this issue.
Some Other Next Steps
Identifying the best way to get rid of your trash or eliminating trash altogether are some other ways you can help prevent litter. For example, try composting food waste or recycling paper, plastic and other single-stream materials. Ensure your trash makes it into the right bin instead of littering your neighborhood. You also might attempt to lead a zero-waste lifestyle. By getting rid of things like food packaging and other garbage from your daily life, you eliminate the ability to litter.
How We Support Litter Cleanup Projects Nationwide
Are you organizing an environmental cleanup in a local park, neighborhood or waterway? We proudly offer dumpster donations to support your efforts. Click the banner below to fill out our dumpster donation form.