Let's Define Construction's Two Main Building Techniques
While there are plenty of project delivery methods available to use, two at the top of nearly any list are design-bid-build and design-build. While they may appear to only have one word of difference, the process and planning involved with each method varies tremendously.
Our guide introduces you to the two methods before breaking down the pros and cons of each — from which is most cost-effective to which includes the most owner involvement — with expert advice from Andrea Rutledge, President and CEO of the Construction Management Association of America, and Brian Perlberg, Esq., Senior Counsel of Construction Law for the Associated General Contractors of America and ConsensusDocs Executive Director.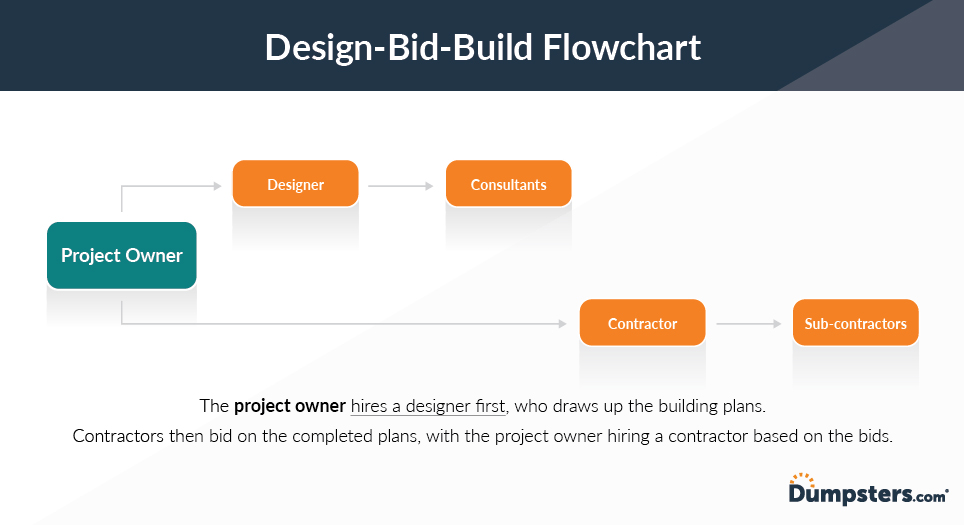 What Is Design-Bid-Build?
Design-bid-build, according to Perlberg, is the most-used. Hence why it is often referred to as the traditional project delivery method. That's because it's the time-tested process that has been used almost as long as construction has been an industry.
This technique is simple enough. The person who needs a building constructed, or the project owner, hires a designer to draw up the schematics and plans for the building. The designer can then hire consultants as needed, who report directly to the designer. Once the building is drawn up, the designer is pretty much done with the project outside of consultation and tweaks as needed.
With plans in hand, the project owner gets bids from various construction firms to construct the building. The project owner picks the bid they like best and hires the contractor. As with the designer, the contractor can hire subcontractors as needed who would report directly to them, not the project owner. Then, the building is constructed based on the schematics and documents that the designer made.
A variation of this system includes a qualified project manager, who serves as a proxy for the project owner.
"A qualified construction manager can represent the owner's interest and manage this delivery method with equal effectiveness," Rutledge said.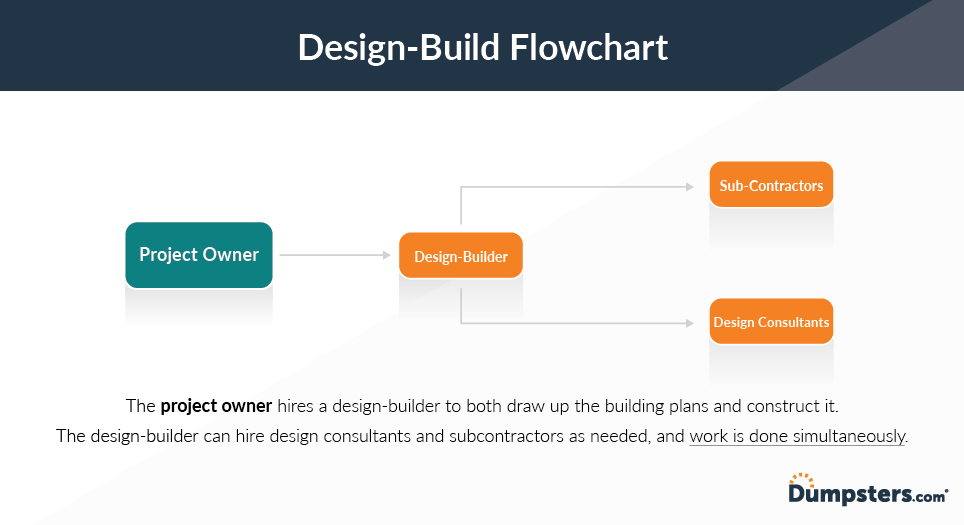 What Is Design-Build?
Design-build is a project delivery method that has been around for hundreds of years, but was often referred to as integrated project delivery. It wasn't until 1993 that it officially became known as design-build.
In this method, there is only one contract. The person in need of a building, also known as a project owner, hires one person or company to both design and construct the building. This person, known as the design-builder, can hire design consultants and subcontractors as they see fit, but those employees would answer directly to the design-builder, not the project owner.
"Design-build allows for early collaboration where all team members work collectively from the earliest stages in the project life-cycle to the final stage. The team, often led by a construction manager, works together to deliver a quality project on time and within budget to the owner."

Andrea Rutledge | President and CEO, Construction Management Association of America
What Are the Differences Between Design-Build and Design-Bid-Build?
Ultimately, both methods result in a solid completed building in a timely manner. However, there are some key differences between the two styles that will help you decide which is the best system for your project. Those differences range from cost to project length. The following sections will break down the advantages and disadvantages between design-build and design-bid-build.
Which System Are You Interested In?
Design-Build: A Hands-Off Approach for Faster Delivery
Design-Build Pros
1. Reduced Risks
With the building design and construction performed by one group, the risk of issues is greatly reduced. The construction team has input throughout the design process and the design team is readily available to address any building issues that come up during construction.
"Perhaps the biggest advantage of design-build is that it affords for earlier involvement of the build teams, namely the lead builder and its specialty contractors, to provide their expertise in regard to more efficient materials selection, constructability and schedule."

Brian Perlberg, Esq. | Executive Director, ConsensusDocs
2. Shorter Timelines
There's no delay between the design phase and the building phase where bids are collected. The transition between stages is seamless, and often times the construction can start while designing is still happening, leading to even less interruptions.
3. Easier to Budget
While it might not be the cheaper option, design-build costs are often more predictable. The design-builder can wrap the whole price into a solid range that should be pretty close to the final cost, which will allow the project owner to better budget from the start.
Design-Build Cons
1. Higher Prices
With no bidding process, the project owner does not have the ability to select their own price. As a result, the prices tend to be higher. Plus, most design-builders will not begin any detailed design of a building until they have been officially hired, making it hard to price shop for a design-builder.
2. Creativity
Many design-build companies have stock designs that they use and then tweak to fit the project owner's requests. While this is not true of all design-builders, the likelihood of not getting a personalized design is much higher when considering integrated project delivery.
3. Less Involvement
As a whole, the project owner will be less involved with the project than they would be with traditional project delivery. Initially, the project owner will be heavily included with designing and planning. However, once the ball gets rolling, the project owner will be consulted on more of an as-needed basis, with the design-builder making more decisions.
Design-Bid-Build: Slower Turnaround with More Involvement
Design-Bid-Build Advantages
1. The Price Is up to You
Since the designer and contractor are hired separately, you have a lot more control over the pricing of your project. Once you find a designer that fits your price range and can produce what you're looking for, you get to pick the contractor bid. From start to finish, you can control how much or little you're spending.
2. Better Project Clarity
Design-bid-build follows a sequential timeline. Since there is no overlap where designing and construction are happening at the same time, it is much easier to see where the project is going at every step.
3. More Control
While both design-bid-build and design-build rely on input from the project owner, traditional project delivery gives you much more command throughout the process. Aside from getting to choose your own designer and contractor, you have the freedom to make personnel changes mid-project without having to start from the beginning again.
Design-Bid-Build Disadvantages
1. Cost Can Be Fluid
With the designer and contractor not working in tandem, the potential for complications is greater. From not being able to successfully execute a design aspect to missing pieces of information, these potential road bumps can cause the price to increase as they are fixed on-the-fly.
"Design-bid-build is supposed to provide more cost certainty at the initial selection process; however, studies show that changes in price and schedule are more likely to occur than other project delivery methods like design-build."

Brian Perlberg, Esq. | Executive Director, ConsensusDocs



2. Longer Timelines
When you have to go through two hiring processes, a timeline is going to be a bit longer by default. It can further lengthen if issues come up and the project owner works to sort them out between the designer and the contractor.
3. Communication Issues
Any time you have a disjointed process, miscommunications are possible. That is no different with design-bid-build. With the contractor not involved in the design process, issues that could have been addressed earlier often will come to light later.

Build Confidently With the Right Project Delivery System
In the end, both of these project delivery systems have been in use for hundreds of years. You can't go wrong with either. Ultimately, it all depends on what is most important to you:
Is having control over the project most important?
Do you want to have strong flow and communication throughout?
Do you want something completed quicker, but at a higher price?
Once you start answering these questions, you'll have a better idea of where you stand.
Is efficiency something you're concerned about when deciding on your project delivery system? Read out posts on lean construction, reducing waste on construction sites and LEED certification to see if the contractor or design-builder you're considering fits the bill.
---
Expert Contributors
Andrea Rutledge
Andrea Rutledge is the President and CEO of the Construction Manage Association of America based in Vienna, VA.
The Construction Manage Association of America provides professional management services on project schedules, cost quality and function. The organization works with project owners, engineers, contractors and architects to provide oversite on construction work.
Associated General Contractors of America
Based in Arlington, VA, the Associated General Contractors of America aims to be the voice of the construction industry.
In collaboration with qualified industry professionals, the AGCA provides a full range of services, satisfying the needs and concerns of its members and the public interest.