---
The Most Important Criteria for Picking a Trash Removal Service
An unreliable waste removal provider can wreak havoc on your business's bottom line – especially if dumpster issues delay projects, which can affect your total spend and whether or not you're awarded future bids.
That's why it's important to find the right waste removal service for your jobs. So, what should you look for when evaluating dumpster rental providers? Here are four positive attributes to keep in mind.
Article Quick Links:
---
How to Choose the Right Waste Management Company for Your Job Sites
Look for a waste disposal provider who provides most – if not all – of the following features.
1. Time Savings via One Point of Contact Nationwide
Planning for job sites in many areas of the country can make finding the right dumpster partner difficult. Each location requires dumpster rentals, compactors, porta-potties and other onsite service essentials.
When you're tasked with setting up waste removal, you probably spend hours researching, evaluating and gathering quotes from multiple organizations to determine who services the area and who has available inventory at a reasonable rate.
In the end, this takes time out of your day that you don't have.
Working With a Vendor With a National Footprint and One Direct Contact Eases Project Planning
By renting dumpsters from one waste removal partner, you get one main benefit: time savings. Since they provide service no matter where you're working, you won't waste time vetting local haulers and price shopping.
The key is to look for a partner who delivers containers to any city or state in which you're completing a construction job. Beyond that, a truly dedicated waste partner will take the time to understand your company needs and establish a relationship, making it easy to place an order.
Still, you'll find that some national companies have various offices for different regions of the country, so you may have to deal with multiple contacts – ones who may or may not have enough information to satisfactorily service your company.
Your object, then, is to look for a waste removal partner that offers not only nationwide service, but also one point of contact for all your jobs – especially one who's available by various communication methods and provides attentive service to optimize your company's processes.
2. Increased Reliability Backed by Consistent Service
When you ask companies about common rental issues they run into, unreliable haulers usually top the list. Projects are delayed and job sites are messy if a hauling company doesn't deliver when they're expected to, drops off a shoddy container or brings you the wrong size.
Project interruptions ultimately hold up production. Wasted time equates to lost dollars – especially if you don't complete your job on schedule. Moreover, if your team can't load construction debris because you're waiting for a swap-out, site cleanliness and safety are at risk.
Why This Matters
Both project completion and site cleanliness are common factors that project owners use to rate construction companies. When a job isn't completed on time or leaves debris behind, it may cost your company future projects.
This is more important than ever because both the pandemic and the ensuing economic downturn have impacted construction jobs.
According to the 2021 Construction Hiring and Business Outlook Report from the Associated General Contractors of America and Sage, many contractors are expecting the market to shrink in 2021 and that demand will decline. What's more, in 2020, many owners either delayed or cancelled construction projects altogether.
So, completing jobs on time, having clean job sites and, in turn, having a solid industry reputation are absolutely essential. Working with a waste removal partner who delivers consistent and reliable service can help with this.

3. Cost Savings Driven by National Purchasing Power and Streamlined Billing
Affordable Prices Across a Trusted Hauler Network
At the end of the day, dumpster prices matter – especially in a time when demand is shrinking and jobs are being stalled. So, many construction companies look for providers who are both reliable and cost-effective.
National Purchasing Power Translates to Savings for Your Business
Predictable prices and lowered costs can bring many obvious advantages to your company. You can save money – a goal in normal times and a necessity during economic downturns.
Working with a waste removal partner with national purchasing power can help because this ensures less volatility and more stability in dumpster prices across throughout your job sites.
Simple, Consolidated Billing
Billing isn't typically something most companies think about when it comes to dumpster rentals, but here's why it should be a priority: Untimely, complicated or incorrect billing can hurt a company's visibility into their expenses and even hold up payments.
Consider the fact that most accounting departments strive to have everything billed and paid in time in order to have a balanced budget. As a result, many construction companies prefer prompt, accurate and combined invoices for all costs, including dumpster rentals.
Choosing a Debris Removal Service With Centralized Invoicing Matters
Working with one vendor – especially one that offers simple and accurate invoicing – you'll have a more timely and convenient process. This kind of invoicing offers a few key benefits:
It helps your company save time.
It gives leaders the transparent data they need for financial forecasting.
It helps your team to plan out budgets and anticipate costs for future jobs.
It makes it easier for accounting departments to close out jobs and pay bills on time.
4. Customizable Programs and Waste Diversion
Expect more from your dumpster team. Waste removal partners often offer more than just dumpsters, with most also renting everything from fencing to porta-potties.
Besides, flexible service providers can develop programs specific to your business – including waste diversion reports.
Working With the Right Waste Removal Company Can Help Your Business Grow
Competition is higher than ever as companies compete for work with fewer projects up for bid. Per the aforementioned Associated General Contractors and Sage report: "Depressed demand is leading 55 percent of contractors to list increased competition for projects as a top worry."
In this increasingly competitive market, it's more important than ever to stand out from the crowd. Site cleanliness and job completion timelines play a role here as well. If you complete your jobs faster, safer and closer to budget than other companies in your field, all while maintaining cleaner job sites, you'll have a step up over your competitors.
Waste diversion is also important if you're seeking work on large green construction projects and need to develop a LEED-approved construction waste management plan. Working with a partner who helps with this makes it easier to win these kinds of jobs.
Ready to Find a Waste Removal Partner for Your Projects?
Since our company launched in 2016, we've taken these important criteria in mind to provide the top-notch service you should expect from a waste disposal company.
We expanded our range to offer a nationwide footprint, made the rental process easier with dedicated account managers, ensured reliable service by working with highly-rated hauling partners, simplified our billing with consolidated invoicing, and continuously consult with our customers to make their experience more efficient.
And the results from a recent survey prove it:
95% of customers rate us as reliable.
93% said we have helped keep projects running on time and maintain clean job sites.
88% of customers report that we help them reduce costs.
Also, one of our custom dumpster programs helped a commercial construction company called Vision General Contractors. Before they worked with us, Vision General Contractors struggled to find a vendor who could deliver dumpster swap-outs promptly. We developed a program specifically for this contractor which involved delivering two dumpsters at the beginning of each job, then swapping out individual dumpsters as they filled up.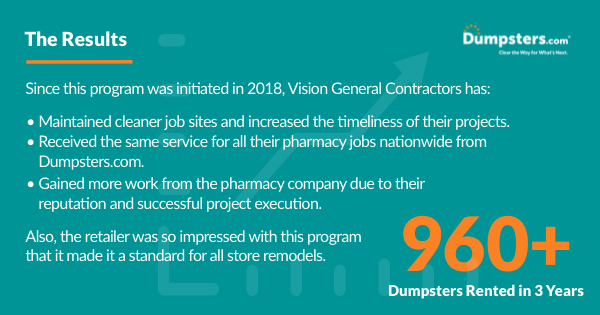 In short, with our national dumpster service for contractors, you can benefit from reliable, consistent nationwide dumpster service. Let us focus on dumpster rentals for you while you focus on what you do best.
RELATED LINKS
Meet the Team | How to Reduce Waste on Your Construction Site