Everything You Need to Know to Finish Your Basement
Avoid paying high prices for contractors, and maximize your basement's potential.
Basement Finishing Tips to Maximize Your Space
Everyone wishes they had a little more space. Maybe you want an entertainment room? Or perhaps a home gym or an extra bedroom?
If you have a basement, but it's not finished, putting in a bit of work can go a long way to giving you the extra space needed, without the extremely bulky price tag of a home addition.
From the costs associated with finishing a basement to how to put the finishing touches on a drop-ceiling, we'll walk you through the process step-by-step to give you a space that can be used for more than storage containers.

Keep in Mind
This guide is intended as a DIY resource, but finishing a basement is a difficult task. If you feel uncomfortable at any point of the process, trust your gut and contact a professional for help.
Common FAQs
How Much Does it Cost to Finish A Basement?
On average, it costs about $25-$50 per square foot to finish a basement. However, there are a lot of factors that go into renovating a basement, so if you choose top-of-the-line lighting and flooring, expect the estimate to go up. On average, expect to spend around $30,000 for a complete basement finish, including walls, ceiling and floors.
Whether you're remodeling an already finished basement or you're starting from a blank slate, make sure to plan ahead for debris disposal. A roll off dumpster is a quick and convenient way to throw out drywall, lumber, flooring and other materials all at the same time. It's also quite affordable, with the national average ranging from $268-$766 depending on the size you need.
Does a Finished Basement Add Value to Your Home?
A finished basement isn't included in your home's square footage, however, because finished basements are usually a sought-after commodity, it often sees a return on your investment when it comes time to sell your home. In fact, studies have shown that the national average saw a 70% rate of return — meaning each dollar spent on finishing a basement returned $0.79.
How Long Does Finishing a Basement Take?
The standard time it takes to finish a basement is 4-8 weeks. Keep in mind that this can vary by the project size, so give yourself as much time as you need. This is a big investment and an extensive project, so there is no need to rush it.
A Straightforward Guide to Finishing Your Basement
What Project Do You Need Help With?
Finishing a basement can be broken down into three distinct projects: the walls, floors and ceilings. However, we've split our tips into three sections, with a step-by-step guide on how to prepare for the project added in to get things started.
Prepare Your Space
It would be great if your basement were in perfect condition and immediately ready for work. Unfortunately, even for the best basements, there is a bit of preparation work you need to do — not just in your basement, but also at your local government and hardware store.
1. Apply for a Permit
Getting a permit is essential to the job. While you could finish your basement without a permit, it could end up costing you even more down the line when you try and sell your home or if something were to happen and you can't document the work that was completed.
To get a permit, visit the website of your local government. Permit information can often be found in the Building Department.
2. Take Care of Dampness
You never want to install drywall in your basement before checking for water or high humidity. That doesn't mean that you can't finish a damp basement, though. You just need to take the proper steps to waterproof your work area first.
There are a lot of ways to tackle a damp basement, from a dehumidifier to a sump pump and full basement waterproofing. The direction you go is determined by the severity of the problem. If the issue is minor, expect to spend around $250-600. If it's a bigger problem that requires professional waterproofing, expect to spend $1,900-$6,400.

Pro Tip
With the investment you are making in finishing your basement, it is best to consult an expert to see what solution is best for your situation.
3. Pick Your Materials
Drywall or plaster? Drop ceiling or exposed? Carpet or laminate? These are all questions you should consider before starting the project. It's best to consider these ahead of time, as the materials will be where you spend the bulk of your budget.
The key things to consider while making your materials list are:
Insulation type
Wall material
Ceiling style
Flooring type
Utility locations
Paint colors
Trim styles
While there will be other minor things to consider as the project is completed, these are the big decisions that tend to cost the most. Give them the proper amount of thought.
4. Gather Your Tools
There are plenty of tools needed to finish a basement. Some are simple and you probably already have, such as a hammer or level. If you don't own a certain tool, you can try renting it from a home improvement store or local tool bank.
| TOOLS | SAFETY GEAR |
| --- | --- |
| Caulk gun | Dust mask |
| Circular saw | Earplugs |
| Hammer | Gloves |
| Insulation adhesive | Goggles |
| Ladder | Long-sleeve shirt |
| Level | Durable pants |
| Masonry drill and bits | |
| Nailgun | |
| Sawhorses | |
| Tape measure | |
| Utility knife | |
Check Dumpster Availability Near You
How to Finish A Basement Wall
You've got your tools and permits, considered your materials and your basement is water-free. Now it's time to get to work.
From insulation and framing to selecting your paint and finishing touches, follow these steps to finish your basement walls: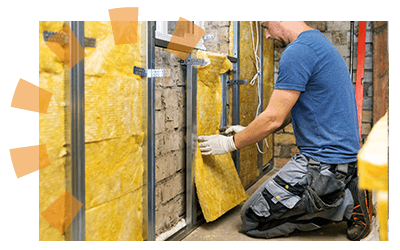 1. Install Insulation
Measure the space from your floor to your ceiling, then subtract ¼ of an inch. Cut your insulation with a utility knife to that length.

Hold your cut sheet against the wall to ensure it fits.

Apply insulation adhesive to the back.

Press the insulation against the wall for the amount of time recommended on the adhesive container.

Repeat steps 1-4 until your walls are completely covered.

Fill the seams between the insulation boards, ceiling, floor and corners with caulk.

Safety Tip
While polystyrene foam insulation is more user-friendly than your typical insulation, be sure to use goggles and gloves when handling.
2. Frame the Walls
Draw a line on the floor four inches from the walls. Make sure that the line intersects any walls at a 90-degree angle.
Measure your wall and cut your 2x4 to that length. Be sure to do this twice for each wall since these will be your top and bottom plates.
Mark the plates every 16 inches for stud placement. The 16-inch mark is where the center of the stud will go. Since it will be hidden when the stud is placed over it, extend the line to the sides of the plates so you can still see it.
Lay your bottom plate to align with the line drawn in step one.

Secure the bottom plate using your masonry drill and nails. Start at either end and then use your 16-inch marks to add supporting nails. Be sure to use your protective equipment as you'll be drilling through cement.

Install the top plate by following the same instructions for the bottom plate, but use a nail gun instead of a masonry drill. If your ceiling joists run parallel to the top plate, you'll need to add a blocking board between the nearest joists every 16 inches to attach the top plate to.

Check that your plates are level. If not, add shims (a thin piece of wood to help with spacing) as needed.

Measure the space between the plates.

Cut your studs to the proper lengths.

Install the studs by aligning them with the 16-inch marks made earlier. Use your nail gun to insert the nails on each side of the stud at a 45-degree angle.

Repeat these steps until all of your walls have been framed.

Keep in Mind
You'll have random scraps of wood and insulation after these steps, which can get in the way moving forward. Consider renting a roll off dumpster to conveniently toss waste as you work.
3. Install Utilities
Install any electric, plumbing and air duct work that will run inside the walls.
Safety Tip: This work is strictly regulated, and should not be DIYed. Even if you plan on finishing the rest of your basement yourself, you'll need to hire a certified professional for this part of the project.
4. Mount Drywall
Decide if you want to hang your drywall horizontally or vertically. Typically, a horizontal hang will leave less seams, but decide based on what best fits your room.

Measure and cut your drywall sections to end on a stud.

Mark and remove any sections of drywall where utilities need to be exposed.

Secure drywall to the stud using drywall screws.

Fill in any seams and cover screw heads with drywall mud.

Apply drywall tape to the seams.
5. Paint
Be sure to use some sandpaper on the areas where you applied drywall mud to smooth them out.

Now apply a layer of primer before giving your walls 1-2 coats of paint.

Keep in Mind
Not sure what color to use? Check out our guide to matching paint colors to fit your sense of style and mood.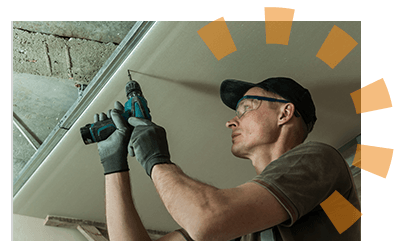 How to Finish A Basement Ceiling
There are three main ways that you can finish a basement ceiling: use a drop-ceiling, drywall it, or leave it open for an industrial look. Each has their own set of installation instructions and difficulty level — with leaving it open being the easiest and drywalling being the hardest.
Drop-Ceiling Installation
This type of ceiling has the most options because it requires an installation kit. The basic idea behind a drop-ceiling is installing a second ceiling below the structural ceiling, which allows you to easily access any utilities above them. These typically consist of a series of interlocking frames and tiles. While the installation will vary depending on the kit you select, the general installation cadence is:
Purchase an installation kit (required).

Install L-channel frames on walls.

Install T-channel frames along floor joists, connecting to the L-channel frames.

Snap the T-channel cross frames into place between the full T-channels.

Place the tiles in the frame.
Drywalled Ceiling
Drywall is another common ceiling type that is used in basements. In order to install this type of ceiling, the steps are quite similar to installing basement walls.
Mark and cut holes in the drywall sheets for utilities.

Apply adhesive to the joists where the sheet of drywall will be hung. Start in a corner and work your way out.

Press the drywall to the adhesive.

Nail or screw the drywall to the joists every seven inches around walls. For interior joists, fasteners can be installed at 12-inch increments.

Repeat steps until ceiling is covered with drywall.

Fill seams and nail/screw heads with drywall mud.

Apply drywall paint to the seams.

Paint once the mud has dried.

Keep in Mind
You'll need either a friend to help or a T-brace to keep pressure on both ends of the drywall while the adhesive dries.
Open Ceiling
This is the simplest ceiling option. Give your basement an industrial look by leaving it open. However, if you aren't a fan of seeing wood beams and piping when you look up, there are ways to mask it. The simplest option would be to paint the ceiling — usually a dark color works the best. If you opt for this route, be sure to use a sprayer to get an even coating and avoid dripping and running.

Keep in Mind
When you paint over the electric wires, make sure you get all sides of the wire, not just what is currently exposed. As they settle over time, you don't want an unpainted section showing.
How to Finish A Basement Floor
Now that your basement walls and ceilings have been finished, all that's left is the floor. If you aren't sure which floor is best for a basement, our recent flooring survey found that 57% of basement flooring projects involved the installation of carpet or laminate.
Whatever flooring type you choose, there are some steps to take care of before your job is complete: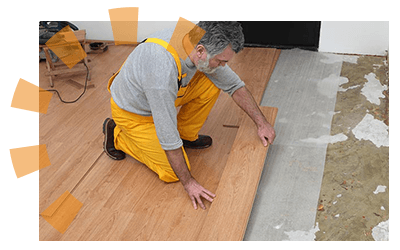 1. Install Subflooring
Unless your basement has been previously finished, chances are your floor is currently a slab of cement. Installing a subfloor will help with comfort, dryness and warmth.
Fill dips deeper than 3/16-inch with self-leveling compound to create a flat surface.

Allow compound to dry, then check dips again to ensure they are level. If not, repeat.

Secure sheets of polystyrene insulation to the cement with adhesive.

Lay sheets of plywood on top of the insulation.

Install the plywood with a masonry drill and concrete screws.
2. Install Flooring
Once your subfloor is set, follow the installation instructions on the flooring type you purchased, or consider hiring a professional if you aren't comfortable.

Keep in Mind
Have kids or pets that will be using the finished basement? Be sure to consider them when you pick your flooring type to help make the best use of your new space.
Enjoy Your New-Found Space
Now that your basement is finished, a new realm of possibilities is available. Whether you plan on using your new space as an office, kids' playroom or something else, the increased living space will only help make you more comfortable in your own home.
Keep your newly finished basement looking it's best. Learn how to organize it to make it as effective a room as possible.
What Do You Think?
Have thoughts on this topic? We're listening. Head over to Twitter or Facebook,
and use #dumpstersblog to join the conversation.
Need a Dumpster for Your Next Project?