Best Flooring Options for Kids and Pets
We've graded seven common flooring types on a 30-point scale to determine which is best for your kids and pets.
Family-Friendly Floors That Will Stand the Test of Time
Picking out new floors for your home can be a fun time. But families with kids and pets understand that it's a decision that takes a lot of thought. Is hardwood the best floor to withstand your cat's claws? What floor is best for the playroom so your kids can play with the dog?
To help wade through the decision, we interviewed the experts at Bona and the American Kennel Club and highlighted information from our own flooring trends survey to give some input on the best pet and child-safe flooring options.
Which flooring type is the easiest to keep clean?
Laminate tends to be the easiest flooring type to clean and maintain. It will not absorb liquids and its seamless appearance means you can sweep, mop or vacuum it with ease.
What is the most scratch-resistant flooring?
Concrete floors are the best at resisting scratches. In fact, for pet owners, they're also great because they will help grind your pet's nails to keep them at a proper length.
What is the best flooring for kids?
It depends on the age of the children. For newborns and infants that are prone to spills and messes, laminate floors are ideal due to their easy cleaning. For toddlers on-the-move, carpet is a safe bet due to the extra padding. Additionally, it can take the beating of toys being dragged across it without showing any damage.
What is the best floor for pet accidents?
If you have an accident-prone pet, consider tile flooring. Tiles don't absorb liquids easily and some styles, such as stone and ceramic, will pool the liquid instead of letting it run.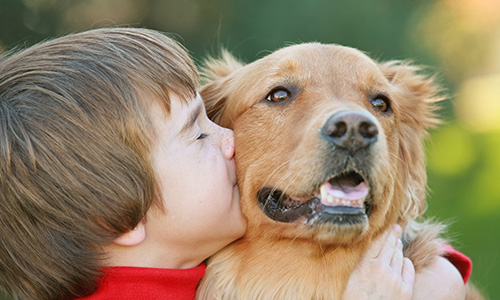 7 Best Flooring Options for Families
As with any decision, there are pros and cons to think about. Particularly if you are like 18% of our survey respondents who said their new flooring was to welcome a new child or pet to the family. For the purposes of this guide, we considered the following factors on a five-point scale to determine the best flooring types for kids and pets:
Appearance: Do the floors have an aesthetically appealing look?
Comfort: Is this material easy to spend time on, or will it make your kids, cats and dogs uncomfortable?
Durability: Will the floor stand the test of time, or will it need to be replaced soon?
Maintenance: How much work do the floor types require to keep clean and presentable?
Scratch-Resistance: Will your pets' claws or the edges of a toy easily scratch the floor?
Water-Resistance: Can a dropped juice cup or puppy accident easily damage the material?
Our Scores for Popular Family-Friendly Flooring Options [Infographic]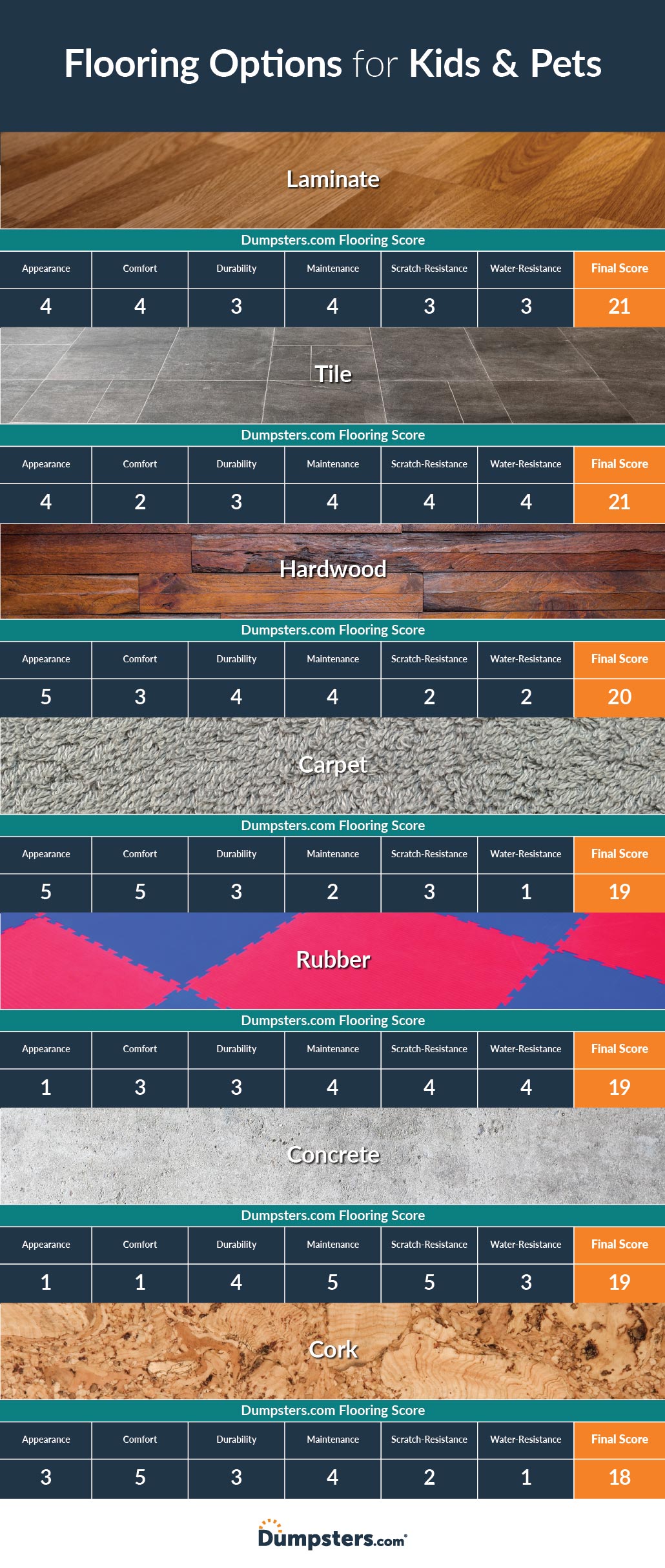 | Scoring Category | Points (out of 5) |
| --- | --- |
| Appearance | 4 |
| Comfort | 4 |
| Durability | 3 |
| Maintenance | 4 |
| Scratch-Resistance | 3 |
| Water-Resistance | 3 |
| Final Score | 21 |
1. Laminate
Best for: Families with young children and older or less-active pets.
Not recommended for: Play areas for active pets.
Ideal rooms: Basement, bedroom, kitchen, hallways and living room.
Flooring Score: 21 of 30
Laminate floors often copy the look of hardwood or tile, but without the expensive price tag. Our survey shows that the average laminate flooring project came in at $1,877, making it one of the most cost-effective options. Laminate is a great option for families with younger children because it is easy to clean and fairly water-resistant (provided you don't let a spill sit too long).
This floor type is one of the most comfortable non-padded styles available, which is great for when your dog wants to lay down for a while. Additionally, scratches won't happen easily, but an active pet or one with longer claws can leave some marks.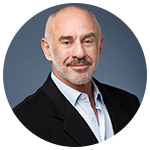 Dr. Jerry Klein, Chief Veterinary Officer | American Kennel Club
"The only potential issue with this type of flooring is that the layer that protects the laminate is very slippery and can have your pet skidding all over the place. If you're going to go with laminate, consider a finish with some texture to help your buddies get traction."
  
| Scoring Category | Points (out of 5) |
| --- | --- |
| Appearance | 4 |
| Comfort | 2 |
| Durability | 3 |
| Maintenance | 4 |
| Scratch-Resistance | 4 |
| Water-Resistance | 4 |
| Final Score | 21 |
2. Tile
Best for: Kids and pets of all ages.
Not recommended for: Active pets and children.
Ideal rooms: Bathroom, basement and kitchen.
Final score: 21 of 30
Another tried and true flooring option is tile. Whether you opt for stone, ceramic, marble or porcelain, it's a classic look that fits with nearly any décor style. The high scratch- and water-resistance makes tile an ideal kid- and pet-friendly flooring option. Additionally, these materials are fairly easy to clean, but the grout can be an issue. "With tiles, keeping the grout clean might be a challenge," Klein said. "But for most pet owners, tile can be a smart, liquid-proof surface with tons of different design options, even faux wood tiles."
However, tiled floors do have some drawbacks. If a piece cracks, you will most likely need to replace the entire square. Plus, there is a strong possibility of damage to the surrounding tiles when you work on the replacement. Also, standing or laying on the surface for long periods of time can be painful.
Find a Dumpster for Old Flooring
| Scoring Category | Points (out of 5) |
| --- | --- |
| Appearance | 5 |
| Comfort | 3 |
| Durability | 4 |
| Maintenance | 4 |
| Scratch-Resistance | 2 |
| Water-Resistance | 2 |
| Final Score | 20 |
3. Hardwood
Best for: Families with older children and pets.
Not recommended for: Homes with crawling toddlers or people who don't want scratches appearing on dark floors.
Ideal rooms: Bedroom, living room and hallways.
Final score: 20 of 30
Hardwoods are an ideal flooring investment for families as they can be refinished multiple times. While they can be scratched and aren't as water-resistant, if you sand and re-stain them, they can look as good as new — providing the scratches are not too deep and the water hasn't resulted in warping of the wood.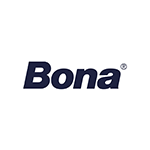 "The timeframe for refinishing floors depends on how much traffic and wear the floor might experience. A home with high foot traffic, pets and kids might need attention more often than a home with lighter wear. Everything from shoes to furniture to pets will create wear on the surface of the floor. If it's time for a refinish, the good news is that there are a wide range of colors, products and textures available."
  
Hardwood can be easily cleaned, but it may require a bit of elbow grease with a polisher to regain its initial sheen.
The confusion for hardwood, though, can come from the number of types available. If you want durability that will not show scratches easily, consider Natural Australian Cypress, Antique Strand Bamboo or Vintage Honey Oak.
While an extremely sturdy flooring type, it can be a bit uncomfortable at times, particularly if your hardwood has natural bumps and grooves to prevent a flat surface from wall-to-wall.
| Scoring Category | Points (out of 5) |
| --- | --- |
| Appearance | 5 |
| Comfort | 5 |
| Durability | 3 |
| Maintenance | 2 |
| Scratch-Resistance | 3 |
| Water-Resistance | 1 |
| Final Score | 19 |
4. Carpet
Best for: Younger children or older pets who are prone to falling.
Not recommended for: Young pets that are still house-training and areas where children will be eating.
Ideal rooms: Bedroom, basement, hallways, family room playroom.
Final score: 19 of 30
Carpet is soft and comfortable for kids and pets, and it's a staple of the flooring industry. It's the perfect floor type for crawling infants or toddlers taking their first steps. Your furry friends will love the feel under their paws as they run through the house. However, picking a proper carpet type is key when you have animals.
"Popular varieties of luxurious wool carpeting may not stand up well to daily wear and tear," Klein said. "The biggest problem with pets is their nails. Even well-trimmed nails can gouge hardwood and snag carpet. Muddy paws and pets that are not yet housebroken are also a bad match for carpeting."
Keep in mind that there are waterproof carpet options out there, but the chemicals used to treat and create it may not be the best for your pets or kids. Plus, you'll be sacrificing a bit of comfort with these types of carpet.
If you have pets, expect frequent vacuuming to get rid of shed fur, and you'll need to clean up the spilled apple juice quickly. Cleaners, particularly ones that are made for pets, can help once a stain has set in, but they may not be able to restore the carpet to perfection.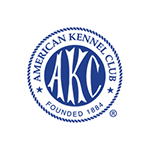 Dr. Jerry Klein, Chief Veterinary Officer | American Kennel Club
"Some stains and smells can be difficult to remove, even with the best industrial-strength cleaners."
  
If stains or smells do ultimately become a problem, don't be afraid to replace it. According to our study, carpet was the least-expensive material to use for a flooring project, coming in at nearly $200 cheaper than the closest alternative.
| Scoring Category | Points (out of 5) |
| --- | --- |
| Appearance | 1 |
| Comfort | 3 |
| Durability | 3 |
| Maintenance | 4 |
| Scratch-Resistance | 4 |
| Water-Resistance | 4 |
| Final Score | 19 |
5. Rubber
Best for: Active children and pets.
Not recommended for: Pets prone to bathroom accidents and children who often spill drinks.
Ideal rooms: Playroom and basement.
Final score: 19 of 30
Rubber flooring is one of the more interesting flooring types available. It's great for children and pets due to its ability to resist scratches, built-in cushion and waster-resistance. However, it's a flooring type that is not often seen, and when it is, it's obvious that the room is specifically for children.
One of the biggest benefits of rubber flooring is that it's easy to clean. However, if a pet uses a rubber floor as a bathroom, be quick to act. While the floor won't absorb the accident, it will let it run freely, possibly between the panels.
A potential downside for rubber floors is the resale value. If you're selling to a family with young children it can be a potential plus. However, if the buyers looking at your home don't plan on having children or pets, they may simply see a flooring project they will need to do.

| Scoring Category | Points (out of 5) |
| --- | --- |
| Appearance | 1 |
| Comfort | 1 |
| Durability | 4 |
| Maintenance | 5 |
| Scratch-Resistance | 5 |
| Water-Resistance | 3 |
| Final Score | 19 |
6. Concrete
Best for: All pets.
Not recommended for: Children prone to falls.
Ideal rooms: Basement, mudroom and entryway.
Final score: 19 of 30
It may not be the most visually appealing, but if you are looking for a floor that won't need to be replaced due to wear and tear of kids and pets, concrete is the answer. Concrete is one of the best flooring options for high-traffic areas, which is why it's often seen in mudrooms and entryways. It's built to last and chances are that you won't have to replace it unless your style changes over time. As an added perk, the concrete will naturally grind your pet's claws, helping to keep them at an ideal length.
However, it can absorb water if not properly sealed, which can lead to issues with mold or mildew. On top of that, expect little padding if you fall down. It would be best to avoid this floor type if you have infants who are still in the crawling stage or toddler starting to walk.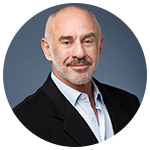 Dr. Jerry Klein, Chief Veterinary Officer | American Kennel Club
"Concrete resists scratches of all kinds, is easy to clean in case of accidents and doesn't collect pet fur. When using poured concrete, it gives off a stylish, industrial look. The downside is that it's hard and can be quite cold in winter."
  
| Scoring Category | Points (out of 5) |
| --- | --- |
| Appearance | 3 |
| Comfort | 5 |
| Durability | 3 |
| Maintenance | 4 |
| Scratch-Resistance | 2 |
| Water-Resistance | 1 |
| Final Score | 18 |
7. Cork
Best for: Toddlers and families with allergies.
Not recommended for: Rooms with heavy furniture or lots of sunlight.
Ideal rooms: Playrooms.
Final score: 18 of 30
While it may seem strange surface to use in your home, cork floors are growing in popularity due to their eco-friendly source. Cork is also naturally antimicrobial, so it reduces mold growth and other allergens. For families with young children, this can make a huge impact on your health, especially if used in a playroom. Additionally, it is one of the softest surfaces you can use for a floor, which is great for infants and toddlers, as well as the older pet who just wants to take a nap. It's fairly low-maintenance, but using water to clean it is tough; it does tend to sop up liquids.
If you're looking for a wood surface in your home but are worried about your pet's claws, cork might be the best route. While it will scratch, it won't be as noticeable.
"Cork flooring is more adaptable to claws of dogs and cats than many other natural wood flooring options due to the general resilient nature of cork flooring, but it will still show scratch marks," Klein said.
Comfort Is Key When It Comes to Your Family
Picking the right floor may seem like a major task, but keep in mind that you don't have to select one floor for your whole home. You can go with kid-friendly flooring ideas like cork or rubber in the playroom, give your cat a plush carpet for sunbathing in the family room and your dog a cool laminate in the kitchen. We all love our kids and pets and want to do everything we can to make them happy and keep them healthy.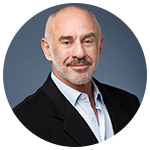 Dr. Jerry Klein
Dr. Jerry Klein has been an emergency and critical care veterinarian in the Chicago community for over 35 years. An Ohio native, he received a Doctorate of Veterinary Medicine from Ohio State University in 1979. In addition to his veterinary work, Jerry is a licensed judge for dog shows and served as a judge for the 2015 Westminster Kennel Club dog show.
The American Kennel Club is a nonprofit organization focused on advancing overall dog health. They work out of their offices in New York City and Raleigh to promote responsible dog ownership.
Heather Lindemann
Heather oversees global communications for Bona and has been with the company since 2007. Based in the Denver area, she uses over 20 years of public relations, marketing and strategic communications experience to help elevate the Bona brand as a top hardwood floor care and maintenance company in the world.
What Do You Think?
Ready to get moving on a flooring project? We're listening. Head over to Twitter or Facebook,
and use #dumpstersblog to join the conversation.
Need a Dumpster for Flooring Disposal?