A Complete To-Do List for Building a Home Addition
Want to elevate your living space but don't know where to begin? Use this guide to learn how.
5 Steps for Planning a Successful Home Addition
The sounds of tools whirring and banging as work begins on your home expansion can be exciting, but there's a lot of preparation that takes place before you get to that point. Use our to do list for building a home addition to make sure you have everything you need to create your remodeling plan.
1. Budget for the Cost
The average cost of a room addition is $49,783. The specific cost of your expansion may range from $22,362 to $81,173, depending on what you're building and how much work it requires.
Use the info below as an expected starting point to make sure you have the funds you need and to know what to expect from contractor quotes.
How Much Does a Home Addition Cost?
| Project | Build an addition | Remodel a basement | Build a patio enclosure | Renovate a garage |
| --- | --- | --- | --- | --- |
| Average National Cost | $46,000 | $20,200 | $17,146 | $15,669 |
Keep in mind that the cost will likely be higher in more expensive areas of the country or if your property has special conditions that the contractors need to work with, like a sloping landscape. Increase your budget to give yourself a little wiggle room for unexpected costs. As the building process takes place, unpredictable issues may inflate the price of your original estimate.
Find a Dumpster for Renovation Debris
2. Find Your Property Lines
Your property lines define where your land ends and your neighbors' properties begin. You can find these on your property deed, on the survey you received when you bought your home or at the county assessor's office.
Knowing where your property ends will be useful on multiple fronts:
You'll understand the space you have to work with.
Your local codes may have restrictions on how close you can build to your neighbor.
You can create a plan that will include your house, landscaping and the location of your utilities.

Pro Tip
Check with city hall to make sure you're following all building codes and that you get all the permits you need to add to your home's existing structure.
3. Design Your Home Addition
Your current floor plan is a helpful starting point when deciding how to add onto your house. Looping in an expert as early as possible during the design process will keep the project moving. A contractor needs to work with professional drawings when building your home expansion, and it's also helpful to have these when scouting out potential contractors to get accurate and comparable estimates.
Here are some things to remember when designing your home addition:
Consider how the addition will look from the outside.
Think about how you'll live in the space and make sure it's functional for your needs.
Focus on adding square footage and creating an open floor plan to increase your home's value.
5 More Home Addition Ideas to Inspire You
| Project | Average National Cost | Benefits |
| --- | --- | --- |
| Add a second story or modular home addition | $175,000 | Adds lots of space, good for a ranch home addition |
| Bump-out addition | $2,950 | Adds a walk-in closet or porch space |
| | $25,250 | Easy way to add a room to a small home |
| Add on to the kitchen | $26,234 | Good return on investment, opens up the kitchen |
| Expand the bathroom | $15,000 | Increases the value of the home |

Pro Tip
Consider working with a design-build company so you have one point of contact creating the plans for your home expansion and physically constructing it. This way, you won't need to hire multiple companies, which can reduce costs.
4. Research Contractors
If you're not working with a design-build company from the start, present your plans from the architect to potential contractors who are creating bids for your home addition. This will give you a sense of their skill level and a better idea of what it will cost to build.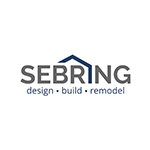 Nikki Agiunaga, Designer | Sebring Design Build
"Start 'dating' by calling architects, contractors and design-build firms, then begin the phone interview process and check references. Once you've narrowed it down to two, have them come to your home to discuss the project, and decide if what you're looking for is realistic and possible."
  
Use the following criteria when hiring a contractor:
☐ Research reviews: Check with the Better Business Bureau, look at online reviews and ask your friends and family for contractor recommendations.
☐ Check for compatibility: Adding a room onto a house is a lengthy process, so make sure you get along with the contractor and staff you hire.
☐ Ask about the process: Ask the contractor to give you a run-through of their method. This will help you know what to expect during the course of the building and understand how the team works.
☐ Ask to see a portfolio: Never hire a contractor without seeing work the team has previously completed. Make sure they create a quality product and that you like the work they do.
☐ Speak with past clients: Ask the contractor if he or she has past clients you can speak with about their experiences.
☐ Collect multiple quotes: Cheaper doesn't mean better. In fact, it can be the opposite. Your wallet will thank you, but the quality you get may suffer.

Cleanup Tip
Use our disposal guides for helpful tips on how to properly dispose of remodeling and renovation debris, from outdated appliances and furniture to old carpet and lumber.
5. Select Your Materials
Deciding which materials you'll use is another major item to plan and budget for. Make a list of your first, second and third choices. Like your design wish list, you may come to find that some of the materials you want either won't work in the space you have planned or may be more expensive than you'd hoped. Find places you can compromise and determine what you simply can't live without. Then, figure out where you can spend the least amount possible.

Pro Tip
If you don't want to update the rest of your house, try to match the flooring and the home's overall aesthetic when choosing materials.
Time to Get Started on Your Dream Home
Once you've budgeted, designed and found a contractor, you can set a start date. Prep your home for living in a temporary construction zone, then sit back and let the builders make your dream a reality.
Nikki Agiunaga
Nikki has been a successful designer for Sebring Design Builds for many years. She's confidentially tackled home projects and helped thousands of homeowners design their new addition. Based in Illinois, Nikki continues to do great quality work for her clients.
Other Sources
Additions & Remodeling Cost Guides (February 22, 2022). Retrieved from HomeAdvisor.com
The Top 10 Questions About 2nd Story Additions – Answered (n.d.). Retrieved from Legaleaglecontractors.com
What Do You Think?
How did your home addition turn out? Share your story by heading over to Twitter or Facebook,
and use #dumpstersblog to join the conversation.
Need a Dumpster for Construction Debris?