How to Remove a Bathtub Yourself
Bathtub removal is possible without hiring a pro. Just follow our 10-step guide.
By Katina Hazimihalis | Last Updated:
05/13/2022
The Complete Guide to Removing a Tub
Whether you want to replace your tub with a walk-in shower or swap out a 70s-era eyesore for something more modern, planning a DIY tub removal leaves more money in your budget for the rest of your bathroom remodel. This project will take several hours and involve some heavy lifting, but a homeowner with some DIY savvy can accomplish it with a few tools you probably already have on hand.
We're here to show you how to remove a bathtub without calling in a pro—and clear the way for creating the bathroom of your dreams.
How much does bathtub removal cost?
The average cost to remove a bathtub is $106, with a range of $68-$146. Of course, if you are removing the tub yourself, the cost will be what you pay for tools and disposal.
Can I remove a bathtub myself?
Absolutely. Your tub doesn't even have to be detached. Just grab some tools and safety gear. Also, be prepared to do some heavy lifting—you may want to ask a buddy for help.
How to dispose of a bathub?
For broken, stained or cracked porcelain tubs, you'll need to throw it away. Consider renting a dumpster for hassle-free disposal—it can be delivered right to your driveway so you save time and effort carrying the heavy pieces back and forth. Otherwise, you'll have to wait for bulk curbside pickup or take several trips to the dump yourself.
Can I donate or recycle a bathtub?
Yes, just be sure that there are no stains or cracks in the porcelain. Places like Habitat for Humanity's Habitat ReStore will gladly accept your old bathtub (and sink or toilet for a bathroom remodel). It may be possible to have them pick it up.
Donating your bathtub is a great way to keep it out of the landfill. Plus, if you are remodeling an outdated bathroom, your vintage fixtures will be popular at a local salvage store.
Remove a Bathtub Yourself in 10 Easy Steps
Step 1: DIY Bathtub Removal Tools & Supplies
Before getting started, gather the necessary tools to complete your bathtub removal.
To change out a bathtub, you'll need:
| Tools and Materials | Safety Gear |
| --- | --- |
| Screwdriver | Safety glasses |
| Wrench | Work gloves |
| Allen wrench | Closed-toe shoes with study soles |
| Jigsaw | Face mask (optional) |
| Prybar | |
| Drain key (for drain crosshairs) | |
| Tub drain extractor (no drain crosshairs) | |
| Putty knife and utility knife | |
| Drywall saw or reciprocating saw | |
| Plastic sheeting or old plastic bags for vent cover | |
| Roll off dumpster* | |
*Depending on what city you live in, curbside trash pickup may not be an option.
Find a Dumpster for Your Bathroom Remodel
Step 2: Shut Off and Drain Water
You'll need to do some quick prep work before you start tearing out your bathtub.
Shut off the water to the bathroom at your home's main water shut-off valve.
Turn on your tub's faucet to drain any water left in the pipes.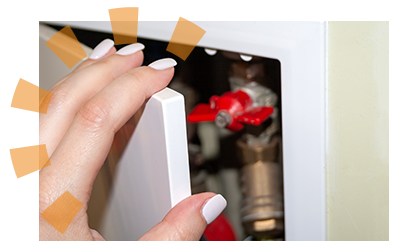 Pro Tip
Tape plastic sheeting over your vents to keep dust from spreading throughout the rest of your home.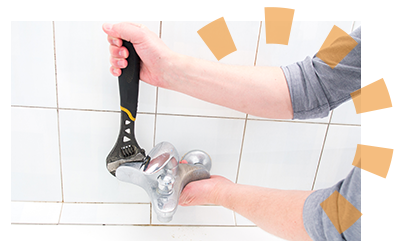 Step 3: Remove Your Tub's Hardware
Time to strip the faucet and drains from your tub. You can remove these in any order, but it's often easiest to start from the top and work your way down.
How to Remove a Tub Faucet
Scrape away any caulk between your faucet and the wall using a utility or putty knife.
Check for a screw on the underside of your faucet.
If there is no screw, grab the faucet with both hands and turn counterclockwise until it detaches.
If there is a screw, use an Allen wrench to remove it. Pull the faucet away from the wall.
Check the exposed pipe for an adapter—it will look like a piece of threaded metal on the end of the pipe.
Disconnect the adapter by using an Allen wrench to remove the screw fastening it to the pipe.
How to Remove Faucet Handles
If you have lever-style handles, use an Allen wrench to remove the screws holding them in place. Screws are usually found under the lever.
For other handle styles, use a Phillips screwdriver to remove the screws. If screws aren't visible, they're probably under a "plug" on the front of the handle—often carrying the manufacturer's logo. Use the tip of your screwdriver to pry off the plug and expose the screw.
After removing the screws, slide the handles off the valve stems by pulling them toward you. If the handles are stuck, spray on a coat of WD-40 and wait 10 minutes before trying it again.
How to Remove Drain Covers and Drains
Unscrew the drain cover using a screwdriver or Allen wrench.
Pry up the cover and pull it from the tub.
If there are no screws, just pry up the cover with a screwdriver or putty knife. If it won't come out when lifting it straight up, try twisting it counterclockwise, as it may be threaded in.
Find the screws on the overflow drain cover. They'll either be located on the cover's face or under the bottom edge of the faceplate.
Use a screwdriver or Allen wrench to remove them.
Locate the access panel for your bathtub's pipes on the other side of the wall behind your tub.
If there is no access panel and the bathroom is on the ground floor, check the basement ceiling under your bathroom. If they aren't accessible from your basement, you'll need to cut through the drywall behind your tub to reach the pipes.
Locate the main and overflow drain pipes.
Disconnect both pipes by turning the nuts counterclockwise with a wrench.
How to Remove Bathtub Drain Flange
A drain flange—also referred to as drain basket or drain body—is the visible part of the drain in the bathtub.
Remove the stopper.

Toe-touch stopper: Unscrew it counterclockwise.
Push-pull stopper: Pry open and twist it counterclockwise.
Lift and turn stopper: Unscrew it counterclockwise, then yank out the post.
Trip-lever stopper: Take off faceplate and pull the hardware out.

Unscrew the bathtub drain.
Clean the drain opening so you can remove the drain basket or flange easier.
Insert the drain key onto the drain crosshairs and use a wrench or pliers to clamp onto the key. Then, turn the drain key counterclockwise to unscrew the flange.
 
Don't have drain crosshairs?
Grab your tub drain extractor if your drain basket doesn't have crosshairs. The extractor will grip the walls of the drain flange.
Clamp your wrench on the extractor tool and rotate clockwise to remove.
The drain should come out after a few rotations. However, if it's an older drain you may need to blow hot air on it first, which helps soften the plumber's putty.

Keep in Mind
If your drain is in poor condition from rust or calcium build-up, you may not be able to unscrew the clog. Don't hesitate to use extra force or ask someone for help.
Step 4: Take Down Tile
To remove your bathtub, you'll first need to tear out the surrounding tile. Here's what to do:
Score the tile grout with a utility knife up to about 8 inches from the rim of the tub.
Pry off the tile with a putty knife.
Repeat until all tile has been removed.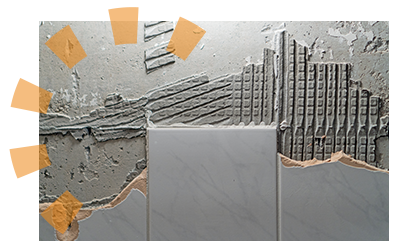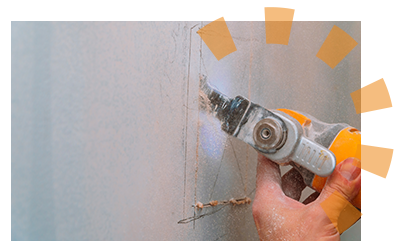 Step 5: Cut Through Drywall
Now that you can see it, it's time to get rid of the drywall:
Cut the drywall into manageable pieces with a drywall saw. Be careful not to sink your saw in deeper than half an inch to avoid cutting into studs. If your walls are plaster, use a reciprocating saw for this instead.
Use a prybar to pull the drywall pieces from the studs.
Carry debris to your dumpster so you'll have a clear, safe work area for the next step.
Step 6: Remove Screws Securing the Tub
You're in the home stretch! Time to finally work on the bathtub. First, through, you need to get rid of what's holding it to the wall.
Locate any screws securing the tub to wall studs.
Detach any caulk that might be covering the top of the screw.
Remove the fasteners with a screwdriver or prybar.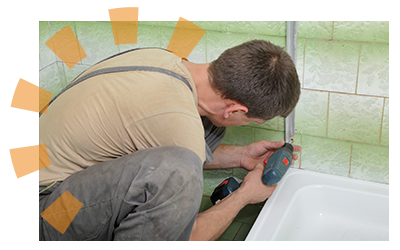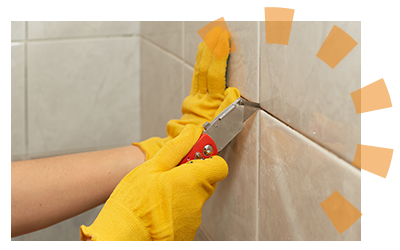 Step 7: Cut Away Caulk
There's still one place where the bathtub is attached to your bathroom: the floor. Luckily, it's easy to detach it:
Cut through any caulk between the tub and floor with a utility knife.
Push on the tub gently to ensure the caulk seal has been broken.
Step 8: Pry the Tub Out
It's time to do some heavy lifting. You may need a friend for this step.
Pry the tub a few inches away from the back wall using your pry bar.
Check the space behind to make sure it is fully detached from the wall.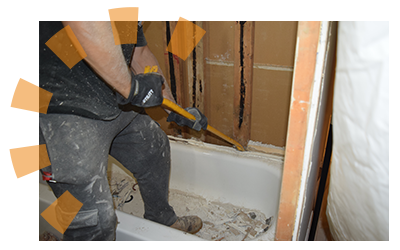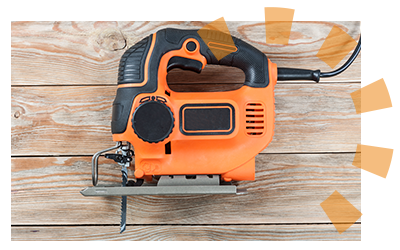 Step 9: Saw Tub Into Smaller Pieces
Bathtubs can be quite heavy. Make the job easier by cutting the pieces down to size.
Cut the tub with your jigsaw near the drain so that you now have two pieces.
Continue cutting the tub until you feel confident you can carry the pieces.
Step 10: Remove and Dispose of Each Piece
You've put in all the work, now it's time to finish the job and get the tub out of your bathroom.
Work with a helper to pry each piece up and pull it out of its space.
Use caution when removing the piece with the drain hole to avoid damaging pipes.
Carry each piece to the dumpster.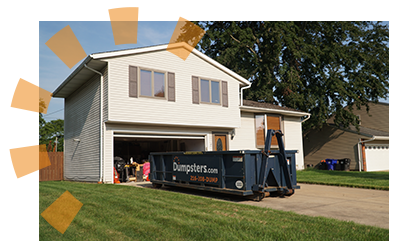 So, You Removed Your Bathtub – Now What?
If you're gearing up for a full-scale remodel, changing out an old tub is just one piece of the puzzle. Use our bathroom demolition guide to completely gut your bathroom. With tips for tearing out your vanity, toilet and more, you'll save money by giving your contractors a clean slate to start from.
Cost to Remove a Bathtub. (2022, January). Retrieved from Homewyse.com
Franco, M. How to Remove a Bathtub Drain. (2021, June 4). Retrieved from Homeserve.com
What Do You Think?
Have thoughts on bathtub removal and disposal? We're listening. Head over to Twitter or Facebook,
and use #dumpstersblog to join the conversation.
Need a Dumpster for Bathtub Disposal?