Intro to Demolition: Tips and Projects You Can Take on Yourself
Prepare for the work ahead with our how-to guide on conquering demolition yourself.
A Guide to DIY Demos
So, you've decided to tackle a demolition project, but do you know where to start? Tearing down a wall, breaking up concrete or removing a shower are DIY-worthy if you know what you're doing. When going after these projects yourself, it's best to be equipped and organized to avoid catastrophic mistakes that can put your renovation and wallet in the hole. Whether you're taking a sledgehammer to the shed or cutting through your wall, you'll want to start by properly preparing the area for the demo and making sure you have the right tools for the job.
We've outlined these and other important demolition tips to consider before you get started. Then, choose your DIY project from our list and we'll make sure you tear up your home safely and efficiently.
How do you calculate demolition costs?
The cost is usually associated with the square footage of the space you're demolishing. The average demolition is usually $4 to $8 per square foot. You can calculate this by multiplying the dollar amount by the square footage.
Can I do my own demo?
Yes, doing your own demo will say you money. However, make sure you're following appropriate safety measures and only taking on projects you're comfortable doing.
How long does demolition take?
An uncomplicated demolition takes about one week on average. Smaller projects can take 1-3 days and larger jobs can take up to two weeks.
5 Home Demo Tips to Conquer Your Next Project
From containing the dust to figuring out the most efficient and convenient way to get rid of debris, here are some pieces of advice to consider before you start a DIY demolition project.
1. Go in With a Plan
When you tackle a renovation demolition, there's a lot to account for, so don't go in blind. Not to mention, between knocking things down, tearing things up and clearing out all the debris, it can be time-consuming. A plan will help you get through your project efficiently and minimize the amount of damage and cleanup you'll face.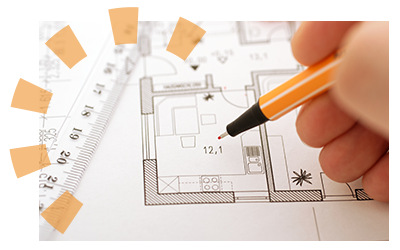 For example, if you're completely renovating a space, remove the carpet first so it's easy to sweep up nails, dust and other debris as you're demoing the rest of the room. If you're building new cabinets, remove the existing ones early. This will allow you to see the space and accurately measure so you can get started on the new ones as you work.
Check out our DIY projects below to help you plan for your demo. Plan a project timeline that makes the most sense for you and start strategizing, especially if you're going to be living at home through the renovation.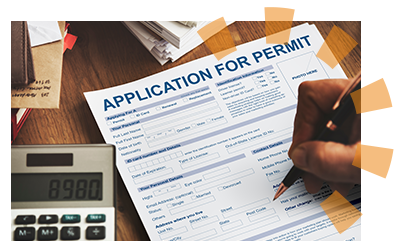 2. Get a Permit
Most cities require you to get a building permit for any interior or exterior demolition job. Officials typically want to know if you'll be shutting off utilities and make sure water won't be running to your house. You'll also be required to notify your neighbors of the upcoming work. Check with your local building department for specific regulations in your area.

Pro Tip
Keep your permit somewhere visible, like your front door, so anyone passing by will know the work you're doing is legal. If you rent a dumpster for debris removal and need to place it on the street, your city may also require you to get a dumpster permit.
3. Prepare the Room for the Mess
Demos are messy, so get ready to get your hands dirty and factor in the time it will take to clean up. They're involved, so make sure to factor in the time it will take to clean up. It can be fun to embrace the mess when you (safely) smash a countertop, knock down a wall or send drywall flying. Still, we advise using these tips to keep the mess somewhat contained for easy cleanup.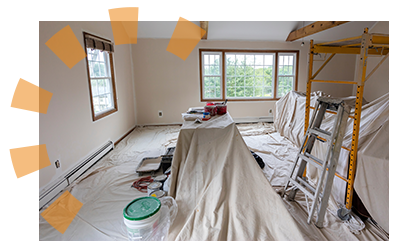 Get a Dumpster for Demolition Debris
Build Dust Barriers
Of course, a demolition is going to produce a lot of dust and debris, so be sure to keep it secluded to your work area. Put up plastic sheets that stretch from the ceiling to the floor and between the framing and walls. Then, cover doors and seal off hallways. You want to create a room within the room to contain the mess. Finally, cover the ground with a plastic floor protector or wear booties on your shoes to prevent your floors from getting dirty.
Cover Air Ducts
If you don't cover the air ducts in the room where you're working, you could send dust to every room of the house or clog the furnace filter. Pull the lever or turn the dial on the vent to close it. Then, cover it with plastic to seal it.

Pro Tip
Turn your heating and cooling systems off to avoid damaging them while the vents are sealed.
Direct Dust Outside
Dust will inevitably accumulate in the room as you work. Point a fan out the window to drive some of the dust outside. Use a door or window on the opposite side of the room for the best airflow.
Use Cardboard as a Protective Layer
Cardboard will be your friend during a demolition. Tape it down to the counters and other flat surfaces to prevent dust from collecting. It's also a great way to protect anything on an angle from dings, like cabinet edges, kitchen corners and wall corners. Use painter's tape to keep the cardboard in place and to easily remove it when you're done. You can also run cardboard along the bottom of the walls. Make the strips longer than the baseboards to keep them safe. Finally, cover the walls with cardboard if you're worried about flying debris damaging them.

Pro Tip
Basically, use cardboard to cover everything. Ask a local grocery store or warehouse for boxes they plan to recycle or toss to minimize waste.
Protect Windows
Cover windows with plastic sheeting to avoid ruining window treatments, like wood or plastic blinds, or having to extensively clean them when you're done. You can skip this step if you plan to replace the old windows. Take down and wash curtains so they're fresh and ready when you finish the room's makeover. It's also a good idea to remove screens to prevent any damage.
Rent a Dumpster
Order a dumpster rental to have a waste removal solution on-site to clean as you go. This will make the cleanup process less overwhelming. If you're working on a large project but only have room for one container, ask for empty-and-return service to get a new dumpster once the first one is full. Plus, having a container in your driveway will save you from taking multiple trips to the dump yourself, since demolition debris is not typically accepted with curbside collection.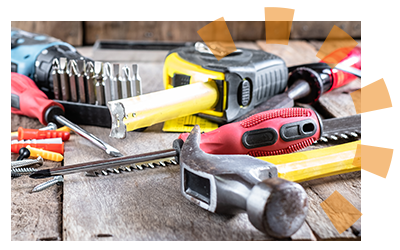 4. Gather Your Tools Before You Get to Work
You don't want to slow down because you're missing a valuable tool. Learn about the project and make sure you know everything you'll need to get the job done before you dive in. Here's a list of common tools used for demolition projects or jump to the guide for your specific demo project for more specific supplies.
Common DIY Demolition Tools
| | | |
| --- | --- | --- |
| Bucket | Floor scraper | Shovel |
| Broom and dustpan | Jackhammer | Sledgehammer |
| Chisel | Ladder | Spray bottle |
| Contractor-grade trash bags | Lightweight hammer | Stud finder |
| Crowbar | Nail puller | Utility knife |
| Drywall knife | Pliers | Wheelbarrow |
| Electric drill and bits | Reciprocating saw | Wrench |
| Flathead screwdriver | Shop vacuum with a filter | |
5. Be Safe
Demolitions involve electrical wires, load-bearing walls and other dangers. It's important to always be aware of your surroundings and what you're working on. Take the time to learn what lies beneath or behind whatever you're pulling up or knocking down. Do you need to worry about asbestos? Are there live electrical wires or gas lines?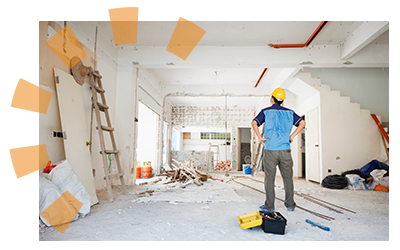 Not only can mishaps lead to injuries, they can cause problems that end up costing you more money. Have your home's blueprint on hand so you know where important things are located, like live wires and load-bearing walls, and where you need to be careful.
Safety Guidelines to Always Follow:
Shut off water, electrical and gas before you begin work.
Assume there's a live electrical wire until you find out otherwise.
Important Safety Gear to Wear:
Goggles
Work gloves
Protective shoes
Earplugs when using loud machinery
N95 masks or other dust-filtering face covers
When Should You Hire A Pro?
As you know by now, demolition is serious work. Smashing things can be fun but you need to be careful. If you have doubts about your ability to do the work safely and in a timely manner, hire a contractor.
Demos can be a lot of physical labor and involve a lot of components that require research and knowledge. If you don't want to, or can't take the time to learn about these projects, don't attempt them on your own. Be realistic about what you're able to do, and don't be afraid to seek a professional if you're unsure about something. Spending money to do it right once is better than having your roof cave in and paying extra to have your mistake fixed.

Pro Tip
Try a nonstructural project, but turn over anything involving load-bearing walls, headers, posts, beams, lintels or footing to the pros. If you don't know what these things are, don't attempt to remove them.
Projects You Should Definitely Leave to the Pros:
Jobs involving natural gas.
Projects dealing with mold.
For projects involving mold, at the very least, consult a professional before dealing with it yourself. Some spores can spread through the whole house if they're disturbed, so some jobs are best left to the experts.
Demolition vs. Deconstruction
In their most basic terms, demolition is defined as knocking something down, whereas deconstruction is taking something apart so it can be used again. While being destructive may be a faster way to tear down the old parts of your home, deconstructing things, like kitchen cabinets and windows, is a cleaner process that allows these supplies to be reused.
Most major cities across the country have reuse warehouses, like Rebuilding Exchange, a nonprofit organization in Chicago that takes deconstructed materials and makes them available to the public again at affordable prices. This also helps to divert waste from the landfill.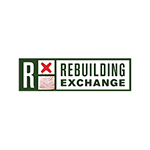 Julian Pastin, Store Director | Rebuilding Exchange
"On average, we divert over one million pounds of building resources from local landfills each year."
 
Common Demolition Projects You Can Do Yourself
Whether you're just doing some research or ready to jump in, we can walk you a variety of DIY demos so you get the job done right.
Put Your New Home Demo Skills to Work
You've just acquired a wealth of useful knowledge to get your renovation demolition underway. Get your plan, prep the room, grab your tools, put on your safety gear — it's time to get started.
Julian Pastin
Based in the Chicago area, Julian has experience in the management of multimillion-dollar businesses. He has worked with a variety of brands including Sears and Lord and Taylor and has achieved a high level of performance in merchandising, operations, human resources, P & L management and marketing. In his role at the Rebuilding Exchange, Julian ensures a consistent flow of building materials into the stores to provide building materials for those that need them, and find creative ways to reuse waste.
What Do You Think?
Have thoughts on your next DIY demolition? We want to hear about it. Head over to Twitter or Facebook,
and use #dumpstersblog to join the conversation.
Need a Dumpster for Renovation Waste?