Work With a Knowledgeable LEED Waste Management Team
When you work to become LEED certified, you show your community that you're taking environmental responsibility. LEED, or Leadership in Energy and Environmental Design, certification is awarded to projects that follow environmental and quality building standards set by the U.S. Green Building Council (USGBC).
If your company is trying to get a project certified, you'll need to complete these main tasks:
Provide details about the debris so we can plan for responsible disposal.
Get the appropriate documents to prove you followed LEED standards.
When it comes to developing a construction waste management plan that is LEED-approved, we understand the importance of taking environmental concerns into consideration. We'll help you responsibly divert recyclable trash from the landfill and provide the proper documentation so you can obtain certification.
Make Sure You Meet LEED Reporting Requirements
Whether you're adding a new roof to a warehouse or converting an old factory into a restaurant, we're well-versed in the LEED documentation process. We know what it takes to make sure your waste removal efforts count towards your environmental building plan. This process includes proving that materials were recycled. To this end, the hauler gets a recycle ticket from the landfill or transfer station where your debris is dumped. We collect all the tickets throughout the course of your project and give them to you in a waste diversion report when the job is done.
Commonly recycled materials include:
Metal.
Concrete.
Cardboard.
PVC and industrial plastics.
Pro-Tip: If you need a waste diversion report for your project, let us know before we deliver your first dumpster. This will ensure we provide recycle tickets for the entire project so you can receive your certification.
In order to obtain certification, projects are awarded points for meeting different LEED criteria, including diverting waste from landfills. According to the USGBC, projects that recycle or salvage 50% of waste are awarded one point and those that divert 75% are awarded two. See our post on how to become LEED certified for a breakdown of the point system.
Waste Diversion Report Cost
The price of a recycling report varies from market to market. The following features are factored into the cost:
Distance from the job site to the landfill or recycling facility: This drop-off location may be different from the standard landfill in your area.
How the material is measured: Whether the facility disposes of debris by the yard or by the ton will affect the final price.
Documentation: Ask our team about the costs associated with a waste diversion report as they can vary from market to market.
Collect LEED Documentation for Your Application
It's important to find a waste removal company that can help you meet LEED reporting requirements so you have proof of your diversion efforts for your application. We make sure you have the documents you need for certification.
When we present you with your LEED report, you'll know what percentage of the waste from your building project was separated and recycled. This shows the organization reviewing your application, Green Business Certification Inc., how much debris you diverted from the landfill to prove you met a particular certification level.
LEED Report Sample: How We Helped One Company Divert 85% of Its Waste
A Cincinnati customer took on a project that involved converting a retail space into apartments. Project investors requested LEED reporting, so the building company notified us before the project started that it would need a recycling report from each trip to the landfill. This allowed us to work with the local facility to compile a waste diversion report at the end of the month-long job.
Between December 12, 2019 and January 15, 2020, the customer was able to divert 85.2% of its waste, or 52.1 tons. Only 8.1 tons were sent to the landfill.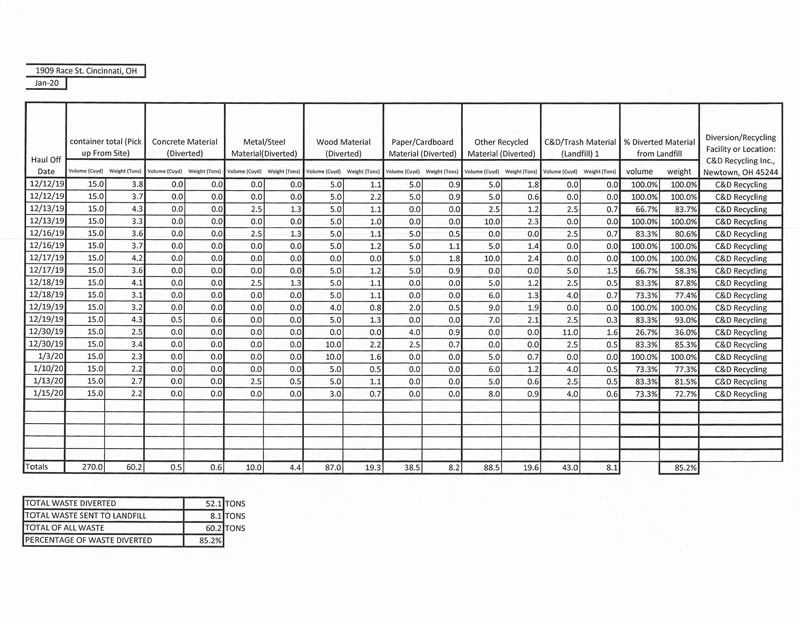 Projects We Help With
We normally provide waste diversion reports for large building jobs. These include the construction of:
Hotels.
Schools.
Grocery stores.
Healthcare facilities.
Warehouse and distribution centers.
Large urban development projects, like convention centers, theaters, stadiums, etc.

Complete the LEED Documentation Process For Your Next Project
LEED certification is a trust signal from your company to the community that shows your commitment to the environment and the health of the public. It's not difficult to do – all it takes is a little planning to make sure you incorporate recycling into your construction waste management plan. Give our team a call before you start your next project and we'll help you get the LEED documentation and waste diversion reports you need to be a trusted builder in your community.
Need more tips on how to reduce trash on your construction site? Check out these tips to cut waste on the job or try incorporating lean construction practices.