How to Remove Carpet
Your worn-out carpet has got to go. Follow this easy DIY guide to get the job done fast.
Tips for Pulling Up Old Carpet Yourself
Replacing your flooring is a great project to increase your home's value. But professional carpet removal for a 500 square foot area can range from $200 to over $500, plus disposal. After you tack on the costs of new flooring and installation, you're looking at quite an investment. Tearing out old carpet is a strenuous task, but many homeowners still choose to pull up carpet themselves in order to save big bucks on renovation costs.
If you're considering this option yourself, we wrote this guide to walk you through the process with professional advice from the National Wood Flooring Association.
After you've selected your new and improved flooring, follow these ten steps to remove your old carpet without straining your back or your bank account.
How much does carpet removal cost?
Contractors will charge you an average of $1-$2 per square yard, excluding damage repairs. Have glue underneath your carpet? Count on shelling out an additional $3-$4 to the original estimate.
Can I remove carpet myself?
Yes. All it takes is some carpet removal tools, supplies and a little heavy lifting. You can even rent them to make the job go faster or if you're on a budget.
Should I wear a mask when removing carpet?
Generally it is a good idea to wear a mask. The reason for this is the extra dust and small amounts of debris will be released into the air, which you don't want to inhale. It's best to practice safety precautions than risk your health.
Can I donate or recycle carpet?
Charities typically only accept new or unused carpet due to health concerns. Also, keep in mind that in order to donate you would need to keep the carpet intact, increasing the difficulty of removal. If you have sizable carpet remnants that could go to good use, contact a local charity that specializes in building or home restoration, like Habitat for Humanity.
Nearly all types of carpet are recyclable. Depending on the fiber and chemical makeup, carpet can be broken down into fibers or plastic pellets, which can be reused to make new carpet and various construction products. To find a carpet recycling service near you, use Carpet America Recovery Effort (CARE)'s carpet reclamation map.
Remove Carpet Yourself in 10 Easy Steps
Step 1: DIY Carpet Removal Tools & Supplies
Before getting started, gather the necessary tools to complete your carpet removal.
| Tools | Safety Supplies |
| --- | --- |
| Utility knife | Gloves |
| Hammer | Dust mask or Respirator |
| Pry bar | Knee pads |
| Floor scraper | Safety glasses |
| Pliers | Long sleeve clothing |
| Duct tape | |
| Broom | |
| Vacuum | |
| Putty knife (optional) | |
| Roll off dumpster* | |
*Depending on how much carpet you pull up, curbside trash pickup may not be an option.
Find a Dumpster for Carpet Disposal Near You
Step 2: Clear and Prep the Room
Before you start ripping up the carpet, clear all furniture from the room. Remove entry or closet doors that might interfere with your work. You might also consider vacuuming the carpet one last time to minimize the mess during removal. Even then, you're bound to kick up a dust bunny or two, so wear a dust mask and safety glasses for protection and put on gloves and knee pads for safety.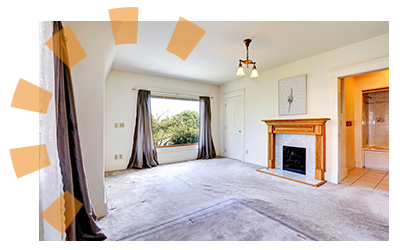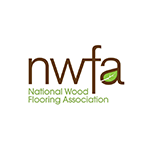 Brett Miller, VP of Education and Certification | National Wood Flooring Association
"It is very common to find old stains and years of dust, dirt, pet urine, dead bugs, etc., under the carpet during the removal process. For this reason, it is highly recommended to wear a respirator during removal."
  
Step 3: Detach Carpet From Tack Strips
Tack strips are metal nails that line the perimeter of your walls to hold the carpet securely in place. They can be tricky to deal with, so start in a corner, take your time and follow the steps below.
Use pliers to grab the carpet and pull it away from the subfloor. If the pliers aren't cutting it, you can also use a small crow bar to pry it back.
Continue pulling until you've separated the carpet entirely from one wall. If you reveal a carpet padding beneath, keep it in place for now – we'll tackle that later on.
Roll the carpet a few feet back before cutting.
Step 4: Cut Carpet Into Easy-to-Handle Pieces
Carpet can be extremely heavy to handle, especially if you're tackling a lot of square footage. The best way to cut carpet is to cut it into easy-to-manage pieces with a utility knife:
Cut carpet from the back, instead of from the fiber side, and make sure your blade is sharp and new.
Be careful not to cut into baseboards, the subfloor, the walls and – most importantly – your hands. Consider wearing cut-resistant gloves for safety.
Continue this process until you reach a transition where the carpet meets the entryway to another room or type of flooring.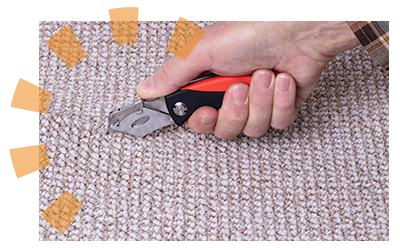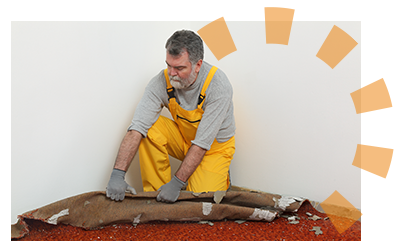 Step 5: Rip Up and Roll Carpet
When removing the old carpet from the room, consider wearing long sleeves to protect your forearms. After you've removed all the carpet strips from the space, it's time to get rid of the carpet padding.
Grip the corner of the carpet with your pliers and yank it away from the tacks along the wall until there's a decent amount of loose carpet to work with.
Use your gloved hands to loosen the carpet from the length of the wall until all edges are free of the tacks.
Roll up the carpet strip. You may need to cut through the carpet backing if you didn't cut through it completely in the previous step.
Secure the carpet roll with duct tape.
Continue around the room repeating these steps until all of the carpet has been removed from the room and thrown in your renovation dumpster.
Step 6: Remove Worn Carpet Padding
The process of removing carpet padding is very similar to pulling up the carpet itself, except it's typically much lighter. Start at one wall and roll the carpet padding away from your subfloor. Every few feet, use your utility knife to cut the padding into strips. Again, these smaller strips will be much easier for you to remove from the room. After you yank it all out, you'll reveal your subfloor. You're also likely to see a ton of staples, nails and tack strips all around the room. Once the padding is out, it's time to grab the pry bar again.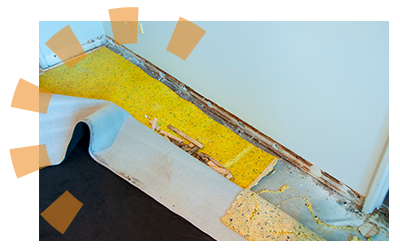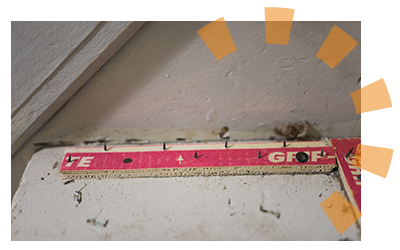 Step 7: Remove Carpet Tack Strips
To remove tack strips installed over subfloor, grab your gloves, start in a corner and shove your pry bar directly under one tack strip at a time, prying it up from under the nail heads.
To remove tack strips from hardwood floors, insert a wide putty knife between the tack strip and the floor next to the nail head before inserting the pry bar. This helps to protect your hardwood flooring from damage.
Hit the opposite end of the pry bar carefully with a hammer to pop the nail out of the floor.
To remove tack strips from concrete, more strength may be required to hammer the pry bar. Be sure to wear safety glasses in case nails pop out forcefully.
Ideally, you'll be able to pop each tack strip up in one piece. But sometimes, especially with older installs, the tack strips can splinter. Use caution when removing the wood and nails.
Dispose of the old tack strips in a heavy-duty trash bag.
Repeat the process until all remaining tack strips in the room are detached.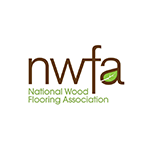 Brett Miller, VP of Education and Certification | National Wood Flooring Association
"Tack strip is sometimes glued in place, but is most-often nailed. This makes it dangerous to remove because it can cut your hands, arms, etc. Wearing heavy work gloves and a long-sleeved shirt and pants during removal will help minimize this risk. It can also help to place the removed tack strips on the torn-out carpet pad, which makes carrying the sharp, jagged tack strips less of an injury risk."
  
Step 8: Remove Carpet Staples
Once you've removed all of the tack strips, it's time to pull up the staples. Removing the staples from your subfloor is important for your new flooring to lay evenly. This can be a very time-consuming task. For best results, run a heavy duty long-handled floor scraper over the entire area. Use a broom to sweep the loose staples into the center of the room, then a shop-vac to quickly suck them all up. Pay careful attention to make sure all loose dust, staples, wood and nails are all completely vacuumed.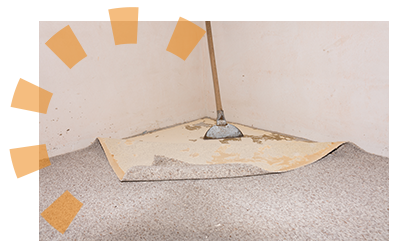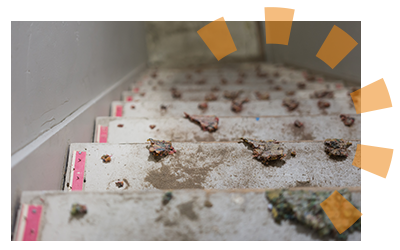 Step 9: Pull Carpet From Stairs
If you have carpeted steps, we recommend tackling those now. If not, you can skip to the final step.
Begin at the top of the stairs — gloves on — and work your way down.
Use your pliers to pry up any metal nosing and remove it. If there isn't any, go straight to cutting the carpet near the top of the first stair riser.
Grab the cut end of carpet and pull it off the stairs. Keep pulling on it as you go down the staircase if the carpet is in one continuous piece. Cut off pieces to alleviate extra work as you remove it.
Roll up remaining pieces, use duct tape to secure it, then toss in your roll off dumpster.
Step 10: Carpet Disposal
Since carpet is generally tossed in large quantities, it's usually not accepted on regular garbage pickup days. Depending on your local regulations, you can wait for bulk trash pickup day. But when working with limited space, many homeowners prefer to rent a renovation dumpster. This way, you can quickly toss the old carpet, padding and tack strips all at once, saving you from taking multiple trips to the dump. Get a free online quote for a dumpster rental delivered directly to your driveway.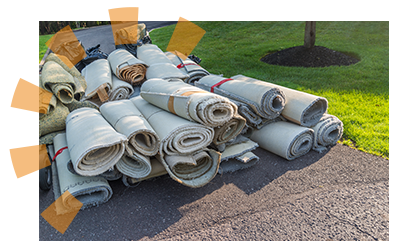 Keep in Mind
Before new flooring is installed, Miller recommends consulting a professional "to determine if the subfloor is adequate for the new flooring material." For example, the weight of new tile can be much heavier than the weight of your old carpet. In some instances, you may need to install a concrete backerboard to support the weight. Other important factors include the flooring grade and moisture levels of the space.
Brett Miller
Brett is an experienced Vice President of Technical Standards, Education, and Certification with a demonstrated history of working in the building materials industry in the Greater St. Louis area. He's a strong team leader, professional speaker, trainer, educator, technical writer and editor, specializing in flooring, wood, natural resources, sales, science and practical applications.
Cost to Remove Carpet. (2022, January). Retrieved from Homewyse.com
W., Daniel. How Much Does It Cost To Remove Carpet? (2022). Retrieved from Homeguide.com
What Do You Think?
Have thoughts carpet removal and disposal? We're listening. Head over to Twitter or Facebook,
and use #dumpstersblog to join the conversation.
Need a Dumpster for Your Old Carpet?