An In-Depth Checklist for Gas Station Attendants and Operators
A quality customer experience begins with an organized, comfortable environment. At gas stations and convenience stores, patrons expect to stop in, get what they need fast, and be on their way. An unkempt - or even worse, unsafe – operation can drive patrons to your competition.
We checked in with Jeff Lenard, Vice President of Strategic Industry Initiatives with the National Association of Convenience Stores, for expert insight into what it takes to create and maintain a pristine gas station and convenience store environment.

Simple Steps to a Successful Convenience Store Cleaning Routine
These tips can help you compile a training and quality control checklist for gas station attendants and operators at your business.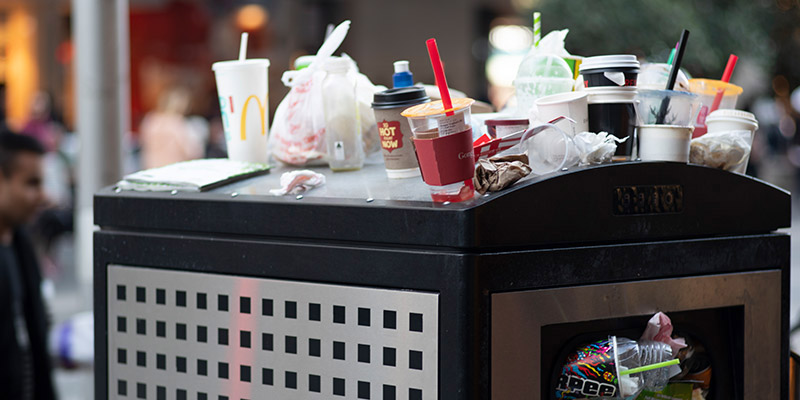 1. Empty Trash Cans and Restock Pump Islands
Few things are more inconvenient than an overflowing trash can, so it's crucial to regularly check and empty outdoor receptacles. This can even be done during floor sweeping shifts to save time. Encourage your staff to regularly check the gas pump service islands and ensure that paper towels and windshield cleaning supplies are in stock.
Ideal frequency: Multiple times per shift
"Convenience stores probably collect more trash than they generate. A majority of Americans (53%) say that the last time they filled up their car they also took trash from their car and threw it in the fueling station's trash can. Because trash cans at the pump can fill up regularly, it's imperative to empty them so that they don't present a sloppy appearance or allow collected trash to become litter. Some stores also are using recycling bins at the pump to both help collect recyclable cans and bottles and send a message about the importance of a clean environment."

Jeff Lenard | National Association of Convenience Stores
2. Sweep Interior and Exterior Walkways Regularly
Even a small amount of trash on the ground or dust gathering in corners can negatively affect a customer's impression of your gas station. It's important to maintain a clean floor both inside the convenience store and around the gas pumps.
If staffing allows, assign separate employees to sweep the indoor and outdoor areas, as different brooms and tools are usually needed for each task. A rotating schedule can also help supervisors ensure this job is done several times throughout the day.
Ideal frequency: Multiple times per shift
"It's common for shift managers to begin their day with a walk around the lot to see what needs attention or has changed over the past day. This includes inspections of the fueling pumps and the perimeter of the store to see if there is litter or anything else that needs their attention."

Jeff Lenard | National Association of Convenience Stores
3. Check Restrooms Hourly
A poorly maintained restroom can rapidly sink your convenience store's reputation. Consistent checks and preventative upkeep go a long way. Make routine checks, ideally once an hour at least, and clean and restock as needed.
Similar to the sweeping routine, restrooms benefit from a rotating maintenance schedule that all staff contribute to. A clipboard-mounted checklist in each restroom can also help staff document their routine restroom checks.
Ideal frequency: Every hour
"Roughly one in five convenience store customers use the bathroom (18%) when they come inside a store. And that means that they start their shopping experience the moment they leave the bathroom. A clean bathroom sets the stage for a positive experience while a dirty bathroom certainly would tend to discourage food or drink purchases."

Jeff Lenard | National Association of Convenience Stores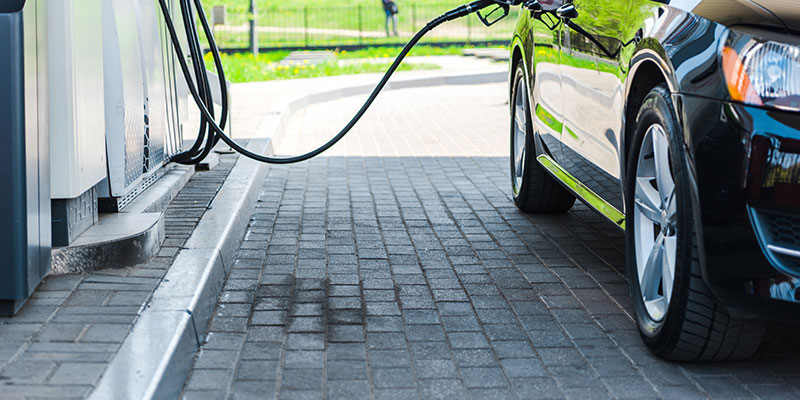 4. Power Wash Oil and Gas Spots
Leaking automotive fluids can create troublesome spots in concrete and asphalt. Your gas station may benefit from occasional use of a power washer to scrub out these stains. Work with an equipment vendor to determine the best water temperature and cleaning products to utilize or hire a commercial cleaning service. If you plan to handle routine pressure washing yourself, make sure some members of your staff are properly trained to use the equipment safely.
Ideal frequency: Weekly or on an as-needed basis
How to Clean a Gas Station Pump
Arguably the most important fixture of your business, the gas pump is sensitive equipment that must be maintained carefully. Low-impact cleaning is key, with degreaser and damp hand towels being your team's best bet for keeping the pump presentable. The concrete base can be cleaned as needed with a pressure washer, with extra attention given to any spots left behind by oil and gasoline.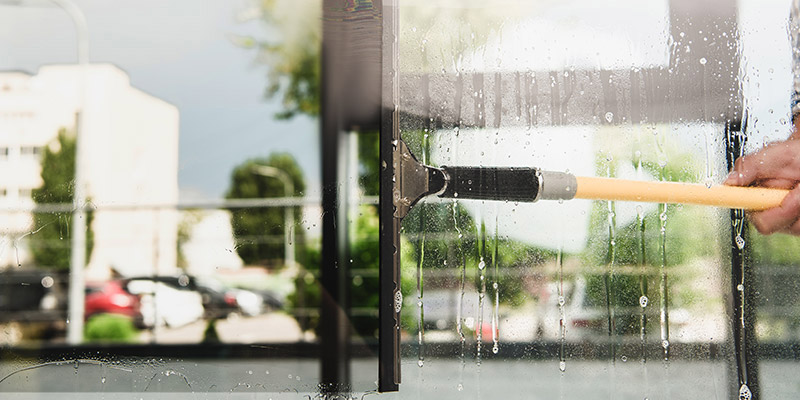 5. Keep Windows and Glass Surfaces Presentable
Clean glass storefronts can inspire confidence in patrons and communicate a sense of pride. Windows can be cleaned at the beginning or end of each shift, depending on need.
Pro-Tip: Employees should be careful to avoid leaving streaks on the glass by wiping in circles, then vertically and finally horizontally.
Ideal frequency: At the beginning and end of each shift
6. Restock Aisles and Merchandising Displays
Refresh the presentation of your store's products periodically and ensure your displays are easy to navigate. While restocking, keep an eye out for opportunities to consolidate displays and cut down on wasted space.
Make sure to rotate products according to their expiration date to avoid wasting inventory. If space allows, consider rearranging aisles and displays to leave more room between shelves. This allows for easier customer movement and access, while also making the aisles easier to clean.
Ideal frequency: Weekly or daily, depending on need
7. Practice Preventative Equipment Maintenance
Broken equipment often leads to unnecessary downtime and lost profits. Have your staff keep a close ear out for any reports of faulty gas pumps, point-of-sale systems or other machinery, and address any malfunctions as quickly as possible.
If any of your employees are trained to repair any of the equipment in your convenience store, have them perform routine maintenance checks to prevent breakdowns.
Pro Tip: Provide staff with a binder containing necessary contact information to report malfunctioning equipment and schedule repairs.
Ideal frequency: Daily or when the opportunity arises
"The old adage, 'If you have time to lean, you have time to clean' applies here for employees who are not at the registers. Tending to any spills or trash on countertops or floors is critical to keep a store looking its best and feeling welcome to customers."

Jeff Lenard | National Association of Convenience Stores
8. Maintain Your Dumpster Area
If your dumpster is visible to customers, schedule routine cleaning of the area to address any litter in the vicinity. If you don't have a dumpster enclosure yet, consider installing one to keep your container out of sight. Make sure to measure your dumpster and available space to provide enough room for trash collection service.
Ideal frequency: Daily, during outdoor sweeping shifts
Drive Customers Your Way
Consistency is key to keep customers coming back. Equip your employees with this simple, easy-to-follow cleaning guide to direct their daily efforts, create effective maintenance habits and enhance your gas station's reputation and image.
Take some time to determine if your current front load dumpster and pickup schedule fits your waste output. If not, it may be time to re-size or adjust your service frequency.