Your Local Landfill Is a Better Neighbor Than You Might Expect
It's the eve of garbage day. Time to roll your container to the curb and send your trash bags to their new home – the dump. There are 3,091 active landfills in the United States working to contain the 4.4 pounds of trash the average American tosses out every day.
Historically, landfills have a reputation for being environmentally unfriendly. But modern landfill operators have learned a lot about environmental protection since the days of open dumping. From managing gas emissions to monitoring groundwater, today's waste collection facilities implement both short-term and long-term plans to minimize their ecological impact as much as possible.
So, Where Did Trash Go Before the Modern Landfill?
Well, it wasn't pretty. In the days before today's landfills, trash and human waste were tossed out the window to decompose in the street. It was not until the turn of the 20th century, when urban areas began to fill up with more people (and trash), that cities started doing something about their garbage.
"Many apartment buildings were constructed with garbage incinerators in the basements and trash chute systems. In the 1920s, it was common for garbage, incinerator ash and dirt to be used to fill in swamps near cities which allowed the contamination of groundwater."

Elizabeth Ward | Treasurer, Prince William Soil and Water Conservation District
Thankfully, we've come a long way since. Here's how we got there.
The Evolution of the Landfill
| | |
| --- | --- |
| 1935 | California introduced the first semblance of a modern landfill – a giant hole in the ground where trash was sporadically covered with dirt. |
| 1959 | The first guidelines for a "sanitary landfill" were introduced, advocating for trash to be compacted and covered with a layer of soil daily. |
| 1965 | The Solid Waste Disposal Act (SWDA) became the first federal legislation addressing trash and solid waste management. |
| 1976 | The Resource Conservation and Recovery Act (RCRA) began to enact standards for sanitary landfills by dividing wastes into two categories: hazardous and solid waste. |
| 1979 | The first set of standards for sanitary landfills was developed by the EPA, including criteria for new landfills and reducing disease and groundwater contamination in existing landfills. |
| 1991 | Federal criteria for municipal solid waste was established by the EPA including groundwater monitoring requirements, closure and post-closure care requirements, additional design standards and corrective action for known environmental detriments. |
*Source: Elizabeth Ward, former chemical engineer for the U.S. EPA, author of "The Lenders Guide to Developing an Environmental Risk Management Program" and Treasurer of the Prince William Soil and Water Conservation District.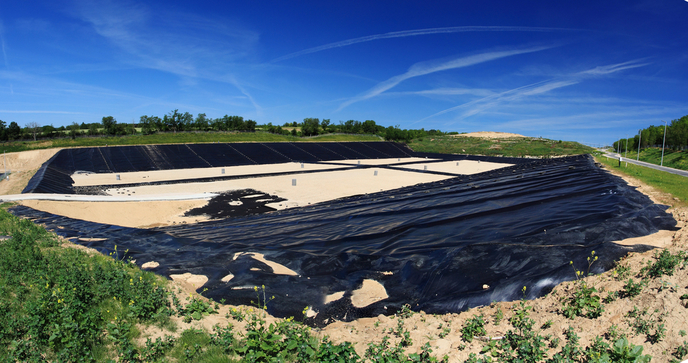 Types of Landfills
Categorized and regulated under the Toxic Substances Control Act (TSCA), different types of landfills specialize in managing specific kinds of waste. The EPA describes each type of landfill and the kinds of waste they manage:
Municipal Solid Waste Landfills (MSWLFs): Built specifically for household waste. Bioreactor Landfills also fit within this category to hold organic waste.
Industrial Waste Landfills: Divided into two separate categories: Construction and Demolition Debris Landfills and Coal Combustion Residual Landfills.
Hazardous Waste Landfills: Ensure that hazardous waste is safely degraded to preserve human health and environment.
Present Day Landfills and the Environment
Today's landfills have progressed from the simple hole in the ground to meticulously engineered systems intended to protect human health, control groundwater contamination and reduce air emissions.
For insider information about landfills and the environment, we weighed in with Bryan Stirrat, Landfill Gas Expert and the head of Tetra Tech's Solid Waste Practice Group. With more than 35 years of experience in landfill planning, design and operation, Stirrat shared how modern landfills work to protect the environment.
How Sanitary Landfills Work in Layers
To protect from groundwater contamination or damage to the surrounding environment, sanitary landfills consist of layered waste in a large hole lined with impenetrable plastic and clay. The deepest spots can be up to 500 feet into the ground, like Puente Hills, where a third of Los Angeles County's garbage is sent.
This layered system keeps waste separated from the environment until it has safely degraded. And as materials in the landfill decompose, landfill gas experts continuously monitor groundwater to detect any leakage from the liner.
"Conducting regular groundwater monitoring is required by federal and state regulations to detect if landfill operations are causing a negative impact on groundwater underneath the site, and to allow for corrective action to occur as soon as possible after an impact is detected."

Bryan Stirrat | Landfill Gas Expert, Tetra Tech
What Is Landfill Capping?
Once the hole in the ground is full, it is capped. Modern landfill capping technology helps to buffer humans and the environment from the contaminants, limits migration of debris and creates an opportunity to be transformed into parks and open spaces.
The Surprising Transformation of Capped Landfills
For instance, at 2,200 acres, Freshkills Park was once the world's largest landfill. It has since been capped and developed into a park three times the size of Central Park. Not only has the restoration of this space introduced recreational and cultural opportunity, but it also aims to maintain the balance between humans and Earth.
How Drop-Off Sites Reduce Landfill Gas
Designated drop off locations for organic waste and hazardous materials provide a more eco-friendly alternative to disposal in the landfill.
According to Stirrat, "there is currently considerable emphasis being placed on reducing the volume of organic waste (green and food) being disposed of in landfills." As organic waste degrades in the landfill, it releases potent gasses and odors.
"A green waste drop-off area at a landfill helps reduce organic waste disposal in the landfill. It also enables the site to either compost or digest this waste to produce more sustainable by-products such as a soil amendment or a vehicle fuel for trucks."

Bryan Stirrat | Landfill Gas Expert, Tetra Tech
On top of that, hazardous waste drop-off centers provide a safe place for the disposal of used motor oil, pesticides, paints and other hazardous household waste. Instead of pouring chemicals down drain pipes or into the garbage can to contaminate our environment, modern landfills ensure safe disposal.
These technological and ecological advancements help to maintain a safer, more environmentally friendly waste system.
Take a look at the Sustainability section of our blog to learn how you can reduce the amount of waste you send to the landfill.