Step-by-Step Guide to Install Laminate Countertops
Breathe new life into your kitchen with laminate countertops. We'll tell you everything you need to know, from your first measurement to reattaching your appliances.
Expert Tips for Installing Laminate Countertops in Your Kitchen
If you need to replace your countertops but want to avoid paying labor costs, installing a laminate countertop may be the project for you. Available in a variety of colors, textures and patterns, you can find laminate counters to fit any design style – from traditional and farmhouse to urban and contemporary. On top of that, laminate is a recyclable, environmentally responsible material.
Formica created the first laminate surfacing materials back in 1913 and today the brand is such a household name that many people call all laminate "formica." We talked to Gerri Chmiel, Formica's Senior Residential Designer, to get expert tips on how to install new laminate countertops yourself.
Laminate Counter Installation FAQs
Is installing laminate countertops easy?
Yes. Due to its lightweight nature and the basic tools needed, laminate countertops are one of the easiest types to install. Additionally, the timeframe to complete the project is relatively short, making this an ideal weekend DIY project.
How much does it cost to have laminate countertops installed?
Expect to pay $40 - $80 per square foot to have countertops installed by a professional. The price can drop as low as $10 - $40 per square foot if you handle installation yourself.
Is laminate good for kitchen countertops?
While a solid countertop choice, laminate counters tend to have a short lifespan and are very susceptible to scratches, cuts, warping and delamination.
Is Laminate Right for You?
Selecting a new material is often the most difficult aspect of replacing countertops. To help you decide if it's the right choice, we asked Chmiel for the top four reasons to install laminate countertops.
Benefits of laminate countertops:
Versatile: There are more colors, patterns and finishes than any other surfacing material, which means that there truly is a laminate pattern for every taste. Options include solid colors, graphic patterns and the look of natural stone.
Easy to clean and maintain: Laminate does not require special cleaning products or annual resealing. Simply wipe off the mess and go!
Simple to install: You have the freedom to hire a pro or do it yourself.
Affordable: Installed granite typically costs roughly $120 per square foot, while Formica laminate costs just $14 to $38 per square foot.
Formica countertop installation is a DIY project that makes a big difference in your kitchen.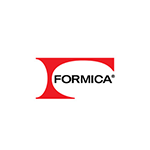 Gerri Chmiel, Senior Residential Designer | Formica
"Installing a laminate countertop is easier than most because of the relative light weight of laminate counters. Also, your typical homeowner will have the tools needed to install a laminate top, where they won't with granite or quartz."
  
Find a Renovation Dumpster Near You
How to Install Laminate Countertops in Six Easy Steps
Step 1: Prepare for DIY Countertop Installation
Many manufacturers sell pre-cut laminate countertops, which are the easiest to install yourself. For best results, ask the manufacturer to cut the countertop corners. Miter cuts for inside corners are extremely difficult and best handled by a professional. Your dealer should also be able to predrill the fastening-bolt slots underneath.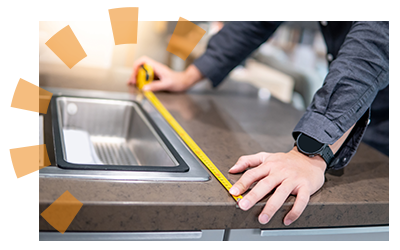 Measure and Remove Old Countertops
Proper measurement is the most important step of any countertop installation—especially if you're having your counter pre-cut. Ask your countertop supplier if they have specific measuring instructions for your particular design. Then sketch your kitchen, including the following dimensions:
Measure your cabinet depth. Measure from the back wall and account for your desired overhang. The standard overhang length is 1 ¼ to 1 ½ inches, but this can vary for dine-in kitchens, handicap accessible countertops, etc.
Measure your backsplash height. Your new laminate counter will need to remain below outlets, window trim and other objects mounted to the wall. Make sure your backsplash will cover unpainted areas.
Measure your countertop length. Add your chosen overhang to this measurement if desired.
Measure levelness of your walls. Use a level and framing square to check if your walls are straight and meet at 90 degrees. If you find a little bow in the wall, don't worry. You can typically trim the countertop to fit.
Also note the locations of your sink, stove and refrigerator and include measurements of any necessary cut-outs for quick reference later on. For countertop areas that won't be fit to the wall, make sure to indicate where laminate end caps will be needed.
Once you've got your measurements written down, you'll need to remove the old countertop and make sure the area is clear and safe. For detailed instructions, check out our related post on how to remove countertops.
Tools Needed to Install Laminate Countertops
| Tools | Supplies |
| --- | --- |
| Jig saw | Laminate countertop |
| Drill and bits | Smooth file |
| Block plane | Fastening bolts |
| Belt sander | Sealant |
| Saw horses | Contact adhesive |
| Clamps | Wood glue |
| Caulk gun | Sandpaper |
| Rubber mallet | Tape measure |
| Hammer | Safety glasses |
| Handsaw | Masking tape |
| Adjustable wrench | |
| Screwdriver | |
| Level | |
| Compass | |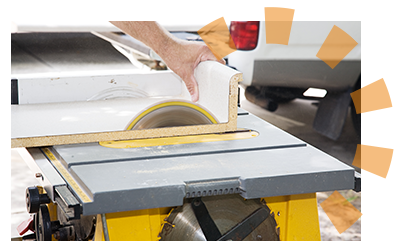 Step 2: Cut the Laminate to Fit Cabinets
If you need to make adjustments to your preformed laminate, grab the sketch with all your measurements and take the following steps for cutting Formica countertops.
How to Cut Laminate Countertops
Wear safety goggles and proper protection to avoid injury.
Lay the countertop on a stable surface with the laminated side facing down.
Secure the countertop with clamps.
Place masking tape along the cutting area to avoid chipping.
Measure the desired length with a tape measure.
Make a straight cutting line over the tape using a pencil and a square leg.
Align the inside edge of your circular saw blade with the line and cut carefully.
Sand or file after cutting to ensure a smooth surface.
Step 3: Check Countertop Measurement and Make Adjustments
Set the countertops in place and test the fit. If you notice a gap along the wall, use a compass to measure the width and scribe a line along the back edge. Remove the new countertop and use a belt sander to sand the edge of the countertop for the best fit.
Replace the countertop and ensure the cabinet drawers will clear the edge of your new laminate countertop. If not, measure the additional clearance needed. Next, cut buildup strips to install at each corner underneath the counter. Screw down the buildup strips and predrill holes to easily attach the countertop later.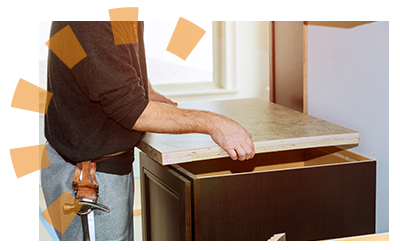 Step 4: Attach Laminate Countertops to Base Cabinets
Apply a bead of caulk or construction adhesive along the top edge of the cabinets that support the countertop. Lower the countertop pieces into place or remove the shims holding them up. Use a power drill to attach the buildup strips to the new laminate. Double-check the thickness of the countertop and buildup strips to determine the correct nail length to use.
Once the laminate counters are attached, join the miters beneath the countertop by applying the manufacturer's recommended amount of adhesive. Install the miter bolts and tighten. If necessary, use a mallet and a scrap piece of wood to tap the seam until even.
Step 5: Seal the Joint Between the Countertop and Wall
Once everything is attached, use adhesive to attach return splashes where the counter meets the walls and end trim to cover exposed edges. If necessary, file any rough edges. To seal the joint between the countertops and walls or your backsplash, use a caulk gun and a matching caulk to make an even line.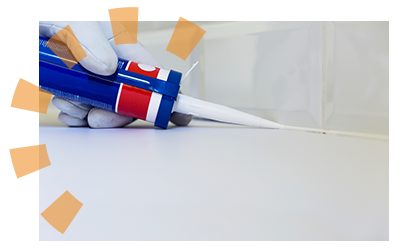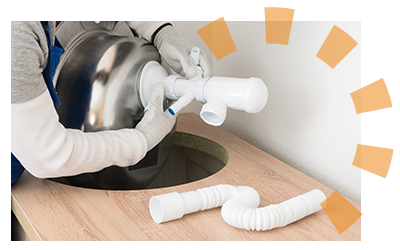 Step 6: Re-Install Sink and Appliances
Let's reinstall the sink. You'll likely need to make a few cuts to drop it in place.
To make a cut-out for your current sink or range top, use your old countertop as a guide for measurements.
To install a new sink or range top, a template typically comes in the box with dimensions.
If you're working without a template, center your sink or range upside down on the new countertop and trace an outline.
Place masking tape around the edges of your line to protect the countertop.
Drill starter holes into each corner to ease cutting.
Cut out the piece of laminate. To keep it from dropping, attach a piece of scrap wood beneath the countertop to prop it up.
File the edges until smooth to avoid splinters during installation.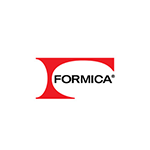 Gerri Chmiel
Gerri is a Senior Residential Designer for Formica, which is based in Cincinnati, OH. Formica is the world's largest manufacturer of laminate countertops. Additionally, they produce surfacing material for other kitchen and bathroom projects. Gerri works heavily with design and color trends and aims to educate customers about trends in their market.
Loveland, M. (2021, December 22). How Much Does It Cost to Install Laminate Countertops? Retrieved from Angi.com
What Do You Think?
How'd your countertop replacement go? We're listening. Head over to Twitter or Facebook,
and use #dumpstersblog to join the conversation.
Need a Dumpster for Your Next Project?