New Trends Are Shaping the Way Homeowners Remodel Their Kitchens
It's time to peer into the future and look at the kitchen design trends that 2017 will introduce into our collective homes. If you are planning a big kitchen remodel in the new year, these are the seven biggest trends you should consider while planning your new cooking space.
Special thanks to Angela Wellborn O'Neill, Director of Advertising and Marketing at Wellborn Cabinets, for her keen insight into this year's top trends.
1. Gray and Navy Are in, White Is out
While white will always have a place in the kitchen, gray and navy stand to be the most popular color choices in 2017. Why? Light grays are a neutral color, just like white, but are also a great complement to stainless steel appliances – another trend that is here to stay. Navy blue also blends well with stainless steel, with the added benefit of inspiring a sense of calm, according to design experts.
"Gray is becoming more popular for both paint and stains…We are seeing some trending in the navy-blue, with a combination of matte-gray, blue and off-white for cabinetry, wall color and countertops."

Angela Wellborn O'Neill | Wellborn Cabinets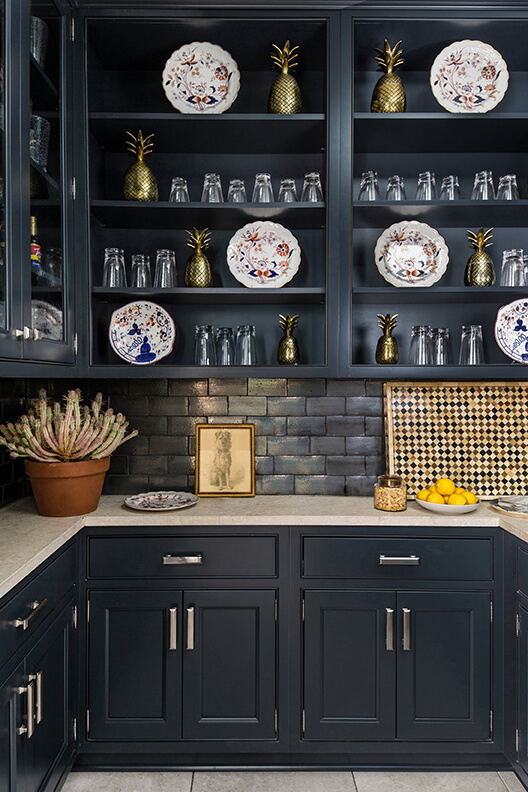 Image courtesy of Wellborn Cabinets
2. Industrial Kitchens Are Back
Industrial kitchens are coming back in a big way. The efficient layout and sleek aesthetics of a commercial kitchen greatly increases the utility of your kitchen, while still providing an opportunity for a visual upgrade. Popular design elements include exposed brick and pipes, minimalist furniture and a combination of wood, stone and concrete surfaces. And don't forget the sprayer faucet.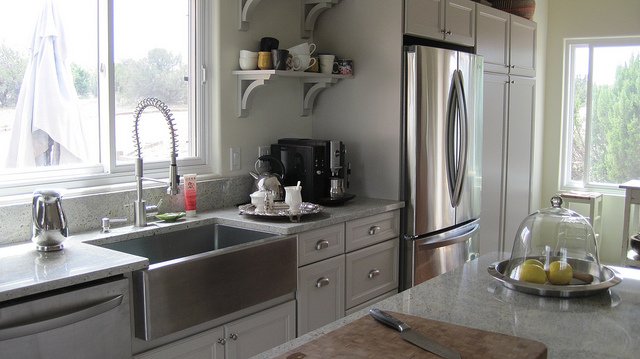 3. Kitchen Automation Is on the Rise
One of the biggest trends for kitchens in 2017 is home automation. And if there is just one high-tech element you decide to include in your new kitchen, it should be a touch faucet. The beauty of a touch faucet is that you can activate it with your elbow, or really any body part, instead of using your germy hands. And unlike a completely hands-free faucet, you don't have to jockey for position to keep the water running.
"One of the biggest trends is what we call "Smart Design." Adding lighting behind cabinet doors and in drawers that turn on when you open them, as well as touch-to-open technology...are all about making a more user-friendly kitchen."

Angela Wellborn O'Neill | Wellborn Cabinets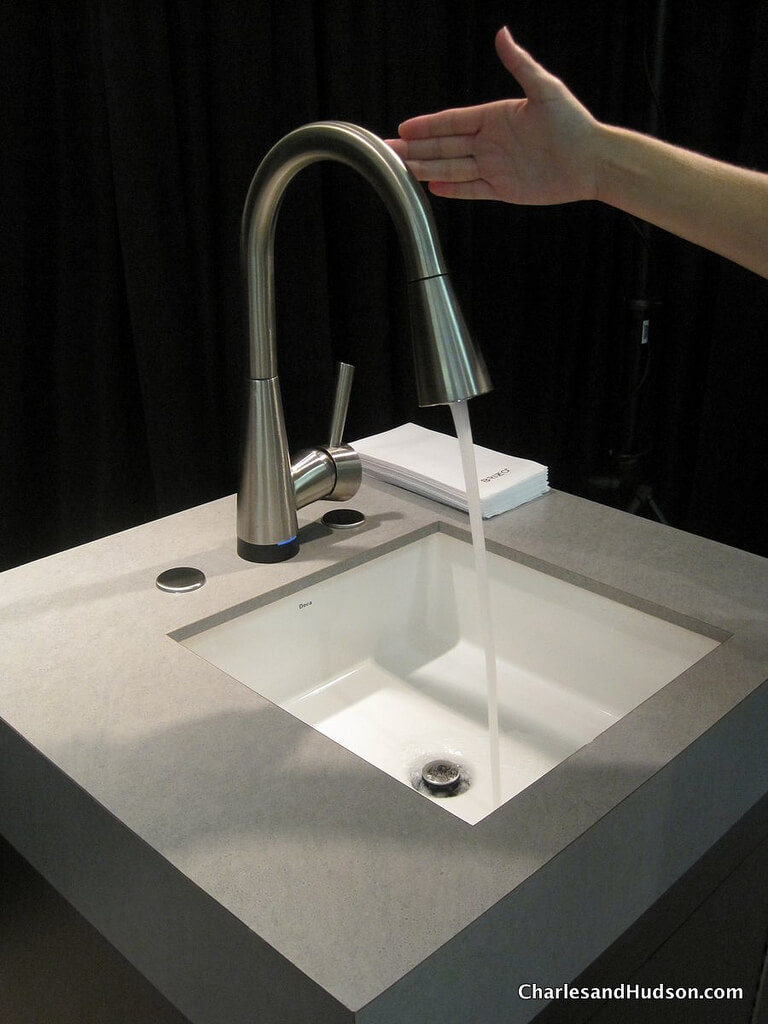 Some other kitchen automation ideas to consider:

Smart Lighting: With a single shout, you can turn your kitchen lights on and off.
Brainy Coffee Maker: Desire a fresh cup of joe first thing in the morning? Forget jumping out of bed. You can use a WeMo switch or other smart plug to control your regular coffee maker from your phone or virtual assistant.
Bluetooth Meat Thermometer: There are several Bluetooth thermometers on the market that will free you from the burden of checking the oven every five minutes.
4. Wiring Up the Kitchen
Since gadgetry is one of the hottest kitchen trends in 2017, it makes sense to ensure your kitchen has all the plugs and cables necessary to keep your family's electronics at 100 percent. With functional cabinets that include USB ports, charging pads and power outlets, you can keep your laptops, tablets and smartphones juiced up whether you're cooking, cleaning or grazing.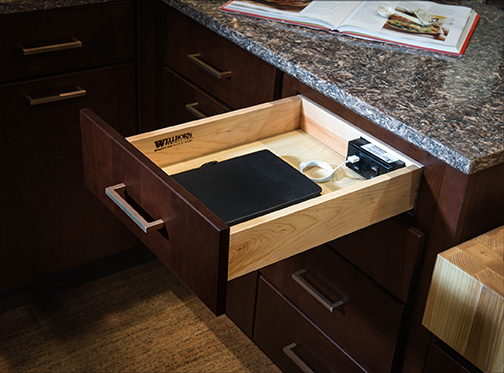 Image courtesy of Wellborn Cabinets
5. Quartz Is the New Granite
Quartz countertops used to be as expensive as granite. But thanks to new composite materials, many homeowners are choosing to ditch laminate and spring for stone. Besides its attractive appearance, quartz is more durable than granite so it won't chip easily. And like other hard surface materials, it resists most stains.
6. See Where You're Reaching With Glass Cabinets
Open shelving may make it easier to see and reach individuals bowls and cups, but it also makes it a lot easier for them to collect dust and grime. That's why glass kitchen cabinets are becoming one of the biggest kitchen trends in 2017. Not only do they allow you to see where your serving platter is, but you also won't have to dust it off every time you use it.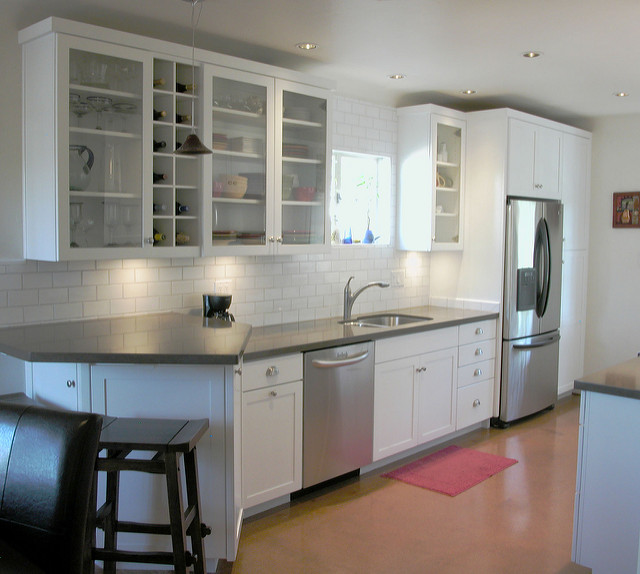 "Historic Home" by Nancy Hugo / CC by 2.0
7. Keeping Clutter at Bay by Hiding Appliances
Last but not least, a very popular kitchen trend for this year is something of a disappearing act. More and more homeowners are tucking their microwaves, mixers and toaster ovens inside small cupboards and swing-out shelves to keep their countertops clear of clutter.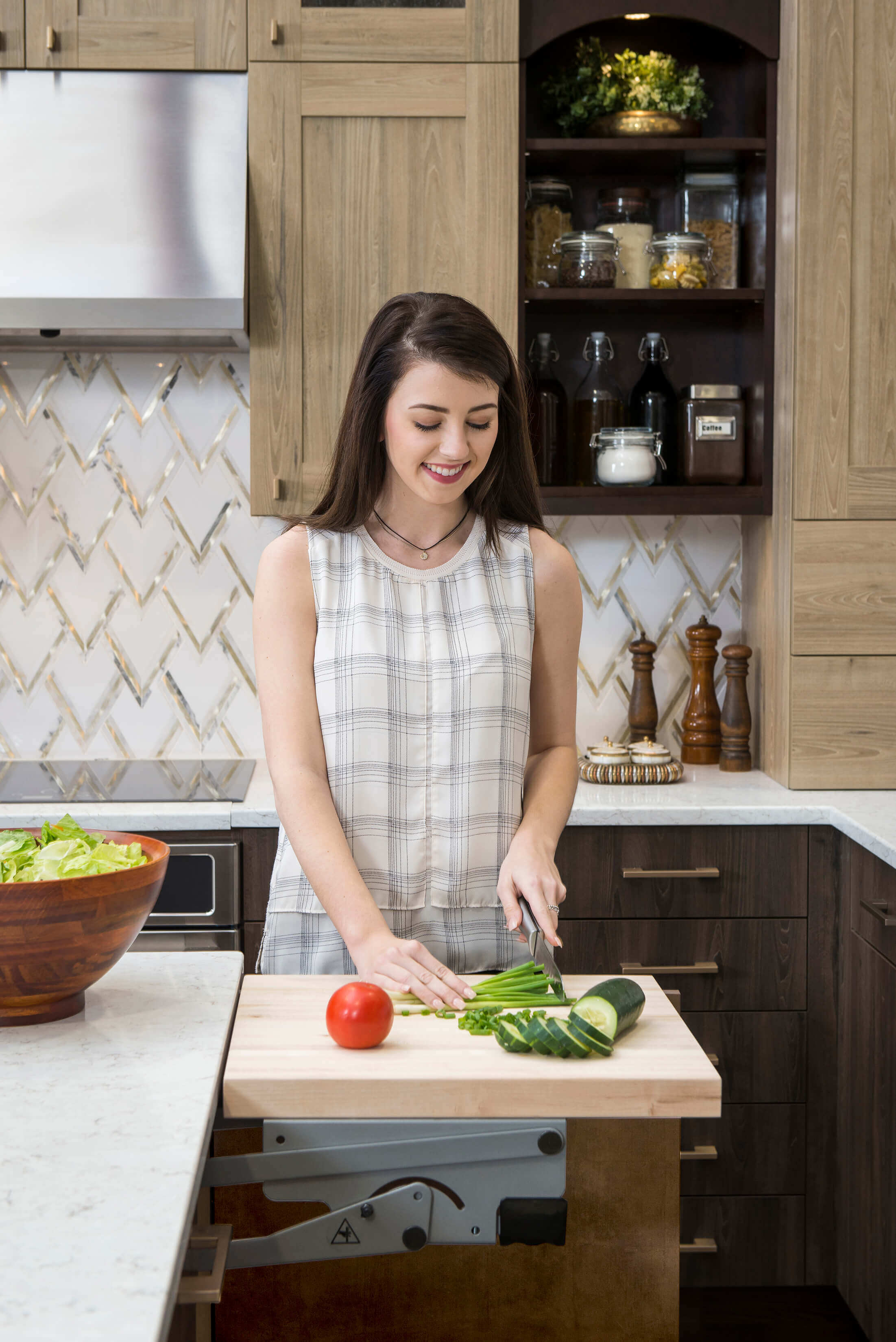 Image courtesy of Wellborn Cabinets
"Hiding appliances is usually done in the corner cabinet. That is still a popular design, but there are also hidden storage options for inside the wall or base cabinetry. "

Angela Wellborn O'Neill | Wellborn Cabinets
By incorporating just a few of these kitchen design trends into your remodel you'll have a more functional and eye-pleasing cooking space that is sure to stand the test of time.
Cover Image Credit: Wellborn Cabinets, Inc.