How to Remove a Countertop for a Kitchen Remodel
Bring your kitchen to the next level by tearing out your stained and chipped countertops for sleek new ones.
Easy DIY Countertop Removal
Remodeling a room can get expensive really quick. From purchasing new materials to paying for labor, the average kitchen remodel costs $32,500. Removing your old countertop yourself can be a great way to cut project costs. While tearing out countertops isn't complicated, it does require physical strength – and a little help from your friends. Read on for expert countertop removal tips from Mr. Handyman.
Do I need to hire a professional for countertop removal?
Laminate countertops are especially easy to remove yourself, since they are typically the lightest material. However, if you're removing granite, quartz or another heavy stone, you should probably call an expert. "If this is your first DIY project, you may want to stop while you're ahead and hire a professional," said J.B. Sassano, President of Mr. Handyman. "Your perceived savings will disappear if you damage your cabinets, the plumbing or the sink while trying to remove them."
Can countertops be removed without damaging cabinets?
Yes, as long as you're careful. You'll remove any adhesive holding the countertops to the cabinets before you lift it away.
What's the best way to throw out kitchen countertops?
Generally, countertops are not accepted with your weekly curbside trash. However, some cities will offer a bulk trash drop-off program where you can take construction debris.
A dumpster rental is the most convenient countertop disposal option. Simply toss them in the container as you work, then let us haul the debris away for you.
7 Steps for Removing Countertops Yourself
Step 1: Gather Supplies
While removing countertops is a fairly simple job, you won't get very far without the proper tools and supplies handy. Take a few minutes before getting to work to ensure you have the items in the table below.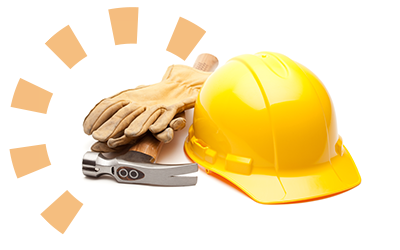 Counter Removal Tools and Supplies
| Tools | Supplies |
| --- | --- |
| Wrench | Gloves |
| Chisel | Goggles |
| Putty knife | Bucket |
| Box cutter | Caulk softener |
| Screwdriver | Hard hat |
| Pry bar | |
| Reciprocating saw | |
Check Dumpster Availability Near You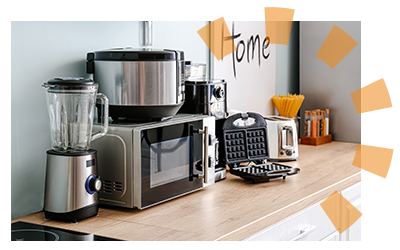 Step 2: Clear the Area of Obstructions
Before you start, it's important to remove all countertop appliances and accessories from your work area. Then remove the drawers and items stored in your lower shelving to prevent dust contamination and give you easy access to the countertop. You should also clear the area of food, cookware and utensils for safety.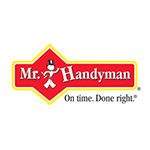 J.B. Sassano, President | Mr. Handyman
"Removing a sink and sections of countertop can require significant upper arm strength – if you know how to do the task, but do not feel you will be able to lift, twist and bend heavy items, prevent sore muscles or injury by requesting assistance!"
  
Step 3: Disconnect Supply Lines to Countertop Fixtures
To safely remove your kitchen countertop:
Use an adjustable wrench to turn the emergency shut-off valves on the gas line to your stove to the off position.
Make sure electrical outlets are covered and power has been shut off at the breaker box.
Disconnect the water lines, drain pipes and garbage disposal to the sink. Place a bucket beneath the pipes to catch any draining water.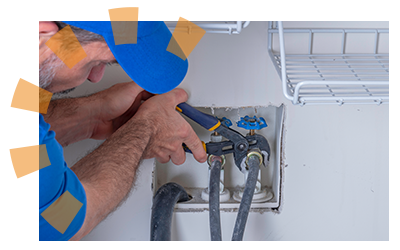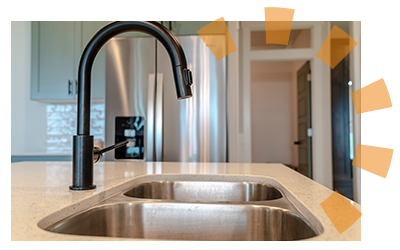 Step 4: Remove the Sink
After disconnecting the drain lines, you'll need to remove your drop-in fixture or undermount-style sink.
Remove any fasteners from the underside of the sink that may connect it to the countertop or cabinet frames.
Use a chisel or putty knife to wiggle the sink away from the countertop.
Spray a caulk softener to help remove the dried adhesive or mortar under the rim.
Lift carefully to avoid damaging the sink and surrounding area.

Keep in Mind
Sinks can be heavier than you think! For example, a cast iron model can weigh over 100 pounds. Have an assistant on hand to help you lift out the fixture, especially for double-bowl configurations.
Step 5: Loosen the Remaining Adhesive
When your countertop was installed, it was sealed along the edges with caulk. Over the years, more caulk may have been applied to prevent water damage. For easier countertop removal:
Spray the adhesive surrounding the edges of the countertop with a caulk softener. Let sit for one hour.
Use a putty knife or box cutter to pull the adhesive from the backsplash or wall.
Carefully pry your tool of choice under the countertop until it is loose enough to lift.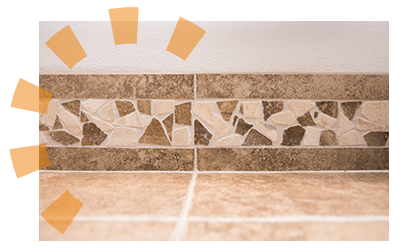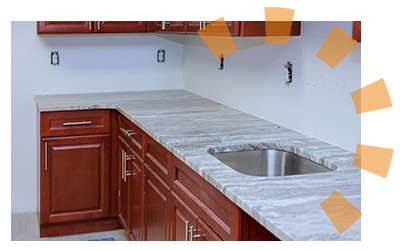 Step 6: Unscrew and Pry Countertops from Cabinets
Check underneath your cabinets to see if your kitchen countertop is held in place with screws. If so, use a screwdriver to unfasten them. After that, you should be able to easily lift the countertop without damaging your cabinets.
Countertops can also be held in place with brackets, nails or additional adhesive. If this is the case, use a pry bar to gently lift the countertops from under the rim, working your way from one end of the counter to the other. Be patient and – to keep you and your cabinets safe – do not use excessive force on the pry bar.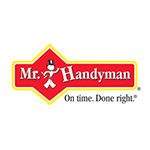 J.B. Sassano, President | Mr. Handyman
"There will likely be several nails sticking out from the bottom of the countertop once removed. Use a hammer and bend them to prevent someone from accidentally stepping on a sharp nail."
  
Step 7: Lift Away and Dispose of Your Old Countertops
Once the countertops are free from the cabinets and wall, it's time to lift. Be safe! This step is much easier with at least two people. Make sure to rent a renovation dumpster to easily dispose of your countertops and other remodeling debris since they won't be accepted at the curb.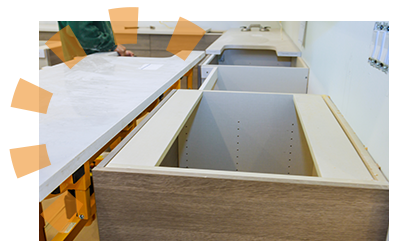 Rent a Dumpster to Toss Old Countertops
What Material Are You Replacing Your Countertops With?
Now that your old countertops are gone, it's time to choose a replacement. With so many options available, it's difficult to decide which type of countertop is right for you. Use our infographic below to learn the pros and cons of each material.
Kitchen Countertop Comparison [Infographic]
Get Ready to Install New Countertops
Once you've tossed the old ones in your dumpster, sweep away any dirt or debris from the area to prepare for new countertop installation. Before you know it, you'll be showing off your beautiful new kitchen at your next dinner party!
Lam, J. (2022, February 24). What Does it Cost to Remodel a Kitchen?. Retrieved from BankRate.com
Types of Kitchen Sinks: An Overview. (n.d.). Retrieved from typesofkitchensinks.com
What Do You Think?
What countertop material are you removing? We're listening. Head over to Twitter or Facebook,
and use #dumpstersblog to join the conversation.
Need a Dumpster for Your Next Project?