Painting an Accent Wall That Makes a Statement
Painting a wall is a quick and easy way to transform your space into the perfect oasis.
Transform Your Room With a Feature Wall
Looking to make your room pop without breaking the bank? Feature walls are an easy and inexpensive way to change up an otherwise neutral space. Whether you're adding a splash of color to your living room or creating a headboard wall in your bedroom, painting an accent wall can make a big impact.
For a picture-perfect look, you must make sure to choose the right wall and a color that complements your space. Follow these accent wall design tips to decorate your home like a pro.
How to Choose an Accent Wall
Your feature wall will be the focal point of the room. While every space is unique in size and shape, consider these general rules of thumb when choosing an accent wall:
Accent walls typically work best on shorter walls in rectangular rooms.
Consider choosing the wall facing the room's entrance.
Avoid walls with windows or large furniture obstructions.
Select a wall that is well-lit with natural light, lamps or overhead lighting.
When painting multiple feature walls, choose opposite walls for balance.
Choose the headboard wall in bedrooms to make the boldest statement.
Consider a wall with a unique architectural detail like a fireplace or decorative trim.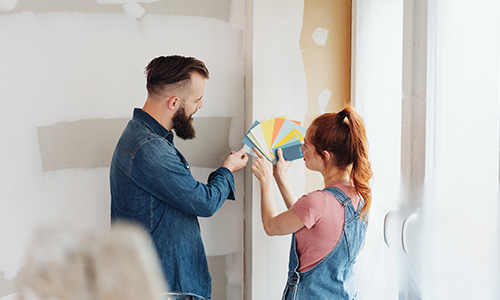 Choosing the Accent Color
Unless you're redecorating your room from top to bottom, choose a shade that fits your current color scheme. Pick up accent colors from your furniture, throw pillows and other accessories to pull the space together.
Also, consider the room's purpose and how the color will impact the mood. Keep in mind that red hues generally bring energy to a space — great for kitchens or playrooms —while blue tones create a calming effect, perfect for bedrooms or dens.
To avoid overpowering your space, we recommend following the 60-30-10 wall color rule. The majority of your room, 60%, should be a neutral backdrop. Your secondary color, 30%, can be applied to your accent wall, chairs and draperies. And the remaining 10% is reserved for decorative accessories like throw pillows or art.

Keep in Mind
Make sure to strip wallpaper from your accent wall before you get started. Priming and painting over wallpaper can save time, but it's not recommended because you'll often still see the wallpaper lines underneath.
Painting Your Feature Wall
A basic feature wall painted with one color shouldn't take more than a few hours. But keep in mind that you might need to begin with a few coats of primer to cover darker colors.
Paint Supplies Needed
| Prep Materials | Painting Supplies |
| --- | --- |
| Primer | Paint |
| Ground covers | Paint roller and brush |
| Painting clothes | Stepladder |
| Painters tape | Fan |
How to Paint an Accent Wall in 10 Easy Steps
Move furniture away from the wall and cover.
Lay old sheets or drop cloths to protect flooring.
Sand and seal any holes or imperfections.
Wipe the wall clean.
Tape around wall edges and trim.
Open a window and/or turn on a fan for proper ventilation.
Cut the edges of the wall with a paintbrush or paint edger.
Use the roller to cover the wall from top to bottom.
Repeat with a second coat.
Remove tape before drying to keep corners clean and free of chips.
Take Your Accent Wall to the Next Level
To add more artistic flare to your space, consider incorporating an accent wall design or even multiple colors. Below are the most popular methods for unique accent walls:
Whether it's a mandala, a floral design or an abstract pattern, stencils help to achieve a custom look with minimal effort.
Increasingly popular, ombré walls gradually blend shades of color from light to dark, creating a dreamy look perfect for bedrooms.
With a little bit of painter's tape, you can create a contemporary, geometric pattern to wow your guests.
Using a sea sponge, dab a secondary color against the wall repeatedly to create a textured look.
How to Create a Feature Wall Without Paint
Some popular accent wall ideas for homeowners include reclaimed wood, stone, tile or wallpaper. If you're a renter and want to decorate apartment walls, there are a variety of peel-and-stick options such as wall decals and removable tiles that allow you to transform your walls without losing your security deposit.
Would You Rather Remove a Wall?
Open-concept living spaces are a common trend. If you have one too many walls in your space, you might consider grabbing a sledgehammer instead of a paint roller. Take a look at our wall removal guides to start planning.
What Do You Think?
Have you painted an accent wall? Show us. Head over to Twitter or Facebook,
and use #dumpstersblog to join the conversation.
Need a Dumpster for Remodeling Debris?