The Big Question: Are Tiny Homes Worth it?
If you decide to downsize to a tiny home, you aren't just committing to a house to reside in, it's a completely new lifestyle. With the help of Liberation Tiny Homes, we'll share everything you need to know while considering the freedom of minimalism.
What Defines a Tiny House?
How big – or small – is a tiny house? They are typically 500 square feet or less in floor area, excluding lofts. To put that number into perspective, the typical American home is about 2,600 square feet on average, a 2,100-square-foot difference.
"There are plenty of definitions of what people think a tiny house is. For us, a tiny house is something under 500 square feet and has everything you need to live your life comfortably. It might even be on wheels and it certainly requires a minimalist lifestyle to live within it."

Marcus Stoltzfus | Liberation Tiny Homes
5 Popular Types of Tiny Houses
Tiny houses can come in many different shapes, sizes and styles ranging from repurposed shipping containers to charming little log cabins.
Bus conversions
Shipping containers
Cob houses
House on wheels
Custom homes
"We build anything from 12-40 feet long at the standard 8.5-foot width. Since we are a custom builder, we offer several starting points, but almost all of our clients customize their homes to fit their needs. Our homes all come on wheels and can be transported and lived in all around the country!"

Marcus Stoltzfus | Liberation Tiny Homes
Where You Can Put a Tiny Home
An important decision to make before jumping in is where you will live in your new residence. If your little home is going to be stationary, these are a few options of places you can put down your new roots.
A backyard: You can build your house in the backyard of someone looking to rent their land. Legally, this is called an "accessory dwelling unit."
Purchased land: This can be more expensive, but purchasing land is a good solution if you plan on keeping your house in a permanent location.
Rented land: Land to rent is more difficult to find, but gives you the option of opting out if you want to move in the future.
A tiny house community: Each community has different rules, but it's a great opportunity to live around like-minded people.
"Where can you live in your tiny house? The simple answer is, it depends on where you place it. Each county, township and state will view it differently. More states on the west coast are accepting than on the east coast, but legal spots are increasing."

Marcus Stoltzfus | Liberation Tiny Homes
Some local codes will recommend getting your RVIA (Recreational Vehicle Industry Association) certification which means your house must be built by a certified company. Having your RVIA certification makes financing, insurance and parking in RV-only parks easier. Some home builders are not RVIA certified because they consider their homes to be permanent residences and not an RV.
How to Tell if The Tiny Home Lifestyle Is a Good Fit
There are a variety of reasons why people choose to downsize and go for the minimalist lifestyle, and just as many factors to reflect on before jumping in. There's a lot more to consider than just the idea of living in a functional, small home.
5 Tiny House Benefits
Lower monthly expenses: For most Americans, one third to one half of their income is dedicated to their mortgage and home expenses. For many tiny homeowners, their monthly expenses can range between $150 - $600. For the average American middle-class homeowner, monthly expenses are around $1,204. The monthly cost of the average home is much more than just your utilities, insurance, taxes and mortgage, but also repairs and maintenance based on the age of your home and the surrounding climate.
Minor energy use: Your tiny home may be small, but it's big on energy efficiency. On average, they use 7 percent of a traditional home's energy. From solar energy roof panels to LED lightbulbs, small modifications can make it even more efficient.
Off-grid capabilities: Since many tiny houses are built on wheels, you have the added benefit of mobility. Using a gas or solar generator, you can easily go off-grid and be able to generate power no matter where you are.
Minimalist lifestyle: This idea means living with less and using what you have to the maximum ability. It can be very freeing to some and allow for a lot more opportunity to travel.
The tiny house community: Various Facebook groups and Meet Ups exist where you can network and bond with other small homeowners.
Drawbacks of Tiny Home Living
Build Restrictions: Each state has its own regulations on tiny homes. Whether your home is grounded or mobile, you'll have to do your research to make sure your home complies with local rules. It's a good idea to review Appendix Q before sitting down to decide your floorplan and where you will reside.
No Permanent Address: If you purchase the land your tiny home is on, that will be your permanent address. But if you're traveling often, you might consider a P.O. Box in your home state, which may require help from friends or family to collect important mail.
Lower Potential for Resale: Some real estate experts say that tiny houses are part of a niche market, making them harder to resell and a possible risky investment. If your home is custom-built, your preferences may not be appealing to everyone.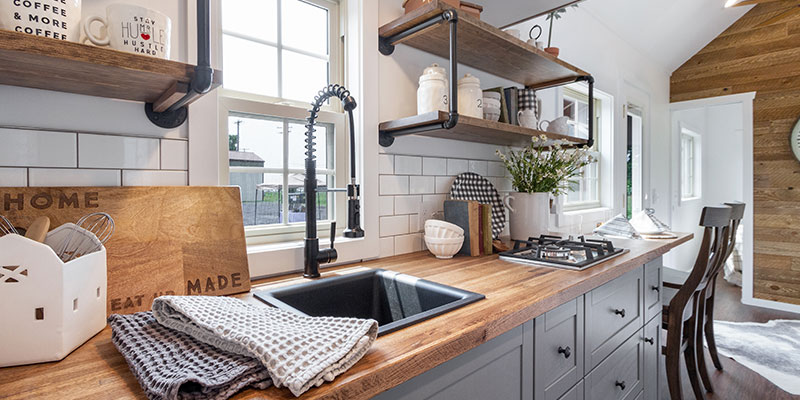 Tiny House Living Tips: Downsize and Simplify
If you're really considering downsizing to a tiny house, whether you're looking for a new adventure, want greater financial freedom or are looking for simplicity, here are four tips to determine if it's a good fit for you and how to get started.
1. Do a Test Run
Before you fully commit, check for local Airbnb's to rent a tiny house for a weekend to see how it feels. Even though the home won't be customized to your exact style, you'll get an idea if you could call your small house a home.
"Before you dive in, do plenty of research. Check out the various homes. Try them out on Airbnb. Get to know the different builders. Ask yourself what rooms you spend the most time in during the day. Are you a cook? Then the kitchen will be a big focus for you. Are you a gamer? Then the living area should have enough space for a game system and a big screen."

Marcus Stoltzfus | Liberation Tiny Homes
2. Pare Down Belongings
Once you've decided to make the commitment, it's time to cut down your possessions and find creative ways to organize what's left. Start by taking inventory of what to get rid of before your move by making lists of things you must have, can live without and can replace. It's safe to estimate you'll need to purge about 75 percent of your belongings during the move to tiny life.
Some items you can eliminate right away are:
Rarely used kitchen appliances or duplicate items.
Oversized televisions.
Expired or half-used bathroom products.
DVD's, Blu-Ray's, video games and CD's.
Clothing and shoes you no longer wear.
Once you get rid of these items, you may feel lighter and be able to picture your new lifestyle more clearly.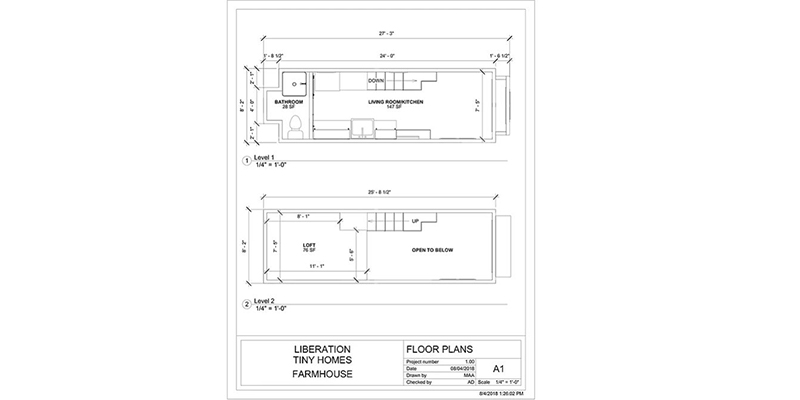 3. Create a Floorplan
You'll need to plan for the logistics and functionality of your tiny home. It's a good idea to think of ways to make things cross functional. Think about what components are important to you and your lifestyle.
Do you absolutely love cooking? Consider full size appliances in your kitchen.
Do you plan on having guests stay over? Make sure to have a hideaway Murphy bed or foldaway couch.
Will you need extra storage? Design a loft space with additional storage under your stairs and around your bed in your loft.
Are you big on open space? Opt for fewer walls in your home for a more multipurpose space, such as your kitchen table becoming your computer desk. For privacy when needed, you can add sliding barn or pocket doors.
Working with a tiny home manufacturer will help immensely to make sure you are able to customize your house to your needs.
"Pick your builder wisely. A more established builder has already gone through all of the issues that usually creep up in the beginning of a tiny house business. First-timers that build your home might not realize certain things that a builder who has built dozens already knows. It makes a big difference."

Marcus Stoltzfus | Liberation Tiny Homes

4. Budget for Your Tiny House
Tiny house living offers considerable savings and inherently means less clutter, which can be a win-win for many people. But if you aren't careful, your tiny house can quickly become a money pit.
Costs of Living Small

Tiny House
The cost of your actual house can range from a $10,000 DIY kit to $50,000 or more for a custom-built home.
Mortgage
Banks normally will not finance a tiny home, so many choose to pay for their house upfront. You will most likely need to look into a personal loan or RV loan for a financing option.
Homeowners Insurance
Depending on the type of insurance, your home's size and its value, yearly costs can range from $650-$1,200.
Utilities
Some utilities can be included in where you choose to park, such as water, trash or electric. Your home is likely to be very efficient, so you should budget for about $120 to $200 a month.
Rent/Parking Fee
This can range from as low as $120 to $500 per month.
Gas and Towing Costs
If your home is mobile, another cost to consider is maintenance for your vehicle that's towing the home, a hitch, a trailer and gas costs.
Scale Down: Planning for Your New Lifestyle
While television and Pinterest might make the tiny house lifestyle seem incredibly appealing, it isn't for everyone. Becoming an extreme minimalist may take a lot of work and adjustment, but if you've weighed all the pros and cons and are passionate about the philosophy of "less is more," it could be a perfect fit.
If you're ready to pack it up and take the tiny house plunge, here's our guide to help you purge each room of your home to live simply.