What is Xeriscaping?
Looking for a way to help your lawn beat the heat? Xeriscape is a landscaping style often used in areas that experience drought or water restrictions. The Denver Water Department invented the term in 1981. It's a combination of the Greek word for dry (xeros) and landscape. So, xeriscape design is intended to thrive in dry conditions.
However, according to Donna DiFrancesco, a Conservation Coordinator with the City of Mesa Environmental & Sustainability Division, xeriscaping can be used in all climates because "the principles are really just common-sense practices that work in any climate. The real idea behind the concept is to have a landscape that requires minimum resources as well as input or work for maintenance."
Why Are There Water Restrictions?
Drought is the most common reason for water restrictions. There are other reasons that temporary water use limits are established, such as a water main break or problem with a water tower, but these tend to be very short.
According to the most recent data by the EPA, the average American family uses more than 300 gallons of water per day. Of that, the average family uses 90 gallons on landscaping. This makes for a total of 630 gallons of water per week. The goal behind restricting water use is to conserve water for more important needs, such as drinking, flushing toilets or firefighting.
Water restrictions are made by local and state authorities as a way to conserve water. Keep in mind, though, that local governments can enact more limiting measures that replace state regulations — such as saying that citizens can only water their lawns Monday, Wednesday and Friday even though the state water authority says water can happen on all weekdays.
Also, remember that areas often affected by droughts are likely to make water restrictions permanent.
Ready to Use Xeriscape Principles in Your Yard?
Xeriscape design is built on seven principles that, while effective individually, all work together to create a landscape tailor-made to conserve water. And, as with most things worth doing, it all starts with planning.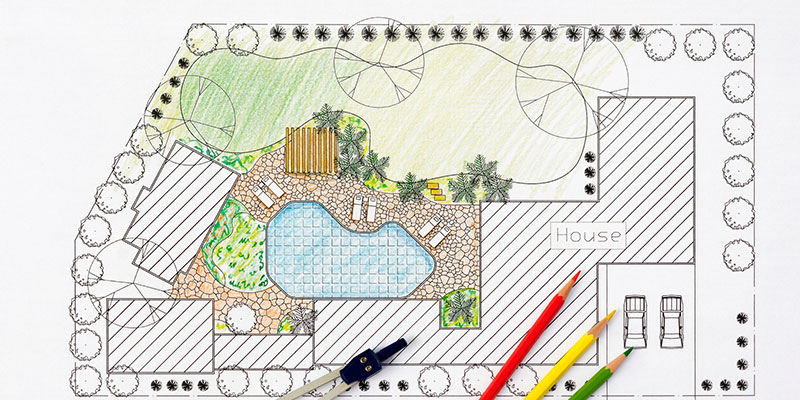 1. Plan and Design Landscaping to Conserve Water
You'll want to enter your project with a fully-mapped landscape design focused on water conservation. As you craft your plan, consider function, water efficiency, cost, personal preferences and maintenance. Try and map out everything you will need, whether you plan on xeriscaping your yard all at once or in parts.
Some specifics to consider when designing your yard:
Group plants by water need.
Place trees where you will need shade.
Use only native plants or plants that conserve water.
Make use of hardscaping to limit areas that require water.
Note how irrigation will be used and where sprinklers will be placed.
"Don't underestimate the value of going through the planning process. Once you've developed a great plan, you can set your budget and implement the work in stages if necessary."
Donna DiFrancesco | City of Mesa Environmental & Sustainability Division

2. Enhance Your Soil
You'll need to do more than simply till your dirt when you put plants into your yard. While most low-water plants will be fine without much more, others require more water and nutrients meaning you'll need to add to your existing soil.
Linda Ly, a writer for Gilmour, describes the best option as enhancing what's already there. "Spongy, drought-resistant soil absorbs water for a continuous source of plant moisture," Ly said. Once you've settled on the plants you want in your yard, consult a local garden shop to see what other soil enhancements you may need.

"Incorporate high-quality organic material, such as compost, into drought soil at the beginning of each season."
Linda Ly | Gilmour


3. Group and Use Plants That Conserve Water Together
Using the right plants is key to xeriscape design. Select plants that conserve water, and be sure to group plants together based on their needs. Additionally, choosing the correct trees has importance on two-levels — the trees themselves will save water while the shade they cast will help other plants to conserve water.
Along with xerophyte plants like cacti, Joshua trees, aloe vera and arctic willows, Ly suggests a number of plants and trees that conserve water:
Trees

Common Hackberry
California Buckeye
Kentucky Coffeetree
Serbian Spruce
Eastern White Pine
Western Redbud
Coast Live Oak
Pomegranate

Shrubs

Common Witch Hazel
Juniper
Spirea
Common Lilac
Smoke Bush
Coyote Brush
Northern Bush Honeysuckle

Perennials

Aster
Butterfly Weed
Lavender
Rosemary
Thyme
Lupine
Russian Sage
Lilyturf
True Lillies
Columbine
Beebalm
Chrysanthemum

Annuals

Stawflower
Zinnia
Dusty Miller
Sunflower
Flowering Tobacco
Ornamental Kale
Marigold
Cosmos
Wax Begonia
Salvia
Plant-Tip: There are lots of plants and trees used in xeriscape design. Talk with a garden specialist to find out which ones will work best for your yard.
4. Irrigate Efficiently
The preferred method of watering for xeriscape design is drip irrigation, which is a network of tubes that help minimize evaporation and deliver water right to a plant's root zone.
Additionally, DiFrancesco noted that natural irrigation is something you can plan so that your yard uses rainwater to its full potential. "Grading your yard to capture rainwater should also be integrated into the design. The idea is to slow, spread and sink the water."
If neither option is not possible, the key is finding the proper amount of water each plant cluster needs. After that, it's a matter of setting the timer correctly and continually monitoring and making adjustments when needed.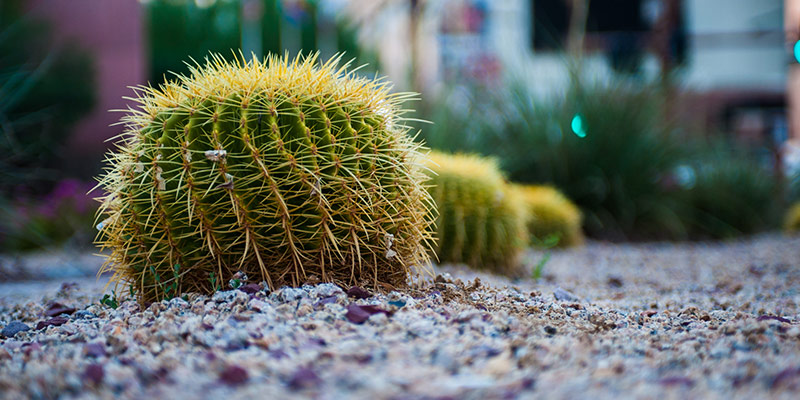 5. Use Correct Mulches
The main purpose of both organic and inorganic mulch is to cover soil and minimize evaporation. With that in mind, it's easy to see why mulch is a key factor in xeriscape design.
According to Ly, organic mulch is one of the best ways to keep water in soil and help plants that may need a bit more water to survive.
"Nothing saves water more quickly, easily or economically in a garden than a thick layer of organic mulch," Ly said. "Mulch helps conserve moisture, prevents water runoff and improves soil tilth, which in turn supports stronger, deeper root growth and plant health."
Organic mulch, such as wood chips, are best used in smaller areas like planting beds and in conjunction with plants that require a bit more water. Inorganic mulch, such as crushed rocks and pebbles, work well in bigger areas in place of turf and with low-water plants.

"Apply a natural mulch twice per year in the spring and fall. Garden beds and trees benefit from several inches of mulch spread over the soil, while containers need only an inch or two each season to help retain moisture."
Linda Ly | Gilmour

6. Limit and Use the Right Turf
Grass needs a lot of water to thrive. But that doesn't mean there isn't a place for it in xeriscape landscaping. Instead, limit its use and make sure it's placed properly. It's best to have grass in shaded areas and flat ground to avoid evaporation and runoff.
Grass types with deeper roots are better at retaining moisture. Some varieties used in xeriscape design include: Buffalo, Bermuda, Zoysia, St. Augustine, Blue Fescue, Blue Grama and California Oatgrass.

7. Make Yard Maintenance a Priority
Simply installing a water conserving landscape isn't enough. You need to maintain your yard as you would anywhere else. Regularly check in on your irrigation techniques, add mulch and replace plants as needed.
"Proper watering, pruning, fertilizing and other maintenance practices are critical to keeping your landscape healthy and beautiful," DiFrancesco said. "Most of all, improper maintenance can stress your plants, causing poor health, susceptibility to disease, or even death. And you've just lost the investment you put into your landscape."
However, DiFrancesco warned that there's a balance between too little maintenance and too much maintenance.
"It's important not to overprune," DiFrancesco said. "Leaving branches low to the ground on trees helps to shade the branches, trunk and roots of the tree. This keeps the tree cooler and more water efficient."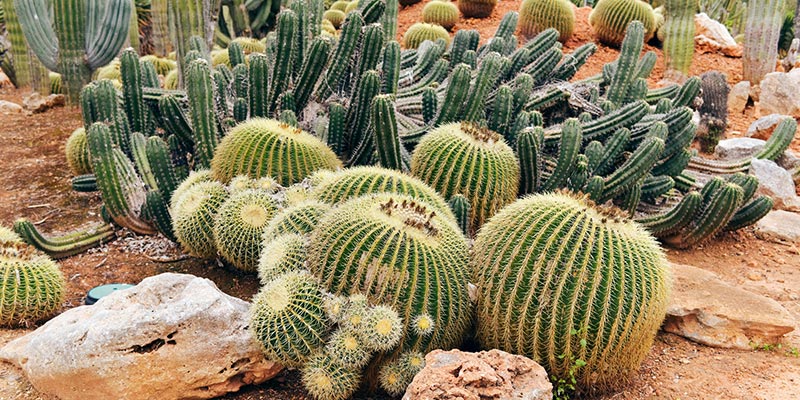 Planning a Xeriscape Makeover
If you're ready to add water conservation to your landscape design, it's as simple as following the seven xeriscape principles. However, the process will take time and effort. It will also produce a lot of yard waste that you'll need to get rid of. While you can reuse some of what exists in your yard — various plants can be replanted or any current hardscaping can stay— you'll need to pitch the vast majority of your yard. Consider renting a dumpster to make cleanup easier.
Cost-Tip: The national average to xeriscape a 1,200 square foot front yard is $12,000, with basic xeriscaping costing around $10,800 and all the bells and whistles coming in at around $27,500.
The first step is to plan it out. Once you've decided how you want your yard to look, you can start figuring out what parts you can do yourself and what areas you may need professional help. From there, you can start wherever you would like. If you want to hardscape first, go for it. If you want to install irrigation first, that works too. The key is making sure that you keep the seven xeriscape principles at the forefront of your work, and go at a pace you're comfortable with.

"We always say that a clean slate is easier for landscaping. If you are converting your old yard to a xeriscape design, you need to evaluate what you can keep and what needs to be removed."
Donna DiFrancesco | City of Mesa Environmental & Sustainability Division

Other Water Conservation and Water Saving Landscape Ideas
While xeriscape design is a great way to help your yard during a drought, it isn't the only option.
Artificial Landscaping
For people who may not have as much time for lawn upkeep, installing synthetic plants or artificial turf may be the best option. When considering artificial turf, keep in mind that maintenance is still required, although nearly as often as with natural grass. Additionally, turf tends to hold heat more than natural grass and there will be installation costs involved.
For synthetic plants, which can last up to a decade with proper upkeep, make sure you select UV-protected items. The kind made out of polyethylene blend tend to last the longest. Then, simply plant them as if they were a living shrub, flower or tree.
Gardening Tools for Water Conservation
The experts at Gilmour suggested a number of products that will help make conserving water easier, while also helping you with yard maintenance. Of those tools, the most important may be a rain barrel.
A rain barrel collects rain water so that it can be re-used on your landscaping during drought periods. The reason it's so useful during water restrictions is that it lets you water your yard when your normal water provider won't. According to Ly, all you have to do is attach a hose to the rain barrel's spigot "for spot-watering any struggling areas."
Other items suggested by Gilmour include a thumb-controlled hose nozzle, wind-resistant sprinkler, super duty hose and electronic water timer.
Enjoy A Yard That Saves Water and Looks Great
Different areas of the country have different trends. Whether it's clothing, music or house style, variety is prevalent. So why should landscaping be any different?
Whether you choose xeriscape design, some other version of water conservation landscaping or to simply use artificial turf and synthetic plants, you're ready to weather any drought. As long as you like how your yard looks, that's what matters. Enjoy it to the fullest.
Looking for other landscaping projects to give your yard a fresh, new look? Check out our Guide to Sustainable Landscaping, Benefits of Hardscaping and Total Lawn Renovation Tips for more lawn improvement ideas.