6 Handy Tips to Maximize Bathroom Space
We all daydream about an ideal bathroom design – glamourous washrooms practically big enough to live in, immaculate marble floors and modern fixtures. If yours is a little short on square footage, it's easy to feel crowded and uncomfortable. Luckily, there are ways to add an open feeling with varying degrees of difficulty and investment. We spoke with home organizer Barbara Reich and the experts at Odell Construction Inc. to gather tiny bathroom remodeling and storage ideas.
Common Small Bathroom Remodel Costs
Any home improvement project comes with a price tag, and small bathroom remodeling is no exception. The national average for a home bathroom renovation is between $12,500 and $15,000, depending heavily on the scope and type of the project, though costs can also vary greatly in different states and localities.
Easy Storage and Renovation Ideas for Tiny Bathrooms
There are many ways to maximize bathroom space, but your space-saving efforts don't need to be dramatic and resource-intensive. Get started with the simpler steps before considering larger renovation ideas.
1. Organize Belongings With Smart Storage Solutions
Nothing crowds a room faster than a chaotic assortment of clutter, and a bathroom lacking organization can be one of the worst culprits. Exploring some small bathroom storage ideas is a great place to start when looking at possible renovations.
Is your sink or countertop covered with toiletries? Put the clutter where it belongs – below the sink or into a linen closet, if you have one. In cases of extreme clutter that seem out of your depth, a trained home organizer can help you sort through the jumble.
Barbara Reich, professional organizer and founder of Resourceful Consultants, recommends regularly sorting through your linen closet to assess what to keep and what can be let go, while utilizing containers to maintain order.
"To get the most out of bathroom/linen/hallway closets, pare down on excessive linens and supplies. Don't save old sheets, and only keep 2 sets of sheets per bed. Also, stackable drawers and bins are helpful to corral toiletries and other small items. If a bathroom lacks a closet, consider a vertical organizer for the countertop. There are so many attractive lucite ones on the market. Also, take advantage of the space under the sink. Typically, plastic, stackable drawers can flank either side of the pipes and provide a great deal of excess storage."

Barbara Reich | Resourceful Consultants
2. Use the Walls for Extra Storage Space
Closets and boxes aren't your only organization options, however. When in doubt, go vertical. Towel racks mounted on doors and walls utilize otherwise empty space to serve a practical purpose. You can also save space in your closet and cabinets with stacking storage cubes or wall-mounted shelving and containers.
"When organizing a bathroom, take advantage of vertical space. You can hang a medicine chest or even a shelving unit where towels can be folded in an attractive way."

Barbara Reich | Resourceful Consultants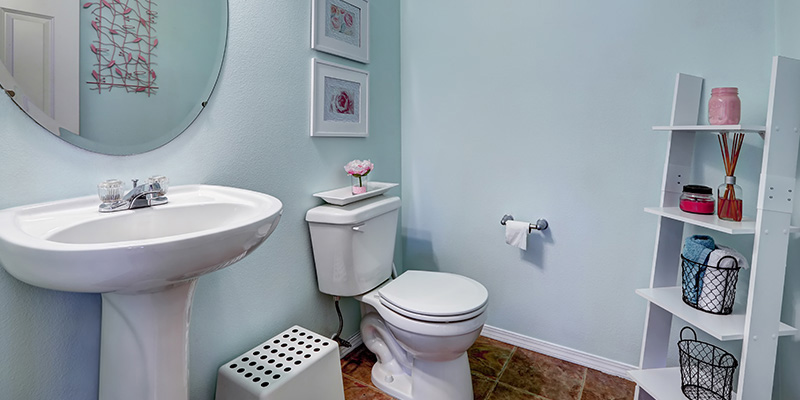 3. The Right Paint Can Make a World of Difference
Color can transform a room more than you might think. Just as lighter shades can brighten up a dark room, they can also create the illusion of space and make a room feel less constricted. If you feel that your bathroom could benefit from a fresh coat of paint, opt for neutral tones like off-white and pale green.
Alternatively, darker and richer tones can be used on cabinets, doors and other accessories to offset and complement the lighter colors in the room.
4. Put the Room in a New Light
Lighting is a major component of a small bathroom remodel. Recessed light fixtures or other sources of indirect lighting can feel less oppressive than bare bulbs in the ceiling and help open up the space.
If new light fixtures don't quite cut it, consider introducing natural light with a frosted glass window or skylight. This could also have the added benefit of saving money on your electricity bill. However, window and skylight installations incur a more serious commitment of time, effort and resources.

Full-Scale Remodel Projects to Expand Your Small Bathroom
Sometimes, maximizing space in a small bathroom takes more than some organization, new accessories or a fresh coat of paint. When you need to make a drastic change with a major small bathroom remodel job, it's time to take a look at replacing the largest and most space-consuming elements of the room.
5. Swap Your Sink
A sink design that doesn't mesh with the bathroom's layout can create a cramped feeling. If you're up to the challenge – and cost of – installing a new sink, there are several designs that can free up room and even add storage space. Corner sinks are an especially compact option – these fixtures serve a vital function without dominating the room.
Bathroom vanities offer additional storage, but if you're serious about downsizing, it might be time to say goodbye. Removing a vanity opens up the room, so it may be an option if you don't utilize it for housing important items.
However, before embarking on any plumbing project, it's important to know your limits. If you're not confident in your DIY skills, reach out to licensed, professional tradespeople for assistance. Not only can they save you the headache, but they can ensure new fixtures are installed properly and safely.
"There are quite a few options to consider if ever in need of more space. A sink base cabinet will increase storage and clear clutter as opposed to a pedestal sink. A medicine cabinet behind a mirror will also offer more storage."

Lindsey Breuhler | Odell Construction, Inc.
6. Replace the Bathtub
Bathtubs can be luxurious and attractive, but often take up a lot of floorspace. The process of tearing out a bathtub might seem daunting, but a sleek shower stall can fill a similar role with a fraction of the space. The typical residential shower stall measures 30-36 inches wide by 36-48 inches deep, as opposed to 32-41 inches by 60 inches for most bathtubs. Replacing a tub with a stall can free up substantial room.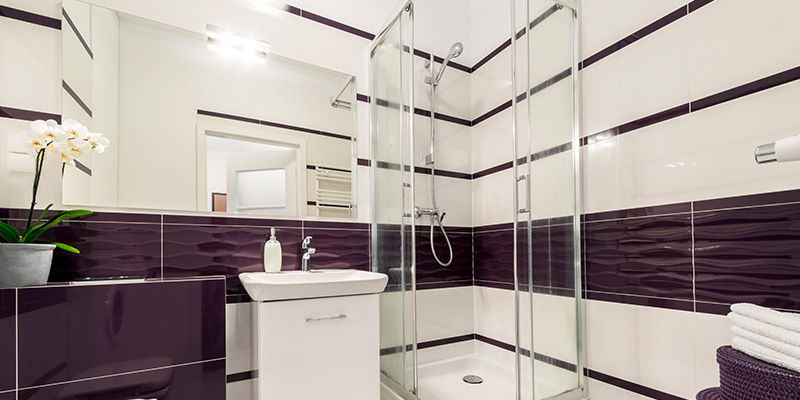 Like sink replacements, tub conversions are demanding projects. Trained professionals can recommend designs and manage the various plumbing challenges a small bathroom remodel can involve.
"When considering replacing a tub or a shower in a DIY situation one must always consider the possibility of mold and rot behind the tile or acrylic. This can lead to pricey clean up and repairs that are not only unsafe for a homeowner to do but also extremely difficult. Never replace a tub or shower over rotten or moldy wood. It is also important that walls and flooring around a shower and tub are properly waterproofed which can also require quite a bit of expertise."

Jenna Raus | Odell Construction, Inc.
Get Started on Your Small Bathroom Remodel
Clearly, there's more than one way to add breathing room to your space. Tiny bathroom storage ideas can reduce clutter and new sinks and stalls can completely transform the room, but it's up to you to decide what approach works best for your situation. In any event, make sure you have the necessary tools and support before diving in.
Find Dumpster Services In Your Area
For more tips on how to plan and carry out a bathroom renovation project, visit our complete bathroom remodel guide.