Creating Spaces of Hope for Our Veterans
Oscar Mike (v): on-the-move
At the Oscar Mike Foundation, injured veterans are encouraged to stay on-the-move – or what is known in the military as Oscar Mike. The home improvement show Designing Spaces chose to renovate the organization's 9,000-square-foot compound near Rockford, IL in a three-episode special edition called Spaces of Hope.
When Designing Spaces reached out with an opportunity to help a charity organization for veterans, we were excited to get involved and support the foundation. Giving back to the communities we serve is important to us, and we strive to be active in the areas we service through cleanups and renovation projects.
About the Oscar Mike Foundation
The non-profit organization's mission is to keep veterans active. They strive to provide funding for injured vets who want to participate in adaptive sports.
All of the donations they receive plus the sales from their apparel support the foundation's cause. These funds give the men and women who have served our country an outlet for an ongoing competitive lifestyle.
The foundation motivates veterans to remain Oscar Mike in all aspects of their lives.
From March through October, the compound hosts veterans every week as they participate in rigorous activities adapted to their capabilities, like modified workouts, UTV driving, equestrian therapy and an adaptive triathlon. As the foundation's website says, "The sole purpose of the programming week is to show them there are no limits to what they can do."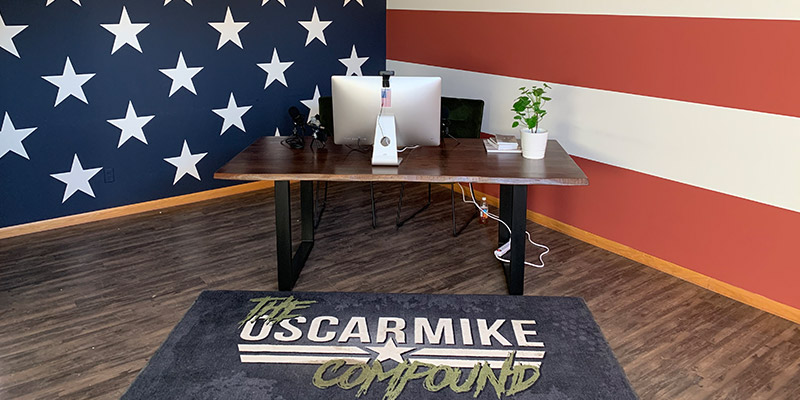 Transforming the Oscar Mike Facility
Designing Spaces: Spaces of Hope takes the renovation show to a new level, featuring interior design and DIY projects while remodeling living spaces that serve the community. Because of its charitable nature, the show seeks help from other companies – that's where we came in.
We supplied two 30 yard dumpsters that were used over the course of two weeks to help clear debris from the renovation. While we were there, we had the opportunity to visit, meet the people and take a tour of the work being done at the compound – a fully accessible home with 17 beds, an adaptive weight-training room and an outdoor sports court.
Some of the projects included adding a ramp for easier access inside and remodeling the bar and entertainment area to comply with wheelchair needs. Designing Spaces was also at the facility last year and made other updates to the house, like adding a roll-under sink in the kitchen.

When Can I Watch?
The renovation project was extensive and spans three episodes. You can watch them all online on Designing Spaces's website, including the final reveal. Check out our spotlight and see how we helped clear the way throughout the remodeling process.
We are so honored to be part of this project. We hope you'll watch and support the Oscar Mike Foundation!