30 Yard Roll Off Dumpster Rental
Find dumpster services in your area

Our 30 Yard Container Features
As one of our biggest sizes, the 30 yard dumpster suits a variety of large-scale projects. Whether you're flipping a property, planning an extensive remodel or cleaning out an entire home, a 30 yard roll off is a simple waste removal solution for homeowners and contractors. Call to speak with our team and get a fast, free quote.
Find 30 Yard Prices Near You
30 Yard Dumpster Dimensions
How big is this dumpster? The average dimensions of a 30 yard roll off are 22 feet long, 7.5 feet wide and 6 feet high. It holds 30 cubic yards of debris, which is equivalent to about 170-190 33-gallon trash bags.
30 Yard Dumpster Rental Prices
What does a 30 yard container cost? The average national price for a bin this size is $527.12, ranging between $336 and $786 depending on the delivery location and the type of debris you're throwing away. When you work with us for debris removal, you'll get an all-inclusive price which includes delivery, pickup, taxes, disposal and a weight limit.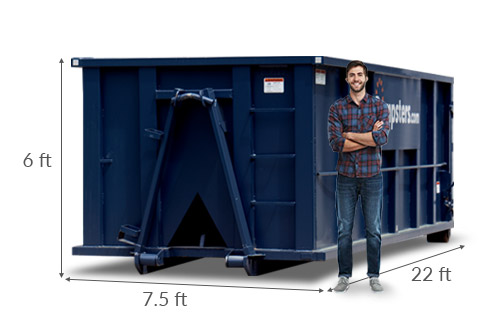 Weight Capacity Is Part of Our Rate
A 30 yard dumpster typically holds about 3.5-5 tons, or 7,000-10,000 pounds. Disposal costs for this amount of debris are included in our price. However, the exact weight limit depends on the type of container you're renting and the materials you're tossing.
Keep in mind that the weight of your junk can add up quickly. For example, large appliances weigh about 300 pounds each. If you're tossing an old washer, dryer or oven during a remodel, keep an eye on the weight.
Is a 30 Cubic Yard Dumpster Right for Your Project?
Remodeling & Construction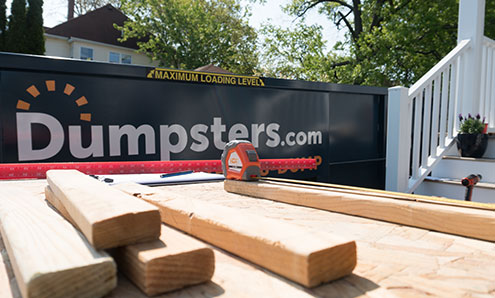 Remodeling companies and homeowners alike use 30 yard dumpsters to remove debris from projects like:
Updating a basement.
Building a home addition.
Renovating a large kitchen.
Tossing debris from a demolition.
A 30 yard roll off typically accepts a range of construction and demolition materials, including:
Plaster & Drywall
Wood
Carpet & Other Flooring
Cabinetry
Countertops
---
Typical Covered Weight Capacity: 3.5-5tons
Cleanouts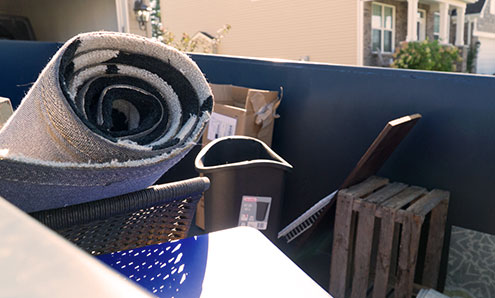 If you're cleaning out a few rooms or decluttering an entire house, a 30 yard bin is great for:
Cleaning out an estate.
Clearing out the garage.
Decluttering before a move.
Our 30 yard containers usually handle a variety of items from a home cleanout, including:
---
Typical Covered Weight Limit: 3.5-5 tons
Outdoor Projects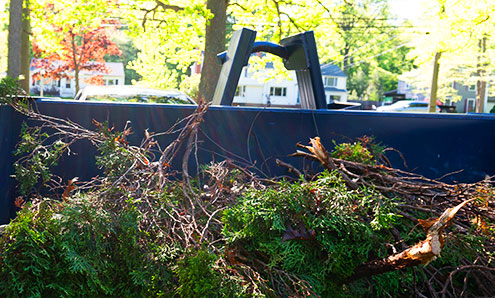 Whether you're a landscaper or DIYer, 30 yard roll off dumpsters can manage debris from outdoor jobs like:
Cutting down trees.
Large-scale lawn cleanup.
Getting rid of brush and shrubs.
These bins generally accommodate the following materials:
---
Typical Covered Weight Limit: 3.5 - 5 tons*
Please note that the covered weight capacity and accepted items may vary by location.
Ask Our Team for the Best Size for Your Job
Be Ready for Delivery and Pickup
When you call to order a dumpster, we'll ask for detailed placement instructions so we can drop off the container in a place convenient for you. For smooth pickup and delivery, keep the following tips in mind.
Select a Location:
Pick a spot that will give the truck 60 feet of space leading up to the drop-off area. If you want to place your dumpster on the street, keep in mind that you may need a permit first.
Keep the Area Clear:
The truck needs 23 feet of vertical space to raise and place the container. Make sure there are no obstacles blocking the drop off spot, including locked gates, snow or ice.
Avoid Overloading:
Make sure debris isn't overflowing out of the dumpster or you could be charged a fee. Also, if you container weighs more than 10 tons, we won't be able to haul it away.
Request a Pickup:
Don't forget to contact us before the last day of your rental period to schedule removal. Make sure the container door is secure to prevent injury or property damage.
How many tons can fit in a 30 yard dumpster?
Our standard weight limit is 3.5-5 tons, or 7,000-10,000 pounds. If you're throwing out heavier debris, your covered weight limit may differ to adhere to road safety regulations.
How long is a 30 yard dumpster?
Our 30 yard bins are typically 22 feet long, which is about as long as one-and-a-half sedans. They are also 7.5 feet wide and 6 feet high. While dimensions may vary by location, your bin will hold 30 cubic yards of debris.
How much fits into a 30 yard dumpster?
A 30 yard container can hold about nine pickup truck loads of waste, or 170-190 33-gallon trash bags. This dumpster size is great for home cleanouts, construction debris and landscaping materials.
What does a 30 yard dumpster look like?
Our 30 yard roll off dumpsters are rectangular with an open top and a swinging door on the end. These bins are used for residential and construction projects, which differentiates them from the square, fully enclosed commercial dumpsters found behind businesses.