Check It Out: How to Redesign Your Grocery Store
With so many grocery chains out there today, it's important to keep your business up-to-date. Your grocery store décor should be refreshed about every six months to provide a comfortable shopping experience for your customers. With the help of BrandPoint Services, Food Market Designs, GSP Companies and SGA Design Group, we'll take a look at expert grocery store renovation tips and current trends in the industry.
A full grocery store redesign should take place every five years. Large supermarket retailers stick to a staggered regional remodel schedule, which averages out to one location a week.
"Grocery stores are exposed to heavy use by both customers and employees. From food preparation areas, cooler and freezer use, dock use, cleaning procedures, equipment and customer abuse, grocery stores are subject to maintenance updates far more, as compared to a typical general merchandise retail facility. The need to keep stores looking fresh and relevant will always help drive more interior finish updates than some retail facilities."

Chris Sutton | SGA Design Group
Experts say the longer you put off updates in your store, the quicker it will start to show signs of being run-down, aged and may appear dirty to your customers. Once your store reaches that point, you'll be playing catch up with your competition for a much higher price point.
How Much Does a Grocery Store Remodel Cost?
The price of a grocery remodel can average between $10,000 for a deep clean and new light fixtures to $25,000 for more extensive upgrades. A full store remodel can get up to the multi-million-dollar range depending on the brand – it really depends on the scope of the work.
"You can start by remodeling half of the store or even one aisle at a time. Many of the renovations may need to take place during the evening when the store is closed because mechanical work may be involved."

Dave Knoche | BrandPoint Services
Is It Time for A Refresh?
If you're wondering if you need an update to keep up with the competitors in your market, here are a few questions to ask yourself:
Are you up-to-date with what your local opponents are doing?
What distinguishes your brand from others in your market?
Are you able to make changes to the building based on your current lease?
Does your store currently provide a relevant shopping experience for customers?
Will the updates you are planning help your store achieve a high ROI?
Length of a Typical Grocery Store Renovation
Depending on the size and scope of the remodel, the length of the renovation can vary, but should be completed in stages and planned strategically. Smaller interior updates can be done when the store is closed or tackled in phases. Relocating departments or large expansions can take significantly longer and possibly affect sales.
"A full store remodel can take six months or more. The first stage is design and development, which takes about three months. Then, we move on to the drawing phase which takes about six weeks. From there, we get into the construction and permit process which can take only two weeks up to 22 weeks, depending on what state you're in. The actual remodel itself can take up to 3-6 months, sometimes longer depending on the scope of the project."

Dan Phillips | Food Market Designs
How to Stay Open During Renovations
Ideally, you won't have to close your store during a remodel. As the modifications begin, you can temporarily block off parts of the store and shift products.
"It's important to think about the ultimate goal of the store remodel," says Steven Cohen of GSP Companies. "When a renovation is planned correctly, customers can still go about their regular shopping uninterrupted."
Some tips to help your customers stay in the loop during your renovations are:
Hand out store maps to customers as the layout changes.
Plan for the loudest, messiest projects of the remodel to take place after-hours.
Build temporary barricades to help hide debris.
Post regular updates on your social media or website to keep customers informed.
Getting the Most Bang for Your Buck
Smaller or local-owned stores might consider more affordable updates to keep their store looking fresh and modern.
Dave Knoche of BrandPoint Services suggests the following updates:
Look into local tax incentives for energy saving appliances and fixtures.
Apply fresh paint to the walls and flooring.
Repair the sidewalks and parking lot outside of the store for greater curb appeal.
Upgrade your bathrooms for a more contemporary and clean appearance.
Add new, modern signage to call out store departments.
Upgrade and reorganize shelving units.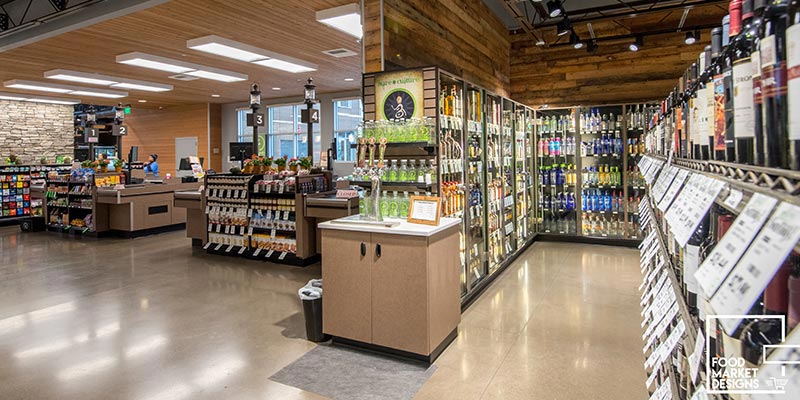 Tips to Increase Grocery Store Efficiency and Minimize Food Waste
Conserving energy and avoiding food waste should be at the top of your mind during your remodel.
"During project development, the project specifications need to be clear about what is allowed to be thrown away and what gets reused or refurbished. By defining a selective site demolition plan and identifying demo materials that are expected to be recycled, an owner can limit and control the amount of waste for each project," says Chris Sutton of SGA Design Group. "Often an additional trash dumpster might be required to separate construction debris from the recycled components."
Find a construction dumpster to effectively manage your grocery store redesign.
Find Dumpster Services In Your Area
For stores preparing for a full remodel, an architect can help to create an efficient design. There are also multiple programs that storeowners can initiate, from specific bins to recycle plastic and cardboard to cooking oil recycling programs.
"When one of our partners has safe, edible food they cannot sell, they donate it to the local foodbank and have provided 19 million meals for people in their community which helps reduce waste. Another one of our partners has a designated local food bank for each store location, so when there is excess food that cannot be sold, it's used to provide meals for those in need. They also divert their food scraps from the local landfills through composting and animal feed programs."

Steven Cohen | GSP Companies
Energy Saving Opportunities
Dan Phillips of Food Market Designs offers additional store upgrades to boost efficiency, including:
Switch to 100% LED light fixtures.
Install new refrigeration systems with energy efficient compressors and condensers.
Build open multidecks.
Retrofit doors on open coolers.
Grocery Store Updates and Décor Trends to Layout the Competition
With different ways and places to shop, it's important for each store to stay on top of current trends and get ahead of the competition.
"Staying ahead of the competition is the magic bullet question that store owners, designers and department managers struggle with on a daily basis. From solid product pricing, clear signage and building customer loyalty with good services, stores make themselves stand out by meeting their customer's needs."

Chris Sutton | SGA Design Group
4 Types of Store Designs
The purpose of thoughtful design is not only to look good, but to create an environment that entices customers to spend more time shopping and even encourage impulse buys.
These are the four most common grocery store layouts:
Grid Layout: Presents rows of merchandise displayed in a predictable pattern. This is popular for most large grocery or retail stores.
Herringbone Layout: Commonly used for stores with lots of product, but minimal space.
Loop or Racetrack Layout: Makes it tough for customers to browse at will and is difficult to navigate for those who came in knowing what they are looking for. Think Ikea layout style.
Free Flow Layout: Best used in small spaces or high-end shops with minimal merchandise.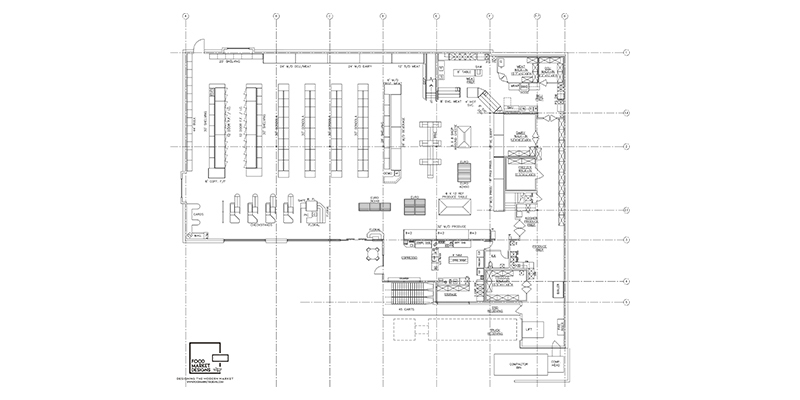 Psychological Grocery Store Tips to Keep in Mind
90 percent of shoppers turn right when they walk into a store. Based on this, it makes sense to place promotional, high-demand or seasonal products in that space.
Most stores use the 80/20 color pattern, with 80 percent of the store in neutral colors and the remaining 20 percent in secondary, bold accent colors.
Your store colors and fixtures should cohesively blend together and tell a story throughout so the shopper wants to keep moving through it.
3 Blossoming Grocery Industry Trends
According to Steven Cohen of GSP Companies, now more than ever, brand creation is at the top of mind when remodeling a store. "They are creating their own vocabulary, developing a personality and creating a unique shopping experience," Cohen says.
1. Showcase Your Healthy Options
Many stores are adopting more organic, gluten-free, vegetarian and vegan options, as well as more ethical brands and healthier prepared meals.
2. Offer Convenience Grocery Shopping
With brands like Amazon making it easy for groceries to appear on doorsteps overnight or even on the same day; grocery stores should offer similar options.
Try implementing a curbside pickup option or partner with delivery services like Instacart and Shipt to have someone shop and deliver the groceries to your customers' homes.
3. Blend Local Vibes into Your Store
While many corporate stores have locations all over the U.S., it's common to see a more local feel in each location.
"We're seeing the celebration of a local city or town by stores tying to local popular food trends, special events or local sports team themes. The key is they do it in their voice, their style and in their unique way. The endcaps (end of aisle displays) can show off the brand and promotion."

Steven Cohen | GSP Companies
A Hunger for Growth
Your supermarket renovations will help keep your customers feeling comfortable when shopping in your store and improve their overall experience to keep them coming back.
Wondering how much waste your local grocery stores produce? These grocery waste statistics are a wakeup call and here's what you can do about them.