Construction Dumpsters for Every Job Site
Check availability in your area

Reliable Construction Waste Disposal
Experience a simplified dumpster rental process. With upfront pricing, prompt delivery and unrivaled support, our team will keep your job site clean. Whether you need one 40 yard container to demolish a building or multiple containers for construction projects spanning several states, we'll make debris disposal the least of your worries. Call to see how we can customize a construction waste disposal plan for you.
Are you a homeowner? Rent a residential dumpster for your project.
Let Us Take Care of Your Dumpster Needs
Once you're set up, we keep communications flexible. We'll get dumpster rentals on site, schedule swaps or arrange final pickups with just a call, text or email - whichever you prefer.
Call 877-778-8440 to speak to an account representative.
Construction Containers Nationwide
With our convenient service, you'll never have to search for another debris box again. We'll learn the specifics of your business and manage waste removal so you can keep your projects on schedule.
Common Accepted Items:
Drywall
Plaster
Wood
Scrap Metal
Siding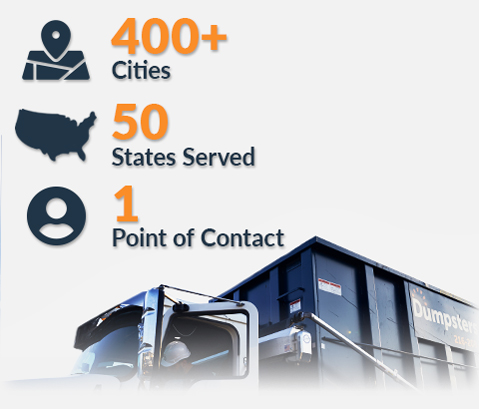 Construction Dumpster Costs
The average national price to rent a construction container is $565, but can range from $263 to $862. This cost includes a rental period, specific weight limit, delivery, pickup and disposal fees bundled into one rate. However, this can vary depending on the size of your container, the type of debris being thrown away and your location.
Full-Service Dumpster Rental Experience
Hassle-Free Billing
With us, expect centralized billing with the ability to keep payment information securely on file.
Quick Scheduling
Once you set up an account, many customers simply text or email dates and addresses when service is needed.
Guaranteed Service
With an expansive network of hauling partners, we fulfill high volumes of container requests.
How We Help Our Customers
With a dedicated team and service in all 50 states, we're able to help increase efficiency across the board for our customers. ARC Group USA partnered with our team to reduce the amount of time spent ordering containers for job sites and dealing with inefficient invoices. Here are the solutions we provided:
Streamlined billing for job sites across the country.
One point of contact for their dumpster rental needs.
Quick scheduling for all deliveries, pickups and swap-outs.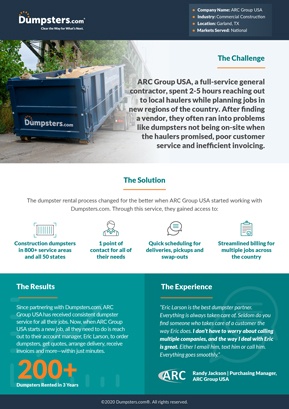 What Type of Container Do You Need?
No matter what you're working on, we deliver right to you. From big shopping plazas to tight alleyways, our expert drivers can place our construction containers wherever you need, skillfully handle swap outs or position multiple dumpsters in your work area.
Commercial Debris Boxes
Demoing an old apartment building or renovating a restaurant? Use our large construction roll off dumpsters to handle building waste removal.
How We Help:
We accept almost any debris type, from concrete to drywall.
We ask for detailed delivery instructions to place your containers right where you need them so you don't have to touch debris twice.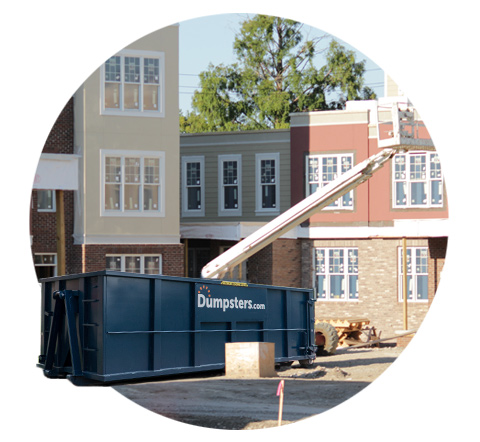 Residential Construction Dumpsters
Whether you're handling a kitchen remodel or building an entire house, our roll off containers make short work of waste removal.
How We Help:
Let us know you need empty-and-return service with a quick call, text or email.
Our bins can handle a range of home renovation debris, from countertops to flooring.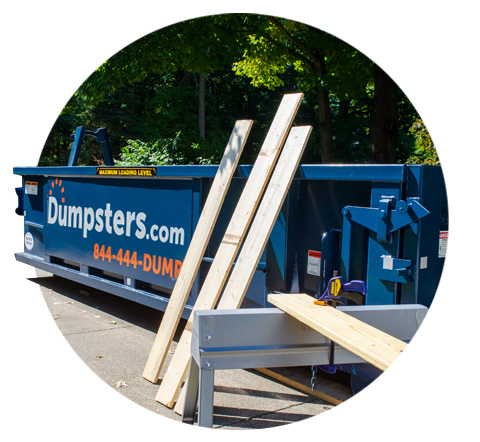 Hear from One of Our Customers
"As soon as I call for a dumpster, they say, 'OK, we'll get one out there right away... I'd say it's top-notch service. I'd definitely recommend Dumpsters.com."
Bert, Home Works Construction
Debris Removal Container FAQs
How Big Is a Construction Dumpster?
Our construction dumpster sizes vary so you can find the right option for your junk removal needs. Our 40 yard roll off is one of our largest with typical dimensions of 22 ft x 7.5 ft x 8 ft. Sizes range down to our smallest 10 yard dumpster, which is commonly used for heavy debris.
How Much Does It Cost to Remove Construction Debris?
The average cost of our construction dumpsters ranges from $328-$849. The price depends on the size you rent and the area you're renting in. Our flat rates bundle the costs of delivery, pickup, a weight limit and taxes, so you know what you're paying upfront.
What Do You Do With Construction Waste?
Once your debris is tossed into our dumpster rentals, we haul it to a sorting facility for proper disposal or recycling. For example, concrete can be ground into gravel for reuse. This is why it's important to keep C&D materials separate from regular trash.
What Can You Put in a Construction Dumpster?
Common C&D debris is accepted in our construction waste containers. This includes anything from concrete and metal to wood cabinets and drywall.
More Construction Resources
Need some quick tips? Check out these blog posts and weight calculators.