What It's Like to Be a Roll Off Truck Driver
Q: What makes a good dumpster truck driver?
Matt: Being safe and looking out for other people when you're driving. There's just a lot of things that can happen when you're on the road. I just want to be safe and I don't want to hurt anybody. I try to keep people out of harm's way.
Jack: In my experience, what makes a successful roll off driver is patience and listening to the customer and to the people that are training you. They have a lot of experience and they're training you for a reason.
Eddie: Being a good roll off truck driver in this industry takes dedication. You really have to be willing to get up at crazy hours in the morning, drive with everybody trying to rush out to work and then you're still out there when they're trying to rush home. At this place, we serve the customers and we get the job done.
Q: How many miles do you drive in a day?
Eddie: It depends on the day. You can go anywhere from 200-400 miles depending on how much work you have. Sometimes loads require you to go to certain landfills. You might have to go from one side of town to the other, which racks up the miles.
Jack: I drive on a typical day anywhere from 200-300 miles a day. To some people that sounds like a lot, but to others it may not seem like much. It's just the time that we take to work and get our jobs done — the mileage doesn't matter. It's about taking the time and being safe out there.
Q: What kinds of landfills and facilities do you go to?
Jack: We use a pretty good base of landfills. Usually we'll take the trash loads to those. Loads that can be recycled, we're going to recycle them. We'll take that stuff to recycling transfer stations and landfills. Most construction debris end up in those. Sometimes we have scrap metal loads that we'll take to a scrap yard. It's just a wide variety. You're never at the same place dumping. You're always moving around and doing the best that you can do for a route and for the customer.
Q: What do you like most about your job?
Eddie: I'm never in the same spot twice. I'm going to different cities and communities and I get to see how what we're doing is helping clean up these communities. Doing what I do, I get to see different people. I meet people from all over. I get to see everything.
Q: What's your favorite part of the day?
Jack: I like midday. You can kind of look back and see the stuff that you've done. Then, as the jobs come in through the rest of the day, you can watch it all fall into place.
Eddie: When I first get into the truck and she's running. You take that breath, a sip of coffee and look at the tablet to see where you're going. Whether you turn your favorite radio station on or you just leave, to start rolling out in the morning when the air is crisp and it's still a little dark. That's just a good start to the day.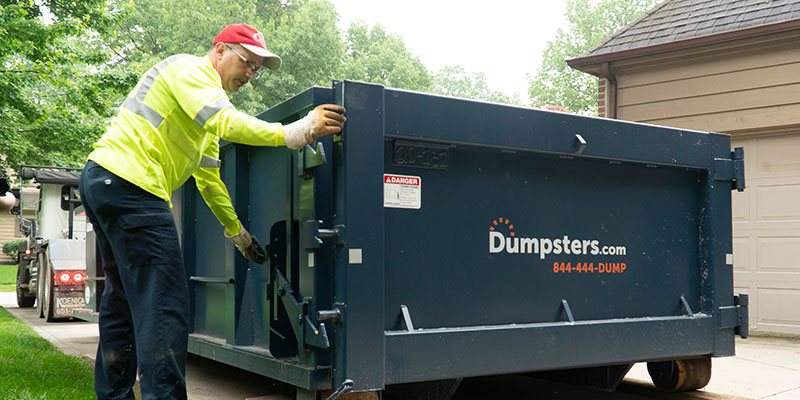 Q: What are some common issues you run into?
Matt: How to open the door on the back. You're backing your truck in and unhooking the box where the customer wants it, and usually they are already scrambling trying to figure out how to do the door, so I'll come out and show them how to do it.
Jack: Make sure that the area is clean and cleared out before we get there. When we're making deliveries a lot of times, customers will want their box in an area that might not be feasible for our trucks to go on. A lot of times we kind of have to educate the customer about the size of the truck and the weight. And, also, the damage that it could cause.
How to Become a Dumpster Truck Driver With No Experience
Q: What are the requirements to become a truck driver?
Eddie: Becoming a truck driver is not as easy as you might think. There's testing that has to take place. There's a financial and time investment that you have to give. Without passing those tests, you can't get a CDL [Commercial Driver's License]. Once you do have the qualifications, it doesn't just end there. You have to go for Department of Transportation physicals. If you aren't healthy, you won't get your DOT card. We're held to a much higher standard than your normal driver.
Q: How does the company help keep your various qualifications up to date?
Jack: We have safety meetings and they kind of watch over everything. They keep track of our certifications, CDLs and training and help us make sure we stay up to date. We have some of the best drivers in the industry right here today.
Eddie: Dumpsters.com is really on top of making sure the drivers have all their qualifications. There's a rigorous check when you first get hired. For renewal of your DOT card, they're on-the-ball with that as well. They provide the time and anything you need. And if you have any questions with anything, Dumpsters.com is Johnny-on-the-spot.
Q: How does Dumpsters.com help younger drivers learn the trade?
Jack: Here at Dumpsters.com, we have a variety of drivers. We have a lot of guys with experience and some that don't have much. I think with the training that they've had, they can par right with me. The good thing is that sometimes a younger driver has good ideas that we've never even thought of. And then sometimes when we see a new driver, we can give them an idea. You know, don't do it this way, do it this way. It's going to save them time and might be safer.
Eddie: Us old timers want to help them out. That's what Dumpsters.com is. We've got a lot of good, quality drivers here that would take someone under their wing and show them the right way to do it. To have a lot of drivers here with the experience is a comfort. You have guys that have done what you've done as long as you've done it — sometimes more — which is also great. But then you've got the new guys where you get to listen to their stories that you've already experienced. You get to think back to what it was like when you were there. We all get along really well. It's really nice.
Q: What advice would you give someone wanting to drive a dumpster truck?
Eddie: If someone wants to get into the roll off game and become a driver, I really think that they should be honest with themselves about what kind of a person they are. You need to be a patient person. Traffic is very stressful for a lot of people. Dealing with customers is sometimes stressful. If you're a patient person and you're a good driver, I think this could be something for you. You've got to have qualities to do every job, and believe it or not, you have to have good qualities to be a roll off truck driver.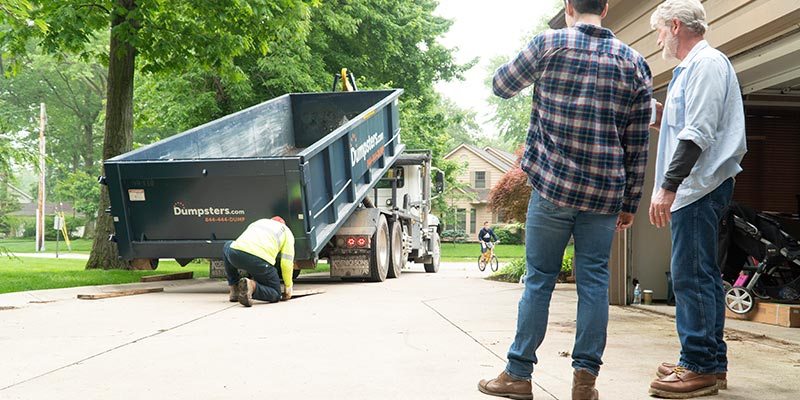 How Dumpsters.com Works to Put the Customer First
Q: What steps do you take to help protect the property of whoever is getting a dumpster?
Matt: In Cleveland, we put boards down [underneath the dumpster]. We carry them on the truck with us. It's usually three boards. One up front and two on the wheels. When I get there, I always start by watching for wires. I also try not to go on the grass to make sure the truck doesn't get stuck.
Eddie: When we show up, we talk to the customer first if they're available. They say that they'd like to get the dumpster in a certain spot and we'll assess the situation and decide if it can be done or can't be done and explain why.
Q: What is your top suggestion for a homeowner renting a dumpster?
Jack: A lot of times when we deliver a box, the customers don't understand how the doors open. It's also important to make sure that customers aren't loading above the top of the dumpster. One of the suggestions I always try to give customers is to keep the box filled level, no matter what the size. Break down the materials to give yourself the most space instead of filling it too high.
Q: How do you interact with and focus on the customer?
Eddie: Interacting with customers is just like interacting with a friend or someone you're meeting for the first time. Handshake and a hello. Make them feel comfortable. This isn't just another headache for them. You want them to think back and realize how easy it was. From the time that someone calls for a dumpster to the time that we get there, most customers tell me that it has just been easy. If I can make things easy for them, I've done my job.
Q: Is there a customer experience you've had that sticks out?
Eddie: I was called brilliant. I've been doing this quite some time and no one has ever called me brilliant, so it was really cool. He wanted the dumpster in a certain spot and I could see why. So, I gave it a try and it was able to be done safely. I protected the customer's property as well as our property. To see a customer happy with what I did, that makes me try even harder.
The Cutting-Edge Technology That Sets Dumpsters.com Apart
Q: How do you use technology on the job?
Matt: Our technology is different than other companies. We used to just use a CB [Citizen Band] radio to talk or on the phone. Now, with Dumpsters.com, your assignment is shot to you on an iPad. You can take a picture of a load and send it to dispatch. By the time you're done tarping, your dispatcher already knows where he's going to send me next.
Eddie: Dumpsters.com utilizes electronics and technology like I haven't seen in a lot of companies. We have backup cameras, forward-facing cameras and a lot of stuff to protect the driver. We have air-ride suspension which makes it so much easier on your body, especially at the end of the day. We have tablets. We don't have to listen to the radio in our ear all day long. It's like no stress. It's state-of-the-art technology that no one else uses.
Q: How do you communicate with the dispatch office?
Jack: Our dispatch pretty much knows where we're going. They set us up with a stop, they know where we're going to dump it and they know where we're going to go next. It's like a puzzle being put together all day and it just all fits together in the end. It's not so much about where you dump or where you go. It's just the accomplishment of getting the job done and you see how our dispatch works out so that it's a very efficient day.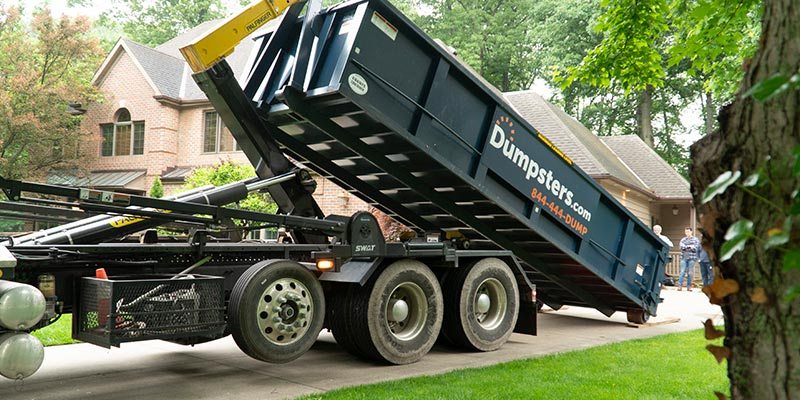 Q: What are some features about our trucks that you enjoy?
Matt: I like that the truck is not stick, it's automatic. You aren't killing your leg or your hands shifting. Heated seats are nice, too. And having a hook. It's a lot easier getting into tight spots.
Jack: We have a range of vehicles. The hook trucks are a really nice commodity compared to regular roll off trucks. They can pick up a box much quicker. We can do switch-outs on a dime. I drive a regular roll off with a stinger. They [drivers with a hook truck] can get things done a lot quicker than I can, but sometimes my truck can get into places that they can't. That's why we have a variety of trucks.
Eddie: The creature comforts just make everything better for the driver. Plus, they're newer trucks. So, you're not driving something that's been on the road and probably should be off the road. They're safe and they get fixed when things break. I wish I could narrow it down to one thing. I just love that the truck is new. The stereo is great. It's got Bluetooth. The seats are leather. It's got seven different air controls to make everything comfortable. Everything adds up. It's a solid little truck.
What Being a Dumpsters.com Roll Off Driver Means
Q: Why is Dumpsters.com a good place to work?
Jack: We have the tools to get the job done right. We have great management, good dispatch and we have benefits that beat the whole industry. I have to say that we probably have the best wages. Nobody can compare.
Eddie: Dumpsters.com listens to their people. You have veteran people here who have been doing the job for a long time. If I've ever had to say anything about a stop or anything like that, it's ok. That's the answer you get. It's going to be ok. There's no 'go do this and do that.'
Q: How does Dumpsters.com compare to other companies?
Matt: The company cares about the drivers. It's one of the best companies I've ever worked for. I mean, there's no other place to go. You'd be going down if you went somewhere else.
Jack: I think Dumpsters.com is a better work atmosphere because the equipment is new and it's decked out. The job isn't as stressful. They take care of their customers and they take care of their drivers. It's a whole different ballgame.
Interested in Becoming a Dumpsters.com Roll Off Driver?
At Dumpsters.com, people come first. We take pride in hiring the right team to best serve our customers. From excellent benefits to working with a group of people who genuinely care for each other, becoming a member of the Dumpsters.com driving fleet is like adding to your family.
Want to know more about our Cleveland hauling operation? Our COO Rich Gersdorf has the details.