Why Didn't My Trash Get Picked Up?
Is your trash still at the curb after collection day? Here are some common reasons why.
The Garbage Truck Didn't Take My Garbage. Why?
We've all been there. You get home from work and as you're driving down your street, you notice your garbage is still by the curb. Then the questions start: Why was my trash not picked up? Is there a trash pickup today? Did the garbage truck skip my house?
Here's Why You Might've Missed This Week's Garbage Day
Your bin was over the weight limit.
The item is something that is only collected on specific days.
The schedule was adjusted due to a holiday or weather conditions.
You placed out an item that the garbage company doesn't accept.
Obstructions were blocking the garbage truck from servicing your container.
While our services at Dumpsters.com focus specifically on roll off dumpster rentals and commercial front load bins, we don't like to see trash left behind. Read on to see some of the common reasons that the trash was not picked up.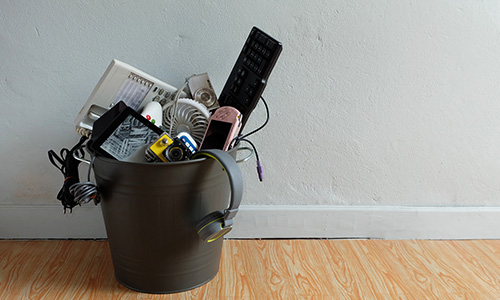 Items Not Accepted by Garbage Companies
Plenty of items are not accepted by garbage companies on your regular trash pickup day for a variety of reasons. Perhaps their normal trucks are not equipped to take certain materials. Or maybe an item can't be safely disposed of in the landfill.
However, most companies will work with you if you schedule a special pickup for these items.
While the list below highlights a number of items universally not accepted by garbage collectors without a scheduled pickup, your curbside trash service may vary. It is best to check with your trash collection company to see a full list of prohibited items, that way you don't risk a missed trash collection.
1. E-Waste
E-waste is basically any consumer electronic equipment that a person no longer wants, such as computers, iPads, cell phones or TVs.
Electronics are not accepted through your weekly trash pickup because they often contain hazardous materials such as arsenic, mercury or lead which can cause environmental issues if they are not disposed of properly.

E-waste recycling facilities are increasing in number. If you are searching for a facility near you, e-stewards.org has a handy locator tool. For more ideas, check out our electronics waste disposal guide.
2. Household Hazardous Waste
The list of household hazardous waste could go on for a while, but the easy rule-of-thumb is that if a product label has something along the lines of warning, danger, poison, caution or hazardous on it, there's a good chance the garbageman won't take it.
Most counties have a designated facility for hazardous waste collection, so check with your local government to see what options are available.
3. Bulky Items
Bulky item collection rules and regulations tend to vary widely. However, what is considered bulk trash is fairly consistent across garbage companies: any item too large for a standard trash cart. So, items such as sofas, mattresses and box springs, hot water tanks and white goods (such as refrigerators, washers and dryers) are considered bulk items.
Many local trash collectors will have designated weeks where bulk items are accepted. Check with your waste management company to see if this applies to you.  To find more bulky item disposal tips for items like furniture and appliances, check out our bulk waste disposal guides.

If you are disposing of something bulky that also is made of metal, consider taking it to a nearby scrap metal facility. You won't have to wait for bulk pickup and you can make a little money, too.
Why The Garbage Truck Didn't Take the Garbage
So, your trash didn't include any of the prohibited or bulky items, but it still wasn't collected. What's the deal? There are still plenty of reasons your trash may not have been picked up. Here are some of the most common situations.
1. The Garbage Truck Couldn't Access the Cans
Sometimes it's not that the garbage truck skipped your house, but rather that it couldn't access the garbage. And this could be for any number of reasons: a car parked in front of your bins, they were placed too far away from the curb or tree branches blocking the cans from being lifted.
Oftentimes, the garbage collectors will leave a tag on the can, noting why the collection could not happen. Some of the issues leading to a missed garbage pickup can include:
Lids not closed all the way.
Items blocking access. (e.g. basketball hoops)
Carts are set out improperly.
Not having 2-3 feet between carts.

If you live in an area with lots of street parking, consider putting the cans at the end of your driveway or in the street in front of the curb.
2. The Trash Was Put Out Late
Usually, the garbage truck will come around the same time each week. However, if they have a larger route due to a holiday week or special collection, the timing can vary. If you get your cans out after the garbage truck has rolled though, odds are, you'll have to wait until next week.
3. Your Container Was Overloaded
While garbage collectors aren't going to measure and weigh your cans, they can fairly accurately tell if a can is too heavy. Your area may have different standards. Check with your local trash pickup team to see what their limitations may be.
4. It's Not the Day For That Item
Sometimes trash is left behind because your garbage collection company has it scheduled for certain weeks throughout the year. This is often seen with bulk items and yard waste.
Don't want to wait to get rid of your bulky items and yard waste? Consider renting a dumpster, where you can toss your junk without waiting for curbside collection.
Check Dumpster Availability Near You
Why the Garbage Truck Didn't Come
Sometimes, the garbage truck did not skip your house. Rather, it just didn't come that day. But there are still some cases where the garbageman didn't stop at your house for a specific reason. Here are a few of the reasons that the garbage truck may not have stopped on your typical collection day.
1. Holiday Week
While not all trash collection is regulated by city government, most garbage companies will run on the same holiday schedule as the federal government (New Year's Day, Memorial Day, Independence Day, Labor Day, Thanksgiving and Christmas Day). On a holiday week, most companies will delay trash collection by a day.
2. Weather Delay
If the weather presents a danger to the garbage collectors or the company's equipment, services will often be delayed. So, if there is a polar vortex sliding through your area in the winter or high winds coming in off the coast, there is a chance that is why the garbage truck did not stop by.

Follow your city or trash agency on Facebook and Twitter. They will often post notifications of delays due to severe weather. Alerts will also be placed on their websites and they may offer an alert service that will send you a text message to notify you of delays in the future. That way you won't be left questioning, is there trash pickup today?
3. You Forgot to Pay Your Bill
You'll likely receive calls and letters about your bills if they are overdue, but if you don't pay or set up some sort of payment plan, your trash collection company may stop your service. If this is the case, call to set up a plan or make a payment, and they will reactivate your service.
4. Human Error
It happens. Sometimes the garbage truck skips your house. It's not done maliciously, but it does happen. Most often, it is because you are new to a route, the company's routes have changed or there is a new driver working in your area. Just give your company a call and they will do their best to remedy the situation.
Remember, No One Wants Garbage Sitting Out
You don't want your garbage sitting on the curb and your garbage collectors don't want to collect double the trash the following week. As long as everyone works together, trash collection can go smoothly and keep everyone happy.
Want more information on how to dispose of items that the garbagemen won't take? Check out our disposal guides for ideas on how to get rid of your furniture, appliances and electronics. Still have too much trash for the curb? We'll deliver a roll off dumpster right to your driveway.
What Do You Think?
Did your trash company recently miss a pickup? Tell us about it. Head over to Twitter or Facebook, and use #dumpstersblog to join the conversation.
Need a Dumpster for Your Next Project?