How to Clean Out a Storage Unit
Learn how to tackle old storage unit clutter quickly and efficiently with our step-by-step guide.
Get Rid of Storage Unit Items in 7 Steps
Cleaning out old belongings from a storage facility can be overwhelming, whether you are left with one from a family member or it's your own. We teamed up with Sarah Parisi of The Clutter Curator to help simplify your storage unit cleanout, from taking an inventory of the items you want to getting rid of the junk you don't.
Can I auction off my storage unit?
Yes, storage units can be auctioned off. Units usually go to auction if an owner fails to make several payments on their stored items. Contact your storage unit company on their individual rules regarding auctions for the most accurate information.
How much does it cost to clean out a storage unit?
It depends on the method you use to get rid of everything. If you sell the items, you might actually make money from cleaning out your storage unit.
If you're simply tossing storage unit items, the cost could be anywhere between $200 - $500 on average to have a junk removal service haul them away.
If you have a large amount to toss, renting a dumpster may be the most cost-effective option. Renting an entire 10 yard dumpster for a week can cost as low as $224, while filling up a junk removal truck can cost nearly $600 (before tipping).
How can I sell items from my storage unit?
You can sell items by hosting a garage sale or by listing pieces on online stores, like eBay, OfferUp or Facebook marketplace. Quickly sell your items by including a detailed description of what you're selling. In your listing include measurements, good photos and video, be upfront about any flaws and list an appropriate price.
What happens if you leave stuff in a storage unit?
If you leave your belongings in a storage unit and don't pay the necessary fees over time, your stuff will be confiscated. Keep in mind that facilities can also report monthly payment status to credit agencies, which affect your credit score.
How much does a storage unit cost per month?
While storage unit prices vary from state to state, the average monthly cost for a 10'x10' unit is $150. This cost may fluctuate based on the size rented and amenities associated with your unit. You can expect to pay anywhere from $10 to $1,000 monthly.
Best Storage Unit Cleaning Supplies
| Supplies | Safety Gear |
| --- | --- |
| Boxes | Mask |
| Garbage bags | Work gloves |
| Markers | |
| Scissors | |
| Tape | |
| | |
How to Get Rid of Storage Unit Contents
Now that you've gotten your supplies and safety gear ready, get to work addressing the clutter in your storage unit.
1. Create an Inventory
Jot down any information about the items in the storage unit. Note the value and whether or not you plan on keeping it. This is a great step to do before you start the cleaning process — you and any helpers will have a plan to follow and can bring the right supplies to address the mess.
Cleaning out a storage unit can be a lot of work, so having an extra set of hands can make the process easier. Ask family or friends for help and plan a good time to declutter to quickly finish the job.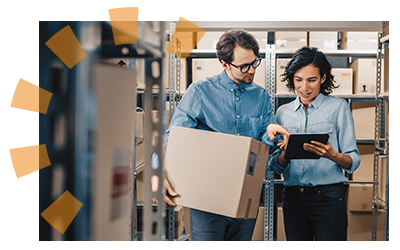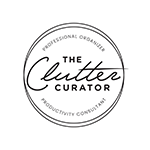 Sarah Parisi, Professional Organizer & Productivity Consultant | The Clutter Curator
"Set a deadline and intention for this process. This will keep you on task and ensure you are only keeping what supports your original plan."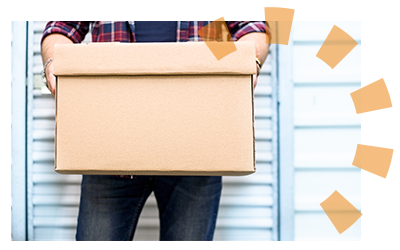 2. Clear Out the Unit
Move items out of the storage unit so you can visualize what you're keeping vs. throwing away. If there are particularly large items, like furniture and mattresses, this is a great opportunity to move them out of the way. Getting rid of the bulky items first will make it easier to clean and assess smaller items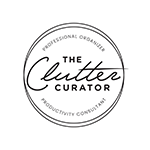 Sarah Parisi, Professional Organizer & Productivity Consultant | The Clutter Curator
"Start by looking for easy items that you can toss or donate. If you can clear out the easy and bulky items first, then you can take your time going through the more difficult decisions on the items that are more valuable to you."
 
3. Sort Your Storage Unit Items
Create several piles and color code your boxes to mark your intention. Parisi recommends sorting your items into categories — keep, sell, recycle and toss — to stay organized as you clean out your storage unit. With your piles clearly marked, this will prevent confusion, especially if you're working with a large cleanout team.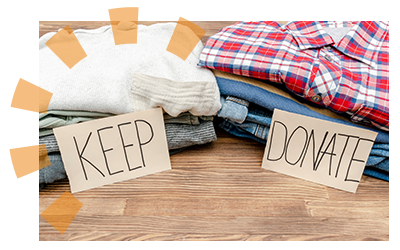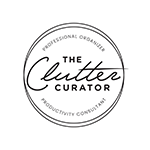 Sarah Parisi, Professional Organizer & Productivity Consultant | The Clutter Curator
"The more complex your piles, the faster you will get confused and frustrated. Make clear zones or piles and label them (keep, sell, recycle and toss). Also, make sure at the end of the day you finish the job by tossing, donating or clearly noting the items you have sorted."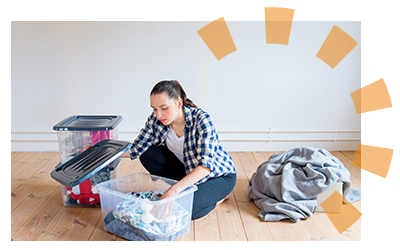 4. Organize the "Keep" Pile
Once you've sorted everything in the storage unit, it's a good idea to go back and make sure you're really going to use the items you plan on keeping. Parisi recommends asking yourself the following questions to make sure these things will fit in your current life.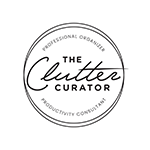 Sarah Parisi, Professional Organizer & Productivity Consultant | The Clutter Curator
"Is it part of your daily routine? Is it something you know how to use or like to use? Are you keeping it out of guilt? Or feel you should use it? Anything that makes you feel guilty or adds stress, let it go. We have enough stress in our day to day lives we don't need stuff adding to that."
 
If you answered "yes" to any of Parisi's questions, move it to your current living space. If you find you don't really need the item and are holding on to it for sentimental reasons, then learning to let it go is necessary.
5. Sell or Donate Gently Used Items
If you come across items that are in great condition but don't get any use, you can donate or sell them to someone who is interested. Having a yard sale is a great way to get rid of gently used items and connect yourself to the community. If you don't have the time to dedicate a weekend to a big sale, selling your items on sites like eBay, Mercari, OfferUp, Nextdoor, Craigslist or Facebook Marketplace is a more flexible option.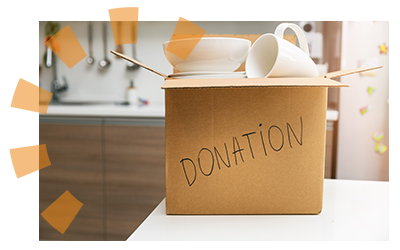 Pro Tip
Deciding what to do with old furniture can be tricky. Check out how to get rid of unwanted items with our disposal guides to simplify the process.
Tips for Selling Items from Storage Units
Price Items Appropriately
Items that are being resold are usually marked 10% to 20% less than retail prices. Just keep in mind you're trying to get rid of these items. In order to get them to sell, you might want to ask for less than what you think.
Research Local Regulations
If you are hosting a yard or garage sale, check your city's website to make sure you don't need a permit before you get started. If you do need a permit, make sure not to skip this step.
Take Good Listing Photos
Nice photos that are well-lit or staged can help potential buyers see the potential of the items you're selling. The more quality images you provide, the better the chance is that you'll sell your stuff.
Have a Good Item Description
Having a detailed description will give an interested customer the best idea of what you're selling. In the description, include detailed measurements and note any flaws.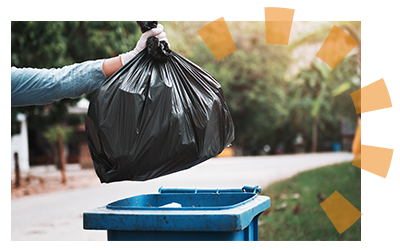 6. Recycle or Toss Junk
Recycling belongings that you don't need and aren't in good condition is a sustainable way to get rid of your items. Large furniture items may not be considered recyclable, but when broken down their individual parts can be. Things like fabric, wood and metal springs can be reused and repurposed. Other smaller items can also be repurposed into something else. Find the best location for your recyclables by doing some research on sites like Earth 911, the iScrap App and Google Maps.
If you're looking to toss a lot of stuff at once, renting a dumpster is a great option. A roll off dumpster allows you to work as you go and at your own pace. If you're unsure what can be tossed in a dumpster, get in touch and we'll go over accepted items based on your location and local landfill restrictions.
Get a Dumpster for Storage Unit Clutter
7. Tidy the Remaining Space
Clean up any remaining debris and throw it out. Finish the job by sweeping the floors and wiping down the walls if there are any scuff marks. Leave your storage space clean and damage-free so you can avoid any cleaning fees after you've left the unit.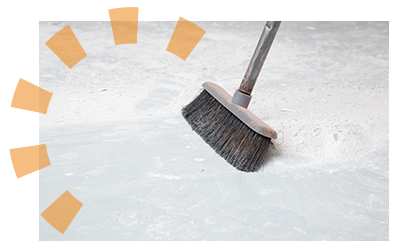 Should I Hire a Professional?
Hiring a professional is a great option if cleaning out the unit is overwhelming or being done during a major life transition or event, like a death in the family. Divide your time into individual tasks and find professionals for the ones you find most difficult. For example, if taking your donation pile to a charity is too difficult, find one that offers pickup services, or hire someone on TaskRabbit or Thumbtack to drive it over for you.
If you have too much junk to fit in your vehicle or you don't want junk in your car, a dumpster rental may be an easier way to have it hauled away. Finally, if reorganizing after the cleanout seems too daunting, find a local organization expert to help you get your unit in order for the future. "Be prepared to laugh, cry and get frustrated during this process," Parisi concludes. "It will take time but as you go you will strengthen the muscle of letting go!"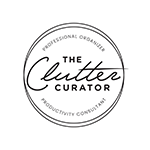 Sarah Parisi
Sarah is the owner and founder of The Clutter Curator in Chicago. She aims to make decluttering approachable and attainable, relying on her background in interior design, project management and life coaching.
What Do You Think?
Have thoughts on cleaning out a storage unit? We're listening. Head over to Twitter or Facebook,
and use #dumpstersblog to join the conversation.
Need a Dumpster for Old Storage Items?