How to Remove and Dispose of a Chain Link Fence
Whether you're looking to replace an old fence or simply get rid of it, follow our guide for easy removal from start to finish.
How to Completely Take Down Your Chain Link Fence in 5 Steps
Whether you have old chain link fencing that is rusted or damaged, or you're looking to update your property, learn how to remove it and get rid of it yourself. Luckily, taking it down is a relatively easy DIY project, and once you're finished, we'll walk you through the top four ways to dispose of chain link fencing.
How much does it cost for chain link fence removal?
If you need to work with a professional, removal can cost anywhere from $3 - $5 per foot. Removing a chain link fence is inexpensive, if you do it yourself since you will only need to cover the costs of supplies, many of which you may already have in your toolbox.
What is the value of chain link fence scrap metal?
Chain link fences are usually made of galvanized or vinyl coated steel, which go for $0.03 - $0.05 per pound. Keep in mind this rate varies state to state.
How can I remove rust from my chain link fence?
Remove any loose rust with a garden hose by spraying the area with a high pressure nozzle. Then, scrub the area with an abrasive material, like steel wool, a wire brush or sandpaper. If the rust is stubborn, use white vinegar or naval jelly to chemically treat the fence.
Gather Supplies
The right tools make any demolition job easier. Most supplies needed to tear out a chain link fence can be found in a standard toolbox.
Tools to Remove a Chain Link Fence
| Tools | Supplies |
| --- | --- |
| Bolt cutters | 2x4s |
| Car jack | Cinder blocks |
| Hacksaw | Long-sleeve shirt |
| Non-slip pipe wrench | Pants |
| Shovel | Safety goggles |
| Weed wacker | Work gloves |
| Watering hose | |
How to Remove a Chain Link Fence
With your tools and safety gear at the ready, it's time to get to work tearing out your fence.
1. Relocate Plants
Remove any plants that may be harmed during the process. Transplant them to another area of your yard or a planter if desired. If you don't want or need the extra greenery, tear the vegetation out. This step may need to be completed at a later time if you have stubborn overgrowth that has intertwined itself with the fencing. Lay the fence down after you have completed steps 2 through 4 to get rid of both plants and fencing.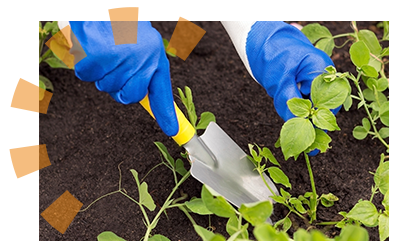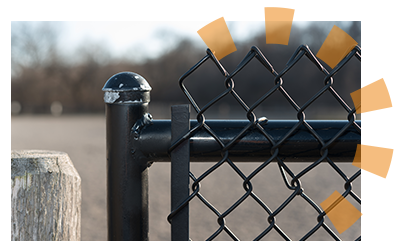 2. Separate Fence Caps and Clamps
Begin at the corner of the fence and remove the clamps. These are metal brackets secured with bolts that attach to the chain link fabric on the posts and top tension bar.
Loosen the bolts with a wrench and remove the bracket. Pull the clamps off the fence post and discard them with the bolts. The chain link will loosen but usually doesn't fall. When you encounter a post with a cap attached to the top rail, remove it by taking out the nut and bolt.
After removing these items, twist apart the top tension bar and slide them out making it easier to work in small sections. Separate any welded railings with a hacksaw.

Pro Tip
There are many ways to dispose of scrap metal beyond scrapping it at a landfill. Use our guide to find the best way to get rid of your old chain link posts, clamps and fabric.
3. Cut Fence Ties
Cut the wire ties or pieces of metal connecting the chain link fence to the posts with a bolt or wire cutter. You don't have to remove them fully, just enough to detach the two parts.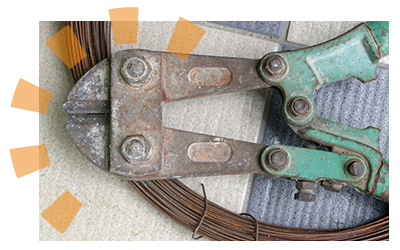 Safety Tip
Make sure you are wearing the appropriate safety gear, like gloves, when you cut the fence ties since they can be sharp.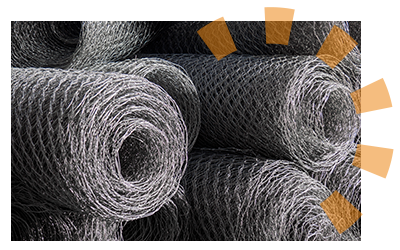 4. Take off the Chain Link
Work in 20 ft or smaller sections to keep removal manageable. Lay the chain link fabric on its side and cut the chain link vertically at the end of the section. Roll the fencing on the ground and secure it so it doesn't unroll to make disposal easier.
5. Remove Fence Posts
With just the fence posts left, you've conquered the majority of this project. Although fence posts can be surprisingly stubborn to remove and are usually the hardest part of the process if it's cemented in the ground, we've got you covered. Effectively remove your fence posts with one of the following methods.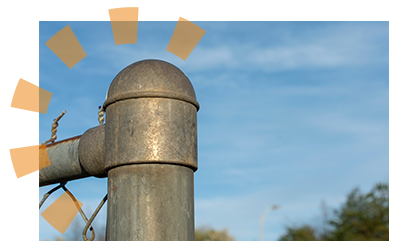 The Car jack Method
For this method, you'll need a shovel, a pipe wrench and a high lift car jack.
Dig around the post until up to six inches of concrete is exposed.
Clamp the pipe wrench down on the base of the post.
Place your car jack under the pipe wrench.
Pump the jack lever until the post and footing have been removed.
The Lever Method
Creating a lever is another simple way to remove fence posts if you don't have a car jack. All you need are spare 2x4s and a cinder block.
Leave a fence bracket on your post or clamp down the pipe wrench higher on the post.
Place a pair of 2x4s under this.
Put a cinder block 12 - 18 inches away from the post.
Push down on the 2x4 on the other side of the cinder block, which will push the post upward.
The Dig and Push Method
This removal method is the most strenuous but it's an effective method if you don't have the supplies for the other two removal options.
Dig around the post until you see the entire concrete footing.
Pick a side and dig down six inches.
Push around the post to loosen it.
Attempt to pull it up or push it over entirely.
Dig another six inches on the same side and push again until the post is removed.
Remove a Non-Cemented Fence Post
While cemented posts are great for long term stability of your fence, non-cemented fence posts are much faster and easier to remove. Usually, these posts can be wiggled out of the ground by pushing them back and forth, and then, when there is enough movement, pulling straight out of the ground.
4 Ways to Dispose of a Chain Link Fence
If you don't want to just bring your old fence to the junkyard, there are other scrap metal disposal options. Donating, recycling or repurposing old fencing are great alternatives to getting rid of your fence and keeping it from a landfill.
1. Donate Metal Scraps
A lot of times, people in your immediate community are looking for old fencing for their own projects. Offer up your old materials to a community group. Websites like NextDoor, Facebook Marketplace and Craigslist are sites where you can sell or donate old fencing.
Metal scraps can also be donated to organizations like Habitat for Humanity, which often takes extra materials from renovation projects and resells them.
2. Recycle Fencing
There are over 700 scrap metal recycling businesses in the U.S., but access to a scrapping center can be difficult depending on where you live. Reach out to local recycling centers to see if a recycling or salvage company will pay you for the scrap metal from your fence.
3. Repurpose It Yourself
Old fencing doesn't always need to be torn out. Sometimes making some tweaks to its appearance is enough to improve the look of your yard. Many experts recommend painting the fence black or green to blend into the environment. In addition, materials can be woven into the fabric of the fence to create a piece of art and add privacy.
However, if you are looking to remove the fence from your yard completely, the fence fabric can be used for other projects. Old fencing can be used for garden fences, and chicken fences or can be planted near crawling plants to become a living fence. Chain link material has also been used in stained glass pieces, mirror art and other creative projects.
4. Rent a Dumpster
If you have a large amount of chain link fencing, leaving all of it at the curb might be unmanageable. Renting a dumpster is a great idea if you have a large amount of fencing to dispose of and need to get rid of it all at once. This way, you don't have to pause your progress to carry the fencing to the curb or deal with the hassle of driving it to the landfill.
Get a Dumpster for Metal Scraps
Enjoy the Open Space
Now that your backyard is free and open, it's time to decide what you're going to do with the open space. If you're replacing the fence, don't rush to refill the post holes. If your fence days are over, get to work refilling the holes and landscaping the area so you can relax in your new yard.
What Do You Think?
Have thoughts on tearing out old fencing? We're listening. Head over to Twitter or Facebook,
and use #dumpstersblog to join the conversation.
Need a Dumpster for Old Fencing?