How to Remove and Dispose of Cast Iron Tubs
With an old cast iron tub, there's an added risk of damaging your bathroom. Follow our guide for easy and safe removal.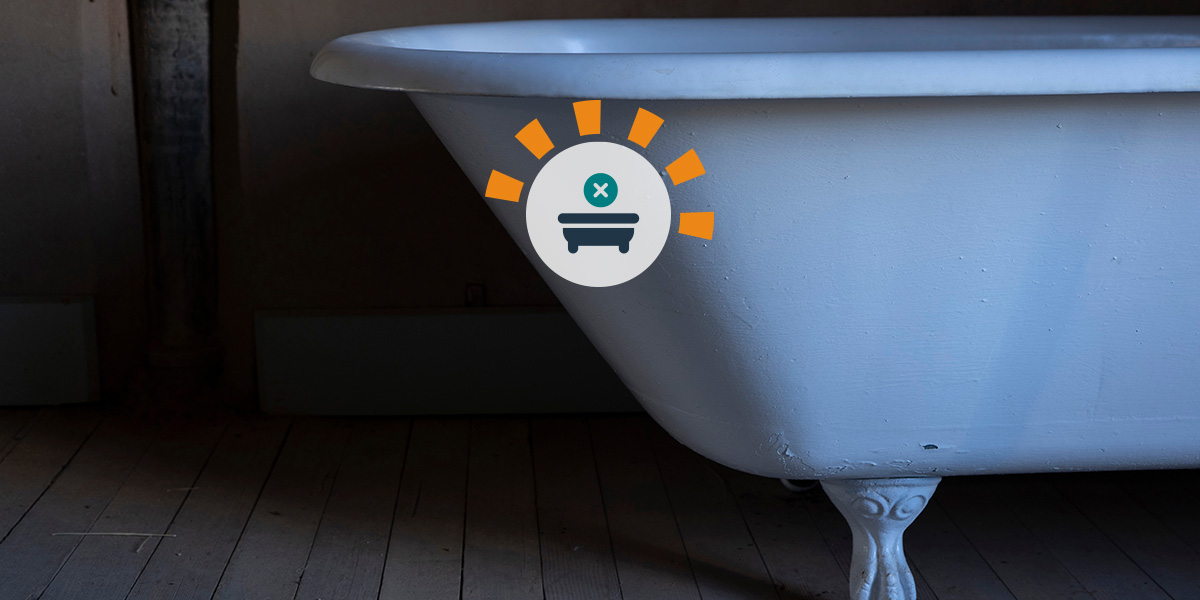 What are Cast Iron Tubs?
Cast iron or clawfoot bathtubs are classic, elegant staples in vintage-inspired bathrooms, often installed in homes from the 1880s through the 1930s. These tubs, which typically feature four ornate "clawed" feet, are made with porcelain-fused iron and coated with enamel, making them incredibly durable. The enamel prevents chipping in the finish and the iron allows for great heat retention. Plus, they can be refinished to look brand new with the help of a professional.
If you're looking to update your space or want to add a shower to your bathroom, removing an old, bulky bathtub is the first step to bringing your en suite into the 21st-century. Keep in mind it may take some elbow grease to remove these tubs compared to other fiberglass, steel or acrylic bathtubs. The bulk and weight of a clawfoot bathtub can make it hard to remove in one piece without damaging your home's walls and floors. For this reason, use one of the following helpful methods and advice from Rebuilders Xchange to efficiently remove your bathtub.
How Much Does a Cast Iron Tub Weigh?
Cast iron bathtubs are incredibly heavy and are known to need extra floor support to bear their weight. A standard cast iron tub weighs around 250 to 500 pounds. The weight of the tub depends on its size. Most standard clawfoot tubs are 50 to 72 inches long and 37 to 32 inches wide.
Can you break a cast iron tub with a sledgehammer?
Yes, since cast iron bathtubs are so heavy, it's sometimes necessary for removal. When you break the bathtub with a sledgehammer, the pieces will break off for easy disposal.
How can I tell if I have a cast iron tub?
Hold a magnet up to your bathtub. If the magnet sticks to your tub, it's made of cast iron or steel. If the magnet doesn't stick, you have a porcelain, fiberglass or acrylic bathtub.
Can you move a cast iron tub by yourself?
No, ask a family member or friend to help move the tub. Cast iron tubs weigh approximately 250-500 pounds, which makes them incredibly difficult to move by yourself — especially if you need to carry it up or down a flight of stairs.
How to Remove a Cast Iron Tub
Whether you're taking out your cast iron in one piece or breaking it into pieces, we'll walk you through the easiest way to prepare your bathroom, disconnect your tub and get it out of your home.
1. Gather Tools
Using the appropriate tools is important and makes any demolition job safer and easier. You may already have some of these supplies at home or be able to rent others for a more budget-friendly solution.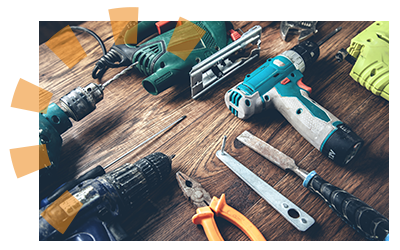 Tools to Remove a Cast Iron Tub
| Tools | Supplies |
| --- | --- |
| Angle grinder | Safety goggles |
| Dolly | Work gloves |
| Caulk remover | Hearing protection |
| Drain plug wrench | Respirator |
| Reciprocating saw | Contractor bags |
| Screwdriver | Plywood |
| Wrench | |
Get a Dumpster for an Old Bathtub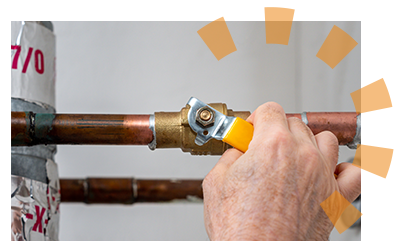 2. Prepare Your Bathroom
It's important that you take the appropriate precautions to protect your home, this way you can prevent any accidental water damage or markings on your floors and walls. Follow these steps to make sure your bathroom is protected.
Shut off water: Use the valve near the water main to turn off the supply to the entire house.
Protect flooring and walls: If the flooring will be replaced, skip this step. Lay a drop cloth or heavy-duty flooring paper on any surface that the tub will be on. Use ½-inch plywood for extra protection.
Remove any items that may get damaged: Store any mirrors, glass or fragile items in another room for this project.
3. Remove Fixtures
For a clawfoot tub, start by draining the system. Then, remove the mixing valve and use a wrench to disconnect any bolts leading to the supply pipes. For a more modern bathtub, remove the faucet by twisting or pulling off the fixture, depending on the spout type. Then, using a screwdriver, take out the overflow and handles.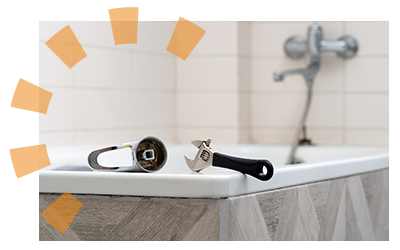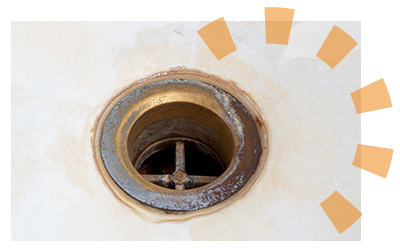 4. Detach the Drain
Get rid of the tub drain by loosening it with a wrench or pliers. Then, remove the waste line. When removing a waste line in an older bathtub, you may need to cut it. If the piping is not exposed, you can usually access your tub pipes through a crawlspace or basement. Once the drainpipe is exposed, put a rag in the opening to prevent sewage gas and fumes from leaking.
Jessica Davis, Owner | Rebuilders Xchange
"To unhook plumbing, like the drain and supply lines, use either a wrench or Sawzall."
 
5. Get Rid of Any Caulk
Use a caulk remover, screwdriver, scalpel or razor blade to cut into the silicone caulk that surrounds the sides or base of the tub.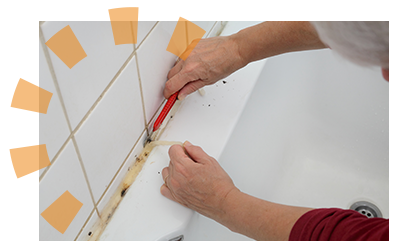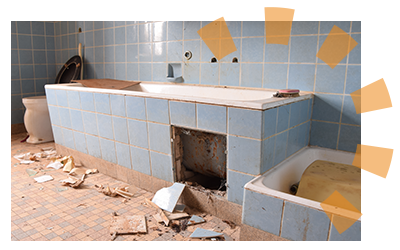 6. Demo Surrounding Material
If your tub is not free-standing, demolish the surrounding material. Get rid of any tile that may be around or attached to the wall. This is usually the case for alcove bathtubs.
7. Remove the Tub
Now that you've prepared the area, it's time to remove the bathtub. Whether you're removing it in one piece or breaking it down, check out these different removal methods to get your old tub out of your bathroom.
Jessica Davis, Owner | Rebuilders Xchange
"In general, I recommend lifting with the legs and not the back, sliding or flipping heavy items to use leverage versus brute force (you know, work the angles), using many hands to make light work and having an exit strategy."
 
First Option: Remove the Cast Iron Tub in One Piece
You may want to remove your cast iron tub as-is to preserve your tub for a remodel or an upcycling project.
If the tub is free-standing and you have no obstructions, like a toilet or vanity, slide the tub directly out. Use plywood to cover your floors for protection. If you're having trouble sliding the tub out or are worried about scratches, remove the clawed feet with a wrench. Then, place it on a dolly on its side and wheel the tub out of the bathroom.
"If the tub is on the second floor, I like to turn it upside down to slide downstairs," Davis said. "Sometimes I tie it off at the top of the stairs depending on circumstances to make removal easier."

Safety Tip
Once you're ready to move the tub, get other people to help you lift the tub to prevent injury or damage.
Second Option: Cut the Tub With a Reciprocating Saw
You can also use a reciprocating saw to cut the tub in half. This will allow you to remove the bathtub in two or more manageable pieces, making it less likely you'll damage parts of your house that you aren't renovating.
Check the area to ensure there are no flammable materials. Cutting into iron may cause sparks to fly. Once all ignitable materials are removed, cut widthwise down the center of the tub. Repeat any cutting if necessary. After the tub has been cut completely, pile the pieces together and remove them.

Safety Tip
Whether you're using a reciprocating saw or sledgehammer to break down your tub, don't forget to put on the appropriate safety gear beforehand, like safety goggles, gloves and hearing protection.
Third Option: Break the Bathtub With a Sledgehammer
Breaking a cast iron tub is labor intensive, but it's often the most efficient method of removal if you don't need to preserve the tub.
Start by scoring the cast iron with an angle grinder. This will allow you to control the pieces that break off. Strike the apron of the tub with a sledgehammer and then the sides. Finally, work into the tub deck and continue breaking it down into pieces until it's small enough to be discarded by hand.
For easier removal, simply toss all the pieces at once with a dumpster rental. This allows you to save time instead of driving to and from the landfill.
Why Won't My Tub Come Out?
If you have completed the following steps but your bathtub still won't budge, here are some troubleshooting tips. Check to see if the tub is attached to wall studs on a non-load-bearing wall. Assess the floor of the tub — if it won't budge, it may be stuck to the floor with mortar.

Pro Tip
Learn how to easily and efficiently toss a cast iron tub and other bathroom renovation debris with our disposal guides.
5 Ways to Dispose of a Cast Iron Tub
If you don't want to bring your cast iron tub to the landfill, there are other ways to get rid of a clawfoot bathtub. Listing it online, donating or repurposing it are great options if you want to keep your items out of a junkyard.
1. Find a Restoration or Donation Store
Some local secondhand or restoration companies restore old furniture and appliances to sell. These businesses supply homeowners and contractors with period-accurate appliances, fixtures and more for their renovation jobs. Typically, you work with the organization by dropping off your piece and they'll resell it for you, or you can donate a bathtub to a good cause.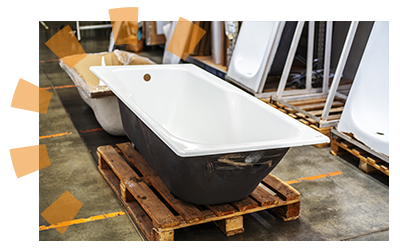 Jessica Davis, Owner | Rebuilders Xchange
"If you have a heavy old claw foot tub, your options are endless for reuse. You could bring it to an organization like RBX to sell and participate in the circular economy by diverting waste for the planet, providing valuable material for other people and generating profit for yourself."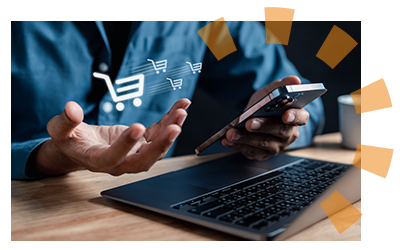 2. List it Online
Historic cast iron and clawfoot tubs are in high demand for revitalization or restoration projects since the bathtubs are durable and easy to refinish. Consider selling your bathtub on an online forum like Facebook Marketplace, OfferUp or Craigslist. These sites are great options to quickly get rid of your old bathtub. You can get the buyer to pick up the tub for free and even make some extra cash.
3. Upcycle the Tub
Cast iron tubs are used for more than just bath time. Clawfoot tubs can be repurposed into planters, couches, chairs and more with a little bit of creativity. Browse an idea board, like Pinterest, to choose a project that speaks to you.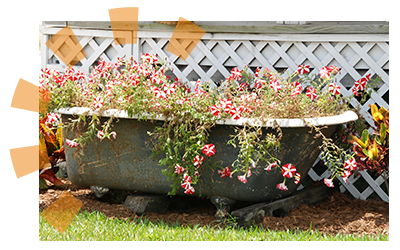 Jessica Davis, Owner | Rebuilders Xchange
"You can create an outdoor flower bed or raised garden. We've had a couple of customers recently use cast iron tubs outdoors as plunge baths."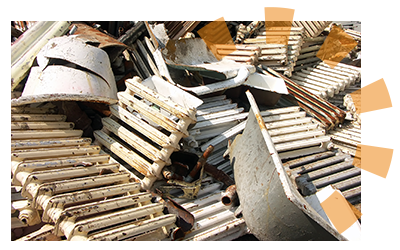 4. Scrap It
Scrap the tub at a local facility and get paid for the value of the metal. Just keep in mind that you will have to haul the tub to the facility, which can be tiresome and time-consuming, especially if you removed your cast iron tub in one piece.
5. Rent a Dumpster
If you're just looking to get rid of your tub quickly and can't leave it for curbside collection, renting a dumpster is a great way to dispose of it, and any other bathroom debris all at once. By renting a dumpster, you won't have to pause progress to haul the pieces to and from the landfill — we'll haul your debris for you. This is a great disposal option if you're getting rid of the tub as part of a bathroom demolition.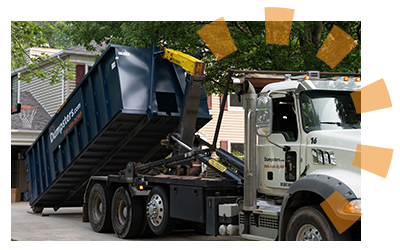 Continue Your Bathroom Remodel
Now that your cast iron tub is out of the way, continue to work freely on the rest of your remodel. Whether you're updating your bathroom for a more modern look or you're restoring the space to its former glory, we've got the resources to help you achieve your goals.
Palermo, Andrew. Average Cast Iron Bathtub Weight (With 15 Examples). (2023, March 18). Retrieved From Prudent Reviews
Jessica Davis
Jessica is the owner and founder of Rebuilders Xchange in Cleveland. The organization connects with those in the area to reuse salvaged materials in new construction, renovation projects, store-front buildouts and fabrication and design jobs. RBX has become a go-to resource for the DIY, design, home building and entrepreneurship communities.
What Do You Think?
Removing an old bathtub? We're listening. Head over to Twitter or Facebook,
and use #dumpstersblog to join the conversation.
Need a Dumpster for a Bathroom Remodel?