Planning a Home Renovation
Planning a remodel is simple when you follow our five-step guide. Stay on-track and on-budget with our tips.
Where Do You Start When Planning a Whole Home Remodel?
Planning your home remodel, whether by yourself or with help from a contractor, is no small undertaking, but the end result can be extremely rewarding. To save you time, money and stress, it's best to go in with a renovation plan. This will help you strategize and prepare for each step of the project, from creating your vision and getting the proper permits to avoiding hiccups in the timeline and your budget. We spoke with the experts at Odell Construction to put together a guide and house renovation costs spreadsheet to prepare for the job ahead.
How do I plan a budget for a home renovation?
Start planning your budget at least three months in advance of your project starting. You'll want to plan for physical renovations, such as plumbing, materials and waste removal, as well as related expenses, like hotel stays or alternative food arrangements, depending on the project. You'll also want to save 10% of your budget for unexpected costs that may come up.
How do I prepare my house for renovation?
The biggest thing to do is move items out of the way. This could be as simple as emptying out the kitchen cabinets or as large as clearing out an entire room.
What is the difference between remodeling and renovating?
Although the terms are often used interchangeably, remodels are when an existing structure is updated for a new use, such as a shed being converted to an office. Renovations, on the other hand, are updates to a room with the goal of the room still functioning as it did before the work, meaning a kitchen will remain a kitchen.
How to Plan a Home Renovation in 5 Steps
If you want to tackle a renovation but don't where to start, use our in-depth process to complete the project with confidence. Go through the following steps to ensure you don't miss any important planning stages and allot the right amount of time and money for your remodel.
1. Create a Vision
When to Start: 6-12 months before the project.
Why are you taking on this renovation? It's important to know your end goal as you begin planning the job ahead. Remodeling is an investment and you want to make sure it pays off. Some common reasons for remodeling include:
Updating in anticipation of aging in place.
Trying to raise the resale value of your home.
Adding a home addition for your growing family.
As you're thinking about the upcoming renovation, consider your neighborhood. Which projects will produce a good return on investment and which might be considered overdoing it in your area? The most beneficial improvements are those that are value-driven, like updating your home's curb appeal, fixing the roof, renovating the kitchen or upgrading your deck.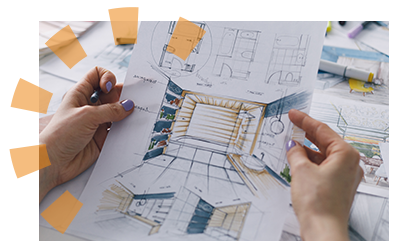 While you're creating the vision for your remodel, think about which tasks you can safely and successfully tackle on your own and which may require help from a pro. DIY projects are a great way to save money, but be realistic about your abilities. It's not worth making a mistake that will end up costing you more time and money to fix. If you plan on doing some work yourself, create a simple list of the projects you can do yourself vs. jobs for a professional.
Generally speaking, anything structural — like adding support beams or knocking down a load bearing wall — and any plumbing or electrical work should be done by a professional.
Check out some common projects below and whether it's a job to DIY or hire a pro to complete.
DIY vs. Pro Remodeling Jobs

Cleanup Tip
Any DIY project will generate some debris. Whether you're tearing out your flooring or working on a kitchen upgrade, check out our bulk waste disposal guides to find out how to get rid of your waste.
If you're taking a DIY approach on some tasks, make sure you have the resources and support you need to get the job done well and safely, and you're confident you know what you're doing. It may also be a good idea to enlist help from friends and family.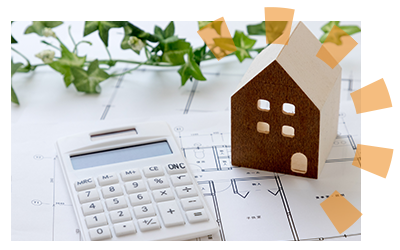 2. Define Your Budget
When to Start: 3-6 months before the project.
Defining a budget that works for your financial situation and sticking to it is an important part of planning for and completing a renovation. To build your budget, decide how much you want to spend and finalize the number.
Your budget should account for the following items:
Labor
Permits
Waste removal
Building materials
Decorations and cosmetic touches
Eating out (if you're renovating your kitchen)
Unexpected costs (this should be 10% of your budget)
Hotel (if you can't live in your house during the renovation)
Renovation Cost Estimates
| Project | Average Cost |
| --- | --- |
| | $9,250 |
| | $6,500 |
| | $30,000 |
| | $1,500 - $30,000 |
| | $24,550 - $56,400 |
| | $3,700 - $150,000 |
It's important to get cost estimates from professionals to get a more accurate picture. We can provide roll off dumpster prices to help you plan for waste removal during your project.
If there are some cost estimates that don't fit your budget, look at your project plan and eliminate lower-priority changes, or see if there are some parts of the project that you can find a cheaper upgrade.
Find a Dumpster for Renovation Debris
3. Interview and Hire Contractors
When to Start: 2-3 months before your project.
Begin looking for contractors early, especially if you plan on doing work during busy season — typically spring, summer and autumn — because they can book up fast. Get cost estimates from multiple contractors to find the best quote for your budget. However, price shouldn't be the only factor you use to hire a contractor. When interviewing contractors, make sure to ask:
Can I have a list of references?
Can I see your contracting license?
Can I see before and after pictures?
Can I see your certificate of insurance?
How many years of experience do you have?
Once you've narrowed down your list, go over the expected payment schedule. A reputable contractor won't ask you to pay the full amount upfront. In fact, the Better Business Bureau advises against it. It's important to see proof of work before closing out your payments on the project.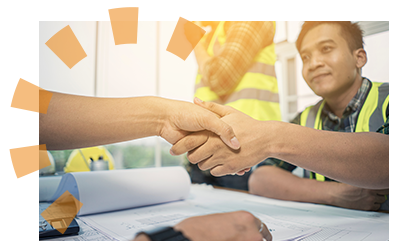 Pro Tip
Ask a potential contractor if they'll gather the necessary permits for you. An ideal contractor will want to save you the headache.
Select Design Elements
It's important to incorporate design elements early in the process, especially if you're going to hire a designer. The contractor and designer will need to coordinate to ensure a cohesive course of action to create your vision and prevent timeline delays. Just like hiring a contractor, make sure to ask for references and to see photos of the designer's work. It's also important to make sure their taste and aesthetic match yours.
You'll find in your research that some companies are design-build teams, which offer both contracting and designing services. This can make the planning process a lot easier.
"One of the many benefits of working with a design-build remodeler is that your design team will create a space that marries your expectations and needs with the intended investment amount, creating a perfect balance and resulting in a more realistic expectation of the final outcome," said Katy Moynihan of Odell Construction.
While the designer should be looped in from the beginning for major elements like kitchen design — deciding which walls to knock down, where to place the kitchen island, etc. — the minor details and surface finishes, like choosing the molding, paint color and other home design trends, will come at the very end.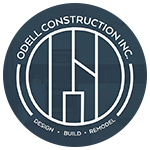 Katy Moynihan, Designer | Odell Construction
"Great design always starts with creating a list of pain points or needs. Present these to your potential designers or construction companies during your consultation to give them ground to stand on when coming up with ideas for your new space. This will also give you a good idea of which companies are interested in providing great solutions."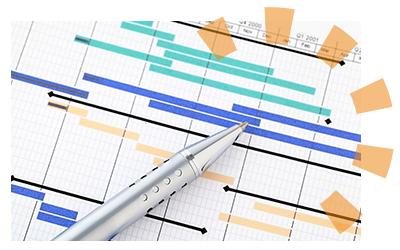 4. Set Your Project Timeline
When to Start: 2-3 months before your project.
Now that your budget and team are in place, it's time to put together a timeline for the job. This will give you a guideline for the work ahead, but the final timeline will ultimately depend on your contractor's availability.
To choose a desired start date, work backwards from the date you want the work completed by. Sit down with your contractor to determine how long each portion of the project will take and to understand which steps of the project need to be completed first. Usually, structural projects, like working on the roof or foundation or making electrical improvements, need to happen first.
It's also important to take weather into consideration. Schedule jobs that require outside access on the days with the best forecast outlook and consider factors, like not being able to use the air or heat on days when you need to cut the power.
Pro-Tip: Add two weeks to a month of extra time depending on the size of your project to accommodate for the following delays:
Weather
Unexpected problems
Cleaning up the project area
Material shipment and delivery
Holidays and any time off your contractor may take
Get Permits
Once your timeline is finalized, you'll need to secure permits for the work ahead, especially if you're making changes to your home's structure, wiring or plumbing. Permits are necessary to make sure the remodels meet safety requirements. If you fail to get them before you begin making changes, a code inspector can have you rip out non-conforming work, leaving you to deal with the expensive tasks of getting a permit and starting over. Check your city's website to learn about permits and renovation regulations in your area.
5. Prep for the Renovation
When to Plan: 2-3 months before your project.
When to Pack Up and Move: 1-2 weeks before your project.
Once planning begins to wind down, that's your cue to prep the space so the contractor can get to work. Declutter, clean out the house, pack up or move items out of the renovation zone to make the remodel as simple as possible. If you're renovating the whole home, consider renting a storage unit or a storage pod to keep your belongings safe, clean and out of the way during construction.
Deciding whether or not to live at home during the remodel depends on the project. Here are a few guidelines:
Kitchen Remodel: Make a temporary place to cook and eat somewhere else in your home.
Master Bedroom Renovation: Find another room to sleep in and a place to store your furniture.
Entire Home Renovation: It's likely a good idea to move out for a short time.
Talk to your contractor about your daily routine so you both understand what's feasible for you to continue doing every day and what might need to change, like creating a makeshift kitchen in the bathroom. Also be aware of water and electricity outages, which may require you to move out temporarily.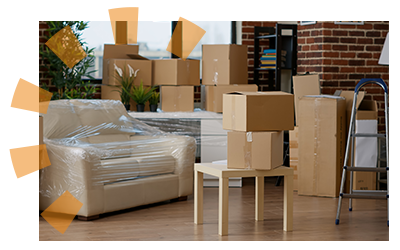 Create Your Home Remodeling Project Plan
You have a clear goal, you've hired a team and you've created a timeline and budget. Now it's time to keep track of it all. The easiest way is to create a home improvement project plan template so you don't miss a beat.
Make a Task Checklist
It's important to have a running checklist as the renovation starts to establish which projects have finished and which still need to be completed. This will help you see what work still needs to be done. Create a list that makes the most sense for your project, but here's an example of some jobs to keep track of and who is responsible for them.
Add contact information to this checklist so you have it handy in case you need to get in touch with anyone on the team. Gather phone numbers and emails from the following people:
Designer
Contractor
Inspector from the city assigned to your project
Distributors (who your materials are purchased from in case of any issues)
Create a House Renovation Costs Spreadsheet
Keep track of your budget, both as you're planning and as you're actually remodeling. Make it as thorough as possible to account for every expense.
Plan for Waste Removal
If you're planning a big project, there's going to be demolition. Discuss waste removal plans with your contractor to avoid leaving torn up drywall, nails and other debris lying around your property. Find out if your contractor is going to arrange for remodeling debris to be taken to the landfill or if this will be your responsibility. Renting a dumpster is typically the best option because it saves you from taking multiple trips to the dump and it's a convenient clean-as-you-go solution. With a dumpster right on your property, you or your contractor can throw everything away in one place as you work and let someone else worry about hauling it away.
Plan Your Renovation With Confidence
With a laundry list of tips and tricks up your sleeve and a few checklists to help keep your project organized, you're ready to start planning. Whether you're looking to make some long-coming updates to your home or helping a loved one stay in their home, get started making your house into your dream home.
What Do You Think?
Are you planning a home remodel? We're listening. Head over to Twitter or Facebook,
and use #dumpstersblog to join the conversation.
Need a Dumpster for a Remodel?