How to Dispose of Yard Waste
Find dumpster services in your area

Disposal Options for Getting Rid of Yard Debris
When you need to get rid of garden waste, it can be tough to choose the right method. While curbside collection is offered in most areas, composting and burning are sometimes alternatives to the landfill. However, local laws and regulations may complicate your plans. If you're working on a tight schedule or getting rid of a lot of yard waste, renting a dumpster might be the best option for you.
Ultimately, the right yard debris disposal option depends on the type of materials you're tossing and restrictions in your area. Read on to explore common options for yard waste removal.
1. Curbside Collection
This option for residential landscaping projects typically takes the least effort, but you'll need to research local yard waste collection schedules and restrictions. In most areas, yard debris has to go in special bags or labeled garbage cans, and the amount you can toss may be limited. Depending on your area, you may need to consider other factors.
Curbside yard waste pickup is a seasonal service in most cities.
Some materials may not be accepted due to size or weight regulations.
Fitting debris into yard waste bags can add a lot of time to your project.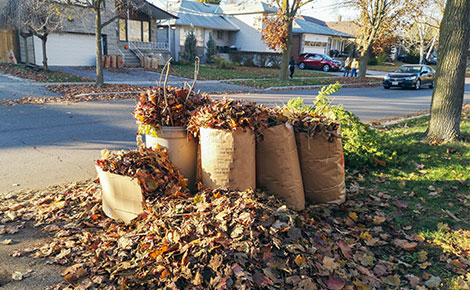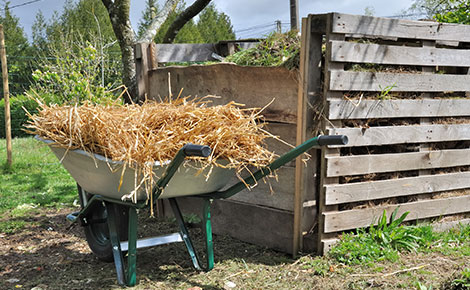 2. Recycle or Compost
Repurposing debris in other areas of the yard is a great way to keep yard waste from the landfill. For example, you can grind tree branches into mulch with the proper tools. If you have the space available, you can start a compost pile to let the green matter naturally decompose for an eco-friendly alternative. However, there are a few considerations before selecting these options.
Compost piles can attract pests or rodents.
Larger debris can be cumbersome or take too long to compost.
Recycling adds more labor to your job and requires special tools.
3. Burn It
In rural areas, burning yard waste is often the easiest and least expensive method to get it out of the way. If you live in the city or suburbs, this option may present safety concerns based on the specific materials, current air quality or drought conditions. Some places have strict rules about bonfires and the types of debris you can burn.
Items containing chemicals cannot be burned.
Fires often must be contained or located a certain distance from structures.
Most cities only allow tree branches and sticks in fires — no leaves or brush.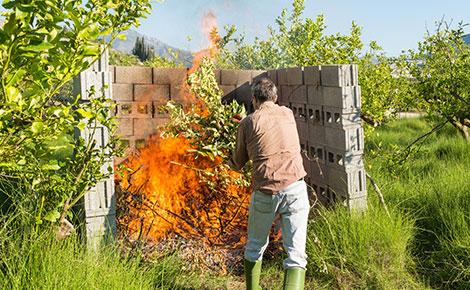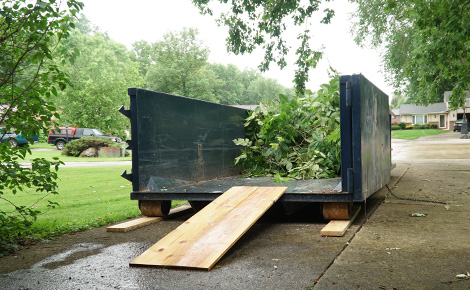 4. Rent a Dumpster
You can usually throw leaves, branches, grass clippings and other brush in a dumpster all at once for easy disposal. Dirt may not be accepted or may require a separate dumpster depending on the weight and landfill regulations. To put your mind at ease, just give us a call and we'll walk you through the process and any restrictions in your area. With a dumpster rental, you can:
Work at your own pace.
Toss unwanted debris as you go.
Get rid of multiple material types at once.
Have a team of waste industry experts on your side.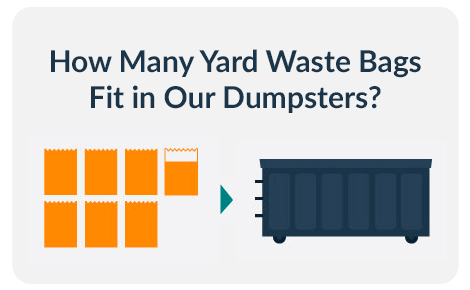 Number of Yard Waste Bags per Cubic Yard
On average, you can fit roughly 6.73 30-gallon yard waste bags per cubic yard. Here's an estimate of how that breaks down for our most frequently rented sizes.
10 Yard Dumpster: 67 yard waste bags
20 Yard Dumpster: 134 yard waste bags
Rent a Dumpster to Get Rid of Yard Waste Fast
Need to Toss a Specific Type of Yard Debris?
Click on the material you need to get rid of for disposal tips. Don't see what you're throwing away? Give our team a call at 877-814-9781.
How to Dispose of Leaves
Autumn comes around every year in most of the U.S., bringing hundreds of crispy leaves for you to pile up and clear away. Especially in heavily wooded neighborhoods, the number of fallen leaves can be too much for a tarp and a couple yard waste bags. Here's what to do with dead leaves after raking.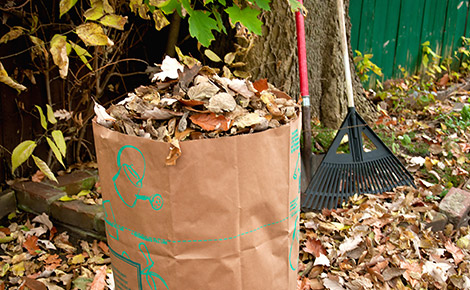 Leaf Disposal Methods and Ideas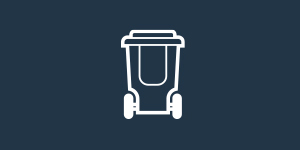 Curbside Collection
Some cities have crews to pickup leaf disposal bags or use vacuum machines to collect loose leaves. Keep in mind that this service is often limited to a few scheduled leaf collection days per season.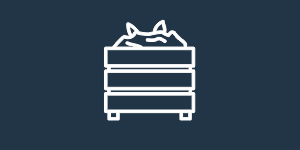 Compost
Leaves can be composted with other materials like grass clippings or organic food waste. To speed decomposition, shred the leaves into smaller pieces before throwing them on the pile.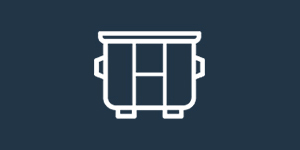 Dumpster Rental
When you're tossing a large number of leaves and other tree waste, renting a dumpster is a convenient way to get rid of it all at one time and on your schedule.
Please note: Burning leaves is prohibited by law in many states.
How to Dispose of Grass Clippings
Dealing with grass clippings usually isn't the most thrilling part of your lawn maintenance routine. However, even if you're not working with several acres of land and a riding mower, those blades of grass can pile up fast. Without proper cleanup, you won't achieve the clean lines that make the neighbors green with envy. Here's how to dispose of grass clippings for a healthy, well-manicured lawn.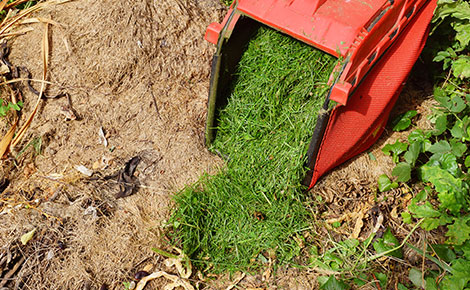 Lawn Clipping Disposal Options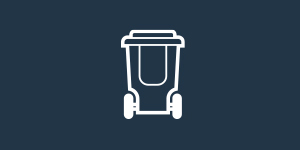 Curbside Collection
Your regular trash service usually collects bags of grass clippings along with other yard waste. Remember that you may need to request special service or wait for scheduled collection days.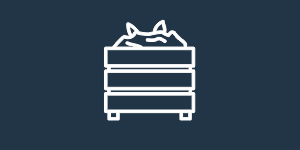 Compost
Grass clippings are a healthy addition to your compost pile due to their high nitrogen content. However, thick layers of lawn waste may cause unpleasant smells on your property.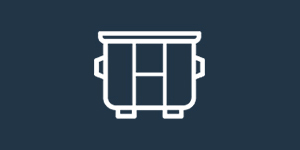 Dumpster Rental
Need to toss a large amount of grass and yard waste? Rent a dumpster to get it all out of the way without the extra work. Just cut it, dump it in the bin and let us haul it away.
Please note: Burning lawn trimmings is prohibited by law in many states.
What to Do With a Brush Pile
Clearing overgrown weeds, vines and other disruptive plants? Depending on the size of your property, a brush removal job can produce more yard waste than you might think. Let's review the best options to get rid of those prickly shrubs and bramble so you can clear the way for what's next.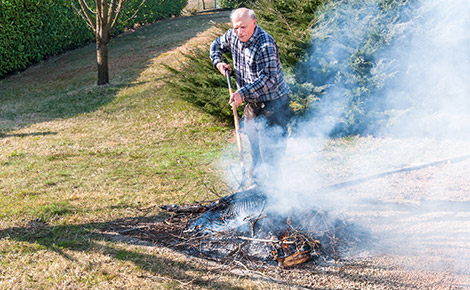 How to Dispose of Brush Piles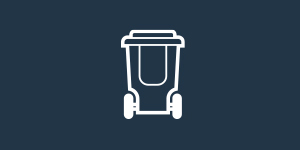 Curbside Collection
Your regular trash service may collect brush with other yard waste. However, brush must be placed curbside by a certain time and may only be collected on special days.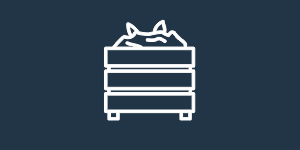 Compost
For brush to decompose, it needs to remain wet and be mixed with other types of green waste. Keep in mind that standing dry brush can present a fire hazard, especially in warmer climates.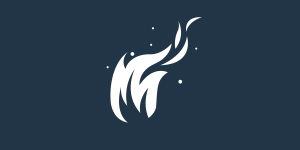 Burn
Brush can often be burned with tree limbs. However, some cities have limitations on brush fires. Also, be sure to watch for loose materials like hay or twigs on windy days.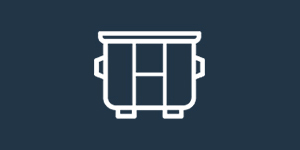 Dumpster Rental
When you need to clear a large plot of land, a dumpster rental is the most efficient option to handle the debris and keep your project moving.
How to Dispose of Tree Branches
Trees can become dangerous without proper maintenance and pruning, particularly if they eventually rot with old age. Due to their weight and size, trees are tricky to get rid of — even if you're only tossing a few fallen branches after a big storm. Read below to learn how to dispose of tree limbs.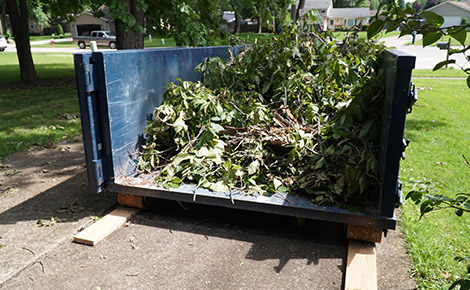 Tree Disposal Methods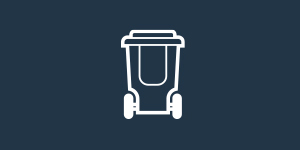 Curbside Collection
Your regular trash pickup service will sometimes collect smaller branches. However, there may be limits on limb length and you might need to arrange a special collection.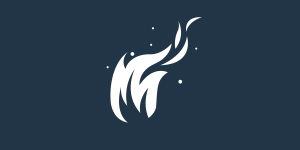 Burn
Tree limbs make great firewood for a bonfire. Keep in mind that you'll need the branches to be dry, so pay attention to weather forecasts. Also, be sure follow local regulations.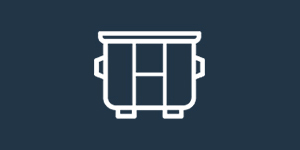 Dumpster Rental
A dumpster provides the capacity you need to clear large, unwanted trees with fewer restrictions than curbside. Our team will review any size or weight requirements when you call.
How to Dispose of Tree Stumps
Removing tree stumps can be a big project, whether you're clearing land for new construction or creating a flat landscape in your backyard. Stump disposal is often complicated because of the heavy weight and accompanying root system. Plus, most options require you to clear excess dirt prior to disposal. Learn the best ways to get rid of tree stumps below.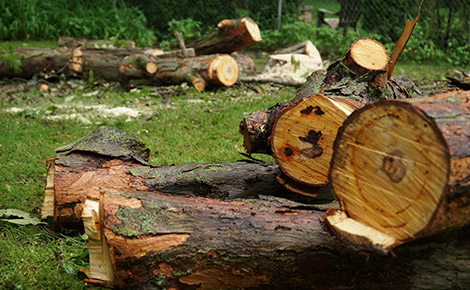 Tree Stump Disposal Methods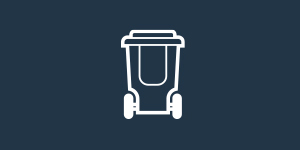 Curbside Collection
Most curbside collection programs will only accept tree stumps if they are cut into small pieces. They usually must not exceed weight restrictions and fit into yard waste bags, which adds extra time to the project.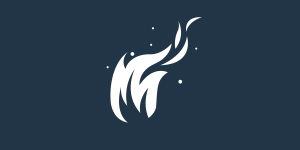 Burn
Tree stumps and roots can sometimes be burned from the ground. Start a fire on the stump itself and keep it contained. Keep in mind the amount of sap, dryness of the wood and type of tree may affect how it burns.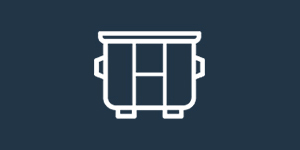 Dumpster Rental
You can rent a dumpster to get rid of tree stumps and roots in most locations. We'll review any local regulations for size and circumference with you when you set up your order.
How to Get Rid of Dirt
Breaking ground on a big project? Dirt needs to be cleared as part of many jobs, whether you're digging a basement for new construction or designing a multi-level landscape. You might be able to reuse soil on your property if you're simply removing planter boxes or flower beds, but large amounts may require a different disposal method. Here are your dirt removal options.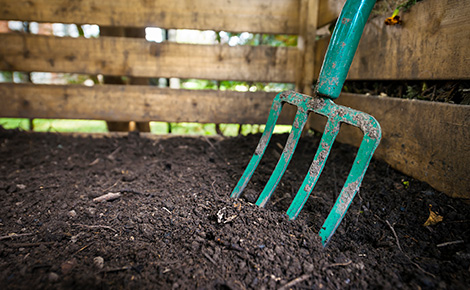 How to Dispose of Dirt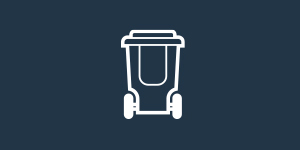 Curbside Collection
Most regular collection services don't consider materials like dirt and rock as yard waste. These items will need to be separate from other green materials to be accepted.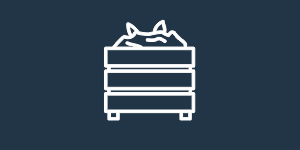 Compost
You can add dry soil to the top of your compost pile to create layers with other materials. Keep in mind that wet soil can make your pile slimy and create pest problems.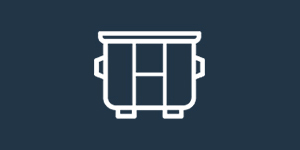 Dumpster Rental
Renting a dumpster is the most effective option for medium to large amounts of dirt. We offer dirt dumpsters designed to handle the weight, and we haul it to the appropriate recycling or sorting facility.
Yard Debris Disposal FAQs
Can I Mix Yard Waste With Regular Trash for Disposal?
For curbside collection, yard waste typically must be separated and placed in yard waste bags or designated trash cans. We offer roll off dumpsters specifically for yard debris based on local landfill restrictions. However, in some markets, you can mix yard waste with other debris. Our team will review the rules in your location so you know what to expect.
How Much Does It Cost to Get Rid of Yard Waste?
The average cost of a yard waste dumpster is $287 to $625. We typically recommend a 20 yard dumpster for this debris type. Please note that prices may vary depending on your location.
Can I Take Yard Waste to the Landfill?
Yard waste is often banned from landfills for environmental reasons. However, special green waste landfills have become more available throughout the country. Check with your local collection center for more details, or give us a call to take care of yard waste disposal for you.
Can Dirt Go Into a Yard Waste Dumpster?
Large quantities of loose dirt are typically not accepted in yard waste dumpster. We recommend a dirt-only dumpster if you need to toss a few yards of soil or more. However, small amounts of dirt on the root ball, bushes or branches is allowed in yard waste containers.
More Disposal Resources
Read our in-depth project guides, whether you're restoring your lawn at home or looking for sustainability trends for your landscaping business.