How to Demolish a Barn
Tearing down a barn is a big overhaul. Use this guide to get the job done right, from prep work to cleanup.
Whether you live on a property with an old barn that needs demolishing, you're making room for a new structure or thinking about getting into the barn demolition and deconstruction business, we'll review the steps and important safety tips to get you through the project.
If you are a beginner DIYer or don't have complete confidence in your skills, we do not suggest that you try this on your own. Instead, jump down to find tips on what to look for in a barn deconstruction contractor.
6 Steps for Tearing Down a Barn
As you start thinking about the steps for tearing down a barn, remember that there may be materials that you can salvage to donate, sell or reuse. Reclaimed wood is a popular and sustainable material to use when building new furniture or working on other DIY projects around the home. Hardware from the barn can also be reused, and antique fittings like hinges, door handles and light fixtures offer a trendy aesthetic.
During the barn deconstruction process, consider separating the salvageable materials from the rotting wood or damaged items. If you're interested in recycling any of these materials, get in touch with your local donation center.
Barn Demolition FAQs
How much does it cost to demolish a barn?
For a 30 ft x 40 ft barn, the national average barn demolition cost is $1,500 to $10,000. This price includes demolition and debris removal. Expect to pay more when you hire a contractor.
Do you need a permit for demolition?
Yes, a demolition permit is usually required to completely remove a structure. Contact your city's Board of Zoning Appeals to learn more about the permit process for your area.
How do you remove old barn wood?
Start by creating a comprehensive budget for the job, collect your tools and get to work. Strip the interior of all fixtures and walls, then do the same with the exterior. Finish by tearing down the barn, and tossing or recycling the debris.
How much is an old barn worth?
The price of a barn is dependent on the wood used during construction. Most barns average $2,500 to $5,000. However, if your barn is made of old hardwood, like white oak, you can expect to get more for the lumber.
1. Budget for Demolition
With an advanced project like this, it's important to go in with a strategy. Make sure you know how much this job will cost you, what you'll need to get it done and how to stay safe throughout the process.
Renting a dumpster is often the best way to get rid of all the debris. The average national cost of a 30 yard demolition dumpster, one of the largest sizes available, is generally between $347 and $753. The exact price will depend on your location, but renting a dumpster with Dumpsters.com will ensure you receive an all-inclusive price to help you budget for the project.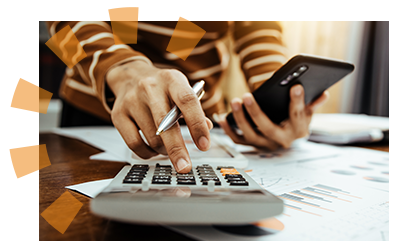 Other costs of tearing down a barn include:
Condition of the barn.
Size and amount of debris.
Materials you're removing.
Access to the demolition site.
Demolition permit (if required by your city).
Whether or not utility work is required, like calling a professional to turn off electric, water or gas services.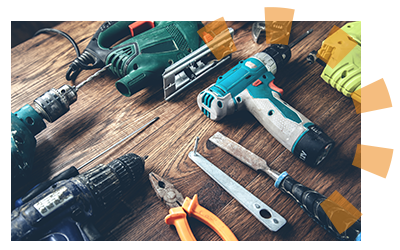 2. Prepare for the Job
To get ready for deconstruction, gather your tools and make sure to follow these safety guidelines to prevent additional danger to an already risky job.
Use a sturdy ladder.
Remove large obstructions.
Safely dispose of hazardous waste.
Shut off the utilities running to the barn.
Wear safety gear to prevent illnesses like tetanus.
Barn Deconstruction Tools
| Demolition Materials | General Equipment |
| --- | --- |
| Cable or chain | Hard hat |
| Chainsaw | Ladder |
| Circular saw | Screwdriver |
| Crowbar | Steel-capped boots |
| Hammer | Utility knife |
| Reciprocating saw | Work gloves |
| Sledgehammer | Tractor, truck or another large vehicle |
3. Strip the Interior of the Barn
It's best to work from the inside out when you're tearing down a barn. You don't want anything left inside when you knock it down, especially anything that can be reused.
Instead of sifting through the rubble after the demolition, sort items as you work; send trash to the dumpster and keep salvageable items safe. Take anything hanging off the walls, and remove any other items left inside. Then, use a screwdriver to take down any doors, gates, closures and windows. Set aside anything that is in good condition, including hinges and doorknobs.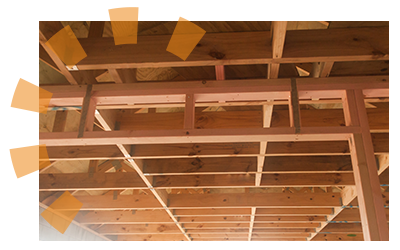 Remove Flooring
If the barn has wood floors, use a hammer and crowbar to remove the floorboards. If they're in good condition and you do this carefully, they can be reused.
Set your circular saw to slightly less than the thickness of the flooring.
Cut lines perpendicular to the direction the wood is laying in one- to two-foot-wide sections.
Pry up the wood using a crowbar and hammer.
Toss the wood in a dumpster and keep any salvageable pieces.

Waste Removal Tip
Tearing down a barn can leave you with a lot of lumber. Check out our lumber disposal guide and learn how leftover wood can be donated, recycled or tossed.
Take Down Walls
Before you tear down the barn, make sure to remove any stable walls, lofts or other interior space dividers. The goal is to leave the inside completely empty before it's pulled down.
Make sure it's not a load-bearing wall.
Cut the junction between the wall and the ceiling.
Create a starter hole in the drywall.
Remove any drywall or insulation.
Cut through the studs at the bottom of the wall.
Use a crowbar to remove the top and base plates.
Find a Dumpster for Old Barn Debris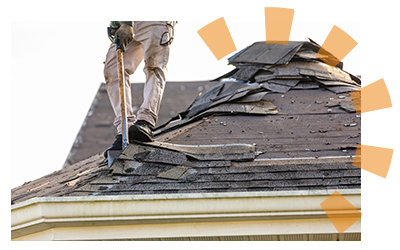 4. Dismantle the Exterior
Start with any rotting pieces of the siding and roof first, then focus on the other pieces. Make sure to leave the wall joists in place and toss roof shingles into a roofing dumpster.
If your barn has a wood or metal roof, it may be easier go into the second-floor rafters and knock off the pieces from the inside out with a shovel or sledgehammer. Just make sure no one is standing near the outside wall of the barn while you do this.

Safety Tip
Be careful and pay attention to pieces that may fall as you're working. Don't put any weight on parts of the structure that are rotting. Tear off what you can and skip to pulling the whole structure down.
5. Tear the Skeleton Down
Here comes the main event – and it requires extreme caution. Make sure you are working slowly and taking the proper steps so that the barn falls over in the direction you intend.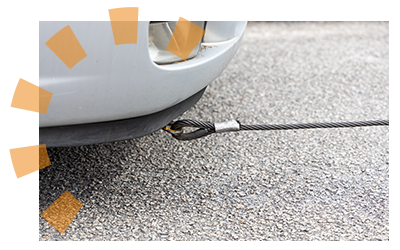 To tip the barn skeleton over, use a chainsaw to cut relief notches into the frame. This will help ensure the barn falls in the direction you want. Then, hook one end of a big cable or chain to the center post of the barn and the other end to a tractor, semi-truck or another large vehicle.
Drive away safely and slowly. This will rip the posts out and cause the barn frame to collapse. If you plan on reusing, selling or donating the beams, do your best to prevent excessive damage as you drive forward.
If the barn doesn't fall on the first try, connect the cable or chain to a different post. Depending on the strength of the barn, more than one beam may need to be pulled before the entire structure falls.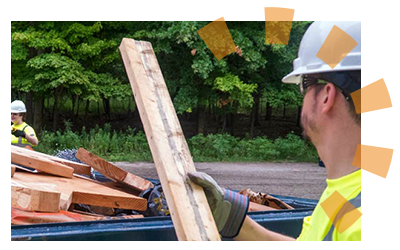 6. Clean Up
If you've already sorted out salvageable materials, cleanup should be pretty easy. Simply toss all the debris into a roll off dumpster and you're good to go.
Don't burn or bury any barn wood that is painted or treated, especially if it's an old barn. Older barns are likely painted with lead paint, and burning or burying those pieces of wood is not environmentally safe.
Here's What to Look for in a Contractor for Barn Removal
If you don't feel confident taking on this advanced project after reading through these steps, we suggest hiring a professional to do the work for you. The expense of working with a pro beats the possibility of seriously injuring yourself.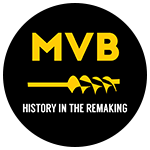 Doug Morgan, President | Mount Vernon Barn Company
"I've heard some serious accidents related to barn demolitions. In one instance, the barn dropped right on top of someone and broke his back. In another story, the timber was swinging as it was being moved and hit someone in the head. Luckily, they're both okay, but this is a project that can be very hazardous."
 
1. Insurance
This type of project involves relatively high risk, so make sure the company you're hiring has both liability and workers' compensation insurance. If they can't show you a current certificate for either, find someone else.
2. References
Ask to see references or speak with people they've worked with before. This will give you a first-hand account of how reliable the company is and how good they are at the job. Plus, you can ask any questions you need answered from a property owner's perspective. It's also a good idea to see if the company is listed with the Better Business Bureau and what its rating is.
3. Waste Removal
Make sure to discuss who is responsible for getting rid of all the demolition debris once the barn is dismantled. It may be your responsibility to find a waste removal solution. If you rent a dumpster, you won't have to worry about getting an entire barn to the landfill, just toss all the debris inside and the dumpster company will haul it away.
After the Demolition
If you managed to salvage a lot of wood and hardware from the barn deconstruction, try using the reclaimed wood for other DIY projects. The possibilities are endless, but here are some ideas of things to make using barn wood:
Build upcycled wood shelves.
Install genuine hardwood floors.
Make wood countertops for your kitchen.
Use the beams to add a mantle over your fireplace.
Build some new furniture, like a bench or a dining table.
Once the barn is torn down, you'll also have plenty of space to build something new on your property. If you don't have a need for a new barn, consider building a guest house for your in-laws or an addition to your existing home for your growing family.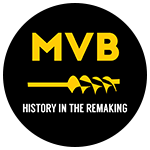 Doug Morgan
Doug is the owner and president of Mount Vernon Barn Company, which aims to restore historic barns in the Columbus area. Specializing in restoration and adaptive use of timber, Doug has been repurposing barns into single-family homes and other multi-use structures since 2011. He's also the President and Master Distiller at Mill Street Distillery in Utica Ohio.
What Do You Think?
Have advice on how to tear down a barn? We're listening. Head over to Twitter or Facebook, and use #dumpstersblog to join the conversation.
Need a Dumpster for Barn Demolition?