Concrete Patio Removal the DIY Way
Grab a sledgehammer and get to work removing your outdated concrete.
How to Remove Your Old Concrete Patio and Clear the Way for Something New
Breaking up concrete might not sound like a fun way to spend a weekend, but neither is having a cracked concrete patio that isn't safe to use.
If you have an old concrete patio that needs some major rehab, it's possible to DIY the removal to make way for a new patio, garden or other usable space in your backyard. Follow these tips from Concrete Network and Fixr to get your project going.

Safety Tip
Removing a concrete patio is a very physical project that requires a great deal of strength. If you're not sure you can complete the project safely, contact a professional.
How to Know When to Remove Your Patio Instead of Resurface It
If your goal is to still have a patio to enjoy on warm summer nights, you might not have to tear it all out. Here's how to decide if you need a full removal, or just resurfacing work.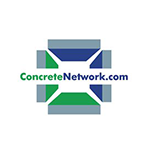 Sarah Hutchinson | Concrete Network
"Generally, most patio problems like hairline cracks, unsightly stains, small chips and flaking are easy to cover with a quality overlay or topping. Overlays can be stamped and/or colored to look like stone, brick or even wood."
  
However, according to Hutchinson, you will need to tear out the concrete if it has structural issues including:
Deep, wide cracks.
Signs of significant settling.
Extensive surface area has flaked away. This is known as spalling.
Signs of frost heave, where the concrete is broken and raised in certain areas.
How to Remove Your Concrete Patio
If you've made the decision that this is a DIY project you can handle, here's how to rip out your old concrete patio.
Step 1: Gather All the Necessary Tools and Equipment
Yuka Kato from Fixr explains that the tools needed to break apart a concrete patio all depend on the structure.
"Most concrete patios are un-reinforced, meaning that there is no rebar. So, in that case, a jackhammer is the best method to break the concrete into smaller pieces that can be shoveled away. If the area is very small, and the concrete is already cracked, a sledgehammer could also get the job done."
However, if you do have a patio that has been reinforced with rebar you will need some heavy equipment. "This includes things like a hydraulic lift to raise large sections at a time, or an excavator to dig up and lift the pieces."
If your concrete patio is not reinforced with rebar, here's how to remove it.
What You Need to Demolish Your Concrete Slab
| Tools and Materials | Safety Gear |
| --- | --- |
| Pry bar | Safety glasses |
| Sledgehammer | Work gloves |
| Heavy-duty wheelbarrow | Closed-toe shoes with sturdy soles |
| Canvas drop cloths | Face mask |
| Jackhammer (if necessary) | Ear plugs |
| Bolt cutter (if necessary) | |
| Roll off dumpster* | |
*Depending on what city you live in, curbside trash pickup may not be an option so a concrete dumpster rental may be necessary.
Find a Dumpster for Concrete Debris

Pro Tip
Only use a jackhammer if your concrete patio is more than 4 inches thick. Otherwise a sledgehammer can get the job done. You will also only need bolt cutters if your concrete is reinforced with mesh.
Step 2: Set Up the Area
Before you start concrete demolition, it's time to put in some prep work.
First, remove any furniture from the patio and clear the surrounding area. You'll want your tools nearby, including a wheelbarrow to take concrete pieces to the dumpster.
Then, hang drop cloths to protect any windows or door frames in the vicinity –pieces of concrete can fly up to 50 feet when broken apart with a sledge or jackhammer. Cloths are better protection than plywood or other hard surfaces, since they let pieces safely roll to the ground instead of ricocheting.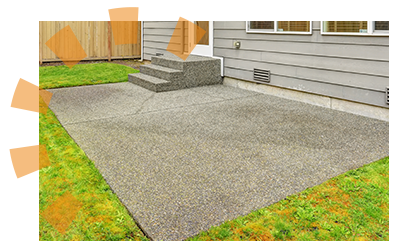 Safety Tip
Before removing your concrete patio, be sure to wear gloves, a hard hat, sturdy shoes and protective eyewear.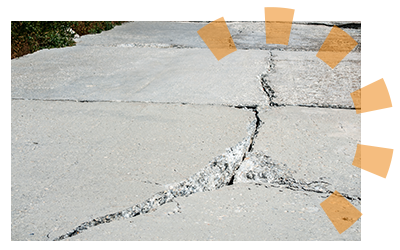 Step 3: Choose Your Starting Point
If there's an area with deep cracks, that's a good place to start the patio removal process, since it is already partially broken apart.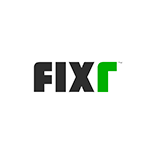 "Cracks can be a good place to start, because the material is already weakened there and you may have an easier time breaking it apart from this point. However, if there are no cracks, edges are a good place to begin. At an edge, you often don't need to exert as much force to begin breaking it up, as long as you move in small sections, because the exposed side will be a bit weaker than what's in the middle."
  
Step 4: Break Apart Your Concrete Patio
Continuing from your starting location, use the sledgehammer to break apart pieces of concrete while another person lifts up the section with a pry bar. Lifting will make the concrete easier to fracture and break.
Clear the debris as you work, and if you run into any mesh – cut it apart with the bolt cutters. Continue the pattern of breaking, cutting and clearing out the concrete until you've reached the end of your patio.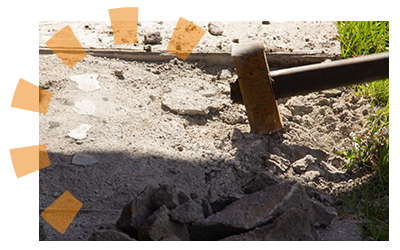 Pro Tip
If you are using a sledgehammer, remember to let it fall onto the concrete patio naturally. Attempting to swing it down can result in injury. Simply lift it and let gravity do the work for you.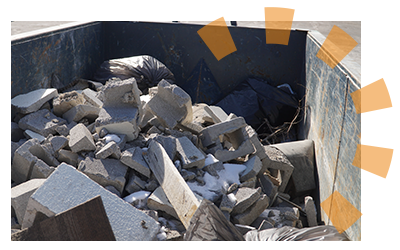 Step 5: Dispose of Your Concrete Pieces
After you have removed the final piece of concrete, there's still work to be done. Use a shovel to remove any remaining pieces of gravel while being careful not to over-exert yourself.
Load manageable amounts into a wheelbarrow, then roll it inside of your concrete dumpster to dump it.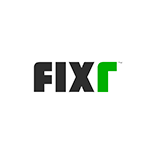 "The typical patio is large enough that a dumpster may be necessary to hold the material and bring it to a recycling center. Attempting to dispose of the concrete in other ways may be difficult, as it is heavy and may incur fines if you attempt to add it to municipal trash."
  
Start Planning Your New Space
Whew! The hard work is officially over, and you've cleared the way for something new. Whether you want to turn this into an epic garden, put in a new paver patio or just enjoy some extra green space — the possibilities are endless.
Sarah Hutchinson
Sarah lives in Yucaipa, CA and works as a Staff Writer at ConcreteNetwork.com, Garden Design & LandscapingNetwork.com for over a decade. She researches and writes relevant articles on decorative concrete topics to help educate homeowners, designers and contractors.
Yuka Kato
Yuka was a Content & Outreach Manager for Fixr in Wilmington for over 6 years. She now works in Tokyo as a freelance digital marketer who provides content and marketing services in English, Japanese and Spanish.
What Do You Think?
Have thoughts on concrete removal and disposal? We're listening. Head over to Twitter or Facebook,
and use #dumpstersblog to join the conversation.
Need a Dumpster for Concrete Disposal?