Landscaping Tips for a Total Lawn Renovation
Dead trees and drainage problems? Reclaim your backyard, starting with your lawn.
By Katina Hazimihalis | Last Updated:
06/26/2023
How to Start Redoing Your Lawn From Scratch
Maybe you inherited a lawn full of landscaping woes when you moved into your new home. Or perhaps your front yard has developed issues over time. If more than half of your yard — including your lawn, all your trees and plants and any decks or other structures — has problems, starting over is often the smartest plan. Follow these steps to learn how to completely redo your landscaping, with helpful tips from Molly Meulenbroek of Studley's Flower Garden.

Tossing Green Waste
Need to get rid of a bunch of organic materials? Check out our yard waste disposal guide to decide on the best waste removal option. From curbside pickup to renting a dumpster, we'll help you weigh out your disposal options.
What are common lawn problems?
While there are plenty of lawn problems that can come up, the most common include:
Uneven grass growth
Invasive weeds
Bare spots
Rusts
Moss
Animal damage
Poor drainage
What does a stressed lawn look like?
Heat stress can most often be seen in brown patches. If you're unsure, do the footprint test, which involves stepping on your lawn. If the grass bounces back up, your lawn is fine. If your footprint remains, it may be stressed.
Should I dig up my lawn and start again?
Generally, you'll want to fix the lawn patches as they come up. However, if 75% of your lawn is covered in weeds, crabgrass and other issues, you might want to consider a full lawn do-over. Keep in mind, this is a costly and time-consuming project, so you'll want to be absolutely sure that you're ready for it.
How do you redo an existing lawn?
You don't have to completely tear up your lawn to redo it. Follow these basic steps to renovate your lawn:
Test the soil to discover the best grass to use.
Start removing and thinning weeds.
Correct any soil issues.
Mow the lawn.
Remove thatch.
Fertilize the lawn.
Seed the bare patches.
Tip 1: Decide What Needs to Go
Even if your landscaping is suffering from major problems, you may not have to get rid of everything. But if making those decisions seems overwhelming, here are a few suggestions for where to start.
Out With the Old
Obviously, you'll want to get rid of any plants that are unhealthy or have entirely died off. This includes any unhealthy portions of your lawn itself that may be overrun by invasive weeds and crabgrass. At the same time, you should also plan to get rid of:
Plants that require more care than you have time for.
Plants that no longer fit the overall look of your landscape.
Plants that you're just plain tired of.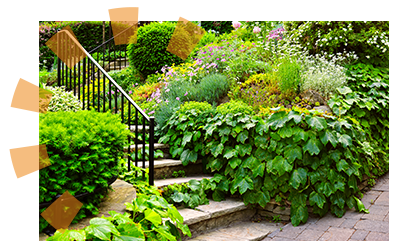 Keep in Mind
A yard waste dumpster is the most efficient way to clear landscaping debris so you can keep your project on track. When hiring a landscaper, there's also a chance that you'll be responsible for getting rid of the debris.
Identify Hazards
It will be much easier to enjoy your yard when it's safe. As a first step to renovating your lawn, look for these potential safety hazards:
Dead or Dying Trees: Should be cut down to prevent potential injury or damage to your property. Don't forget to remove the stumps.
Encroaching Trees: Trees planted within 20 feet of your house should be removed before roots can damage your foundation.
Drainage Problems: Address problems with water puddling in your yard by increasing the slope around your house, installing French drains or planting a rain garden.
Damaged Structures: Decide whether you will repair or entirely remove any damaged decks, walkways or other structures.
Open Up Sight Lines
A clear line of sight across your front yard is important both for visual appeal and for safety. Meulenbroek advises anyone redoing their front landscaping to remove any trees, shrubs or other plants that block the view from windows and doors or that have overgrown a walkway.
This is especially important if you might sell your home in the future. A clear, welcoming view of the front of your house is key to good curb appeal.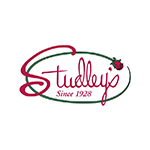 Molly Meulenbroek, General Manager | Studley's Flower Garden
"Over the years, the methods for installing walkways, patios and retaining walls have changed. If you have structures that are damaged, they should generally be replaced with something built to modern standards."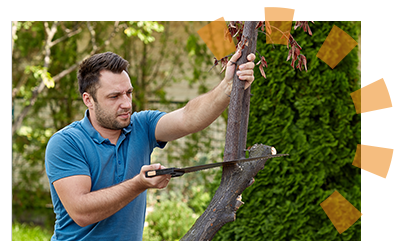 Tip 2: Decide Which Tasks to DIY
An important aspect of deciding how to redo your lawn is determining which tasks you can handle yourself — saving money in the process — and which you'll leave to a landscaping company.
Keep in mind that some of the projects below involve materials like bricks, rocks and gravel. The easiest way to dispose of these heavy items is to rent a dumpster and request a higher weight allowance since they won't be accepted in your curbside trash collection.
What You Can Do Yourself
These tasks are safe for homeowners with some DIY experience to tackle themselves:
Tearing up small portions of your lawn.
Demolishing a ground-level deck.
Tearing down low retaining walls.
Digging up old flower beds.
When deciding on the DIY vs. hiring a contractor debate, keep in mind you'll save on labor and typically only need to pay the cost of debris removal.
Jobs to Let the Pros Handle
Some tasks require specialized skills to accomplish safely or without causing further damage to your yard:
Removing large trees and shrubs.
Tearing up large portions of your lawn.
Demolishing an elevated deck.
Tearing down unstable or high retaining walls.
Find a Yard Waste Dumpster Near You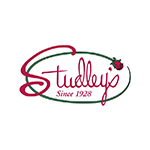 Molly Meulenbroek, General Manager | Studley's Flower Garden
"Tree care specialists are the best for taking care of any large trees. A landscaping company can handle smaller-specimen trees and shrubs."
  
Tip 3: Plan Your New Landscaping
Once the heavy lifting is behind you, it's time for the fun part of lawn renovation: deciding on your new look. Here are some tips for getting started.
Determine a Rough Layout
Before you set foot in a garden center, sketch out a general idea of what elements you want to include in your newly-improved yard and where they'll be situated. Doing this will ensure that your new plants can thrive where they'll be planted. It will also help you create a more cohesive look for your new landscaping.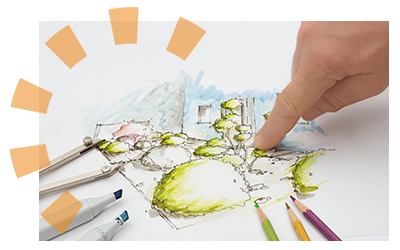 Keep Current Trends in Mind
The look of your landscaping should be shaped by your personal style, but there are certain landscaping trends that are worth keeping in mind when drawing up your plans.
Use native plants wherever possible. Native plants require less water and other resources to thrive — and are usually cheaper to buy.
Consider low-maintenance landscaping. You'll save time and energy without undoing all your hard work in creating a beautiful yard. Sustainable landscaping is often a fantastic low-maintenance option.
Don't go overboard. Especially in smaller yards, it's easier to maintain your landscaping when your yard is uncluttered.
Find a Landscaping Company
When you're landscaping your front yard from scratch, you'll likely need to bring in professional landscapers for at least some of the work.
Meulenbroek recommends looking for companies that are members of national or state trade associations, since these will be up-to-date on industry best practices. Before choosing a company to work with, be sure to look through multiple examples of their work to gauge whether it fits your style.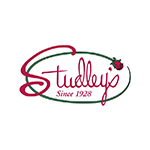 Molly Meulenbroek, General Manager | Studley's Flower Garden
"Choosing a landscape company is similar to choosing contractors for other projects around your home. Take the time to talk to several to decide who you feel comfortable working with."
  
Make Your Lawn the Talk of the Block
Whether you choose to do a full overhaul or just a few tasks, giving a bit of attention to your landscaping can go a long way. Plus, when you're done working on your lawn renovation, you'll have plenty of time to sit back and enjoy your new yard.
Molly Meulenbroek
Molly is the General Manager at Studley's, a florist, garden center and landscaping company located in Rochester, NH that provides service to the greater Manchester area. Studley's takes pride in crafting unique designs with plants specifically chosen for your needs.
 
What Do You Think?
Have ideas for your lawn renovation? We're listening. Head over to Twitter or Facebook,
and use #dumpstersblog to join the conversation.
Need a Dumpster for Your Yard Debris?