---
27 Easy Outdoor DIY Projects
Whether you have a small plot of grass behind your townhouse or a sprawling field behind your rural retreat, a backyard is an extension of your home. It's an outdoor living space that provides the perfect spot to entertain friends and family or unwind from the hustle of the work week.
When you look out your back window, you should see an inviting space that mirrors the stylish interior of your home. Here are a few easy DIY projects to help you create a chic backyard.
---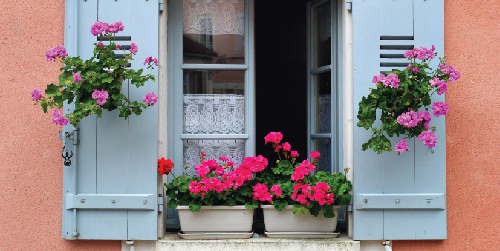 Landscaping
Whether you're looking to do a total lawn renovation or just want to update a few features of your landscape, try out these DIY outdoor ideas.
1. Upgrade With Simple a Window Box
An easy DIY outdoor project to liven up your backyard and bring color to the space is to install a window box and include your favorite flowers and plants. It doesn't take much time or many tools, and it's a great way to ease into gardening if you're not quite comfortable with planting a full-blown flower patch.
2. Create a Natural Waterfall
Grab some beautiful rocks and arrange them on your sloping yard. Then, channel runoff to the rocks and you'll have a little waterfall anytime it rains. You can also keep the waterfall alive with water from a hose or another source when the sun is shining.
3. Try Hardscaping Techniques
If there's a section of your yard that's difficult to mow, or if you have a large amount of grass that you're tired of cutting, fill in the space with rocks, gravel or pavers. With hardscaping, you don't have to worry about the upkeep, and you'll add dimension and texture to your landscape.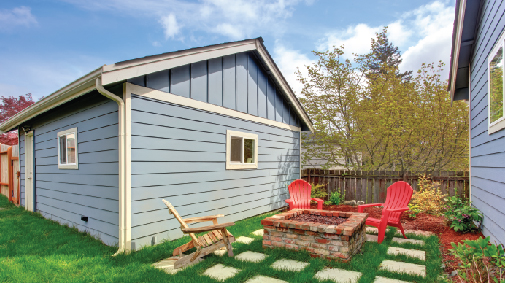 Fire Pits
Cozy up with friends and family while relaxing next to a roaring fire. No need for a fancy outdoor fireplace – you can purchase a fire pit or build your own using bricks and gravel in no time.
4. Build a Fire Ring
This is a great beginner-level, easy DIY outdoor project to upgrade your backyard. It can be as simple as finding stones, pavers or bricks you like and building them in a circle to create a place for friends and family to gather.
5. Try a DIY Fire Table
Take your fire pit up a notch and build it out to give you and your guests a place to rest summertime beverages. Build a table, install a heat shield and insert a propane tank to elevate your outdoor living space and enjoy an evening out by the fire.
Safety Tip: Make sure you're selecting the right materials and placing the fire pit or table away from structures or anything flammable. Check your city's regulations before diving into one of these projects and consult a professional if you don't feel confident about your building abilities or placement choice.
6. Make a DIY Fire Pit Cover
Make your fire pit a multifunctional gathering space and turn it into a table with a wood cover. When you're not using the fire pit, cover it with a wood table top to create an eating area or simply transform the space depending on your plans. Add handles near the edges to easily take it on and off.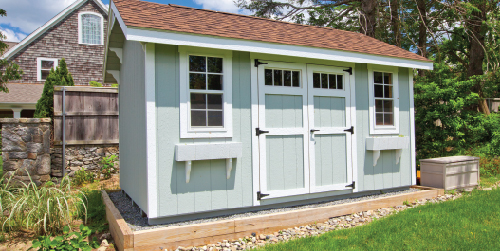 Sheds
Whether you need a place to store your tools or want a private place to think and relax, constructing a shed is a project worth your time.
7. Build a Garden Shed
Just because its only purpose is to hold tools, doesn't mean it has to be an eyesore in the middle of your yard. First, you'll need to demolish your existing shed if you have one. Then, find a style and materials that match your aesthetic and needs.
8. Transform Your Shed Into a Hideaway
Do you want a small relaxation space that's all your own? Or maybe you need a studio to serve as your creative outlet or a work-from-home spot. It's easy to turn a garden shed into a she-shed, paint studio or any work space you desire. Simply swap out tools for a desk, chairs, cozy floor pillows or whatever else you need to make the space your own. Throw up some wallpaper, shelves and artwork or lay down new waterproof-resistant flooring to take it to the next level.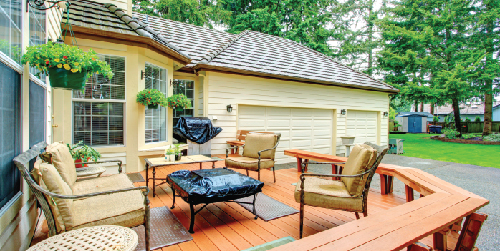 Decks and Patios
Before you can start decorating your backyard oasis, you need a foundation. Choose one of the following options to create a base for your homey outdoor living space.
9. Create Your Ideal Deck
If you already have a deck, you can sand and stain or paint it to give it a fresh look. Or demolish your deck to start from scratch. Find a shade of wood that reflects your aesthetic to bring your outdoor oasis to life. Then, add the perfect lounge seats for afternoons in the sun or a dining set for meals on a beautiful summer night. Set your grill up and you're in business.
10. Lay Down a Patio
Don't want to pay for a stamped concrete patio? Laying your own stone or paver patio is a quick DIY project for your backyard. With a few large stones and tools from your shed, this project can be completed in one weekend. If you're doing a complete patio rehaul, you may need to remove your concrete first, which will add some time to the project.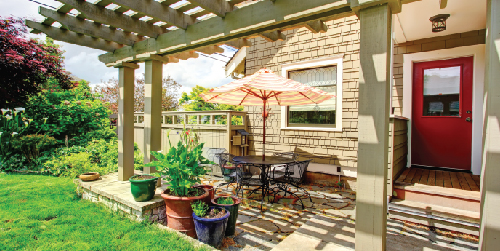 Gazebos and Pergolas
Give yourself a place to relax in the shade that also makes your backyard look styled and elegant. These may require a little more experience, but with some directions and a vision, constructing a gazebo or pergola will take your backyard up a notch.
11. Construct a Grill Gazebo
Elevate your outdoor cooking and dining experience by incorporating a grill and bar into a new gazebo design. This will give your guests a place to sit and relax while you prepare a delicious BBQ meal. Be warned, this is a more involved project, so make sure you have the skills and budget to complete the job.
12. Build a Relaxing Gazebo
A gazebo is beautiful to look at and a great way to bring some shade to your yard. It adds a nice touch to your concrete or paver patio and gives you another place to relax or entertain guests when the weather is nice.
13. Put Up a Pergola
Set aside a weekend to build a beautiful wood pergola. Add hooks to hang pots, drape some outdoor curtains between the posts and add a rug, chairs and floor pillows to make the space dreamy.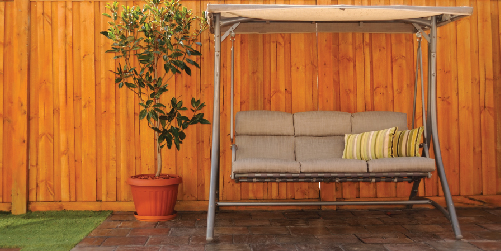 Fences
Whether you want privacy or a safe place for your family to hang out, putting up the right type of fence can add style to your space instead of leaving you with an eyesore around the edge of your yard.
14. Create a Living Wall for Privacy
Privacy fences create a serene backyard, but aren't necessarily the prettiest thing to look at. Consider planting a living wall that doubles as a garden. Use wood pallets or cleverly stack boxes and pots. Both will divide up your yard and create an inviting aesthetic.
15. Put up a Wood Fence
Wood fences are a great way to distinguish your property line and keep your kids and pets safe, and they're certainly better to look at than a chain link fence. If you have an old fence that's missing slats or needs a complete refresh, start by tearing it down. Once you put up the new one, take it up a notch and decorate the fence with planter boxes and string lights to make the backyard come to life.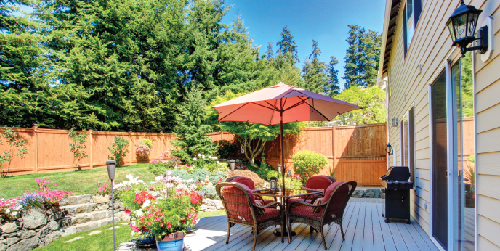 Living Areas
When the weather is mild and the sun is shining, there's no better place than the outdoors. There's nothing more relaxing than walking out to a backyard where you can enjoy the sunshine and weather.
16. Relax in the Shade
Create a shaded area of your yard to take refuge from the sun. Purchase an umbrella or install a retractable awning. Pair it with an outdoor sectional to create a cool living area.
17. Build a Screen House
Think of a sunroom, but in the middle of your garden or next to your pool. This is the perfect way to spend some time outdoors in the warm weather, without worrying about mosquitoes or other bugs. Use this room to relax and enjoy good company over cocktails or turn it into a functional space, like an art studio.
18. Put a Screen Around Your Porch
If you're not ready to take the leap and build an entire screened-in structure, install a screen around your porch. This will allow you to enjoy the outdoors without worrying about bugs. Fair warning, this will likely take you a few days to put up.
19. Try DIY Wood Furniture
Create the couch, bench or chairs you want for your backyard without shopping around for expensive furniture that doesn't match your vision. Paint and stain the wood to get the exact color you're looking for and customize the look with cushions and pillows. This is a relatively easy project and you can find all the tools you'll need at a local home improvement store.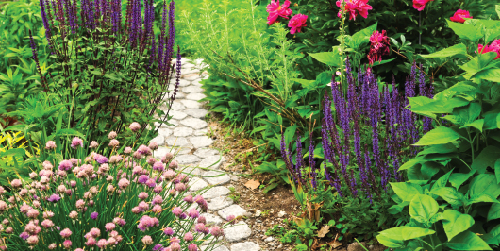 Walkways
Think of a path as an outdoor hallway. With the right stones, or even slices of wood, you can create an elegant walkway through your lush, green grass. Just remember to measure and space the stones out equally to avoid looking haphazard.
20. Install a Paver Walkway
Break up your grass and upgrade your backyard by adding a DIY paver walkway. It can be as long or as short as you need for your space, and you can choose the size and color of the pavers to match your style.
21. Make a Garden Path
Lay down mulch, gravel, stones or bricks and line them with vibrant flowers and plants to create a peaceful garden trail. Add a bench for the perfect place to sit and read a book or enjoy the colors and greenery.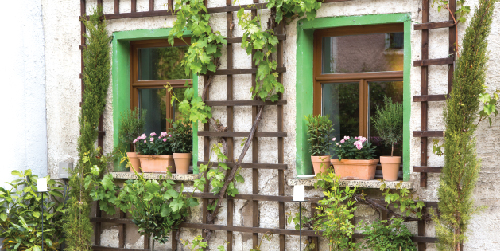 Gardens
If you like to garden or you want to take baby steps and give plants a try, use one of these DIY projects to liven up your yard.
22. Try a Rain Garden
Add life to your backyard and put rain water to use. If you have a sloping yard, channel runoff from your gutters to a beautiful garden.
23. Construct a Garden Trellis
Show off your plants and let them wind up a beautiful, hand-made trellis. Try mixing mediums, like building a wood structure with copper wire accents. Let it stand on its own or lean it up against a wall.
24. Build a Plant Stand
Another way to put your beautiful plants on display is to build a stand. We recommend wood – it's sturdy and the natural look will blend in well in your garden or on your deck or porch.
25. Make a DIY Potting Bench
Create a place for you to keep up with your gardening. All it takes is some wood and nails. Add hooks to hang tools and shelves to display pots and store soil.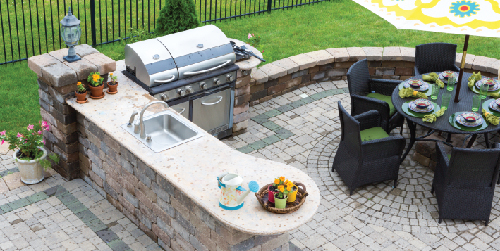 Outdoor Kitchens
Summer is all about spending more time outdoors than in, and that includes breaking free from the kitchen.
26. Expand Your Outdoor Grill
Take your grill up a notch and create a full outdoor kitchen, complete with stations to wash, cut and prepare meals. Run plumbing and electricity to the area to include a wet bar for the ultimate entertaining space.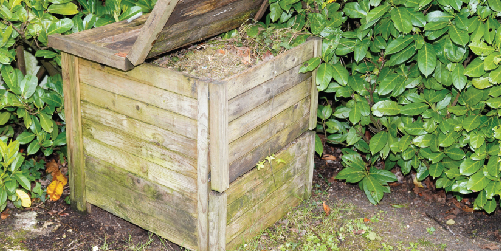 Compost Piles
Composting at home has many benefits, like retaining the moisture in your garden's soil. Creating a compost pile will give you easy access to nutrients for your DIY backyard projects.
27. Build a DIY Compost Station
Before you begin building a compost pile, choose a place for it. We recommend a spot somewhere out of the way, definitely not near your outdoor living or eating spaces. If you'd like to contain your pile or add some style, build a wood box to throw your food waste into. When it's ready, you can use the compost on your garden and lawn to keep them healthy and vibrant.

DIY Outdoor Projects to Create a Better Backyard
Plan one or all of these projects to dramatically transform your backyard. Don't forget those small details that really bring your backyard together – decorative rugs, pillows and candles to add comfort, outdoor curtains to upgrade your pergola and solar-powered lights to brighten up your stone walkway at night.
Which projects will you use to complete your dream outdoor living space? Take a picture of your backyard oasis and tag us on Facebook, Twitter and Instagram using the handle @dumpstersdotcom. We'd love to see which DIY project you used to bring your yard to life.
Recommended reading: Complete Yard Cleanup Guide | Top 7 Outdoor Design Ideas
RELATED LINKS
Sustainable Landscaping | Water-Saving Landscape Ideas | Clearing Brush