A Complete Guide to Proper Christmas Tree Disposal
Whether it's real or artificial, here's how to dispose of your Christmas tree after the holidays.
How to Throw Out, Repurpose or Recycle Real and Artificial Trees
When the winter holidays are over and it's time to take down the holiday décor, some decorations can be packed away and saved for next year. But, that may not be the case with your tree. Both real and artificial trees have limited shelf lives. Your live Christmas tree will need to be thrown out before it covers your house in pine needles. And if your artificial tree is past its prime, it may be time to toss it as well.
As you begin post-holiday cleanup, remember that live trees usually can't go in general trash bins and Christmas tree trash pickup services vary widely depending on where you live. Use our list of disposal options and recycling tips, as well as advice from Doug Hundley of the National Christmas Tree Association, to easily get rid of your tree.
How Do You Throw Away a Christmas Tree?
Although real and artificial Christmas trees serve similar decorative purposes, the processes to get rid of them are very different.
Since live trees are biodegradable, they can be safely composted, mulched or disposed of with other yard waste. On the other hand, artificial trees are commonly made with plastic that doesn't break down in landfills and can't be recycled with single-stream waste, like plastic bottles and aluminum cans.
How to Get Rid of a Real Christmas Tree: 4 Methods
Several types of evergreens are commonly used as Christmas trees, including Balsam and Douglas firs, white spruce and various pines. If your tree was freshly cut when you bought it, it can last four to five weeks before rotting — giving you ample time to find the next step for your Christmas tree.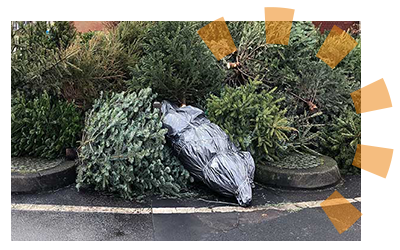 1. Leave Your Tree for Curbside Collection
Some cities offer tree pickup as part of their regular garbage services. Call or check online to find out if this is available in your area. If so, you may simply drag your tree out to the curb for pickup. However, depending on your location and provider, you might be charged additional fees for pickup.
Can I Throw My Live Christmas Tree in a Dumpster?
If you're a homeowner, your local collections service may have set regulations on Christmas tree disposal. Contact your city or township's public services department to make sure live trees are accepted as standard waste.
If you live in an apartment building or complex with shared front load dumpsters for regular waste collection, you'll need to check with your landlord or front office. However, Christmas trees are typically not accepted due to their large size.

Keep in Mind
If you manage a business with multiple trees to throw out, a dumpster can be a helpful cleanup tool. However, some landfills restrict what can be disposed of as mixed solid waste. Check out our guide for easy yard waste disposal methods.
Get a Dumpster for Your Holiday Cleanup
2. Recycle or Reuse Your Live Tree
When recycling your tree, remove any decorations on it. Place the tree on a tarp on the curb and find a local recycling program to help get rid of the tree. When thinking about recycling your tree, be aware that some Christmas trees are sprayed with pesticides, paints and other chemicals. Donation and recycling services may have restrictions on trees contaminated with these substances. The tree farm or vendor you bought your tree from can offer more information on what chemicals your tree may contain.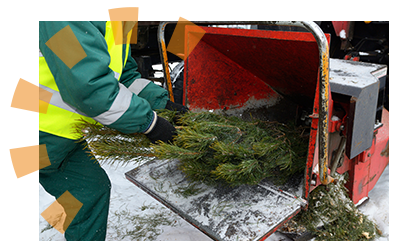 Consider Treecycling
Treecycling is a process that grinds old, unwanted live trees into other useful materials — mainly mulch. This can be done by specialty yard waste recyclers, but some municipal service departments offer this option as well. The city of Raleigh, for example, not only picks up Christmas trees at the curb, but mulches them for use in local parks.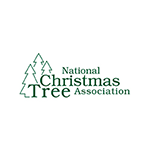 Doug Hundley | National Christmas Tree Association
"In many small and large towns, the Solid Waste programs will set up Christmas tree recycling programs for the production of mulch by chipping the leftover trees. I'd speak with local county and city solid waste departments or garden centers who would be interested in mulching the trees."
  
Replant Your Christmas Tree
This is only an option if you bought your tree with the roots intact. Replanting a tree can be tricky, but it's possible with the right preparation. Just don't keep your tree inside for more than a week or two. This is because Christmas trees are cut down when they are dormant. If you leave the tree in your warm house for too long, it may leave dormancy and be unable to adapt to the cold outside.
How to replant your live Christmas tree outside:
Keep the tree covered in a cool and dry place for 1-3 days to help it adjust to the weather.
Remove any burlap coverings from the roots.
Dig a small hole at least twice as wide as the roots of the tree.
Place the tree into the hole, fill it with soil and tamp down softly.
Water the base of the tree.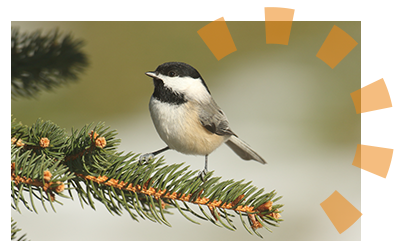 3. Donate Your Tree to a Worthy Cause
Even if you're done with your live tree, there are several organizations that would be happy to put it to use. Real Christmas trees can be donated to wildlife preserves or wetland restoration efforts after the holidays are over.
You can reach out to your local government to see if there are groups in your area who can use your donated Christmas tree to better the environment.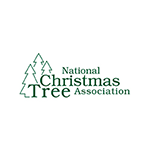 Doug Hundley | National Christmas Tree Association
"Real Christmas trees are often utilized for wildlife habitats such as being sunk into ponds and lakes for fish cover. You can call the local or state wildlife commission where you live to get other ideas."
  
4. Compost Your Old Tree
The evergreen boughs from your Christmas tree are an ideal base layer for compost piles. Branches allow airflow at the bottom of the pile providing the oxygen and heat necessary for the upper layers of the pile to decompose. Give branches a trim as needed to fit in your pile or bin before stacking them a few inches high. Once this layer is in place, add kitchen scraps and compostable items as usual.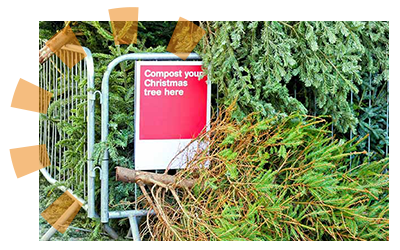 Keep in Mind
Trees that have been sprayed or chemically treated with pesticides can be composted in small amounts, but may require extra time to break down before being reintroduced to soil as finished compost.
How to Dispose of an Artificial Christmas Tree: 2 Methods
While faux trees last longer, and require less maintenance artificial Christmas tree disposal is more difficult. Artificial trees can't be mulched or recycled for environmental uses, but there are other options you can look into when it's time to replace a fake tree.
1. Toss Your Artificial Tree for Curbside Collection
Many cities accept artificial trees as curbside bulk items, whether they're made of plastic or metal. According to your location, you may need to wait until bulk pickup day or break your tree down into smaller pieces that fit into your curbside collection container.
Can I Throw My Artificial Christmas Tree in a Dumpster?
Yes. Since artificial Christmas trees usually count as general household waste (and not yard waste), they can be thrown out in front load dumpsters at most apartments. Just make sure to break it down into smaller pieces to fit inside the container. However, it's still a good idea to check with your rental office or landlord to make sure these bulk items are accepted by your trash hauling service. For larger households or buildings, a roll off dumpster can be rented to get rid of synthetic trees.
Take It to a Drop-off Location
There's a good chance that one or more of these businesses will accept artificial Christmas trees near you after the holidays:
Regional landfills
Charity organizations
Government services
Home improvement retailers

Keep in Mind
If you have a large amount of artificial trees to dispose of or are decluttering after the holidays, a dumpster can help with the mess. Some landfills do restrict what can be disposed of — follow our guide to easily get rid of bulk waste.
2. Recycle or Reuse Your Tree
While live trees can be easily recycled in a variety of ways, artificial trees are often made with polyvinyl chloride (PVC), which isn't recyclable and won't break down in a landfill. Also, most artificial trees cannot be recycled because they're built with decorative fibers that are glued or otherwise fixed to metal frames.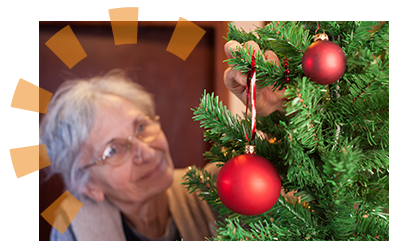 Can I Recycle an Artificial Christmas Tree?
Unfortunately, no. Artificial Christmas trees are made with PVC and other materials that can't be recycled. However, some manufacturers and local recycling programs can process artificial Christmas trees and other decorations into reusable materials. You can contact one of these organizations for more information about keeping your tree out of the landfill.
Repurpose the Tree Into New Decorations
With some creative handiwork, an old artificial tree can be cut, bent and reshaped into a decorative wreath or garland. It can also be made into a tabletop centerpiece or even a set of napkin ring holders. Find a new purpose for your tree by researching project and craft ideas for inspiration. Just be sure to remove light strings before altering the tree and take caution not to cut any electrical wires.
Donate Your Artificial Tree
If you no longer need your Christmas tree, chances are it could be reused by someone else. Some thrift stores, nursing homes and charity organizations in need of extra holiday cheer will often accept and repurpose artificial Christmas trees.
Before donating used decorations, be sure to remove all tinsel, ornaments or additional lights that aren't permanently attached to the tree.
Keep Your Holiday Clean and Green
When the season turns and it's time to put the cheerful decorations aside, don't let the cleanup chores get you down. Refresh your home to welcome the new year on the right foot, whether it's with curbside pickup, taking your Christmas tree to a disposal site, donating or repurposing it.
Doug Hundley
Doug Hundley works for the National Christmas Tree Association in Chesterfield, MO, which represents over 700 active Christmas tree member farms that produce three-quarters of farm-raised Christmas trees in the U.S.
The association works with over 4,000 affiliated businesses that grow and sell trees, plus supplies and services, and is located across North and South America, and parts of Europe. The NTCA works with one voice to protect and advocate on the industry's behalf.
Rhoades, H. (2021, August 31). How to Plant Your Christmas Tree In Your Yard. Retreived from Gardening Know How
What Do You Think?
Did you successfully reuse your Christmas Tree? Share it with us on Twitter or Facebook,
and use #dumpstersblog to join the conversation.
Need a Dumpster for Your Next Project?