How to Choose Between Buying a Dumpster Bag or Renting a Dumpster
So, you're planning a remodel. You've got the design nailed down and it's time to start demolition, but what are you going to do with all of that debris?
When you have too much junk for the curb or your normal collection can't handle certain items, it's time to choose between two other popular waste removal options: a dumpster bag or a roll off container. We've rounded up the pros and cons of each to help you select the best junk removal option.
What's the Difference Between a Dumpster Bag and a Roll Off Dumpster?
Dumpsters and Bagster® bags are both containers you can use to dispose of a variety of debris. Bags can be purchased from home improvement stores or online retailers, while dumpsters are rented from a waste hauling company.
Dumpster Bags vs. Dumpster Rentals

Waste Removal Bags
Dumpster Rentals*
Size:
One size that holds 3 cubic yards of debris.
Available in 10, 15, 20, 30 and 40 cubic yard sizes.
Weight Limit:
One bag holds up to 3,300 pounds of debris.
Dumpsters can hold 4,000-12,000 pounds.
Dimensions:
8 feet long x 4 feet wide x 2.5 feet high.
Typically 8 feet wide, 10-20 feet long and 3.5-7 feet high.
Placement Requirements:
Must be placed within 18 feet of the street.
Can be placed in a driveway, on your property or in the street.
*Sizes and weight limits may vary by location.
Important Factors to Consider When Choosing a Dumpster Rental or Dumpster Bag
It would be great if deciding on a dumpster or a dumpster bag were as simple as the amount of waste you're tossing. However, that's just one factor that you need to consider when making your choice. Other factors such as cost, available space, time and debris weight all need to be considered to help you decide which disposal option is best for your job.
1. Cost
Every project has a budget. As a result, price is one of the most important factors when deciding which waste removal option to go with. For example, both options are often used for attic cleanouts, which tend to produce at 5-10 cubic yards of debris. The national average to use a dumpster bag for an attic cleanout would range from $345-$505, while renting a 10 yard dumpster would cost about $268-$492.
Each choice has a unique cost structure, so doing a bit of research ahead of time can go a long way to helping you make a fiscally sound decision.
Dumpster Bag Cost
Here's how to calculate the total cost of a disposable debris bag:
Purchase Price + Pickup Cost + Local Fees and Taxes = Total Cost
According to Home Advisor, the average pickup cost for a dumpster bag to dispose of 3 cubic yards of debris ranges from $100 – $180. Combined with a purchase price of $30.00, that brings the average range to $130 – $210.
If you purchase two or more bags for your project, there is an average pickup discount of $20 per bag, but only if they are picked up at the same time and same address as the first bag. Plus, you still need to factor in the price of the dumpster bag itself, so the average price range for any additional bags is $110 – $190. Also note that these averages are subject to applicable local fees and taxes, which will be applied ruing the process of scheduling your bag collection.
Dumpster bag prices are also heavily influenced by location, with a first bag cost in Boston costing $257, nearly $100 higher than Cleveland.
Dumpster Rental Price
We provide all-inclusive pricing so that everything is accounted for upfront, including a container volume that typically ranges from 10-40 yards.
Rental Price = Total Cost
The average cost to rent a dumpster with us is $458.66. There are several factors that go into the price of a roll off dumpster. However, with a flat rate price, you don't have to do any guesswork. You're quote will already have a covered weight limit, delivery and pickup expenses, local taxes and disposal fees factored in. The price you see is the price you get.
Estimated Cost Breakdown by Project Type

Project

Amount of Debris

Dumpster Bag Average Cost*

Dumpster Rental Average Cost**

Room Cleanout
10 Yards
$170 – $470 (1-3 bags)
$234 – $529 (10 yard dumpster)
Bathroom Renovation
10 Yards
$320 – $470 (2-3 bags)
$234 – $578 (10-15 yard dumpster)
Yard Cleanup
10+ Yards
$470+ (3+ bags)
$256 – $578 (15 yard dumpster)
Kitchen Renovation
20 Yards
$470 – $1,070 (3-7 bags)
$246 – $633 (15-20 yard dumpster)
Home Cleanout
20-40+ Yards
$1,070+ (7+ bags)
$300 – $875 (20-40 yard dumpster)
Multi-Room Renovation
25-30 Yards
$1,220 – $1,520 (8-10 bags)
$312 – $787 (30 yard dumpster)
* Estimates were calculated using the national average of $170 for purchase/pickup of the first bag and a discounted rate of $150 per additional bag. Taxes and additional fees are not included.
** These ranges are based on our national price averages for each size.
2. Rental Process
If you're wondering how to rent a dumpster, it's as simple as a phone call. Once you've found a suitable company with online research, call the company to get a quote. When you call us, we'll walk you through the project to gauge the amount and type of debris you need to toss and ensure you get the correct container size for your project. Then, we'll talk through placement of the bin, delivery date and rental length. Once you're done filling it up, just reach out and we'll pick up the dumpster.
With a dumpster bag, there are more factors to consider. Particularly, you need to do your research before you buy a disposable dumpster bag. While they are available for purchase at nearly any major home improvement store and can be delivered anywhere via online shopping, that doesn't mean your local hauling company will collect them.
So, your first step should be to ensure that your debris can be collected at your work site.
Find Dumpster Services In Your Area
If collection is available, then you need to determine how many waste removal bags you'll need, then purchase the bags. Once you have them, fill them up, then reach out to the company to collect them when they can.
In the end, a dumpster rental features a much more refined process with clear delivery and pickup dates and more structure than a dumpster bag.
3. Placement Area
Dumpster bags must be placed within 18 feet of the curb for collection. As a result, your placement options are limited, unless you plan on moving the filled debris bag after your project — a daunting task if you've filled the bag to capacity.
Additionally, disposable dumpster bags cannot be placed on the street, so if you don't have a tree lawn, you have no choice but to block your driveway until it is collected.
"Aside from placing the dumpster bag where it's accessible, place it somewhere that's also not in your way (once you start filling it, you're probably not going to be able to move it). If it's possible to locate it close to your job while still accessible to the crane, that can minimize how much back and forth you're doing.

Marc Lyman | Executive Director, Home Fixated
Dumpsters can be placed on the street in most areas, as long as you get a permit first. Additionally, they can be placed in driveways or wherever you may need it on your job site. Exact placement instructions will be collected during the rental process to ensure the bin is right where you want it to make your job easier. However, once the dumpster is placed, it cannot be moved unless a driver returns to your property, which would result in a trip fee.
4. Space
At first, you might think a dumpster bag won't take up much room, but you'll need to account for the number of bags your project will require. With a dumpster, the walls are higher and can accommodate more debris in a smaller space.
Consider that a 10 yard dumpster has a length of 14 feet and width of 7.5 feet. Putting two dumpster bags lengthwise would take up 16 feet and lining them up next to each other would make them 8 feet wide, also exceeding the dimensions of a 10 yard container.
5. Time
How much time do you have to complete the project? If you're cleaning out the garage over the span of a few weeks, it's important to note that dumpsters typically come with a 10-day rental period. Exceeding this can result in extension fees that you don't need to worry about with a bag or other waste removal alternative.
However, if you know your project will be one that can be completed within a dumpster rental timeline, it's important to consider the travel time that can be consumed with dumpster bags. From traveling to a store to buy the bag to trips to the end of your driveway each time you're ready to toss something, using a waste removal bag can quickly chew up hours of productivity time that could be used elsewhere.
6. Materials Being Tossed
Waste removal bags can hold a surprising amount of weight without ripping or tearing. However, since the walls of a dumpster bag are only two-and-a-half feet tall and they can't be picked up if debris obstructs the handles, they're not ideal for getting rid of bulky items like furniture. Also, electronics and appliances are not accepted in dumpster bags, and yard waste is acceptance varies by location. Additionally, if you're tossing heavy debris like concrete, brick or dirt, the bag can only be filled with one cubic yard of waste.
Dumpster rentals can often handle a mix of waste types, and the higher walls make renting a dumpster ideal for bulky items. Plus, by nature, dumpsters are much sturdier, so you don't have to worry about a particularly sharp piece of debris ripping the side and making a mess.

Frequently Asked Dumpster Bag vs. Dumpster Questions
How Does a Dumpster in a Bag Work?
The process to use a dumpster bag is simple enough. Go to a home improvement store and buy however many bags you need. Fill them up, then contact the company that manufactures the bags for collection.
Keep in mind that, while the waste removal bags are available almost anywhere, the company may not service your location. Check prior to purchase to make sure you aren't left with bags of waste in your driveway.
Does Home Depot Pick Up a Dumpster Bag?
Home Depot and other home improvement stores will not pick up your dumpster bag. They are simply third-party vendors of the bags. In order to get your debris taken away, you must contact the manufacturer to set up collection, which may not actually be available in your area.
Is a Dumpster Bag Worth it?
For smaller projects and cleanups, it can be. The national average pickup cost for a dumpster bag is about $155.00. Combined with a purchase price of just under $30.00, that brings the average total to about $185 for 3 cubic yards of waste — roughly the size of one pickup truck load. However, prices vary by location and local taxes and fees will still be added. More bags can be used at a discounted average rate of $160, but the price adds up quickly.
Dumpster Bags vs. Dumpsters: It Depends on the Size Of Your Project
Which option is best for you? It all depends on what type of project you're planning. If you're working on something smaller like a decluttering or a project that has you wondering if you should just use your normal curbside trash, a waste removal bag is a good option. For anything larger or involving materials not accepted at the curb, a dumpster may be the right way to go. Still not sure which option is best for you? Here are a few general rules of thumb:
| | |
| --- | --- |
| Rent a Dumpster When... | Buy a Dumpster Bag When... |
| ✔ Handling an estate cleanout. | ✔ Decluttering a small area. |
| ✔ Cutting down trees, brush or overhauling landscaping. | ✔ Excavating a small amount of dirt or sod. |
| ✔ Remodeling a room or rooms. | ✔ Removing a small amount of drywall. |
| ✔ Performing demolition work. | ✔ Clearing out a shed. |
| ✔ Getting rid of bulky items. | ✔ Getting rid of a small amount of carpeting or flooring. |
Looking for more waste removal tips? Check out our online resource center for helpful advice including our guide to renting a dumpster.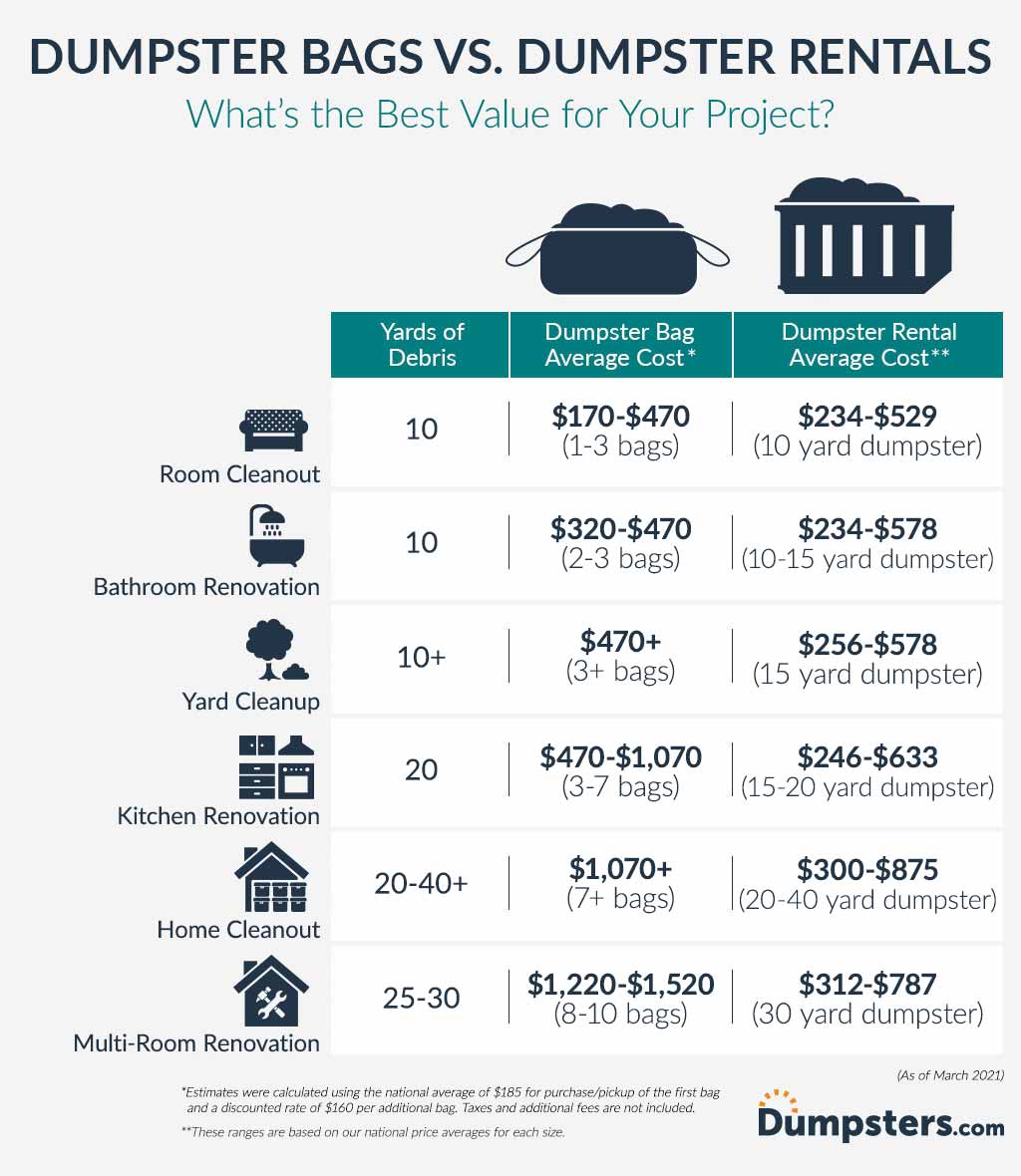 RECOMMENDED READING:
Dump Trailer or Dumpster: What's Better for Your Business? | On the Job With Our Cleveland Roll Off Drivers | COO Rich Gersdorf on Our Growing Service