How to Choose Between Buying a Dumpster Bag or Renting a Dumpster
So you're planning a remodel. You've got the design nailed down and it's time to start demolition, but what are you going to do with all of that debris?
When you have too much junk for the curb or items that aren't accepted in curbside collection, it's time to choose between two other popular waste removal options: a dumpster bag or a roll off container. We've rounded up the pros and cons of each with the help of Marc Lyman from Home Fixated to help you decide what will work best for you.
What's the Difference Between a Dumpster Bag and a Roll Off Dumpster?
Dumpsters and waste removal bags are both containers you can use to dispose of a variety of debris. Bags can be purchased from home improvement stores like Lowe's or Home Depot, while dumpsters are rented from a nationwide or local hauler.
| | | |
| --- | --- | --- |
| Dumpster Bags vs. Dumpster Rentals | | |
| | Waste Removal Bags | Dumpster Rentals* |
| Size: | One size available that holds 3 cubic yards of debris. | Come in 10, 15, 20, 30 and 40 cubic yard sizes. |
| Weight Limit: | One bag holds up to 3,300 pounds of debris. | Varies by container size with the smallest holding 4,000 – 6,000 pounds. |
| Dimensions: | 8 feet x 4 feet x 2.5 feet | Typically 8 feet wide, 10-20 feet long and 3.5 – 7 feet high. |
| Placement Requirements: | Must be placed within 18 feet of the street. | Can be placed in a driveway, on your property or in the street. |
*Sizes and weight limits may vary by location.
Pro Tip: "Aside from placing the dumpster bag where it's accessible, place it somewhere that's also not in your way (once you start filling it, you're probably not going to be able to move it). If it's possible to locate it close to your job while still accessible to the crane, that can minimize how much back and forth you're doing.
Marc Lyman | Executive Director, Home Fixated

How Much Does It Cost to Use a Disposable Dumpster Bag vs. a Dumpster Rental?
Price is one of the most important factors when deciding which waste removal option to go with.
Waste Removal Bag Cost:
Here's how to calculate the total cost of a disposable debris bag:
Purchase Price + Pickup Cost + Local Fees and Taxes = Total Cost
The average pickup cost for a dumpster bag is about $140.00. Combined with a purchase price of just under $30.00, that brings the average total to about $170.
If you purchase two or more bags for your project, there is a discounted pickup rate of $99.00, but only if the bags are picked up at the same time. For remodeling jobs or large cleanouts where multiple bags are necessary, the pickup cost adds up quickly.
Dumpster Rental Price:
When working with a company that provides all-inclusive pricing, everything is accounted for upfront.
Rental Price = Total Cost
The average cost to rent a dumpster is $458.66. There are several factors that go into the price of a roll off container, but with a flat rate price that includes a covered weight limit, local taxes and disposal fees, you'll know ahead of time exactly what will be on your bill.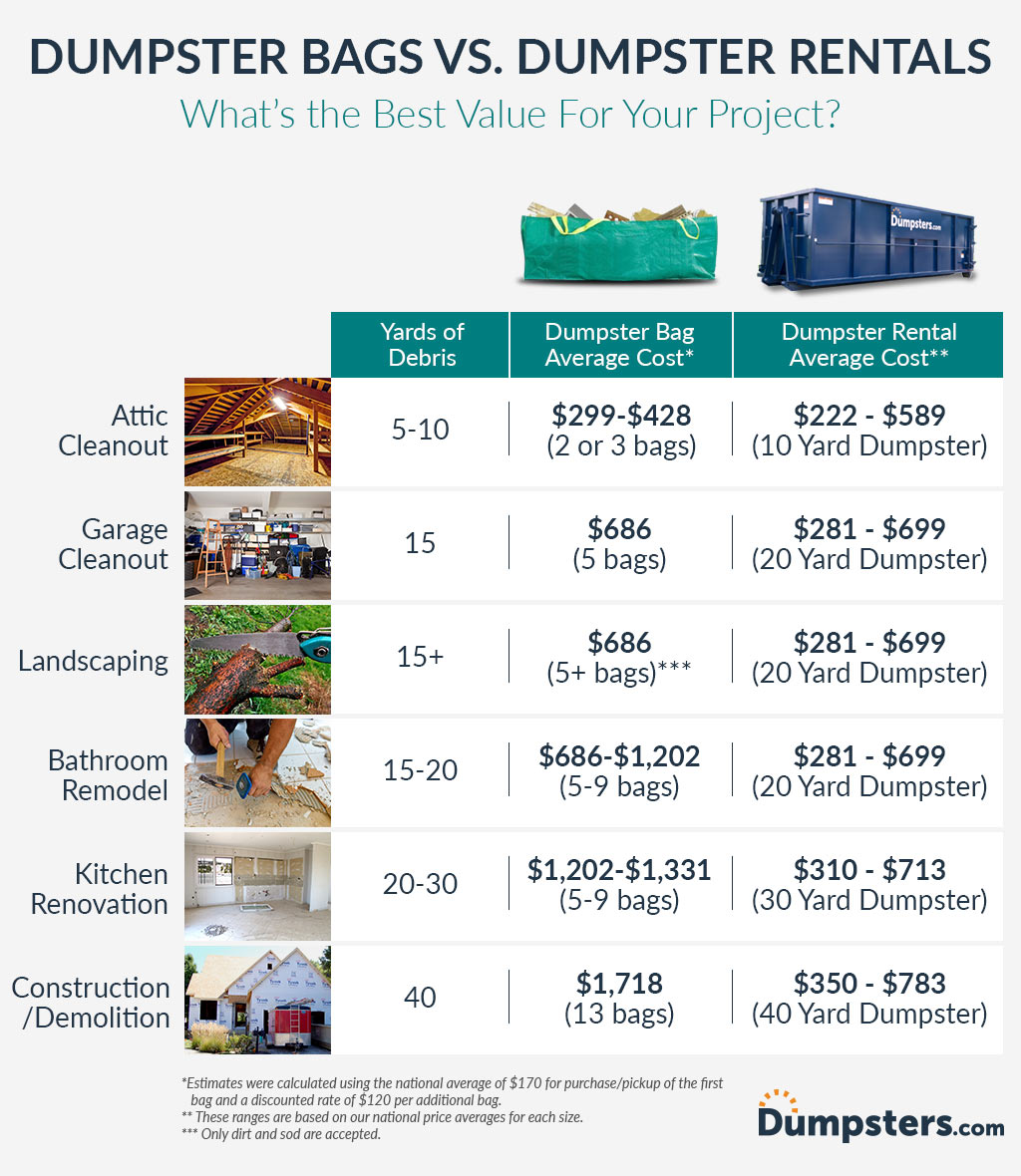 Other Differences Between Debris Removal Bags and Dumpsters
While cost is definitely an important consideration, there are multiple factors that can impact what suits your project best.
Space: While a single dumpster bag doesn't take up much room, once your project fills up three or more bags, a dumpster typically takes up less space on your driveway.
Placement Area: If you need to use your driveway throughout the course of your project, disposable dumpster bags cannot be placed on the street. Rented containers can be placed on the street in most areas, as long as you get a permit first.
Time: How much time do you have to complete the project? If you're cleaning out the garage over the span of a few weeks, it's important to note that dumpsters typically come with a 10-day rental period. Exceeding this can result in extension fees that you don't need to worry about with a bag or other waste removal alternative.
Material Being Tossed: Waste removal bags can hold a surprising amount of weight without ripping or tearing. However, since the walls of a dumpster bag are only two-and-a-half feet tall and they can't be picked up if debris obstructs the handles, they're not ideal for getting rid of bulky items like furniture.
Weight of Debris: For outdoor projects that require dealing with yard waste or concrete removal, the 3,300-pound weight limit of a bag won't get you very far.
Dumpster Bags vs. Dumpsters: It Depends on the Size Of Your Project
Which option is best for you? It all depends on what type of project you're planning.
"I would recommend the dumpster bag for projects that will exceed your normal trash pickup, but are not larger scale projects. If you're focused on a relatively small demolition or yard project, the dumpster bag is ideal. If you're excavating concrete, dirt and/or covering a large area, a dumpster might make more sense."
Marc Lyman | Executive Director, Home Fixated
Still debating the best choice? Here are a few general rules of thumb.
| | |
| --- | --- |
| Rent a Dumpster When... | Purchase a Dumpster Bag When... |
| ✔ Handling an estate cleanout. | ✔ Decluttering a small area. |
| ✔ Cutting down trees, brush or overhauling landscaping. | ✔ Excavating a small amount of dirt or sod. |
| ✔ Remodeling a room or rooms. | ✔ Removing a small amount of drywall. |
| ✔ Performing demolition work. | ✔ Clearing out a shed. |
| ✔ Getting rid of bulky items. | ✔ Getting rid of a small amount of carpeting or flooring. |
If you are looking for more information on how the rental process works, check out our video below or give our team a call at 833-499-7510.
Looking for more waste removal tips? Check out our online resource center for helpful advice including our guide to renting a dumpster.