---
After a Year Like 2020…
…we want a home that makes us feel good. Now that we're in our houses more, people are not only assigning worth to a room based on its functionality, but also the way it reflects their style and evokes their desired mood. As a result, the words that dominate 2021 interior design are comfort and nostalgia. As we dive into the current trends in home design, take note of the styles that embrace your personal taste and will help you create a place where you enjoy spending your time – because, let's face it, our homes are no longer a part of our lives, they're our whole lives.
---
Top 10 Interior Design Trends of 2021
---
If you're sick of the style of your home and looking for a refresh, pull inspiration from these design trends to create a home that's comfortable and chic.
Trend #1: Warm, Earthy Colors and Rich Textures
Many of us are looking for our homes to provide us warmth, comfort and coziness. When we have to spend all of our time inside, we want it to be a welcoming place. Warm and earthy tones are inviting and work well with dark colors to provide depth to a room.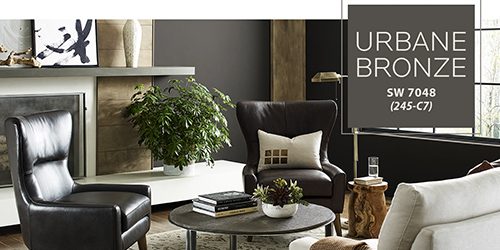 *Image courtesy of Sherwin-Williams
Urbane Bronze: Sherwin-Williams 2021 Color of the Year
Harping on the idea of comfort, Sherwin-Williams' color of the year calls on us to find our sanctuary. Rooted in nature, this shade provides a sense of relaxation and serenity. Urbane Bronze continues the popular biophilic trend, and the gray undertones give this color a modern twist. With an earthy inspiration, it's warm and comforting and reminds us to connect with the outdoors.
Trend #2: Natural Look and Materials
Add to the warm, earthy colors in your home by mixing materials like leather and ceramic with plants and organic fibers. Using natural finishes will create depth and texture, and tying a room or home to nature can be grounding and create peace in a time of chaos.
Popular natural interior design elements include rattan furniture or décor pieces, like using a wicker basket to store blankets in the living room or adding a rattan chandelier to the dining room. Rattan adds warmth and lightness that works in any area of the home and it brings in texture and woven detail.
Lighter woods also brighten up a space and extend the earthy pallets and textures, making the room feel spacious and tranquil – necessities when you're constantly in the space. Lighter wood tones are available in most design styles, so you should be able to find something that fits your aesthetic.
Trend #3: Eco-Chic Design
2020 made us take stock of our lives, including what we're consuming, contributing to a growing awareness of environmental issues. This means sustainable décor is now trendier than ever as we recognize the impact of home design on the environment.
Not only is sustainability important to consumers, but investing in furniture that is multifunctional and durable to prevent excess consumerism will also rise in significance.
Another consideration is natural fabrics over synthetics. Try choosing one of these eco-focused textile options as you're updating your home design:
Sustainable sheets, like bamboo or hemp.
Natural and recycled textiles over polyester, nylon and rayon.
Organic cotton, recycled polyester and low-impact linen.
Key Takeaway: Investing in quality pieces that reflect your true style, not something that's fleetingly popular, will make you feel at home for years to come and save you money in the long run.
Houseplants
As we're spending so much time in our homes, it can feel good to bring in the outdoors. Indoor plants are a blooming trend that bring vibrant colors and life to a room. Adding these natural elements can also bring more texture to the room.
Pro-Tip: Try the popular 1970s-style hanging plants, or go for beautiful, full, green plants.
Trend #4: Comfort and Tradition
Think big, simple, rounded furniture and plush, comfy materials. Sink-in or overstuffed couches that make you want to curl up and watch a movie or read a good book is the comforting vibe we all need right now. It's livable luxury we can all incorporate into our home design, which also includes a return to carpet. If it's soft and makes you want to get cozy and relax, it's trending.
A nod to tradition is also a comforting style people are picking up on. Vintage pieces like classic art and antiques provide nostalgia and a sense of ease while adding personality. It's also eco-friendly to purchase vintage items or use décor and furniture pieces passed down in your family.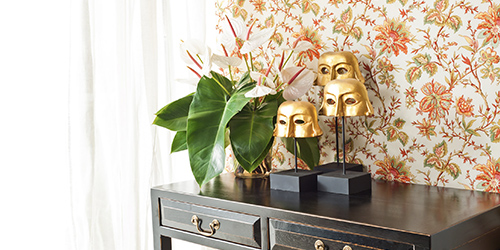 Trend #5: Grandmillenial Style
Ask your grandma to help design your home, then add millennial flair to get this emerging trend, also known as granny-chic design. Also popular for its nostalgic feel, it combines modern elements with "grandparent décor." To achieve this look, use floral wallpaper, antique paintings, crochet throw pillow, busy patterns and preppy elements, like ruffles. The "old lady" or "grandma-ish" feel evokes one of our biggest style words of the year in home design – comfort – and is whimsical.
Pro-Tip: Cultivate this style by shopping at flea markets and antique stores to find one-of-a-kind pieces. This is also more sustainable and affordable than buying brand-new items.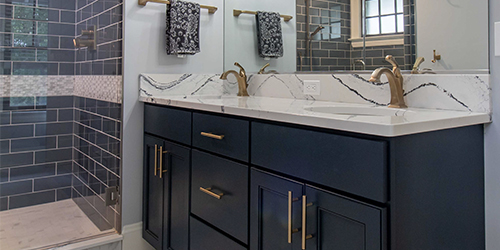 *Photo courtesy of Odell Construction Inc.
Trend #6: Bold Cabinet Colors
Traditional gray and white cabinet finishes are going out of style. This year, darker colors are taking center stage. Inspired by our disconnect from the world and spending more time inside, the kitchen and bathroom are great places to add personality and bring new life to a once neutral or muted space. Modernize these rooms with black and navy to highlight your hardware, light fixtures or countertops.
Trend #7: Multi-Use Spaces
If there's one thing we know for sure, it's that our homes have become the hub for every aspect of our lives. This is likely not a short-lived design trend as companies find value in shifting to a work-from-home model, so multipurpose rooms may live beyond the pandemic. We not only need spaces that can serve multiple purposes, but also several generations. It's not uncommon for three generations to be living under one roof.
Between multi-function and multi-generation, versatility is key. It no longer makes sense to dedicate an entire room to fulfill one purpose. Convert your spare bedroom or attic into a home office/home gym combo or turn a closet into a mudroom or classroom area.

Trend #8: The Home Office as a Key Focus
If the pandemic has permanently put you in work-from-home mode, you deserve better than your dining room table and a stiff chair. Working remotely has become such a prominent aspect of our lives, so we recommend the following to help you increase productivity and cultivate creativity:
Invest in a comfortable chair.
Create a permanent place for work.
Keep the office sleek and organized to maintain focus.
Trend #9: Peel-and-Stick Wallpaper
Peel-and-stick wallpaper is an easy and inexpensive way to add a new flair. This helps you change up the style of a room and give you something new to look at without making a big dent in your wallet or permanent marks on your home.
This home trend is popular among renters or homeowners who want a low-commitment upgrade. Try it in the bathroom or on stair risers. Moynihan says subway tile is going out of style, making the kitchen backsplash a great place to try out peel-and-stick wallpaper. Then, when you're ready for another change, just remove the wallpaper and switch it up.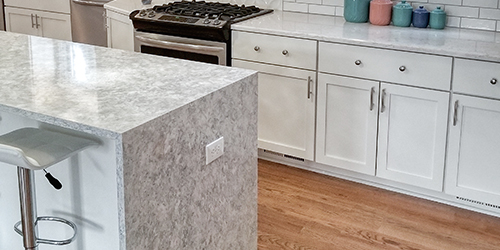 *Photo courtesy of Odell Construction Inc.
Trend #10: Waterfall Islands in the Kitchen
"If the budget allows, waterfall islands are a great focal point and statement piece in the kitchen," Moynihan says.
A waterfall kitchen island is when the counter material continues down both sides to the floor, as opposed to just taking up the top of the island.
Choose Your Favorite Home Design Elements and Get Trendy
Our key takeaways from this year's home design trends are comfort and personalization. Choose elements that help you create a space you enjoy living in and that reflect your personal style. Home makeovers – even simple updates like changing out furniture or adding décor pieces – can be refreshing, especially in the year 2021. Use our tips to create your dream home and enjoy the transformation.
Proud of your home design update? Share your pictures with us by tagging us on social media with the handle @dumpstersdotcom!
Recommended reading: Planning a Home Renovation | Best Flooring Options for Families