A Comprehensive Year-Round Yard Maintenance Guide
From the first cleanup of spring to cutting down trees, our year-round yard tips will keep your property top-notch.
Task-by-Task Cleanup Tips to Keep Your Yard Pristine
A well-manicured lawn and lush landscaping does more than boost your home's curb appeal - it gives you and your family a beautiful outdoor space to enjoy.
While a home improvement project like installing new kitchen cabinets is a one-time job, your lawn requires constant and regular upkeep. With attention and proper care, you'll have the greenest lawn in the neighborhood. Our guide will give you year-round yard cleanup tips with expert advice from Fiskars, Ugly Duckling House, Natureworks and Pennington.
How Much Does Yard Cleanup and Maintenance Cost?
If you're looking to completely overhaul your landscaping, the national average cost with help from a professional company is $10,000 for a 1,200 square foot yard.
However, if you're just looking to hire a company to do basic weekly yard maintenance tasks like mowing and weed-whacking, the average cost is $55 per visit. Assuming you need to mow your lawn 30 times a year (roughly every 10 days for nine months), that comes out to $1,650 per year. That cost will rise when you add on other common tasks like leaf blowing, hedge trimming and weeding.
Cost of Yard Cleanup Tools
If you prefer to go the DIY route, you can cut the price of yard maintenance to as low as the cost of your tools and materials. In fact, if all things go according to plan, the national average for DIY landscaping comes out to $1,400 annually. This total includes gas for your tools and a tune-up for your lawn mower and other items that require regular service.
Missy Pfeil at Fiskars says the most essential lawn cleanup tools to keep your yard looking fresh throughout the year are:
Clearing Tools: Saw branches, cut down vines and take care of pesky tree roots that are overgrown.
Shrub Rake: Remove dead plants and leaves from difficult to reach areas.
Weed Removal Tools & Spray: Carefully remove large weeds (with the roots intact) and use the spray to make sure they don't resurface in a few months.
Lawn Mower: Keep a well-manicured lawn with your most-used tool.
Hedge Clippers: Maintain shrubs and plants and keep them looking top-notch.
Shovel: Break up and loosen the soil around the plants to allow for better root growth.
Trowel: Use this for digging small areas and turning earth.
Find a Yard Waste Dumpster Near You
8 Lawn Maintenance Ideas For a Clean Landscape
Keeping your yard clean is a tough job. It's hard to know which tasks are the most important, when to do them and the best tools to use.
We've bundled up the eight most important yard cleanup tasks to do each year, listed in order of the seasons starting with spring.
Task 1: Start Initial Lawn and Landscaping Clean Up
You've had a season off from most yard work in the winter, but now it's time to catch up. This is the time to clear leftover leaves, fallen branches and weeds, and remove dead shrubs, bushes and trees.
Season: Late winter – early spring.
Key Tools: Shrub rake, clearing tools, ladder and yard waste disposal option.
How-to: Start by clearing larger debris like fallen tree branches, then tackle smaller things like weeds and leftover leaves. For large amounts of yard waste, make sure to have a disposal option planned.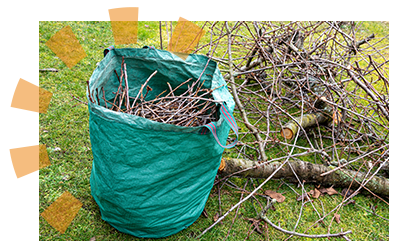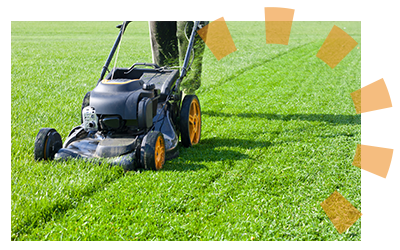 Task 2: Mow, Edge and Fertilize Yard
To keep your lawn healthy, you need to feed and trim it on a regular basis. For the best results, it's important to know the proper methods to care for your grass.
Season: Spring – fall.
Key Tools: Lawn mower, edger, fertilizer and spreader.
How-to: Never cut the grass more than 1/3 of its current height. Consider setting your mower deck higher and mow less frequently as the weather gets hotter and dryer. Final mowing should happen when it's consistently below 50 degrees. Trim the edges of your lawn as-needed.

Keep in Mind
The best times to fertilize are in April, around Memorial Day, around July 4, after Labor Day and near the time of your final mow.
Task 3: Spread Mulch
A fresh layer of mulch instantly makes your yard look revived. Keep in mind that mulch can spruce up more than just flowerbeds and tree patches.
"The mailbox and front garden areas can offer a lot of curb appeal for the money in a single afternoon," said Sarah Fogle, founder of Ugly Duckling House. "That's where I begin to add some color and wake things up."
Season: Late spring – early summer.
Key Tools: Shovel, wheelbarrow or wagon and landscaping rake.
How-to: Dump the mulch pile where you need it, then use the landscaping rake and your hands to spread it 2-4 inches thick. If you have extra, put it in your wheelbarrow or wagon to move it to the next area. In the fall, touch up if needed.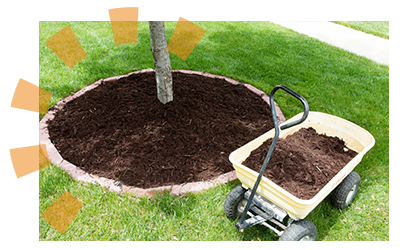 Sarah Fogle | Ugly Duckling House
"Weed, fertilize and add mulch just before spring blooms start coming in. It can do wonders to make the yard look crisp, tidy and ready for long warm days!"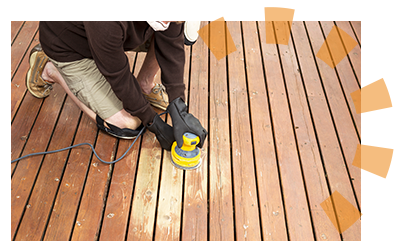 Task 4: Fix Existing Structures
If you have a deck, hardscape patio, fence or shed, it should be checked yearly for safety and cosmetic issues and repaired as needed. The key is to not jump on the fixing bandwagon too early. You want to wait until your lawn has dried up a bit from the winter snow and spring rains. That way your yard has time to settle and then you can plan your structure cleanup.
Season: Summer.
Key Tools: Varies depending on the structure.
How-to: With wooden decks or patios, you'll want to re-secure any nails or screws that have come loose and replace boards as needed. Also, don't discount the impact of a new coat of stain and seal. For hardscaping, weed between the pavers and re-grout as needed.
Task 5: Thin Bushes and Shrubs
Some experts recommend trimming your shrubs before they bloom in the spring to see dead spots. Others say to wait until your shrubs have bloomed and grown for the season so you can shape and trim them. Either time works — it all depends on your personal preference.
Season: Summer – early fall.
Key Tools: Clearing tools, hedge clippers and shrub rake.
How-to: Use your hedge clippers for smaller branches and the clearing tools to get through larger ones. Give your shrubs and bushes an appealing look while making them functional for shade and privacy. Use your shrub rake for hard-to-reach areas when you cleanup.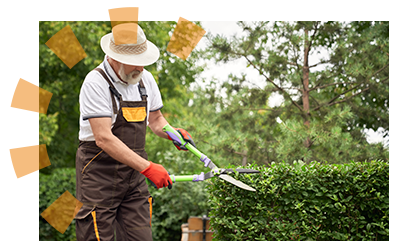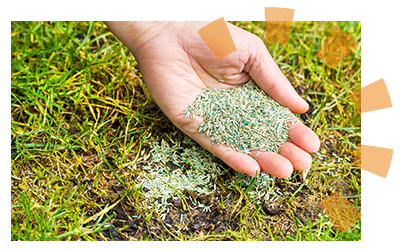 Task 6: Regrow the Lawn
Your lawn takes a beating throughout the year, and patches are inevitable. Whether you have a small section to replace or need to cover a large area, clear the leaves first and be gentle while removing leaves from the newly-grown lawn as the roots are still shallow.
"The important thing to remember about ongoing lawn care is that grass is a plant," said Jillian Shea of Natureworks. "It benefits from healthy soil and the right set of growing conditions."
This is also a good time to consider overseeding, which is the practice of adding seeds to areas that are thinning to help thicken the lawn.
Season: Early fall.
Key Tools: Lawn seed, sprinkler, lawn mower and shovel.
How-to: Remove and clean up any remaining dead lawn patches with a shovel or trowel, then make sure the dirt is loose. Spread lawn seed in the bare areas and immediately water. Keep the re-seeded patches continually moist for best results.
Task 7: Remove Dead Branches and Trees
While this is a year-round maintenance job, the time to get this yard task done (particularly in the northern U.S.) is before winter. The weight of snow on dead branches and trees can be enough to cause them to fall, which may damage your property.
Season: Fall.
Key Tools: Clearing tools, ladder and yard waste dumpster.
How-to: Use your clearing tools to cut off dead branches near the trunk of the tree. Smaller trees are easy enough to remove yourself. If you have enough tree branches and logs, consider a yard waste dumpster for disposal.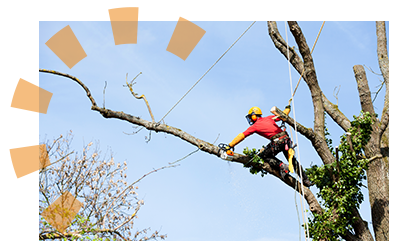 Safety Tip
Removing a tree is dangerous. Hiring a professional is recommended for medium and large trees, as well as anytime you don't feel comfortable performing a task.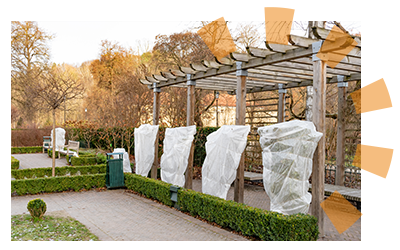 Task 8: Protect Plants From Cold Weather
While a lot of foliage can handle the cold weather on their own, there are some that need protection. Various shrubs and smaller plants need to be covered from the snow and bitter frosts to look great in the spring when the weather warms back up.
Season: Late fall – winter.
Key Tools: Mulch and winter barriers.
How-to: Add some mulch near the base of the plant for insulation and water collection. Then, cover the entirety of the plant with burlap, sheets or blankets. In the case of shrubs, let them hang loosely to the base instead of tying them to the trunk. If possible, construct a frame and tie the cover to it to prevent the barrier from touching the plants.
A Little Work Makes a World of Difference
Whether you do all of the tasks for yard cleanup and maintenance or pick and choose the ones that best fit your schedule, you hard work will go a long way. The more you stay current with your landscaping cleanup efforts, the easier it gets year after year. And that means you have more time to enjoy the fruits of your labor.
Sarah Fogle
Sarah is the creator of Ugly Duckling House, a DIY Home Improvement blog based out of the Atlanta area. Her blog documents her house updates, detailing the various projects she has completed to bring her 1980s home into the present.
Jillian Shea
Jillian works for Natureworks, a retail garden center in Southern Connecticut. The store focuses on organic gardening and has over 25 employees during peak season.
 
Pennington
Pennington is a Georgia-based lawn care company that began in 1945. The company has helped millions of homeowners create and take care of a healthy grass yard. Pennington has become a top name in fertilizers, wildlife seed as well as seed blends specifically for backyard wildlife.
 
Graham, A. (2022, January 7) How Much Does Landscaping Cost. Retrieved from Fixr.com
How Much Does Lawn Care and Mowing Cost? (2022, May 17). Retrieved from HomeAdvisor.com
What Do You Think?
What's your favorite part of lawn maintenance? We're listening. Head over to Twitter or Facebook,
and use #dumpstersblog to join the conversation.
Need a Dumpster for Your Landscaping Debris?