Lumber and Wood Disposal
Whether you're working on a home renovation, cleanout, shed teardown or similar project, you're probably wondering what to do with the leftover lumber. The answer isn't always to toss it. Did you know you can sell or recycle lumber, depending on its condition and type? Getting rid of that old fence or wall studs doesn't have to be a chore — and you may even make a few bucks.
Old baseboards, window frames and cabinetry are a few examples of wood you'll want to unload from your to-do list. Read on to learn more about how to dispose of your lumber and wood with four different methods.
Difference Between Wood Scraps and Lumber
To avoid falsely advertising lumber, remember this simple detail: Wood scraps were used in the design of something specific, like kitchen cabinets. Lumber (often shaped as wooden planks) is used as structural elements to a home or building.
Before you jump onto a marketplace site or speak directly to a buyer, it's important to know the characteristics of salvaged lumber vs. wood scraps. Specifically, lumber (with the right history and condition) can be made into or sold as reclaimed wood — something that could help put more money in your pocket.

1. Sell It
To sell your unwanted lumber, advertise it online and in a virtual marketplace like Craigslist or Facebook Marketplace. If you're selling more than just lumber, another option is to host a garage sale. You'd be surprised how popular construction supplies are at these events.
Also consider using a local Habitat for Humanity ReStore or general architectural salvage store. You'll take a small hit on the payout, but it's worth it if you're pressed for time or want a simpler solution.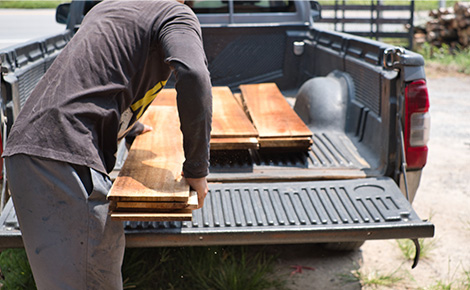 Tips for Selling Lumber
Teak, oak, redwood, fir, pine and cedar are the most common wood types used in residential and commercial construction, with teak being one of the best types for resale. You can take a piece of lumber to a local hardware store for identification if you're unsure what kind of wood you have.
Know if Treated or Untreated
Pressure-treated lumber — like in deck materials specific for pest resistance and weather control — typically cannot be reused due to the chemicals in them, especially if it's lumber from before 2005 when arsenic was a common component.
Lumber should be in good condition, which means relatively free of water damage, excessive cracks or splinters and no chemical treatment.
Price the Item Appropriately
The average price for new lumber is $1-5 per square foot and over $25 per square foot for rarer woods. You'll want to factor that in alongside the condition of your lumber when you list it, and keep in mind that architectural salvage stores typically offer less than an individual buyer.

Pro Tip
Does your lumber have nails? You can use magnets, a claw hammer or pliers to remove them. All of these tools can be found at your local hardware store to rent or buy.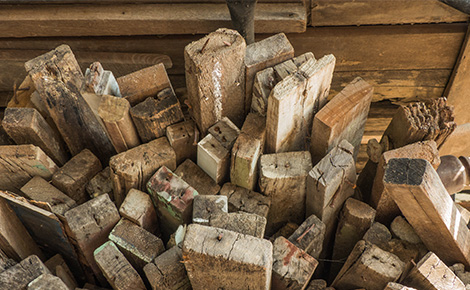 2. Donate It Locally
Similar to selling or exchanging excess lumber, you can simply donate it to a charity like Habitat for Humanity, Rebuilding Together. A charity will repurpose lumber into residential homes if it's in the right condition. Just be sure to follow their instructions — like removing exposed nails — prior to drop-off.
3. Recycle the Lumber
If your untreated lumber isn't in such great shape, a recycling company like Reuse Wood can shred it or recycle it. As an alternative, you can cut up the wood with a saw and toss it in your compost pile. Just remember to remove any nails before breaking down the boards.
Use any of the tools below to find a wood and lumber recycling center near you: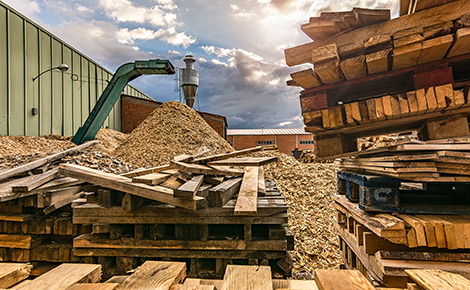 Keep in Mind
If you're considering turning your lumber into mulch, remember that even untreated wood chips are nitrogen-packed — great for compost piles but bad for gardens.
Also, never attempt to feed pressure-treated wood into the machine because it's dense and may contain toxic chemicals.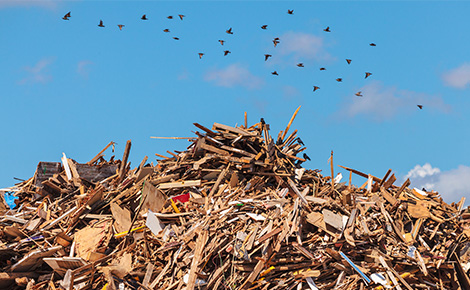 4. Toss It
Since you typically can't toss it with your regular trash or set it out on bulk pickup day due to size and condition, you'll want to research the nearest landfill or transfer station that'll take lumber scraps. It may cost you a small fee but it's a good option for getting rid of damaged pieces that can't be reclaimed or restored.
This is required for any treated wood as it cannot be burned or reused safely because of added chemicals.
Curbside Pickup
Since wood scraps tend to be (or are made to be) smaller and thinner than lumber, you can generally toss them out with your regular trash or wait for bulk pickup.
It's a better idea to use bulk pickup — whether that's an extra cost or specific date each month — for larger pieces like kitchen cabinets if the wood is newer than 2004. Just avoid putting out more items than allowed per collection.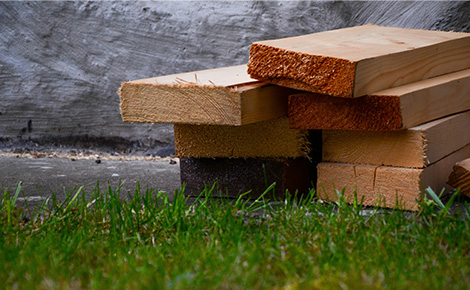 Tips for Bulk Collection
Contact Local Garbage Company
Every waste company has its limit on the size and quantity of wood scraps they'll take on trash day and how many. Generally, the wood has to be ½" to 4" thick and no more than three total items per month. Reach out to your local waste company for detailed information.
Oftentimes, the city won't take it due to the hazardous risk (chemicals, exposed nails). Make sure you contact your local garbage company before getting rid of wood scraps.
Contact Your Local Government
Some cities don't allow lumber or wood scraps of any kind. If this is the case, research nearby landfills or transfer stations that'll take it. Otherwise, you can rent a dumpster and we'll dispose of it for you.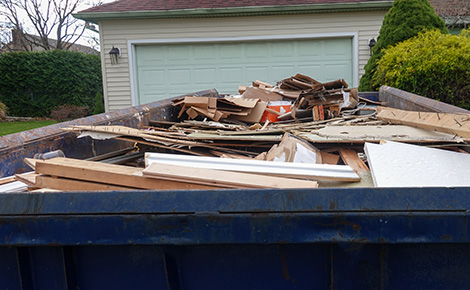 Rent a Dumpster
Another option is to rent a dumpster. They come in a variety of sizes, can be placed in your driveway for easy access and, with us, you're quoted an upfront price that includes delivery, pickup, disposal, a generous rental period and a set weight limit. A roll off dumpster is beneficial if you have a lot of unwanted lumber from your project that'll take you multiple trips to the dump.
Search Dumpster Services Near You
Lumber Disposal FAQs
Can I burn lumber?
Typically, no. Burning lumber releases toxic smoke that's harmful to people and the environment. This is because it's been treated to prevent mildew and rot when used in building or construction projects. The same goes for painted or stained wood.
How do you get rid of old pieces of wood?
The easiest ways to get rid of old pieces of wood are to sell it, donate it, re-purpose it or toss it. Just remember to remove any nails before you dispose of it, and never burn treated wood due to the toxic smoke it will create.
Can I sell old wood?
Absolutely. First, inspect the condition of your old wood and remove any nails. Depending on its condition, treatment and wood type, you can sell it to a scrap yard or list it on Facebook Marketplace.
Is painted wood the same as treated wood?
Painted or stained wood is typically just paint over untreated wood. Most people avoid painting treated wood because it won't turn out right — there's too much additional painting and sanding involved to make it worthwhile.
How do I dispose of treated lumber scraps?
Treated lumber scraps are best sold or donated if they're in good condition and you have a decent amount of it. Online sites like Craigslist can help you reach potential local buyers or you can locate a facility to donate it, like Reuse Wood.
If they're damaged beyond redemption, tossing old lumber is the best option. Check with your city if lumber is allowed on bulk collection days or rent a dumpster to throw it away all at once instead of waiting for curbside pickup or taking multiple trips to the landfill yourself.
More Lumber Removal Resources
Getting rid of more than just wood and lumber? Find more disposal guides, project tutorials and dumpster tips below.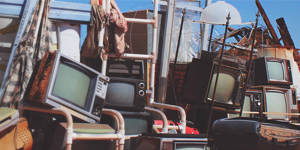 Bulk Waste Disposal Guides: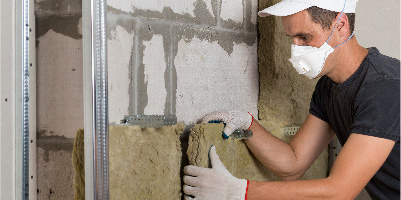 Project Tutorials: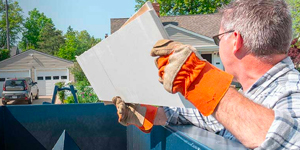 Dumpster Rental Tips: