How to Dispose of a Lawn Mower
Learn all the ins and outs of getting rid of working and non-working lawn mowers.
How to Get Rid of an Old or Broken Lawn Mower
It's not every day that you're tossing out a lawn mower. Maybe you're finally upgrading to an electric mower or tired of constantly repairing a push mower. Either way, you're stuck with this machine in your garage that's taking up space. How exactly do you throw out an old lawn mower? The range of options depends on how much work you want to put in. Either you can spend an entire afternoon disassembling the mower for scrap metal, removing just a few pieces to prepare for the recycling center or calling a junk removal service to have them pick it up — it's up to you.
Of course, the mower can also be a great excuse to toss other junk all at once and clear out your garage.
Safety Precautions With Broken Lawn Mowers
Since you're dealing with a lawn mower, it's important to take note of a few safety measures before diving in. For every gas mower disposal method, the oil, gas and battery need to be removed before transportation. If that's something you don't have experience with, contact a professional to do it for you. Landfills prohibit hazardous waste so you'll have to find a different way to get rid of them safely.

Safety Tip
Before removing large amounts of metal and plastic from your gas mower, be sure to wear the right protection. These materials can be unexpectedly sharp. Work gloves will give you coverage, should any of the pieces shift during the process.
How do you load a broken lawn mower for disposal?
For push mowers, fit them in the back of a truck or use a trailer hitched to a car with the right towing capacity. Just make sure the tanks are empty so nothing spills during transport.
Riding mowers will likely require a trailer and a ramp. Given the amount of metal, these mowers weigh an average of 500 pounds and should not be lifted into your trailer without a ramp.
Do I need to clean off my lawn mower engine before disposal?
Most services or centers that take lawn mowers will require you to clean off the engine so they aren't handling hazardous materials. You can easily clean leftover oil off the engine yourself with household degreasers, and use plastic bags to cover the electric components.
Can you dispose of a lawn mower with gas in it?
No, for the safety of everyone involved, it's best to drain the gas out of your lawn mower before disposal. If there is still gas in the tank, you may get turned away from drop-off sites or charged extra for them to drain it. Not to mention it's dangerous to transport a lawn mower with gas.
How long can you leave gas in a lawn mower?
The quality of your leftover gas depends on what type you're using. Average diesel without any stabilizers can last 3-6 months. When you have a stabilizer mixed in, the gas may be good for up to a year. It's best to drain it before there's any damage to the machinery if you can't remember the age of the gas in the mower.
5 Ways to Dispose of a Broken Lawn Mower
1. Recycle It
Recycling your lawn mower involves a certain level of deconstruction to separate the plastic body from the metal. While it's your most sustainable option, the preparation can be a lot of work. If you're dealing with an electric lawn mower, recycling centers are your only option. Most other disposal services can't accept the electrical components.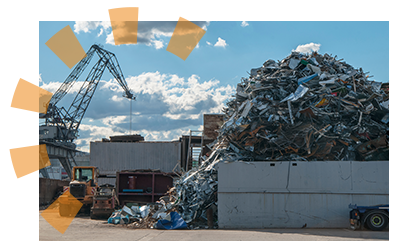 For gas mowers, you have to deconstruct the mower and separate the pieces. This means taking off the plastic outer body first and removing smaller parts next. Most of the metal pieces can stay in place but the engine will have to be removed.
If you're recycling a riding lawn mower, allow extra time for this process. Certain drop-off sites that are focused on recycling small engines, appliances and scrap metals may take the engine out for you. However, you still have to make sure the gas and oil has been emptied.
Once everything is separated, reach out to your local recycling center to schedule an appointment.
Jeffrey Tung | Tools Official
" It can be very useful to salvage the parts from an old lawn mower, and one of the most important parts is of course the lawn mower engine. First, you want to disconnect the spark plug and drain the oil and fuel so it's safe to work with. Next, remove the brake cable, also known as stop cable. Once any linkages or cables are detached, remove the bolts that attach the engine to its frame. That should be pretty much it, you can lift the engine off the mower."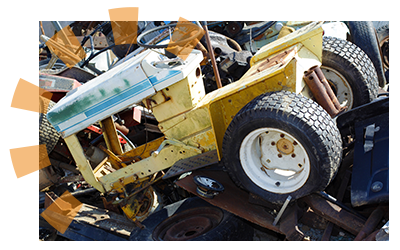 2. Scrap It
Gas push and riding mowers may be disposed of at a scrap yard. You may even be able to sell some of the pieces, but that's dependent on your mower's size, age and overall condition. Keep in mind that before you go to the scrap yard, your mower will have to be broken down as much as possible.
Once all of the parts are removed, sort them by metal type if you're interested in selling them. Otherwise, just collect the scraps and drop them off once you've made prior arrangements with the scrap yard of choice.
3. Opt for Curbside Pickup
By now, you've probably googled if you can just leave your mower out on the curb for pickup and be done with it. The truth is, curbside pickup depends on your city's disposal service — some may not accept appliances as big as lawn mowers. However, there are some trash pickups that will take your mower on a specific date each year or you'll have to contact them for an appointment. Before they get your mower, remember you'll need to clear out any hazardous materials.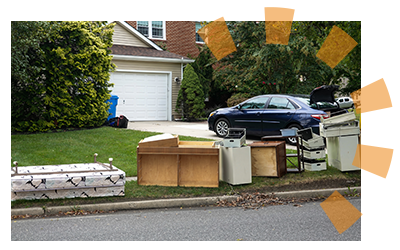 Pro Tip
Planning to refresh your landscaping? Our yard waste disposal guide has all the tips to help you clear out the debris.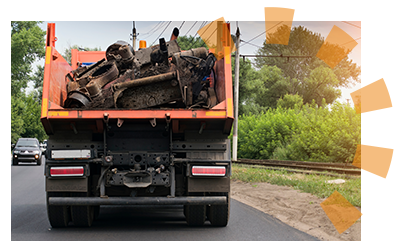 4. Call a Junk Removal Service
If you're looking for another disposal option, consider calling a junk removal service to pick up your broken lawn mower. Just keep in mind that it may be costly, depending on the size of the mower and labor involved. Junk removal services have a minimum amount of truck space that items need to fill. If you don't fill the space, there may be extra charges.
Jeffrey Tung | Tools Official
"For a lawn mower, it's fairly straightforward to remove the outer pieces. Just look to the corners or sides to find the fasteners, use a screwdriver or wrench, and remove the screws. Some coverage pieces require you to slide them off, others can be lifted off."
 
5. Rent a Dumpster
If you're looking to get rid of a lawn mower and other items, consider renting a roll off dumpster. Not only can you toss a lawn mower, this is the chance to throw away your piled-up junk and other broken yard tools, like chainsaws or rakes.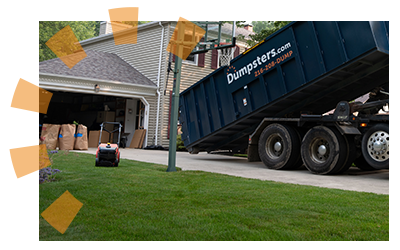 Make sure to remove any hazardous materials before loading your mower in the dumpster. You must remove gasoline, oil and batteries, since landfills commonly won't take these items. Check with your local hauler before removing the tires. They may accept them with an added charge for disposal.
If you're tossing a riding lawn mower, you may have to break down a few pieces to make sure everything fits inside the container or rent a larger bin so you can load it in through the swinging door.
Get a Dumpster for a for Unwanted Junk
Get Rid of a Working Lawn Mower in 4 Ways
You don't have to wait for your mower to break before getting rid of it. Maybe you got a deal on a mower upgrade or or you're moving to an apartment where you don't have to worry about lawn care. If your lawn mower still runs, here are four ways to clear it out of a shed or garage.
Sell It Online
Easily sell your lawn mower using online platforms, like Facebook Marketplace or Craigslist. Take pictures from every angle, include the serial number and be transparent about any current damage. Price it fairly according to what other people are selling the same model lawn mower for in similar condition.
Host a Garage Sale
Feel free to set up a garage sale if you want to get rid of more junk than just your working lawn mower. Even if you don't have enough for a full garage sale, you can always put the mower in your yard with a "for a sale sign" on it. Just make sure you share the model information and any damages with potential buyers.
Donate It to Charity
If you're looking to donate your lawn mower, check with the Habitat for Humanity ReStore or other local organizations in your area. Depending on the location, they may accept your lawn mower and other gently used yard appliances. It's easy to assume that well-known charities like Goodwill and Salvation Army are other options, but they can't accept these types of tools.
Give to a Friend
It's possible that a friend or family member needs a lawn mower. Either they bought their first house, had a mower break down or they need a decent lawn mower for starter equipment. Make sure you ask around to see if anyone needs one and if they'd be willing to pick the mower for free.
Toss Other Unused Lawn Tools
No matter if you dropped the mower off at a recycling center, took the time to sort the pieces for a salvage yard or finally had that long-awaited garage sale, the job is done. Now that your mower is out of the way, discover other home DIY projects and take the next step to improve your property with your new space.
Jeffrey Tung
Jeffrey runs Tools Official, a blog dedicated to all brands and models of lawn mowers. Based in Las Vegas, Tools Official collects honest lawn mower reviews and also tests the products themselves, to give feedback on each specific brand model.
What Do You Think?
Have thoughts on getting rid of lawn mowers? We're listening. Head over to Twitter or Facebook, and use #dumpstersblog to join the conversation.
Need a Dumpster for Your Broken Yard Tools?