Your Guide to Cleaning out Foreclosed Homes
Foreclosed homes are full of potential. Get your property market-ready and maximize your investment with these great tips.
A Step-by-Step Walkthrough to Clean out a Foreclosed Property
A foreclosed home can be a great investment, whether you're a bank looking to sell a repossessed home or a flipper hoping to make a profit. However, depending on how long the house has been vacant, there can be issues that you need to fix and surprises around every corner. Whatever shape the foreclosed property is in, you'll always need to clean it out before it's market-ready. Our guide will walk you through everything you need to know to handle a foreclosure cleanout.
Foreclosure Cleaning FAQs
How long does cleaning a foreclosed home take?
Generally, a foreclosure cleanout can take anywhere from a few hours to a couple of months depending on your availability and timeline. Keep in mind that the size of your property will also impact how long it takes to clean up.
What does foreclosure cleaning include?
You can expect to remove yard waste, old furniture, outdated appliances, belongings and trash left by previous owners. The removal of these items is followed by cleaning, and then any necessary renovations.
How much does cleaning a foreclosure cost?
Cleaning a foreclosure can cost you a few hundred dollars to cover the price of supplies. However, doing it yourself can save you money as hiring a cleaning company costs anywhere from $500 to $2,500.
Clean out a Foreclosed Home in 9 Steps
Congratulations, the property is now yours. However, that was the easy part. Now it's time to get to work and make your foreclosure purchase ready to live in. Whether the property was freshly vacated or sat empty for months, our guide will help you through the cleanout process, from removing junk from the inside to ensuring the exterior is clean and presentable.
 
Prep for a Foreclosure Cleanout
Before you start, you'll want to make sure you have everything you need to complete the property cleanout and get a scope of the project at hand.
1. Gather Tools
Now's the time to pull together everything you need to complete the property cleanup. The chart below gives a list of what you'll need to get the job done. Keep in mind that some of the tools could be needed both inside and outside of the home.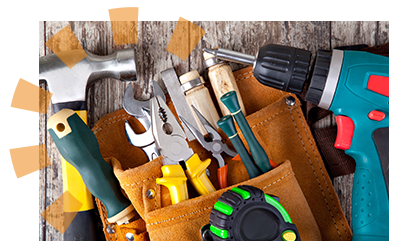 Foreclosure Cleanout Supplies
| Indoor Tools | Outdoor Tools | Safety Gear |
| --- | --- | --- |
| Broom & dustpan | Axe | Face masks |
| Drill & bits | Expandable ladder | Gloves |
| Extension cords | Hedge trimmer | Goggles |
| Flashlight | Lawn mower | Lifting belts |
| Hammer & nails | Leaf blower | Long pants |
| Household cleaners | Power washer | Long-sleeve shirt |
| Paper & pencil | Rake | Work boots |
| Pry bar | Shovel | |
| Screwdriver & screws | Tree pruner | |
| Shop vac | Weed whacker | |
| Trash bags | | |
| Wrench set | | |
Find a Dumpster for Foreclosure Cleanout Debris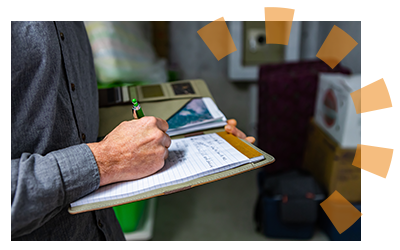 2. Inspect the Property
Consider this a preliminary step to help you better understand the scope of the job. The key to this step is to see how much junk has been left behind and note if there's anything that may require special attention. Any physical work you do at this point will be minimal and you'll evaluate the home's overall structure later.
Assess the Structure: Walk around the exterior of the house, noting any structural deficiencies or problem areas.
Make Notes: Jot down anything that needs further attention.
Protect Yourself: Put on safety gear to protect yourself before entering the home if there are hazardous conditions.
Plan Your Cleanout: Enter the home and make room-by-room notes of anything that is bulky, damaged or hazardous.
Prevent Potential Damage: If you come across an active leak, manually shut off the utilities to that area.
Note: If it's too dangerous to get to an area of your home, bypass it for now and come back to it when it's safe to do so.
3. Plan for Waste Removal
Now that you have an idea of the scope of the job, it's time to decide how to get rid of the bulk of the waste.
Hire a Hazardous Waste Company
Hire a specialist to take care of any hazardous waste, animal issues or pest infestations you found during your inspection. They'll let you know if it's safe to start cleaning other areas of the home before they arrive or if you should wait until they complete their job.
Rent a Dumpster
Reach out a few days in advance to ensure the dumpster will arrive on your scheduled cleanout date. Then, once the container is in the driveway, walk heavy items through the dumpster door and throw light-weight debris over the walls. You might also consider hiring a junk removal company, but keep in mind that some will not work on foreclosed properties.

Keep in Mind
If you're tossing large or bulky items that may have certain curbside pickup restrictions, check out our disposal guides to find the best ways to get rid of debris from a foreclosure cleanout.
How to Clean out a Foreclosed Home
The good news is that cleaning out the inside of a foreclosed home is not too different from cleaning out a home you've owned for years in terms of physical work. The even better news is that there's no emotional attachment to the items, which tends to make the process go faster.
The bad news? You aren't familiar with the home, so you may come across some surprises in the crawlspace or attic, or find some unwanted guests behind the drywall.
Don't let that deter you from getting the job done. The steps below will help you know what to expect inside the home to minimize any surprises. Keep in mind, if the task becomes too overwhelming for you or you aren't sure if you should handle a particular step, you can always hire someone to take care of the project for you.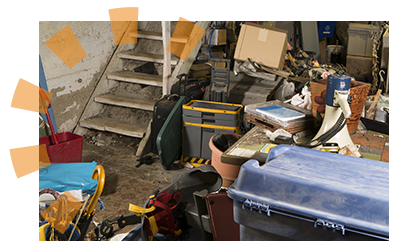 4. Clean out the House
There are plenty of ways to handle a home cleanout — top to bottom, most cluttered room to least, largest space to smallest, etc. However, for a foreclosed home, it's sometimes easiest to plan by waste type.
Bulk Waste
Bulk waste disposal can take up a large chunk of time and energy, whether it's a heavy sleeper sofa or a tube TV with curbside restrictions.
That's why it's often a great place to start your cleanout. We recommend loading bulky and heavy items into a dumpster first to help with even waste placement. Plus, it will help to remove large obstacles within the home as you work.
General Trash
Now's the time to get all of the miscellaneous trash out of the home, from boxes of household junk to items hidden in the basement or attic. You can take it out to the dumpster item-by-item, load up garbage bags or even use a trash chute from an upper floor to let gravity do the work. Whatever option works best for you is the route to go.
5. Remove Old Materials and Fix Damages
Now that the house is empty, the space is clear to complete minor repairs or get rid of damaged fixtures. What you chose to take care of really depends on your remodeling plan. Projects commonly taken care of in this step include the following: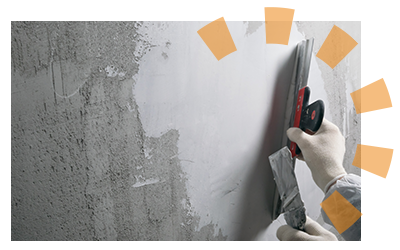 Replace Damaged Flooring: Whether it's hardwood, tile or vinyl — removing old flooring is a smart first step.
Remove Carpet: Unless the carpet is clearly new, a good rule of thumb is to remove any carpet to gauge if the flooring beneath needs any work.
Tear Down or Patch Walls: Consider tearing down a wall to open up the floor plan. Just be sure it isn't a load-bearing wall first.
Replace Light Fixtures: If a fixture has exposed wiring or has any other problem that could pose a safety issue, tear it out and replace it.
Fix Windows: From broken glass to critters in the cracks and framework, damaged windows need to be addressed to prevent further damage.
Update Wall Coverings: If you have stained wallpaper or you think there's an issue behind some wooden panels, remove the coverings and update with neutral paint.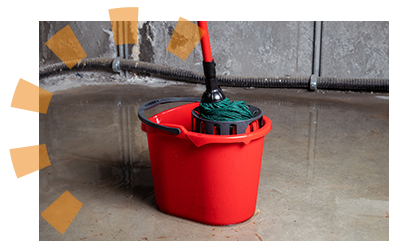 6. Clean the Interior
Your repair and home improvement work is bound to create a bit of dust.
Clean every room on one floor, then move to the next level until every area has been cleaned. In each room, you'll need to do a combination of these tasks:
Vacuum: Use a shop vac to clean up any dust or debris.
Mop: Use a cleaning solution to mop any surfaces.
Dust Surfaces: Wipe down any fixtures, walls and countertops.
Clean Windows: Scrub windows clean of all grime and smudges.
Steps to Clean up a Foreclosed Property Exterior
7. Clear the Land
With the inside taken care of, head out of the house and make the property presentable. The effort needed for this step will vary widely. Some foreclosed homes are in great shape with well-kept yards. In other cases, there may be missing siding or roof shingles scattered throughout an overgrown yard.
Remove Debris From the Property
Start by getting rid of anything on the lawn that doesn't belong there. This could be anything from grocery bags trapped in tall grass to an old playhouse that needs to be removed. Make sure to rent a residential dumpster with enough capacity for larger outdoor debris.
Now some debris could be useful in repairs. If there's a panel of fencing or some wood from a deck, evaluate if it can be salvaged before you toss it.
Clear Overgrowth
The next step is to make sure the lawn and landscaping are clear of weeds and overgrowth. This is a simple project that requires just a few steps:
Rent a Yard Waste Dumpster: Get a yard waste dumpster to toss large amounts of overgrowth.
Remove the Shrubs: Any unruly overgrowth will need to be removed. Use an axe, tree pruner and shovel to cut brush out.
Cut the Rest: Use a weed whacker to trim the lawn and overgrowth down to a manageable size, then use a lawn mower to cut to an even length.

Keep in Mind
To find out the best ways to get rid of natural debris, check out our yard waste disposal guide for items like leaves, dirt, branches or grass clippings.
8. Fix or Demolish Structures
Next, make sure any structures on the property are clean and functional. Common things to repair include:
Roof: If roof issues have caused leaks, be sure to fix them. It could be replacing shingles or replacing an entire roof — gutters included
Siding: Replace any missing siding. If the siding was salvageable, reattach it to the home. If the pieces are missing, try to match them.
Deck: Make sure that any stairs and rails are sturdy, level and free of warps. In some cases, the best solution is to demolish the deck.
Fence: Address where there are missing panels or leaning. Make sure gates latch properly and do not drag against the ground.
Shed: Ensure that the wood is free from rot and the metal isn't rusted through, otherwise it might be time to consider tearing it down.
Mailbox: If the home has a free-standing mailbox, ensure that it is sturdy and properly cemented into the ground.
Patio and Walkways: Repair trip hazards. If the cement isn't level or chunks of the patio are missing, consider re-leveling or replacing the missing pieces.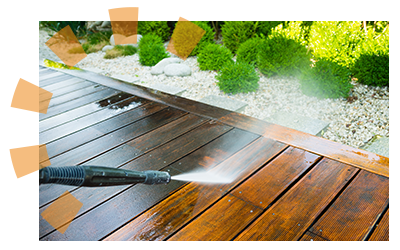 9. Clean Up
Now that the yard and structures look great, it's time to tidy up the home's exterior. Use a power washer to completely clean the house and get rid of dirt and grime. You can also use it on the driveway and cement surfaces to spruce them up. Be sure to wipe down any windows as well. The goal is to increase the home's curb appeal, either to your tastes or to make it more appealing to potential buyers.
Congratulations! You've Cleared the Way for What's Next
You've taken the time and put in the effort to get your foreclosure home in great shape. Whether you plan to move in or sell the home, know that your hard work has taken something that was once inhospitable and transformed it into a place someone would be proud to call home.
What Do You Think?
Cleaning out a foreclosed home? We're listening. Head over to Twitter or Facebook,
and use #dumpstersblog to join the conversation.
Need a Dumpster for Foreclosure Junk?