How to Clear Land: A Step-by-Step Guide
Clear out large structures, trees and overgrown brush to get your property ready for what's next.
Step-by-Step Land Clearing Techniques
Sometimes the right piece of land for your intended project may be covered with dense overgrowth, trees and even old structures. Getting rid of these is the first step in starting any new project, so clearing the land correctly and safely is important. Learn how to get rid of these obstructions before you start a new build with the help of Garrett Graff of Land Clearing USA.
How much does it cost to clear land?
The overall cost of clearing land depends on the materials you rent, the obstructions that need to be removed and the size of the property. A land clearing project can cost anywhere from $1,500 to 3,000 per day/acre.
How long does it take to clear an acre of land?
The amount of time it takes to clear an acre of land can vary based on the tools you have, the type of property you're clearing and the number of people working with you. This usually takes professionals two to four hours but can take a DIY-er much longer.
How do I clear land by hand?
Clear land by hand using a variety of tools, like a hedge trimmer, pole saw and chainsaw. A backpack sprayer can be used to distribute herbicides for stubborn vegetation.
What is the cheapest way to clear land?
Clearing the land yourself is the most cost-effective way to handle this project. This will take a good amount of time, but you'll save money and reduce costs in the long run. Plus, you can sell cut trees for lumber or recycle branches for mulch.
Clearing Land: Should I Hire a Contractor?
When beginning this project, it's important to know your own abilities and how much time you have to clear land. If you are looking to clear a large area full of trees, shrubs and other structures, it's best to work with a contractor. Working with a professional will save you the pain of renting large equipment, like an excavator, and will save you time since multiple people will be working on the project. Even using a tree removal service can help streamline things since it can be challenging to remove a tree stump.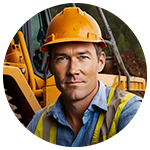 Garrett Graff, Head of Operations | Land Clearing USA
"You're almost always better off hiring a professional. They will be able to operate much more efficiently due to their experience and expertise."
 
Best Equipment to Clear Land
Choosing the right equipment for clearing land is important. Rent or buy these tools to help get rid of materials on your property smoothly.
Land Clearing Tools and Supplies
| Tools | Supplies | Large Equipment |
| --- | --- | --- |
| Chainsaw | Safety goggles | Land excavator |
| Backpack sprayer | Long pants | Disc mulcher |
| Hedge trimmer | Long-sleeve shirt | Bulldozer |
| Pruning clippers | Work gloves | Stump grinder |
| Rake | | |
| Shovel | | |
| Tamper | | |
1. Create a Plan
The amount of work needed to clear land, the tools you use and the overall cost of this job are subject to change, depending on the plot of land you're dealing with. Create a thorough plan for the work you need to streamline what needs to get done during this process.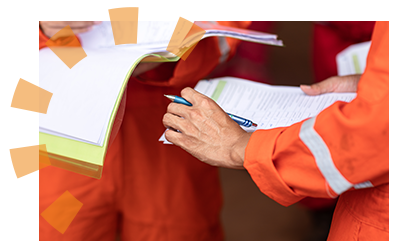 Begin by walking through the property, keeping in mind what you would like to use the area for. Take note of any large structures or trees and determine if you want to keep them. Next, clearly mark bigger trees and shrubs — most often these have complex root systems that need more equipment to handle removal.
Finally, assess the quality of the soil. Do any large rocks need to be removed? Does this land support your project? After that's complete, contact your utility company to mark where it's safe to dig.
Figuring out the answers to these steps is essential in creating a budget for your project. Without this, there's no way to know what tools and large equipment you may need. For large trees, you will probably need to request a quote from a tree removal service.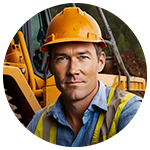 Garrett Graff, Head of Operations | Land Clearing USA
"Always be sure to check with your local County Administrators or the Department of Natural Resources to make sure the property is not in an encroaching zone. As soon as you consider starting your project, you should check with local officials. In a worst-case scenario, they could shut down the project entirely, or possibly delay your time schedule. You may end up needing engineering work done as well — much better to have this all laid out before starting your project as soon as possible."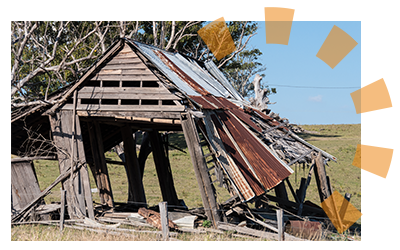 2. Demolish Existing Structures
If there are run-down structures already on the property, it's important to take them down. Whether an old shed is too small for your needs or a run down barn is crumbling on your land, old structures can easily become a safety hazard and get in the way of other plants that need to be removed.

Pro Tip
Find ways to easily get rid of excess building materials and yard waste with our disposal guides.
3. Get Rid of Trees
When cutting down large trees, consider hiring a professional or renting the equipment from a hardware store. If you have the appropriate safety gear and tools, you may be able to remove the tree yourself — enlist the help of a friend or family member to assist.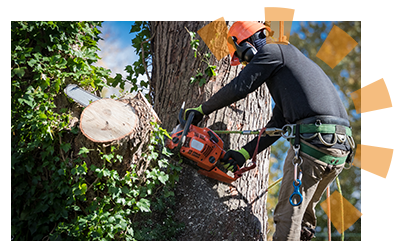 First, trim the branches with a saw and toss them aside. Work your way through the tree branches until you reach the trunk. Once the branches are removed, cut a 45-degree angle into the trunk of the tree in the direction you want the tree to fall. The notch should be one-third or one-fourth of the tree's total diameter. Cut a second notch halfway through the tree that's slightly higher than the first. Then, push the tree over from that same side to get it to fall. If the tree is too big to fall safely in one place, cut the trunk into smaller sections to remove it.

Pro Tip
To remove large stumps, use a stump grinder, mulcher or bulldozer. If the tree is small enough, use a shovel or chemicals to burn it.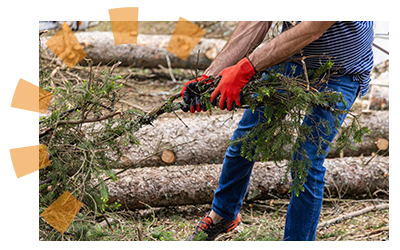 4. Clear Brush and Shrubs
For smaller vegetation, like brush or shrubs, water them a day in advance or wait for the rain to help soften the soil — this will loosen the plant roots and make it easier to tear them out. Begin by pruning back smaller branches or sections of brush with your hands, then use your trimmer, power saw or shovel for more stubborn plants.
Make sure you're wearing pants and long sleeves to protect your skin from plants, like poison ivy and poison oak, or even pests, like ticks.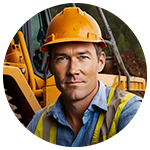 Garrett Graff, Head of Operations | Land Clearing USA
"The time it takes to clear a property depends on the density of vegetation and the types of vegetation being removed. Hardwood trees can take much longer to fall and mulch than soft trees and brush."
 
5. Level the Land
Now that the area is clear of big items, like structures and trees, and is free from smaller things, like brush, it's time to level the land. This step is important if you plan on building a structure on the property as it creates a good foundation for the rest of your project. Begin by tilling the area to loosen the topsoil and fill in any existing holes or divots with dirt. Once the land is even, you can tamp the ground down until it's solid. For larger jobs, use an excavator to streamline the process.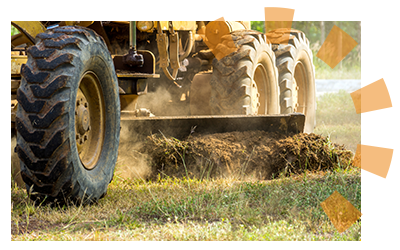 Pro Tip
If you're looking to grow grass or have a high-quality location for regrowth, mix topsoil sand and compost together to add to the top layer of dirt on your property.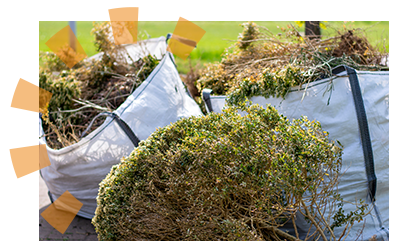 6. Toss Yard Waste
Great news, you're almost done. It's time to grab a rake and waste bags to finish clearing the rest of the debris from your yard. Pick up old leaves, trimmed brush and any leftover materials to toss in your yard waste dumpster.
Get a Dumpster for Yard Waste

Pro Tip
Looking for the best way to get rid of lumber, brush, leaves and other yard waste? Check out our yard waste disposal guide to find what disposal method makes the most sense.
Are There Any Environmental Concerns With Clearing Land?
It's important to understand the environment you're clearing and the impact that may cause, specifically when it comes to vegetation. If you plan on building a structure down the line, getting rid of too many plants at once can lead to drainage problems and cause flooding. Sometimes, if the land is too wet, you will need to add a sump pump to remove excess moisture. Just keep in mind some plants can help prevent this problem as plant roots soak up extra water.
Keeping plants can have additional benefits: Tree roots can prevent erosion to your property by adding structure to the soil and the branches provide shade, which reduces cooling costs. Remember how close these plants are to your intended structure so they don't interfere with underground piping.

Pro Tip
Take extra steps to protect the trees on your property you want to keep. Restrict access to the area with bright protective fencing and monitor the tree's health as you're working in the surrounding areas.
When Is the Best Time to Clear Land?
When starting a large project like this, it might be your first thought to start clearing land when the weather is nice, like late spring through the summer. However, the best time to clear land is actually during times when plants go dormant. Since the ground is usually frozen in the winter, it's best to start this job in the late fall or early spring. This way, you don't have to compete with new growth, but you can avoid the dangers of poison oak and ivy since you can tell what type of plants you're working with.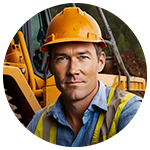 Garrett Graff, Head of Operations | Land Clearing USA
"You can clear land year-round, but it really depends on where you are in the country. If you're up north, and the ground is frozen during the winter, it can be harder to pull out stumps. On the other hand, with frozen ground, you don't have to worry about mud slowing you down, but perhaps snow!"
Garrett Graff
Garrett is the head of operations at Land Clearing USA, a nationwide network of land clearing and tree service contractors. With over 25 years of experience in the industry, Garrett is a seasoned professional who brings extensive knowledge and expertise to the industry. Starting from humble beginnings in Minnesota, Land Clearing USA has become the go-to solution for all aspects of land clearing and tree services.
 
What Do You Think?
Have thoughts on clearing land? We want to hear about it. Head over to Twitter or Facebook,
and use #dumpstersblog to join the conversation.
Need a Dumpster for Yard Waste?