Key Stats
Up to 208 Hours
Saved Per Year
165+ Dumpsters
Rented in 3 Years
45+ Service Areas
Nationwide
About This National Roofing Company

For over 100 years, this national roofing company has manufactured, installed and serviced roofing systems for commercial customers across the country. Discover how Dumpsters.com streamlined their dumpster rental process.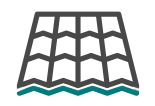 Industry: Commercial Roofing
Headquarters: Midwest
Type: Roll Off Dumpsters

The Challenge
This national roofing company relied on different suppliers in a variety of local markets across the U.S. to make sure that the necessary construction essentials arrived on the job site and on-time.
Before working with Dumpsters.com, their purchasing agent spent a significant amount of time weekly vetting haulers for their jobs nationwide. She called an average of 5-10 local haulers per project.
Without having an established relationship, reliability was always a concern as well.
The purchasing agent knew allocating this amount of time or worrying about reliability wouldn't be sustainable during peak season, so she looked for a partner that could serve all their national dumpster rental needs reliably, promptly and efficiently.
The Solution
Dumpsters.com provided this roofing contractor with a centralized and efficient roofing dumpster rental solution for any dumpsters they needed nationwide.
The purchasing agent and her team now have access to:
One dedicated account manager for any dumpster need.
Fast and flexible scheduling for dumpsters in 50 states.
Guaranteed service for container requests through their large hauler network.
"[Our account manager] does a great job, and I couldn't do what I do without him."
Purchasing Agent | National Roofing Company
The Result
Since working with Dumpsters.com, the purchasing agent doesn't need to find dumpster vendors for new jobs – a process that used to take anywhere from 1-3 hours per week.
Now, she can order dumpsters easily with an email to her account manager, who coordinates dumpster deliveries, swaps and pickups for any of this contractor's roofing jobs.
As a result, no matter how short the project turnaround she receives from her customers, she can rest assured that the dumpsters her team needs will be delivered when and where they need them – all with upfront pricing and consolidated invoicing.
"I can just send [our account manager] an email, and he responds rather quickly; I don't have to call him. It's just more convenient. I can just send him an address. I just ask him to set it up because I know what your rates are."
Purchasing Agent | National Roofing Company
Get National Dumpster Service From One Reliable Partner
Sick of Googling "roofing dumpster" for every new roofing job and calling a bunch of companies to get even just one dumpster on-site?
Work with one point of contact for all your dumpster rental needs. We'll set up the roofing dumpster rentals you want in just a few minutes.