Rock and Gravel Disposal Options for Any Yard Project
Get rid of old rocks and gravel quickly, whether the current landscaping rocks don't fit your gardening style or you're ready to upgrade to cement after removing your gravel driveway. Lucky for you, there are several options at your disposal. Can't upcycle your rocks? Consider donating them to a local landscaper. Is the pile bigger than you? Rent a dumpster to toss it all at once. Use our guide to decide which course of action is best for you.
1. Sell Them Online
Earn cash by selling your unwanted pile of rocks as you overhaul your garden or backyard. Rock and gravel are always in demand for landscaping projects, and chances are someone local could put your stockpile to good use. With some quick work, you can list it online on a popular forum. Just be sure to apply our helpful tips for selling rock and gravel to get the most of your sale.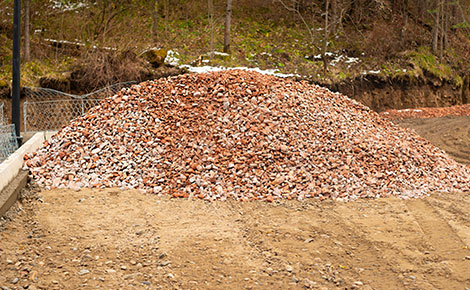 Tips for Selling Rock and Gravel Online
Use a power washer to clean off the rocks and make them more appealing to potential buyers.
Give the most accurate description you can, which includes the type of rock or gravel, amount and approximate weight. Some of the most popular rocks for resale are pea gravel, crushed granite, lava rock, river rock and flagstone.
Take plenty of pictures in indirect sunlight for the best images. This not only gives buyers a clear idea of what you're selling, but it helps your listing stand out.
The benefit to selling locally is that the buyer can pick up your rock and gravel pile for free. However, most don't want to deal with the hassle of transferring the heavy debris. Help them out by moving your pile to a pallet in advance for easier transportation.
Just don't overload the pallet since rocks and gravel can get heavy quickly. Adding too much at once will make the pallet tough to move.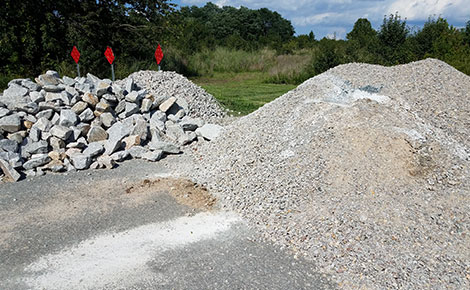 2. Donate Them
Donating rock and gravel is a smart way to get rid of it while saving space at the landfill. It's also a good option if you need to get rid of it in a hurry and can't wait for a buyer. Most local landscapers, garden centers and nonprofit resale stores will take rocks to resell or use in their property design.
Rock and Gravel Donation Tips
Contact your local Habitat for Humanity ReStore or similar charity to see if they accept rock and gravel before you make a trip. Some centers may even pick it up for free.
Transportation Preparation
If you're driving the rocks to donate yourself, use an open air trailer, like a utility trailer, to transport gravel and a square-shaped shovel to load it.
3. Repurpose or Upcycle Them
Landscapers aren't the only ones who benefit from repurposing rock and gravel. Your yard can benefit from upcycling these materials, too. With ideas like updating a garden bed, xeriscaping a lawn, creating a backyard path, bordering a pond and adding function and appeal to potted plants, you can transform your lawn into an oasis and save money in the process.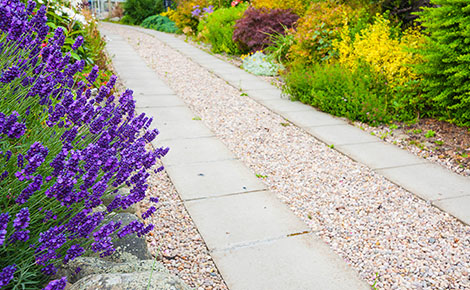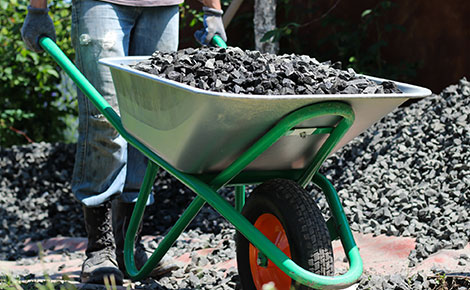 4. Hire a Junk Removal Service
Junk removal services are an option to consider when you have a lot of rock and gravel to dispose of. Keep in mind that you are charged by the truckload, so it may not be the most budget-friendly option. With rock and gravel being a heavy debris, it could take multiple truckloads to get everything hauled away since most junk removal companies will only allow a small amount in the vehicle due to weight limit restraints.
Dumpster Rental vs. Junk Removal Company for Rock & Gravel Disposal
Junk removal trucks have a much lower capacity for heavy loads. They can only handle approximately 1.75 tons or 3500 lbs at a time, which is roughly 1 cubic yard of rock and gravel. In contrast, a 10 yard dumpster holds nearly 10 tons or 5.5 cubic yards of rock and gravel. Additionally, hiring someone means you only get an estimate of the total cost, so you don't know what your final bill will be until the job is complete. You will receive an upfront quote that details the exact amount owed with a dumpster rental, leaving you with no surprises at the end.
5. Rent a Dumpster
You can typically toss rock and gravel in a roll off dumpster for easy disposal since curbside collection isn't an option. To make sure rocks are accepted in your area, simply reach out and we'll walk you through the process and any restrictions. With a dumpster rental, you can work at your own pace and toss heavy debris as you go. Plus, you don't have to worry about driving it to the landfill yourself.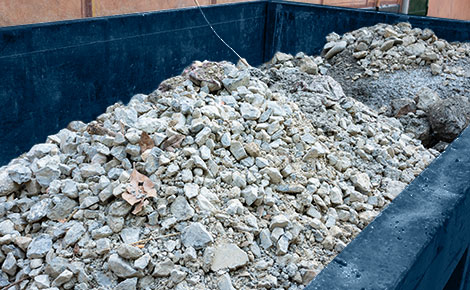 Search Dumpster Services Near You

Safety Tip
Move heavier rocks first with a wheelbarrow, then use a proper shovel, specifically square-shaped and light-weight, to make it easier to handle gravel and other small rocks as you load the dumpster.
6. Take Them to a Landfill
If the convenience of a dumpster doesn't grab you, you can also transport unwanted rock and gravel yourself. Similar to donating, you'll need to rent a truck bed or open air trailer if you don't already own one. It's beneficial to have it available before you start so you can load it as you work instead of having to move the heavy pile twice. Just be sure to check with the local landfill first and ensure they take rocks or you may find yourself driving out of your way to discard it.
Rock and Gravel Disposal FAQs
How much does a cubic yard of gravel weigh?
A cubic yard of gravel weighs approximately 2,700 lbs or just under 1.5 tons. However, exact weight measurements may vary due to some materials being more dense than others.
How much does a cubic yard of rock weigh?
The weight of a cubic yard of rock depends on what type it is:
Pea gravel: 1.3 tons per cubic yard
River rock: 1.2 - 1.35 tons per cubic yard
Lava rock: 0.65 - 0.75 tons per cubic yard
Crushed granite: 1 - 1/2 tons per cubic yard
Can I throw away dirt and yard waste with rocks and gravel?
If you rent a dumpster primarily for dirt or organic yard waste, you may not be able to throw rock away along with it. However, if you rent it for rock disposal, it may not matter if some dirt or yard waste is in the bin too. Don't worry — we'll go over any restrictions or special notes when you set up your order.
Keep in mind, rules vary by location.
Can I fill a dumpster up all the way with rock or gravel?
No, it isn't safe to fill an entire dumpster full of rock or gravel due to roadway weight regulations. You could also incur an overage fee if you go over the allotted weight limit, which is easier to do with heavy debris. Please don't overfill the bin and reach out if you have any questions as you load it.
What size dumpster do I need for rock and gravel disposal?
10 yard dumpsters are the most common dumpster size used for rock and gravel disposal. This container holds up to 10 cubic yards of debris in volume, which is about 50-70 contractor style 33-gallon trash bags. When you need to toss heavy materials, like rock and concrete, the 10 yard dumpster is a great waste removal option.
More Rock and Gravel Removal Resources
Getting rid of more than just rock and gravel? Don't worry — we'll take you through the disposal process for all your outdoor and indoor materials. Check out our disposal guides, useful articles and blog posts to learn more.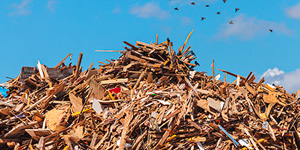 Bulk Waste Disposal Guides: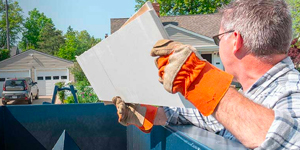 Dumpster Rental Tips: