Dirt Disposal Options for Any Yard Project
How do you throw away dirt you don't need? There are many ways to get rid of dirt, like giving it away to a community garden or talking to a local landscaping company. Each method has advantages and disadvantages, so you can decide what's best for you. What if your soil is contaminated? Find the solution below. From backyard remodels to worksite excavations, learn how to properly dispose of dirt that mutually benefits you and the environment.
1. Give It Away
If you have excess dirt you need to get rid of, consider giving it away to a neighbor or local DIY outdoor enthusiast. Plenty of people in your community need dirt for their gardens and landscaping projects, whether it's for a home, business or shared city space. Start by advertising in a popular online forum, such as Facebook Marketplace and Craigslist, or contact a nearby community center to see if they need dirt for an upcoming project. You may even get someone to pick up dirt for free.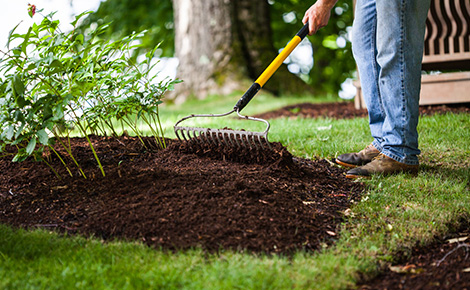 Dirt Donation Tips
Be Transparent When Listing
Make it clear what type of dirt you're giving away (what it was used for—planter box or foundation), approximately how much of it there is and whether or not it's been tested for contaminants.
Transportation Preparation
For a smoother ride, dry out wet soil before transporting and lightly spray down dusty dirt to keep it from blowing out of the truck bed.

Pro Tip
Tossing other yard debris? Our yard waste disposal guide is a convenient way to learn how to get rid of it quickly and efficiently.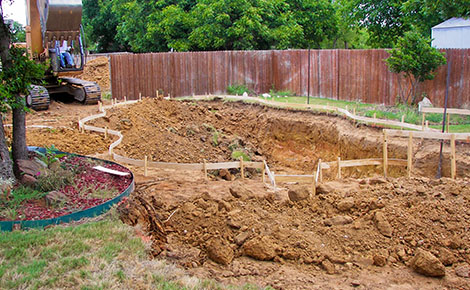 2. Repurpose It
Repurposing dirt is great if you're tackling other outdoor projects at your home or business. If you have a lot of dirt from an underground pool you're installing, for example, use it to create a new multi-level garden or update existing garden beds and potted plants. Designate a foundation to build a playground area for your kids or lay out a driveway with the leftover dirt from your porch remodel. The possibilities are endless, and the best part — there's no stress in planning how to get it off your property.
3. Contact a Landscaping Company
Contact a local landscaping company or garden center to get quotes for dirt removal. They may even come pick it up for free, depending on the quality, amount you have and its accessibility. Alternatively, you can reach out to new builders to see if they'll take dirt. Just keep in mind they only use clean soil (to properly support a foundation), so costly testing may be required by your state in order to unload it at a worksite.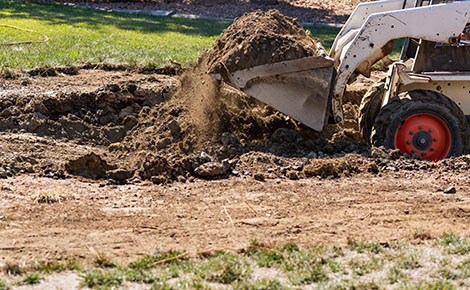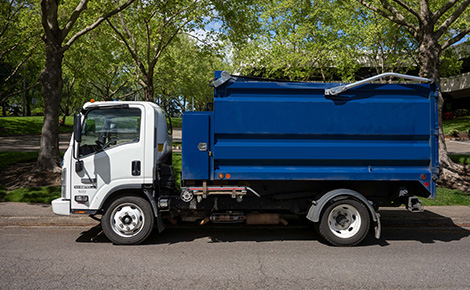 4. Hire a Junk Removal Service
There are some junk removal companies that haul dirt away. However, this can be a costly alternative to other options and you risk not getting your money's worth if you don't have enough dirt to fill up a truck. On average, dirt removal costs $140 to $180 per ton. The cost to remove fill dirt is $140 to $230 per cubic yard. Overall, the cost to haul off dirt is approximately $1,400 to $2,300 per truckload, plus labor fees.
5. Rent a Dumpster
A roll off dumpster rental is one of the most practical and cost-efficient dirt disposal options available. Often less expensive per pound than other methods, the national average cost for a 10 yard container is $391. That's our upfront cost with all delivery and disposal fees included. You can typically rent the dumpster for a 7-10 day period, but if you need it longer, you can request additional days for a low daily rate. Simply load the bin as you work and, once you're finished, reach out and have it hauled away for you.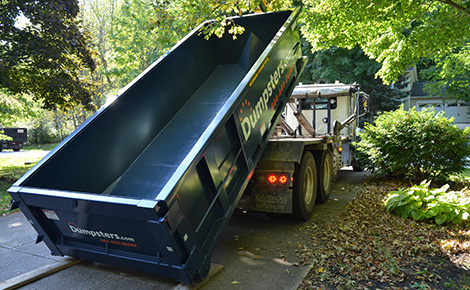 Search Dumpster Services Near You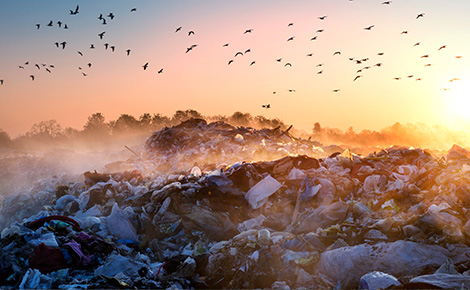 6. Take It to a Landfill
Transporting dirt to a local landfill is an option if you have the equipment, like a trailer or open-bed truck, and the time to make several trips. However, not all landfills accept soil so always call ahead to confirm that they do before you drive over. Also ask them if they'll charge you. The average cost to dump dirt yourself at a landfill is $30 to $50 per ton, and some landfills have minimum fees.
Contaminated Soil: What It Is and How to Dispose of It
Contaminated soil is when any substance in the soil that exceeds normal, natural levels and poses human health risks or environmental hazards. Urban soil and leftover dirt from an industrial site are the most likely to be contaminated. Common contaminants in soils include:
Lead
Radon
Asbestos
Arsenate
Creosote
Pesticides
Chromated copper
Petroleum products
For this reason, soil testing may be required to be sure it's safe before disposing of or moving. Check with your city on regulation requirements or hire a geotechnical engineer to test your soil if you know it has to be tested.
Who Can Test My Soil?
You can order soil tests online or at a local hardware store. You can also contact local soil testing labs or a local university. Go one step further and hire a soil engineer to ensure your soil tests are completed according to local rules and regulations, especially if you're repurposing dirt for a building foundation.
Who Can Take Contaminated Soil?
Soil remediation or recycling companies can sometimes take contaminated soil. Reach out to your local recycler for more information.
How Much Does Contaminated Soil Disposal Cost?
Contaminated soil removal and soil remediation costs are $140 to $450 per ton on average if dumping in a RCRA-permitted landfill for hazardous waste. Soil remediation may involve decontamination and reuse of soil rather than disposal.
A soil test costs $25 to $200 to confirm the extent of contamination.
An underground oil tank removal costs $800 to $3,400 to prevent soil contamination from stored oil.
More Dirt Disposal FAQs
How much does dirt weigh?
Typically, loose, dry dirt weighs 74 - 100 lbs. per cubic foot and up to 2,000 lbs. per cubic yard. Wet, compact soil weighs 93 lbs. per cubic foot and 3,000 lbs. per cubic yard on average. Keep in mind that different soil types, like rocky and sand, affect these numbers.
Can I throw away dirt and rocks together?
In general, it is best to keep rocks separate from other debris when disposing of them. This will make it easier for a facility to recycle the debris. However, if you're throwing away yard waste, it can typically be tossed in a roll off dumpster at the same time — just be sure to reach out first if you're uncertain about local restrictions.
Learn how to easily toss rock and gravel if you can't dispose of it with your dirt pile.
Who will take dirt for free?
Contractors and DIY homeowners will often take dirt to use in projects. To reach them, list your soil on popular sites, like Craigslist, Facebook Marketplace and Freecycle. Offering free pickup or delivery may help you get rid of the dirt quicker. Just be clear whether or not your soil has been tested for contaminants.
What is the difference between topsoil and fill dirt?
Topsoil is dirt that's enriched with nutrients to benefit grass and gardens. Fill dirt is a combination of natural materials — rock, sand, clay — to fill in a hole, act as a foundation or to change property elevation. Since topsoil is generally more valuable than fill dirt, be sure to advertise what it is and you'll likely be able to get rid of it quicker.
Noel, Sarah. Dirt Removal Cost. (2023, April 5). Retrieved from Homeguide.com
How Much Does Dirt Weight | in Cubic Feet. (2022, March 17). Retrieved from DreamCivil.com.
More Landscaping Project Resources
Getting rid of more than just dirt? We'll walk you through the disposal process for all your outdoor debris and indoor junk. Check out our disposal guides, helpful articles and blog posts to learn more.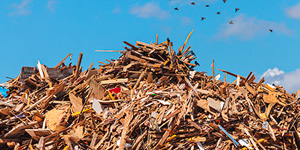 Bulk Waste Disposal Guides: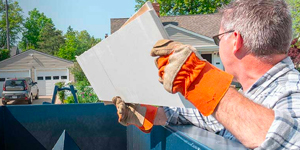 Dumpster Rental Tips: