Dirt Dumpster Rental
Check available dumpsters near you

Dumpsters for Dirt Removal
We keep your toughest jobs rolling with reliable dirt dumpsters for landscaping projects, new construction and any other job that requires you to move ground. We'll haul away your dirt promptly, and you can count on us to arrange additional bins for other debris from your project. Whether you're digging a foundation or regrading a lawn, leave the soil removal to us.
We Work With:
Excavating crews.
Residential DIYers.
Construction companies.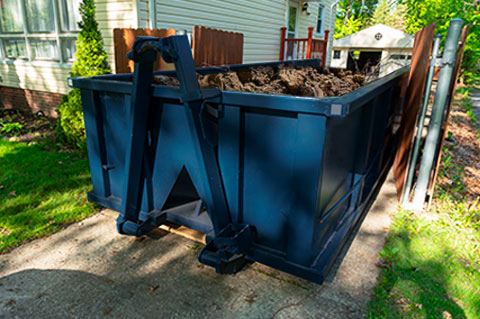 Need Dumpsters Often? Let Us Handle the Dirty Work
When you're tossing dirt as part of a larger project, we're up for the challenge. Our dedicated team coordinates as many containers as you need across multiple jobsites. We even offer live load service to keep your projects moving.
Call 877-778-8440 to speak with a dirt disposal specialist.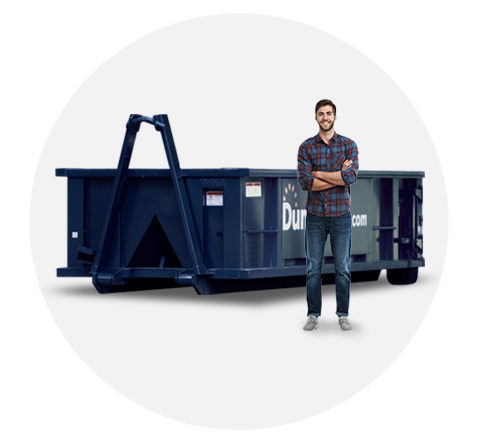 Our Most Popular Dirt Dumpster Size
The 10 yard dumpster is the most common size available for dirt-only loads. This is the best option to help you stay within the weight limit and avoid overage fees.
Typical Weight Limit: 10 tons or 20,000 pounds
Average Cost: $300 to $794
Prices vary depending on location and may fall outside of this range.
Not sure if this is the right bin for you? Our range of roll off container sizes are built to handle any size project.
Streamline Dirt Removal From Your Yard or Job Site
Save Time
Never search for a dirt hauling company near you again. Get a single point of contact for soil disposal at all of your jobs.
Expansive Inventory
Find containers when and where you need them. We'll ensure you get the right solution to handle all of your debris.
Prompt Delivery
We'll send a dumpster to you ASAP so you can get dirt out of the way. All it takes is a quick call.
Rent a Dumpster for Dirt Disposal
Why Are You Moving Ground?
Our dirt dumpsters will help clean up after a variety of jobs. If you're removing soil from your yard or getting rid of dirt as part of a larger project, we'll make sure you have the containers you need.
Best for Projects Like:
Drilling
Grading
Excavations
Landscaping Jobs
Digging Foundations
If you're tossing other weighty materials, you'll need a mixed-heavy debris dumpster. If you have other construction debris to get rid of, we may recommend multiple dumpsters to avoid extra costs at the landfill.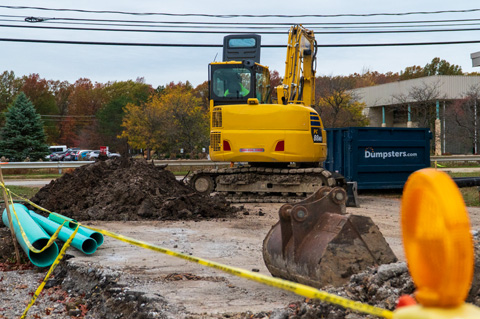 Can you put dirt in a dumpster?
Yes, dirt and other yard and construction debris can typically be put in a dumpster. However, many rock yards require dirt to be as clean as possible, meaning that a load with tree roots, stones or grass can be rejected or result in overage fees. If the dirt can't be repurposed as topsoil, it would be hauled to the landfill and you'd be charged for disposal by the ton.
How much does dirt removal cost?
The average cost to rent a 10 yard dumpster for dirt is $300 to $794. Keep in mind that prices may vary depending on your location. Our team will review any restrictions in your area to help you avoid additional charges.
Where to get rid of dirt?
There are several places to dispose of dirt including C&D recycling centers, dump sites, donating to local landscapers or listing a free pickup on online marketplaces. Keep in mind some locations may require a permit to give dirt away to another property. One of the easiest ways to get rid of dirt is to rent a dumpster so it can be hauled to the appropriate facility.
What can I do with extra dirt?
Leftover dirt can be used on your property to fill holes, build flowerbeds, create compost piles or construct berms. As a reminder, some localities prohibit you from selling or giving away dirt to another property unless you have a permit.
How to Avoid Dirt Disposal Fees
Let Us Know What You're Tossing
Some landfills will only accept dirt if it is separate from other materials. If you also need to toss concrete or other demolition debris, we'll make sure you have the right bin to handle it.
More Resources for Soil Disposal
Looking for tips to handle a specific project? From attracting new landscaping clients to cleaning up your yard at home, we have you covered.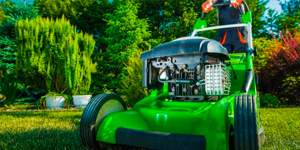 For Professionals: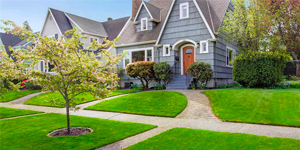 For Homeowners: