Trash Container Sizes for Your Business
Every business needs a reliable way to get rid of trash. That's why we provide a range of commercial dumpster sizes with customizable service schedules and quality customer support. Learn the dimensions and capacity of each of our containers to find the best fit for your needs.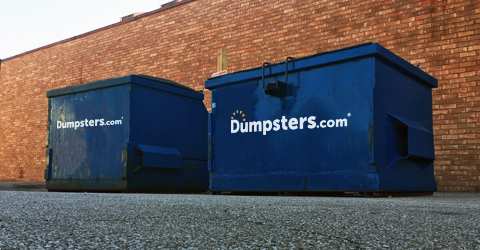 Connect With a Waste Disposal Expert
Finding the Right Front Load Dumpster Size
When you call to set up trash pickup for your business or property, our team will ensure that you get the correct garbage dumpster size to handle the total volume of waste generated between your scheduled collection dates.
Commercial Trash Dumpster Sizes
The typical dimensions of our commercial dumpsters vary based on the total volume of each unit. Use the sizing information below to determine which is the best fit for your business.
| Front Load Size | Average Capacity | Typical Dimensions |
| --- | --- | --- |
| | 24 kitchen-sized trash bags, 400-pound weight limit | 6 feet long x 3 feet wide x 3 feet tall |
| | 48 kitchen-sized trash bags, 800-pound weight limit | 6 feet long x 3 feet wide x 4 feet tall |
| | 72 kitchen-sized trash bags, 1,200-pound weight limit | 6 feet long x 5 feet wide x 6 feet tall |
| | 96 kitchen-sized trash bags, 1,600-pound weight limit | 6 feet long x 6 feet wide x 7 feet tall |
Available sizes may vary by location.
See Which Trash Bin Dimensions Fit Your Business
We provide a range of commercial dumpster options to manage any size waste stream. Find more details about each of our containers below to determine the best option for you.
Small Permanent Dumpster Sizes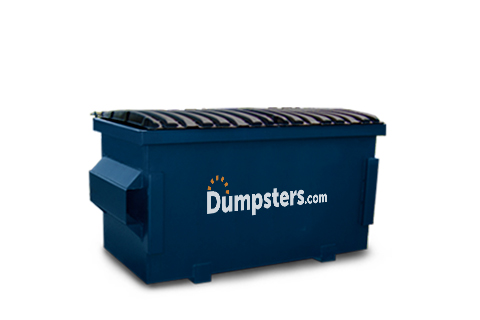 2 Yard Dumpster
A 2 cubic yard commercial dumpster is generally rented by small volume businesses, such as offices with less than 20 employees and restaurants serving roughly 100 customers a day. These front load dumpsters are easily placed on properties of any size.
A 2 yard bin is usually best for:
Boutiques
Small offices
Coffee shops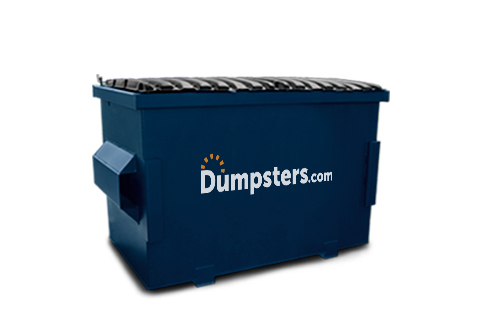 4 Yard Dumpster
These containers are designed for medium-sized businesses, including companies with up to 100 employees and rental properties with less than eight units. This trash dumpster size is also a good choice for retailers, entertainment venues and government offices occupying less than 5,000 square feet.
A 4 yard bin is usually best for:
Convenience stores
Mid-size restaurants
Small apartment complexes
Need more than one container to handle your trash? We can set up your rental agreement for multiple containers, with the freedom to mix and match dumpster sizes to get the right fit for your waste stream.
Large Commercial Container Sizes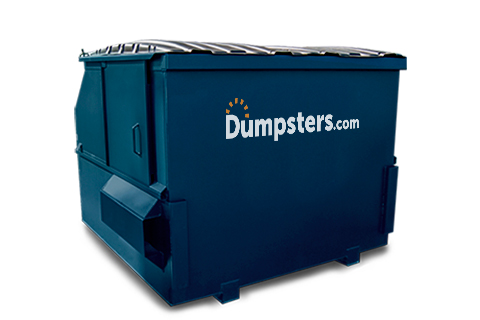 6 Yard Dumpster
This is a bigger commercial dumpster with dimensions that typically measure six feet in length and height. The higher volume can accommodate schools, retail spaces of up to 10,000 square feet in size, as well as office spaces occupying up to 15,000 square feet. Most customers choose to keep these larger trash dumpster sizes in an enclosed area separated from their parking lot and service entrances.
A 6 yard bin is usually best for:
Hotels
Large offices
Retail plazas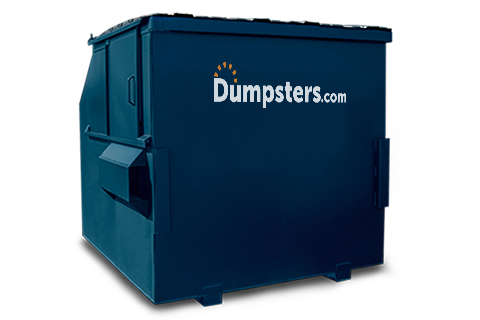 8 Yard Dumpster
This is the largest commercial dumpster size available. These trash bins are typically used by universities, apartment complexes, hotels and large retailers occupying up to 25,000 square feet. Offices with up to 500 employees can also typically handle their weekly trash with a single dumpster this size.
An 8 yard bin is usually best for:
Grocery stores
Shipping centers
Manufacturing facilities
Expect More From Your Commercial Trash Service
We take the time to learn the specifics of your business to help you find a container that's up for the job. No matter how much garbage you toss daily, our skilled team is here to make those cardboard boxes and food scraps the least of your worries.
Reliability
When you rent from us, you can expect your trash pickups to stay on schedule. With our consistent waste management service, you won't have to worry about missed collections or overflowing containers.
Flexibility
We offer a range of commercial dumpster sizes for waste streams big and small, making it easy to keep up with your daily operations. And if you need to update your agreement as your business changes – just give us a quick call.
Expertise
Our professional team is easy to reach, well-versed in serving commercial customers and values your time. We pick up the phone fast to get your daily trash under control in just a matter of minutes.