15 Cubic Yard Dumpster Rental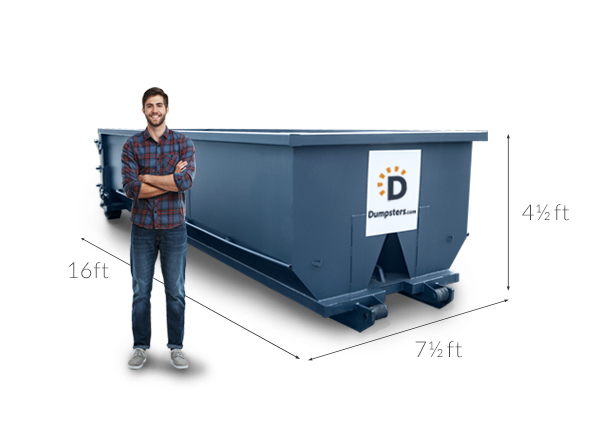 Average 15 Yard Price Range:
$252 - $609
Call Now for Pricing in Your Area


844-444-3867
How Big Is a 15 Yard Dumpster?
Dimensions - 16 feet X 7.5 feet X 4.5 feet.*
Volume - 15 cubic yards of material. Dumpster sizes are named based on the cubic yards of debris they can hold.
Weight Limit - Generally accommodates 2-3 tons (4,000-6,000 pounds). The average toilet weighs 100 pounds, so keep in mind that the weight of your debris can add up quickly.
Please note: weight limits vary by location. Call us for details.
Other Notes - A mid-size dumpster that is easy to maneuver and fits in most driveways and small spaces.
*Exterior dumpster dimensions may vary by manufacturer, but the total volume is accurate.
When you're working on a small to medium-sized project that leaves too much debris to haul yourself, a 15 yard container is often the perfect solution. To learn more about renting a 15 yard roll off dumpster and if it's the right size for your junk removal project, check out the information below or give us a call now for an immediate quote.
Common Projects for a 15 Yard Dumpster
A 15 yard container may be a good option if you are working on a modest home improvement project, but don't have driveway space for a large dumpster. For example, this box is often used for these projects:
Our 15 yard rental can also be used as a heavy debris option in select service areas. If you have a small amount of heavy material, such as asphalt, dirt or concrete, you can dispose of it in our 15 yard roll off containers.
If you're not sure if a 15 yard dumpster is what you need, use our weight calculator to estimate the correct size for your project. Our friendly and knowledgeable customer service team can also help you understand which size is best based on the type and amount of debris involved.
If you end up needing a different size, we also offer these dumpster size options:
Size
Information
10 Cubic Yards
Dimensions: 14 feet x 7.5 feet x 3.5 feet
Weight Limit: 2 - 3 tons
20 Cubic Yards
Dimensions: 22 feet x 7.5 feet x 4.5 feet
Weight Limit: 3 tons
30 Cubic Yards
Dimensions: 22 feet x 7.5 feet x 6 feet
Weight Limit: 3.5 - 5 tons
40 Cubic Yards
Dimensions: 22 feet x 7.5 feet x 8 feet
Weight Limit: 5 - 6 tons
*Please note: weight limits can vary by location.
**Exterior dumpster dimensions may vary by manufacturer, but the total volume is accurate.
Whatever you're looking to throw away, Dumpsters.com is a convenient and reliable way to get the job done.
Set Up Your 15 Yard Dumpster Rental Today
Call us today to order a 15 yard dumpster. Looking for something else? Dumpsters.com also offers commercial front load dumpster service to businesses and organizations with more regular trash disposal needs.
Talk to a Dumpsters.com Service Specialist.
Delivery Guidelines to Follow for a 15 Cubic Yard Dumpster
Follow these general guidelines to avoid additional fees when renting a dumpster:
Account for Space: Ensure you have approximately 50 feet of driveway space to accommodate the delivery.
Remove Obstacles: Check that the delivery area is free of any obstructions, including cars, tree branches or low-hanging wires. About 18 feet of vertical clearance is needed.
Research: Scope out your designated placement location. If you have any concerns, please call us and our customer service team will assist you.
Factor in Weight: Be mindful of the weight limit of a 15 yard dumpster. It's important to stay within that limit to make sure you're getting the most efficient dumpster rental service possible.
Beware of Prohibited Items: Avoid putting any hazardous material in your dumpster that can result in extra fees.