15 Yard Roll Off Dumpster Rental
Check available dumpsters near you

What Is a 15 Yard Dumpster?
A 15 yard roll off dumpster makes waste removal easy, whether you're working on a smaller project like a bathroom remodel or need to throw away heavy debris like shingles, concrete or dirt. Give us a call to learn more about this container and get a free quote.
Need dumpsters for a jobsite? Our account managers will 
coordinate your deliveries at no extra cost.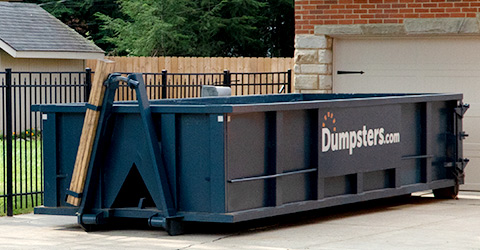 Check Available Dumpsters Near You
What Are the Dimensions of a 15 Yard Bin?
Standard 15 yard dumpster dimensions are 16 feet long x 7.5 feet wide x 4.5 feet high. The exterior dimensions may vary by manufacturer, but the total volume will remain the same. This size typically holds up to 15 cubic yards of debris, or about 80-100 contractor-sized, 33-gallon trash bags. This is a medium dumpster size and fits comfortably in most driveways.
Price of a 15 Yard Dumpster
The average national cost of a 15 yard dumpster is $417.69, but prices generally range from $253-$607, depending on your location and the type of debris you're throwing away. When you call, you'll receive an all-inclusive price that covers delivery, pickup, local landfill fees, disposal costs and a covered weight limit.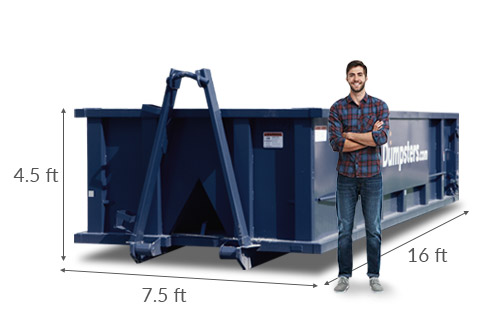 Weight Limit Included in Our Price
We typically include a covered weight limit of 2-3 tons with our 15 yard dumpsters. That's the equivalent of 4,000-6,000 pounds. Disposal costs for this amount of debris are generally included in your bundled price. Please remember that the weight of your junk can add up fast. For example, the average toilet weighs about 100 pounds. Check out our dumpster weight guide for more information.
15 Yard Dumpster FAQs
How much does it cost to rent a 15 yard dumpster?
The average price of a 15 yard dumpster is $417.69, typically ranging from $253 to $607, but the exact price will depend on your location and debris type you're tossing. Our rates bundle delivery, pickup, taxes, disposal and a generous weight limit.
What will fit in a 15 yard dumpster?
A 15 yard container can hold about 80-100 contractor-size, 33-gallon trash bags or four truck beds of waste.
How much weight can you put in a 15 yard dumpster?
Our standard 15 yard dumpster holds about 2-3 tons, or 4,000-6,000 pounds, of trash. However, special-use containers for debris like dirt or concrete will generally have a higher weight limit specified in your agreement. For your convenience, disposal costs for your specified tonnage are included in your rate.
How big is a 15 yard dumpster?
A 15 yard dumpster is typically 16 feet long, 7.5 feet wide and 4.5 feet high. While the exterior dimensions of the bin may vary by manufacturer, the total volume will remain the same.
How long is a 15 yard dumpster?
Our 15 yard bins are typically 16 feet long, 7.5 feet wide, and 4.5 feet high. For perspective, that is about the length of a mid-sized SUV. If you have questions about how this dumpster size will fit on your property or jobsite, contact our team of specialists for assistance with proper placement.
What does a 15 yard roll off dumpster look like?
15 yard containers are rectangular with an open top. There are wheels on one end so the dumpster can roll off the delivery truck without damaging your property. A 15 yard container reaches 4.5 feet high, or average shoulder length, and is specifically designed to sit in a driveway or on a construction site.
Why Contractors Love Us
Expert Help
We'll assign you a dedicated account team to handle all your needs. Just reach out with any questions or specific requests.
Seamless Billing
We provide upfront, bundled prices along with regular insights to help you stay on budget and track costs at active jobsites.
Nationwide Reliability
Plan for hassle-free waste removal with our unmatched reliability. Read success stories from some of our partners.
Is a 15 Yard Container Right for Your Project?
Construction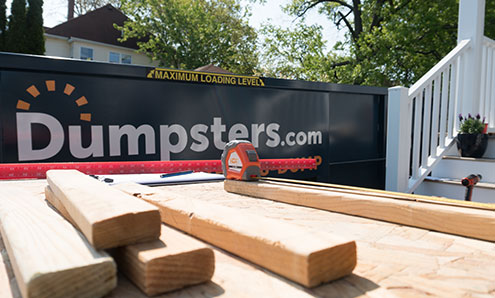 Contractors, homeowners and remodeling companies use our 15 yard roll off dumpsters to remove debris from renovation projects like:
Remodeling a laundry room.
Removing walls, flooring and carpet.
Construction dumpsters take a range of remodeling materials, including:
Wood
Carpet
Flooring
Plaster & Drywall*
Cabinetry & Countertops
---
Typical Weight Allowance: 2-3 tons
Home Cleanouts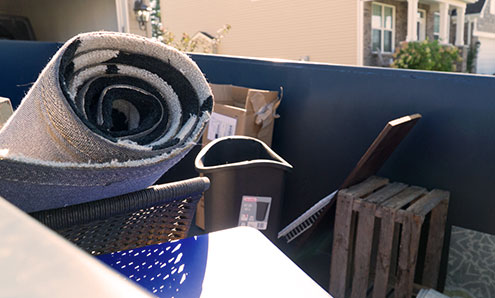 If you're cleaning out a home or a large room, a 15 yard bin is great for:
Cleaning out a basement.
Removing junk from a garage.
Decluttering bedrooms and an attic.
These containers accept a variety of items from home cleanouts, including:
---
Typical Weight Allowance: 2-3 tons
Outdoor Projects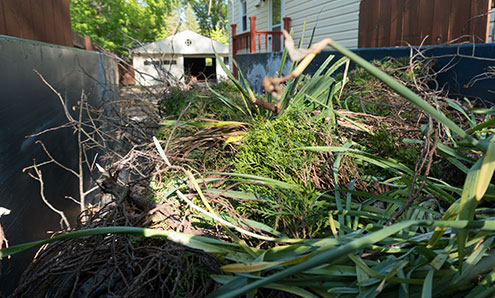 Whether you're repairing a sidewalk or removing yard waste, a 15 yard container can handle a variety of outdoor projects like:
Removing old shingles.
Breaking up a paver patio.
Clearing debris from a yard cleanup.
Heavy debris is accepted in these bins, including the following waste types:
Brick
Block
Asphalt*
Concrete*
---
Typical Weight Allowance: 10 tons
Please note that covered weight limits and accepted items may vary by location. Call us to check accepted materials in your area.
Order a Dumpster for Any Project
Delivery and Pickup Tips
When you order a 15 yard dumpster, we'll ask for detailed delivery instructions so we can place the container in a convenient location, even if you can't be there. To ensure smooth drop-off and pickup, stick to the following guidelines.
Pick a Location:
Clear about 60 feet of space for the delivery truck to back in. We also need about 23 feet of height and 11 feet of width to ensure seamless delivery.
Remove Obstacles:
Ensure that vehicles, tree branches and wires aren't blocking the placement area. Also, unlock any gates or provide access codes.
Don't Overload the Bin:
Make sure not to overfill the dumpster. If debris sticks out the top, it can't safely be transported to the landfill and you will be charged a trip fee.
Schedule Pickup:
Contact our team before the end of your rental period to schedule removal. You can schedule a pickup online.
Remember to Ask About Permits
If you need to place the dumpster in a public right-of-way like the street, you'll most likely need a permit approved by your local government. If possible, we'll take care of the permit for you and add the cost to your bundled price. However, most cities require the homeowner or contactor to apply for permits.
When you call, we'll let you know if you need a permit and whether or not we can handle it for you.