Recent Flooring Industry Statistics
Residential Flooring Trends in The United States
Choosing the right floors for your home is a big commitment, and we noticed it's a job many homeowners take on when they rent a dumpster from us, so we decided to dig in and learn more about these projects. From hardwood and carpet to vinyl and tile, we polled Americans who completed flooring projects to find out why they decided to replace their floors, which materials they used and the average cost. Some of our findings surprised us. Take a look and see if you find them interesting, too.
37% of US Homeowners completed a flooring project in the last 12 months.
We learned that flooring removal and installation is popular not only with our customers but across the country. Choosing the right floors is so important to American homeowners that more than a third took on the job in the last year.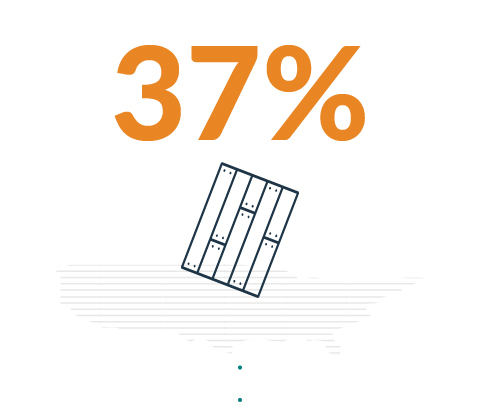 One fifth of the people who replaced their floors rented a dumpster for debris removal.
While 21% of respondents rented a dumpster and had a disposal company haul away the debris, over a quarter added an extra step by taking it to the landfill themselves.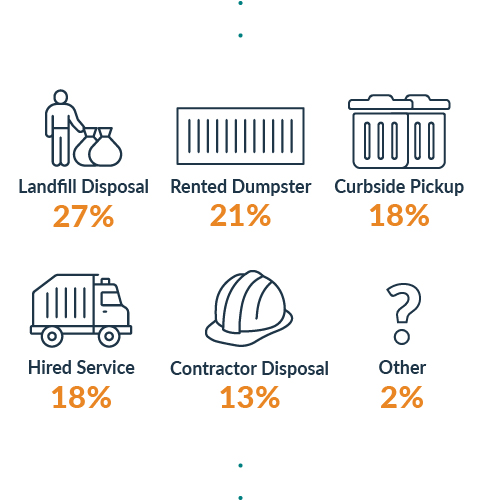 Surprisingly, over a quarter of respondents were renters.
While homeowners took the biggest piece of the pie (54%), it's interesting that so many people chose to tear up or fix their floors when they didn't even own their property.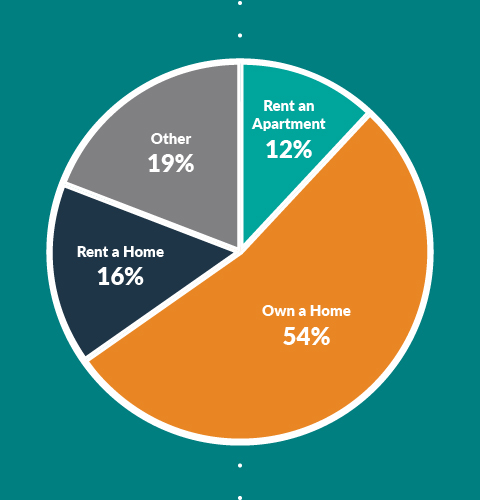 Most floors were damaged, but some families replaced theirs to fit a new lifestyle.
While almost everyone who changed or improved their floors said it was to fix worn out materials or update their décor, 18% were also improving their floors to accommodate new children or pets, and 12% were giving their homes a face lift to increase their chances of selling.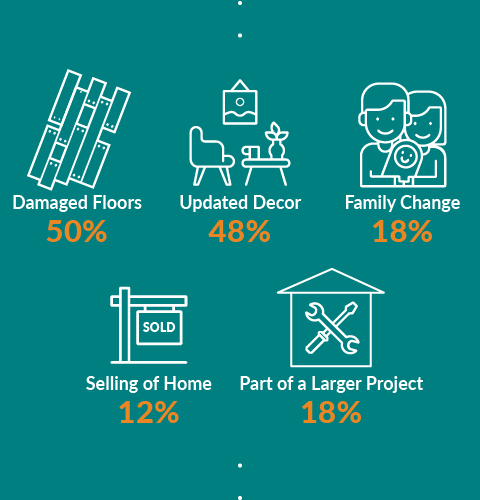 Hardwood was the #1 material used to replace the old floors.
No matter what the need, wood floors were the most popular choice across the board. Carpet was the second-most popular material, and ceramic, vinyl and laminate were all within 1% of each other.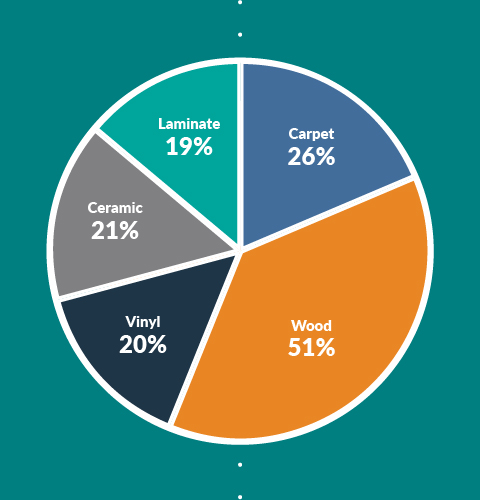 Why hardwood? 54% of survey participants wanted low-maintenance floors.
Easy to maintain was followed closely by indoor and outdoor use (53%), comfort (52%) and durability (51%).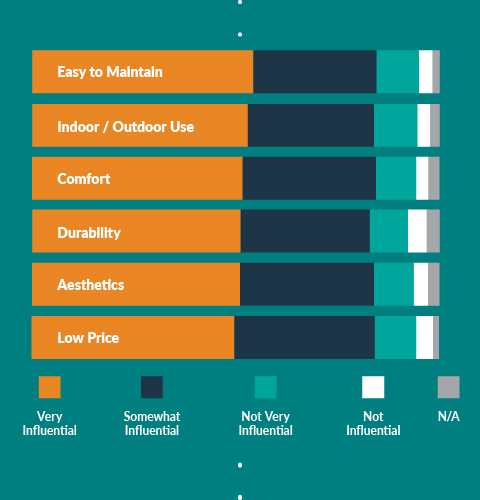 Interestingly, carpet took the floor in basements.
While hardwood was the primary choice in all other rooms, carpet was preferred in the basement where 35% of respondents chose this material over the mere 9% who picked wood.
Surprisingly:
6% put carpet in the kitchen.
2% put carpet in the bathroom.
People put down hardwood more often than carpet in bedrooms and living rooms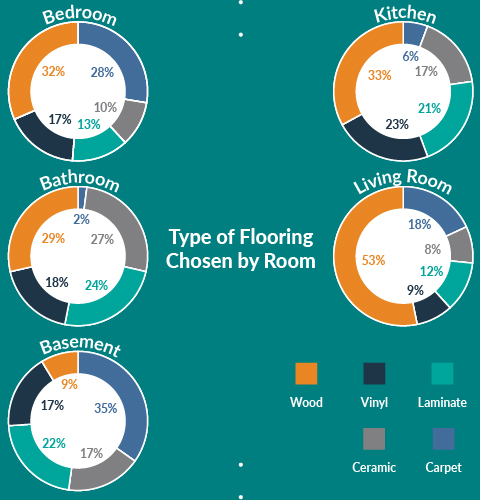 Most flooring projects involved multiple rooms.
Almost 60% of all projects at the very least involved some work to the kitchen floor. Other spaces like hallways, dining rooms and laundry rooms made up just 4% of all flooring projects.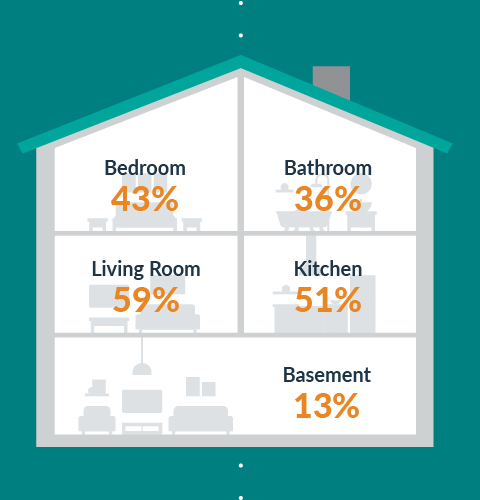 More than one-third of flooring projects cost $1,000 or less.
Putting in new floors is less expensive than you might think. The average price per room was just $1,238.
This amount lines up with the 28% of people who spent between $1,000 and $2,500 on a flooring project, the most common cost range. Just one percentage point behind, 27% spent between $500 and $1,000, and 9% cost just $500 or less. The most expensive projects (14%) had a total spend of $5,000 or more.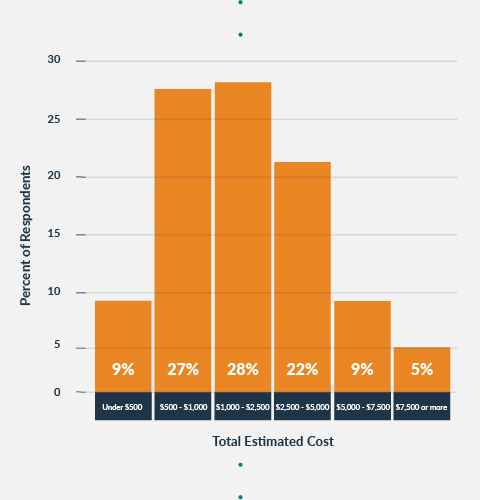 The cost may be lower than expected because 41% of respondents were DIYers.
While many received help from a contractor or a friend, 41% tackled the project themselves.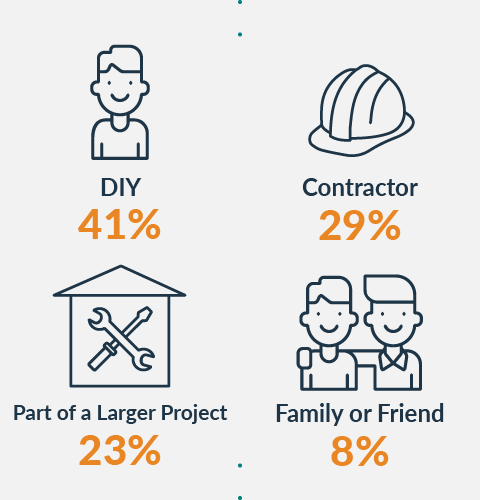 Carpet was the least-expensive material to use for a flooring project.
People spent the most money on ceramic flooring, but it was one of the least-used materials. The most popular choice, wood, was the second-most expensive material and cost about $1,970. Carpet held the lowest price per project at an average of $1,656.
The average costs included refinishing and repairing projects, as well as replacements.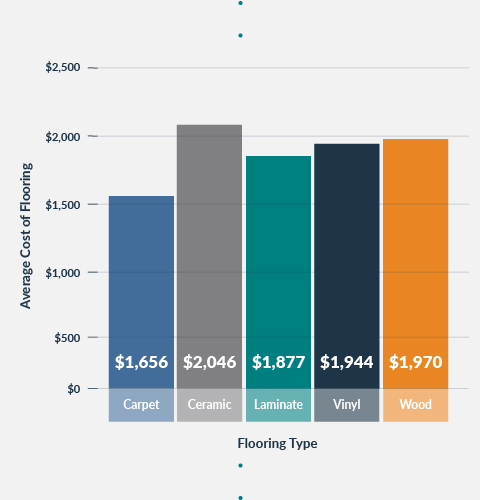 Households with new children or pets tended to spend less on flooring.
Projects involving family changes cost less than $1,000 43% of the time. On the other hand, putting in new floors as part of a home improvement project averaged higher costs.
Here's what most people spent depending on their need for new floors:
Family situation changed: 34% spent $500 - $1,000
Floors were damaged: 32% spent $1,000 - $2,500
Update to décor: 78% spent $500 - $5,000
Getting ready to sell: 32% spent $1,000 - $2,500
Part of a larger project: 53% spent $1,000 - $5,000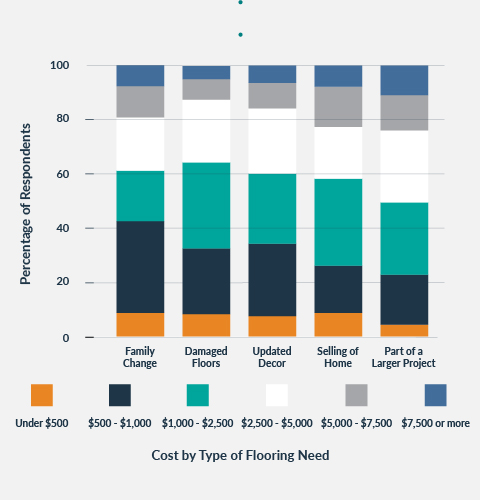 About the Survey
Dumpsters.com partnered with Pollfish to gather data about current residential flooring trends. We used 1,000 responses from a random, nationwide survey of Americans who completed a flooring project between 2018 and 2019. Our main respondents were DIY homeowners who refinished or installed hardwood either to update décor or replace worn out floors. These projects cost up to $1,000 for a third of consumers. We found this data to be true with a +/-3% margin of error and 95% confidence.
If you think these findings are interesting, please feel free to share it with your network, or cite it in your own content. Check back with us for more surveys about popular home improvement projects across America.
If you have any questions about the survey or want to know more, you can get in touch with us on Facebook, Twitter or at media@dumpsters.com.