Learn About Commercial Dumpster Pricing
Find dumpster services in your area

How Much Does a Commercial Dumpster Cost?
When you set up a contract for permanent dumpster services, it's important that you make the best possible choice for your business. At Dumpsters.com, our team will put together a quote based on a transparent pricing model. Our commercial service representatives will walk you through everything that affects the monthly rate for your front load dumpster and what will be reflected on your invoice.
To help you make a fully informed decision, we've outlined those factors below, but don't hesitate to give us a call if you have any questions.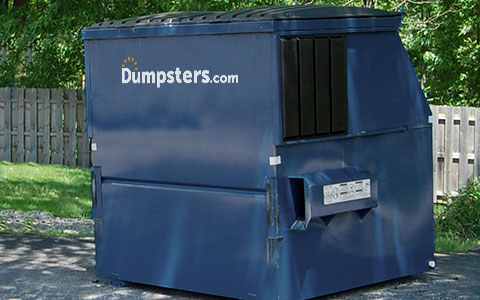 We give you the option to update your pickup schedule as the needs of your organization change. Simply give us a call to modify the service frequency in your agreement, or to add an extra pickup to the calendar for a particularly busy week.
Get Consistent Pricing and One-Year Contracts
With Dumpsters.com, our commercial dumpster prices won't vary between billing cycles, and our contracts are shorter than many other providers. This balance offers you more flexibility as you plan for the future. You can also set your pickup schedule and will receive regular and on-time service with continuous customer support.
If you need to update your pickup schedule or have any other questions about your dumpster rental, simply call our customer service team to make a change to your contract.
How Dumpsters.com Simplifies Trash Pickup
We streamline the rental process so all you need to do is choose a dumpster size, decide on a pickup schedule and sign your rental agreement. Our team will take it from there. When you work with us, you'll also get:
Flat Rates: The base price of your front-load dumpster service will include disposal and servicing fees upfront and will never change during your contract period.
Easy Billing: Our monthly invoices are complete, clear and concise, so you can give them a quick glance and file them away.
Flexible Pickup: If you ever need an extra pickup, we'll schedule it for you as soon as possible.
Continuous Support: Our Commercial Services team will handle additional service requests for you at any time and answer any questions you may have about your ongoing service.
With consistent commercial dumpster prices, flexible service and a dedicated support team, Dumpsters.com is the partner you can rely on for your property or business. We work hard to keep your operation clean week after week, month after month. All you have to do is give us a call to get started at 833-499-7506.